Ongoing criminalisation of solidarity, 'Predatorgate' continues to unravel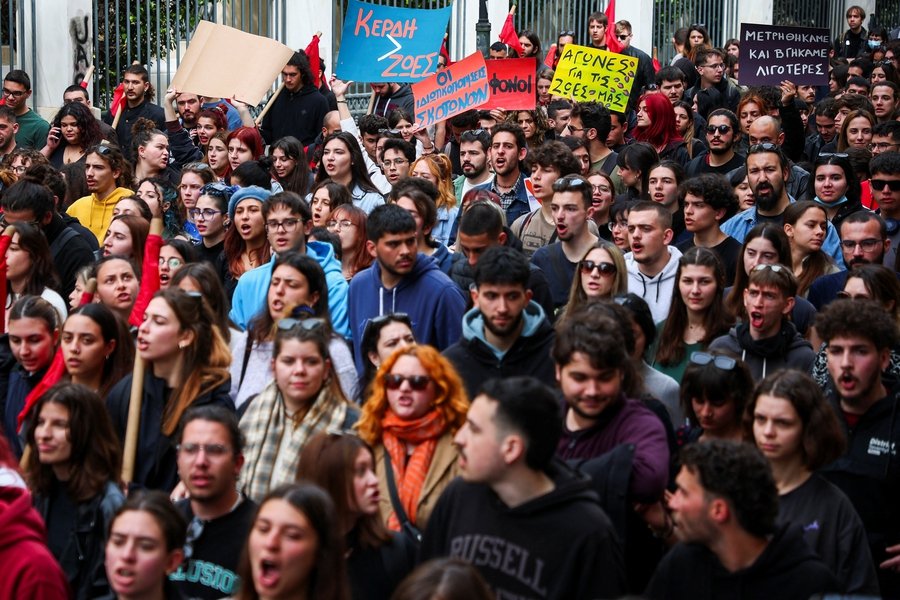 Introduction
Government survives no-confidence motion, opposition boycotts parliament
On 27th January 2023, Greece's ruling New Democracy government survived a no-confidence vote initiated by the main opposition party SYRIZA over the wiretapping scandal "Predatorgate". As previously reported on the CIVICUS Monitor, as the scandal unfolded, it became clear that high-ranked politicians and journalists were put under surveillance by the secret service. Out of the 300 members of the Greek parliament, 143 legislators voted in favour of the no-confidence motion, 156 voted against it and one lawmaker was absent.
On 31st January 2023, the opposition party SYRIZA announced that it would boycott parliament until the prime minister announces election dates. Leader Alexis Tsipras accused the government of being "morally and politically compromised" over the wiretapping scandal. Tsipras called for the immediate dissolution of parliament and elections in three weeks. In response, the government accused Tsipras of "undermining parliamentary democracy" and argued that the opposition leader wants to lead Greece outside European democratic norms.
Association
Criminalisation of solidarity continues
On 10th January 2023, Sarah Mardini, a Syrian refugee, Seán Binder and 22 others went on trial in Lesvos, Greece. They face charges of espionage and forgery in the current trial and face up to eight years behind bars, after they were part of a search and rescue team on the Greek island of Lesvos in 2018. There are further investigations against Mardini and other humanitarian workers under way that may carry a sentence of 20 years.
International rights groups describe the trial as a farce. According to Amnesty International's statement, Mardini and fellow volunteer Seán Binder "should never have been brought to trial".
We urge the Greek authorities once more to drop all of the charges and allow Sarah and Sean to go back to their lives. The criminalization of these brave human rights defenders solely for helping refugees and migrants in need shows Greece and Europe's callous behaviour towards people seeking safety at their borders, - Nils Muižnieks, Director of the European Regional Office, Amnesty International.
Mardini first went on trial inNovember 2021, but the case was sent to the Appeals Court due to the lack of jurisdiction. The defence team has requested that the trial be thrown out due to unreasonable delays. On 13th January 2023, Greek appeals court annulled the summons for all foreign defendants on the grounds that it had not been translated in a language they could understand, and the charge of espionage for all defendants due to lack of precision. Following this, the Prosecutor of the Supreme Court, filed an annulment application against the decision of the Court which annulled the summons.
Mardini became known after her and her sister's dramatic escape from the Syrian war, which was depicted in the 2022 Netflix film "The Swimmers". After settling in Germany, she left her university studies to return to Greece and work with humanitarian activists to help refugees at risk of drowning. In 2018 she spent over 100 days in pre-trial detention in Athens' high security Korydallos prison following her arrest and has since been banned from entering Greece, where authorities have labelled her a threat to national security.
In an increasingly hostile environment for civil society, humanitarians face trial in #Greece this week for saving lives.

The case is riddled with procedural flaws that undermine the rights to due process & a fair trial.#FreeHumanitarians
More from @hrw: https://t.co/eVCQF4CTuf pic.twitter.com/k6Q0m3ERk9

— HRW Brussels (@HRW_Brussels) January 11, 2023
In another case, in December 2022, human rights defender Panayote Dimitras was interrogated, following criminal charges brought against him for "setting up a criminal organisation with the purpose of facilitating the illegal entry and stay in Greece of third country nationals". Following this, the Investigating Magistrate and the Prosecutor prohibited the defender from working for his organisation, the Greek Monitor Helsinki monitor which he founded 20 years ago. The Judicial Council further imposed a travel ban, a 10,000 Euro bail, and a requirement to report bimonthly to the police.
In addition, Tommy Olsen, who is based in Norway, founder and director of the Aegean Boat Report (ABR), was also notified via email of being charged with "setting up a criminal organisation with the purpose of facilitating the illegal entry and stay in Greece of third country nationals".
ABR is a Norwegian nongovernmental group that monitors the attempts of asylum seekers and migrants to cross the Aegean Sea and the human rights violations committed against them, including illegal pushbacks.
Turkish minority turns to UN over non-recognition
In mid-January 2023, the Friendship, Equality and Peace Party (DEB) of Greece's Turkish minority wrote to the United Nations Special Rapporteur on Minority Issues, documenting the problems faced by ethnic minorities, in particular the Turkish minority in Western Thrace.
DEB's letter highlights the problems with education, religion, and legal harassment for using the word "Turkish". Greece does not recognise the existence of a Turkish community in Thrace, but only a "Muslim" minority. DEB emphasises that associations with the word "Turkish" in them have been stripped of their legal status, violating the right to freedom of association and assembly. Even though the European Court of Human Rights ruled in 2008 that Turkish associations and unions must get back their legal status, the ruling has never been enforced.
Banning neo-Nazis from running in elections
In early February 2023, Greece's parliament will be considering an amendment to ban a neo-Nazi party led by Ilias Kasidiaris from running in upcoming elections. The amendment sets conditions for parties to participate, including that party leaders must not have been convicted of serious crimes and that the party must serve the "free operation of democratic rule". Kasidiardis was formerly convicted of directing a criminal organisation.
Prime Minister Kyriakos Mitsotakis has stated that he supports the amendment, calling it important for protecting democracy. The main opposition party, SYRIZA, has reservations, claiming the amendment is too broad and not targeted specifically at neo-Nazis. In a statement, they warned that the "legislative proposal should be clear about neo-Nazis and not open a back door for expanded interpretations and equating Nazism with any other political ideology."
Peaceful Assembly
Commemorations of Polytechnic Uprising
On 17th November 2022, Greeks paid tribute to students who died during the Polytechnic Uprising of November 1973, an event in which students rebelled against the country's military regime and which was violently put down by the regime. On the commemoration, President Katerina Sakellaropoulou and others gathered to lay flowers at monuments honouring those who lost their lives. Following the commemorative events, protests took place outside the US embassy and consulate in Athens and Thessaloniki to draw attention to Washington's support for the dictatorship. It was reported that authorities deployed over 5,500 police officers in Athens and were on standby to use drones and possibly water cannon in Thessaloniki to maintain public order. 17 people were arrested in Athens during pre-protest checks.
Police violence against Roma people
On 6th December 2022, thousands of people took to the streets in Athens and Thessaloniki to honour the memory of Alexis Grigoropoulos, the 15-year-old student who was shot dead by police in 2008. Greek media outlet Efsyn reported that during the demonstration officers used tear gas, beat civilians and arrested dozens of people. Police were also reported to have sprayed chemicals inside restaurants and residences in pursuit of people involved in the protests. It was also reported that some demonstrators threw stones and Molotov cocktails at the police and also set fire to barricades made of trash bins.
Protests continued the next day after it was made public that police had shot a young Roma teenager in a chase. 16-year-old Kostas Fragoulis was shot in the head by a policeman because he allegedly did not pay 20 euros for petrol. Members of the Roma community in Athens, Thessaloniki, Messinia and Agrinio protested against police brutality and discrimination against Roma people. Greek newspaper Kathimerini reported that protesters threw stones, burned a bus and tyres, put up roadblocks and laid fires.
Following his hospitalisation in a critical condition, the teenager died. In reaction to his death, people took to the streets again. Greek media reported incidents of beatings, flash grenades, arrests, and the use of tear gas by the police against protesters. In Athens, more than 10 organisations participated in the protest, while 32 people were arrested and later released in Thessaloniki. A 32-year-old police officer has been accused of attempted homicide and illegal use of his service weapon. Barricades were erected and fires were started in different parts of Greece by Roma communities.
According to Balkan Investigative Reporting Network (BIRN), national and international bodies – the Ombudsman, the Council of Europe, and others – have repeatedly called attention to the treatment of Roma people by Greek police officers.
Protest following train crash
On 28th February 2023, a train crash resulted in the death of at least 57 people (including many young people) and is regarded as country's worst rail tragedy that prompted the resignation of the transport minister. Following this, protests were staged by young people and worker groups outside the parliament to demand better safety standards for the railway system. It is reported that clashes erupted between police and a group of protesters after a small groups of protesters threw petrol bombs at police. Police responded with tear gas and stun grenades.
Predatorgate scandal continues
'Predatorgate', the surveillance scandal which has shaped Greece's political scene, continues to unfold following revelations in November 2022 that 33 people including numerous journalists, media owners and others connected to the Greek media industry were targeted with Predatorgate spyware.
Reporters without Borders called on Greek authorities to conduct a "thorough and independent investigation" into the surveillance of no less than 13 journalists.
As the national authorities are suspected of being complicit in the surveillance and have been slow to react, the European Union needs to take swift and firm action to put an end to the use of spyware against journalists. To this end, we call for a moratorium on the sale, transfer, export and use of cyber-surveillance technology. We welcome the initial draft of the report by MEPs who are investigating the use of spyware, which proposes such a moratorium. - Julie Majerczak, RSF's representative to the EU.
In early December 2022, the Greek parliament started debating a new bill on communication privacy, cyber security and protection of citizens' communications proposed by the Ministry of Justice. The bill has been opposed by all opposition parties except for the far-right party, Elliniki Lysi, and is only supported by the ruling New Democracy party.
The main point of contention is that the law does not have a retroactive effect in terms of informing citizens about their having been monitored and limitsthe opportunity for individuals to find out whether they have been the subject of surveillance on grounds of protecting national security. RSF raised concerns about the bill, stating that public consultation was limited and that although some improvements were proposed, the "bill falls far short of European expectations and standards". In one example, it stated that it is not until three years after the end of the surveillance that the individual concerned can be informed. It also questioned the "independence and impartiality" of the commission tasked with the decision on whether the concerned individual would be informed. It also flagged the lack of special protection for journalists.
SYRIZA, the main opposition party, filed an objection claiming its unconstitutionality. Despite the opposition to the bill, on 9th December 2022, the parliament adopted the controversial law.
Days later, on 16th December 2022, it emerged that Investigative journalist Tasos Telloglou was put under surveillance by the secret service. An audit by the Hellenic Authority for Communication Security and Privacy (ADAE) at telecom company Cosmote confirmed that Telloglou was wiretapped for unspecified national security reasons. Telloglou, who works for investigative platform Inside Story, leading daily Kathimerini and the ANT1 television news programme "Special Report", has reported on the ongoing Predatorgate scandal.
In early January 2023, the ADAE announced its decision to set up a special audit team to investigate the lifting of privacy of the telephone connections of four individuals by telecommunications providers. The decision comes as the Greek media outlets Reporters United and Efsyn reported that the National Intelligence Service and the Anti-Terrorism Service were sending paper provisions to telecommunications providers and ADAE, rather than digitally, making it difficult to process and analyse them.
As Balkan Insights reported, Reporters United and Efsyn said that "the problem with this practice is that each provision only mentions the phone number of the monitored citizen, not their name. Many provisions even include more than one phone number that has been put under surveillance. This makes it practically impossible for ADAE to control who is being monitored and who is not."
Previously, the President of the Syriza party, Alexis Tsipras, asked ADAE for access to all provisions relating to the alleged wiretapping of political figures, judges and officers, and ADAE announced that it would request specific phone numbers related to public figures from Tsipras.
In early January 2023, Supreme Court prosecutor Isidoros Dogiakos opined that as per the communication privacy law adopted in December 2022, ADAE no longer has the authority to respond to requests by citizens regarding whether they were put under surveillance for national security reasons. However, ADAE's head, Christos Rammos said the prosecutor's opinion "flagrantly violates the independence of the ADAE, which emanates directly from the constitution."
In late January 2023, it was reported by local media that seven police officers, who served critical positions such as the Special Anti-Terrorist Unit and the Attica Security Department, the Internal Affairs Service and the Police Intelligence Division and directly or indirectly involved in the surveillance scandal were later dismissed from the service. However, the police press release only mentions two officers. In addition, the police told the media that these developments were not related to the motion of no-confidence filed by the opposition against the government.
As Greece prepares for elections in 2023, the ruling New Democracy party is alleged to be eager to move past the revelations about the National Intelligence Service using Predator spyware to target political figures, including opposition leaders and journalists.
Photojournalist arrested, others verbally attacked
In late November 2023, Nikos Pilos, an award-winning photojournalist, was arrested while covering a police operation searching for a suspected arsonist in the Prosfygika area in Athens. The photojournalist has been documenting the lives of residents of the area since 2017. The area is home to many refugees, undocumented migrants, activists, drug addicts, the elderly and ex-prisoners.
Despite showing his press ID, the police arrested Pilos and filed 10 criminal charges against him, including for violence against police officers, causing bodily harm and causing damage to property,which carry a maximum sentence of 15 years in prison. The police operation was related to the arson attacks on the Real Group media building. As Balkan Insights reports, police said that during the operation 78 people were arrested and charged. Charges include "violence against officials and judicial persons, disturbance of the peace, joint infliction of bodily harm, infliction of grievous bodily harm by complicity and damage to property, as well as violation of the laws on guns, flares, and sparklers". According to the police press release, seven police officers were injured, including two who suffered serious injuries. The Foreign Press Association condemned Pilos' arrest and called for all charges to be dropped, stating that the police had obstructed the work of journalists that day. The Photojournalist Union of Greece also criticised the arrest, stating that journalists must be free to do their jobs.
🇬🇷#Greece: IPI demands the immediate release of award-winning photojournalist @nikospilos, who has been detained by police in #Athens for more than seven hours. He should have been released as soon as his status as a member of the press was established. @FPAGreece #Mediafreedom pic.twitter.com/RJjOlwVMmI

— IPI - The Global Network for Independent Media (@globalfreemedia) November 22, 2022
In a separate case, on 1st December 2022, Greek radio journalist Yiannis Stratakis was threatened by an unknown man while he was driving in Athens. The man, who followed the journalist on his bike and attacked him at a traffic light, during which he started shouting abuse at Stratakis, was connected with his work on radio station Sto Kokkino 105.5 (ΣΤΟ ΚΟΚΚΙΝΟ). He also banged on the windows of the journalist's car and shouted "you will die".
On 4th January 2023, officers of the Hellenic Riot Police (MAT) physically and verbally assaulted several journalists in Thessaloniki as they attempted to cover the breaking up of a solidarity protest in support of the hunger and thirst strike of imprisoned anarchist Thanos Chatziangelou, during which several protesters were detained.
Αυτό πρέπει να το δείτε.
Η αστυνομία χθες, τραμπούκισε δημοσιογράφους 8+ φορές για να κρύψει τις βρωμιές της.
Κεφαλοκλειδώματα, σπρωξιές, ασπιδιές μερικά απ'τα μέσα που χρησιμοποίησαν για να φιμώσουν.
Οι ρεπόρτερ του δρόμου, όμως, μια γροθιά υπερασπίζονται τους συναδέλφους τους pic.twitter.com/0w1Nm5YLuB

— Chris Avramidis (@chris_avramidis) January 5, 2023
On 10th February 2023, several journalists from Ilia were verbally attacked by the head of the Steering Committee of the Electoral District (D.E.P.), Giorgos Lambropoulos, after they attempted to pose questions to the Minister of Interior Stelios Petsa during a religious event.
On 17th February 2023, Bam newspaper journalist Petros Kousoulos was verbally attacked by lawyer Alexis Kougias during a murder trial.
Lack of media pluralism and blocking access to information
On 17th November 2022, the Journalists' Union of Athens Daily newspapers issued a statement over the lack of independence of Athens News Agency APPE-MPE. It stated that it had received several complaints indicating that the Agency reports on current affairs issues only through government officials' responses and fails to provide a plurality of voices.
Earlier in November 2022, the union also raised concerns regarding access to information for journalists. It stated that since the COVID-19 pandemic, press conferences have not returned to normal, with limited opportunities for journalists to engage with government ministries. Instead, government spokespersons now hold regular press conferences in person and speak on a range of different issues, but space for questions is limited, with no opportunity for in-depth engagement and follow ups with the ministries.
The colleagues, who cover the relevant reports, face severe difficulties in exercising their journalistic function while at the same time valid and timely information is at risk, since many ministers now choose speeches and announcements from television, without accepting questions from journalists. -
Cyber-attacks on several independent media
On 11th November 2022, Greek investigative journalism platform Reporters United was targeted by a phishing attack which it received from unknown sources through an email. The attack, which was unsuccessful, came 36 hours after a trusted source with knowledge about state wiretapping had warned two of its journalists that individuals connected to a state institution "are looking for you". On the details contained in the email, Reporters United said: "The sender knew with exhaustive precision (down to the decimal point) Reporters United tax data that is not public, and thus access to it could only be secured from the inside, via the Tax system and AADE."
In a separate incident, on 3rd February 2023, the websites of Greek news media Documentonews.gr and Koutipandoras.gr were targeted in distributed denial-of-service (DDoS) cyber-attacks which resulted in their websites being unavailable to users. The attack came a day after both media had published an investigative report about the wife of controversial Turkish businessman Yasam Ayavefe, who received a fake ID from a criminal group linked to the Greek underworld.
Controversial ethics committee legislation passed
As reported previously on the Monitor, the government put forward a new law to establish a controversial ethics committee, which would oversee the compliance of online media with journalistic ethics, and have powers to exclude media from government funding support and state advertisementsfor up to two years. On 22nd December 2022 the parliament passed the law.
Concerns have been raised about the independence of the committee and on the potential for the law to be misused to exclude critical media from receiving state advertising revenue.