News site blocked while critics and journalists arrested or attacked with impunity in Bangladesh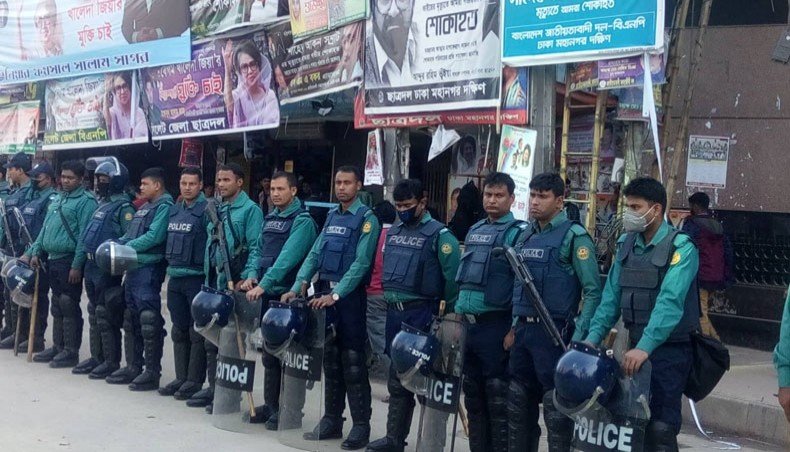 In recent months, the Bangladesh authorities have blocked a news website and arrested and charged critics under the draconian Digital Security Act. Activists linked to the ruling party were involved in attacks on journalists covering the Dhaka municipal elections in February 2020 and the death of a student who criticised the government online. There have been restrictions and attacks on peaceful rallies by opposition groups while Rohingya refugees face increasing restrictions in their camps in Cox Bazar.
Expression
News site blocked for reporting on corruption by minister
#Bangladesh authorities have blocked access to a Sweden-based investigative journalism Netra News website after it published a report alleging corruption by an influential Bangladeshi minister. https://t.co/YQWN5XekYL

— Transparency Int'l (@anticorruption) January 3, 2020
According to Human Rights Watch, Bangladesh authorities are blocking access to online news sites in violation of the right to free speech and access to information. On 29th December 2019, access to the Sweden-based investigative journalism website Netra News was blocked within 72 hours after it published a report alleging corruption by Obaidul Quader, an influential party leader and a minister in the Awami League government. The report alleged that the minister had "received a luxury brand watch in exchange for awarding a lucrative contract".
Telecom authorities said that there was no official order to block Netra News but indicated that the Directorate General of Forces Intelligence (DGFI), Bangladesh's military intelligence agency, had the capacity to block websites.
HRW also reported that in December 2019, the government announced that the Home Ministry was reviewing all Bangladeshi online news sites and that in the future all news sites will require government approval and registration
As previously documented, the authorities have been blocking numerous news sites. In May 2019, Bangladesh authorities blocked access to a popular news portal, Poriborton.com, one of the country's top five online news outlets. In March 2019, Prime Minister Sheikh Hasina's government blocked the Al Jazeera website, after it published an article alleging that a senior Bangladeshi government official was involved in the disappearance of three men.
Publisher arrested under draconian digital law
Bangladesh publisher Nur Mohammad, the owner of Guardian Publications, was arrested on 10th February 2020 and charged under the draconian Digital Security Act (DSA) for "associating with" Enamul Haque Moni, who was arrested in 2018 for spreading "fake news and propaganda" about Prime Minister Sheikh Hasina Wazed and her son Sajeeb Wazed. He has also been charged with digital fraud.
Mohammad could face a sentence of up to life in prison for charges under section 25 of the DSA law, which criminalises publishing any content with the intention of "tarnishing the image of the nation." He is also charged under section 31, which criminalises publishing or broadcasting any content that "destroys communal harmony" or "deteriorates or threatens to deteriorate the law and order" which carries up to 10 years in prison.
Nur Mohammad's arrest came after the Guardian Publications was blocked from taking part in the country's largest annual book fair, which takes place in February 2020. The company has published two books by Pinaki Bhattacharya, a leading critic of Prime Minister Sheikh Hasina.
Sufi folk singers arrested 
Folk singers charged for violating #Bangladesh's draconian Digital Security Acthttps://t.co/bZsSXsfUQp

— WSWS Arts Review (@WSWSArts) February 12, 2020
The Digital Security Act was also used against Sufi folk singer Shariat Sarker on 13th January 2020 for accusing Islamic clerics of misinterpreting the Quran to forbid music and for reportedly saying "Our great Prophet Muhammad was an ardent fan of music and went to sleep at night after listening to music". According to the police, Sarker was arrested for "hurting the religious sentiment of Muslims" in Mirzapur city after they received complaints about his remarks.
Sarker is a Sufi Baul singer, a tradition of nomadic folk singers, which UNESCO included in 2005 in the Representative List of the Intangible Cultural Heritage of Humanity. However, Baul singers have faced attacks by religious extremists in recent years.
On 3rd February 2020, it was reported that Rita Dewan, another Baul singer is facing investigation under the DSA for allegedly "making derogatory comments regarding Allah while competing with another singer" that went viral on YouTube.
Bangladesh court orders arrest of editor
Bangladesh Court Issues Arrest Warrant for Top Newspaperman #MatiurRahman: https://t.co/FLhq4IYsOc pic.twitter.com/91CmM5KfyY

— BenarNews (@BenarNews) January 16, 2020
In January 2020, Bangladesh issued an arrest warrant for an independent newspaper editor and an outspoken champion of freedom of expression, after a student was killed at an event organised by a sister publication. Matiur Rahman, editor of the Prothom Alo daily and nine others have been charged with causing death by negligence after a 14-year-old boy was fatally electrocuted in November 2019 at an event organised by a magazine published by Prothom Alo's owner.
Rahman, 76, already faces at least 55 cases of defamation and hurting religious sentiments but this is the first time he has been issued with an arrest warrant. Human rights groups believe the dozens of cases are part of a larger, organised assault on independent media in Bangladesh, dating back several years.
Attacks on journalists
🇧🇩 Bangladesh: @RSF_AsiaPacific condemns the physical attacks by ruling Awami League activists against 10 journalists covering the Dhaka municipal elections early this month https://t.co/m572lb92YS

— IFEX (@IFEX) February 12, 2020
According to Reporters Without Borders (RSF), a TV reporter and his cameraman were attacked when they visited a construction site in the city of Khulna on 5th January 2020. Ekattor TV's Khulna bureau chief, Rakib Uddin Pannu, went with a cameraman to the site to do a story about the Bangladeshi government's contract with a Chinese company for the construction of a major water treatment plant. When they arrived they were harassed and attacked by employees and workers, who damaged their camera.
Their assailants then asked a traffic police officer who was at the construction site to arrest Pannu. Although there were no apparent grounds for detaining him, the policeman complied, taking him to a police station. A protest by fellow journalists helped to get him released a few hours later.
In separate incidents, according to RSF, at least 10 journalists were physically attacked by ruling Awami League activists on 1st February 2020 while covering the municipal elections in the Bangladeshi capital, Dhaka.
Agami news website reporter Mostafizur Rahman Suman who was taking photos at a polling station at Zafrabad secondary school in the residential district of Mohammadpur was attacked and badly beaten on the head after photographing Awami League activists entering the polling station carrying firearms. With his head covered in blood, he managed to escape his assailants and was admitted to a hospital.

At around the same time, Press Bangla Agency reporter Zisad Ikbal was attacked by Awami League activists while covering the voting at Nikunja Jan-e-Alam school about 20 km to the south and had to receive hospital treatment for the serious injuries he sustained. It is not yet clear what triggered the attack.

Mahabub Momtaji, a reporter for the Bangladesh Pratidin newspaper, and Business Standard reporter Nurul Amin were roughed up at the Madrasa Faridabad polling station in south Dhaka by members of the Chhattra League, the Awami League's student wing, who detained them until they deleted the photos on their mobile phones. The same group of activists also manhandled Al Fatah Mamun, the Dainik Jugantor correspondent in the adjoining district of Gandaria.

Poriborton news website photographer Osman Ghani was attacked and injured while taking photos of clashes between Chhattra League activists and riot police at the polling station at the Kamrunnesa girls' school.

Kaler Kantha daily newspaper's chief photographer, Sheikh Hasan, was attacked at the Madartek school polling station by supporters of the Awami League candidate for councillor, Alhaj Jahangir Hossain, who forced him to delete the contents of his camera's memory card.

Awami League activists seized Daily Star reporter Foisal Ahmed's mobile phone when he filmed them trying to intimidate voters at the nearby Ideal School and College polling station. They returned it after deleting the photos and videos he had just recorded.
Bangladesh is ranked 150th out of 180 countries in RSF's 2019 World Press Freedom Index, four places lower than in 2018.
Student killed for Facebook post criticising the government
Bangladesh student beaten for hours before death https://t.co/l6vOzyJxqy

— Malik Anas Awan (@anasinqilabi) October 10, 2019
A Bangladeshi undergraduate student was killed in his dormitory in October 2019 after criticising the government online over a water-sharing deal with India, in a post shared on Facebook. According to witnesses he was beaten for several hours before he died.
According to Human Rights Watch, on 6th October 2020, Abrar Fahad, 21, was summoned from his dorm room at the Bangladesh University of Engineering and Technology (BUET) to Room 2011, known among students as the "torture cell." The room is run by members of the Chhatra League, the student wing of Bangladesh's ruling Awami League. A few hours later, Fahad was found dead.
Dhaka Medical College Hospital Forensics reported that he died of internal hemorrhaging from numerous blows to his body. Police told the media they found cricket stumps in Room 2011, which they suspect were used to beat Fahad to death.
The Awami League government has long refused to hold Chhatra League supporters accountable for acts of violence and intimidation. There are complaints of extortion, threatening false allegations, violent attacks around elections, and even acting as vigilante law enforcers during the 2018 student protests.
The death of Abrar sparked protests across the country by students demanding justice for his murder. Abrar's father Barkatullah filed a case with the capital's Chawkbazar police against 19 people. 25 suspects have since been charged.
Assembly
Restrictions and attacks on peaceful rallies
Brutal attacks on #Bangladesh GSRPC members, including #DUCSU VP #Nur by govt led terrorist organisation BCL & 'Muktijuddho Moncho'.

Reasons behind the attack was, recent shutdown of Indian Embassy program in DU, stance against #NRC and #CAB.#NRC_CAA#RejectNRC #RejectCAA pic.twitter.com/sduKyuz4tc

— Sakibul Hoque 🇧🇩 (@SakibulHoque8) December 22, 2019
On 30th December 2019, Dhaka Metropolitan Police (DMP) attacked a rally by the Democratic Left Alliance (DLA), a combination of eight left parties, organised to protest alleged vote rigging in the December 2018 elections leaving at least 31 people injured.
On the same day, the police also denied the opposition Bangladesh Nationalist Party (BNP) permission to hold a rally in Dhaka protesting a similar event. According to Party Senior Joint Secretary General Ruhul Kabir Rizvi,law enforcement took position in front of their party office and its adjacent areas, roads and alleys since the morning to obstruct their rally. As previously documented, BNP members have faced repeated instances of arbitrary arrest and detention and acts of violence and intimidation by members of the ruling party's student and youth wings.
On 17th December 2019, members of the Chattra League and an associate outfit Muktijuddha Manch (so-called Liberation Fighters' Platform) attacked the Vice President of Dhaka University Student Union Nurul Haq and other students from different public and private universities for organising a rally in solidarity with Indian students protesting the Citizenship Amendment Act (CAA) and National Register of Citizens, which left at least 25 students critically injured—some of them facing life threatening injuries.
Association
Refugees in Bangladesh facing increasing restrictions
Bangladesh building barbed-wire fences around #Rohingya https://t.co/RmOpPINV8d

— Protect The Rohingya (@ProtectRohingya) February 16, 2020
As previously documented in September 2019, the authorities have instructed telecommunications operators near Cox's Bazaar to deny Rohingya refugees access to their mobiles 'for the sake of state security and importance, law and order and public safety,' including by withdrawing SIM cards used by the Rohingya and ending the sale of SIM cards to them. The government also ordered operators to shut off high-speed mobile Internet access in the refugee camps. Humanitarian aid workers reported that the shutdown has seriously hampered their ability to effectively assist the nearly one million refugees.
In November 2019, it was reported that the authorities had launched a crackdown in the camp, shutting shops run by refugees, confiscating mobile phones, putting up barbed-wire fencing and setting an 8pm curfew, meaning people can't leave their homes at night. For refugees the internet ban means that they have been unable to contact relatives in Malaysia and Saudi Arabia.
Bangladesh security forces have contributed to increasing tension and danger in the camps. The government has increased the military presence in the camps, but refugees said these forces were harassing them instead of protecting them. In addition, watchtowers and CCTV cameras are also being installed to further strengthen the surveillance on the Rohingya camps.
The Bangladesh authorities have also made repeated threats to relocate refugees to the silt island of Bhasan Char, despite serious concerns over the island's habitability.