Myanmar: Despite arrests, torture and failure of ASEAN, activists continue to mobilise against the junta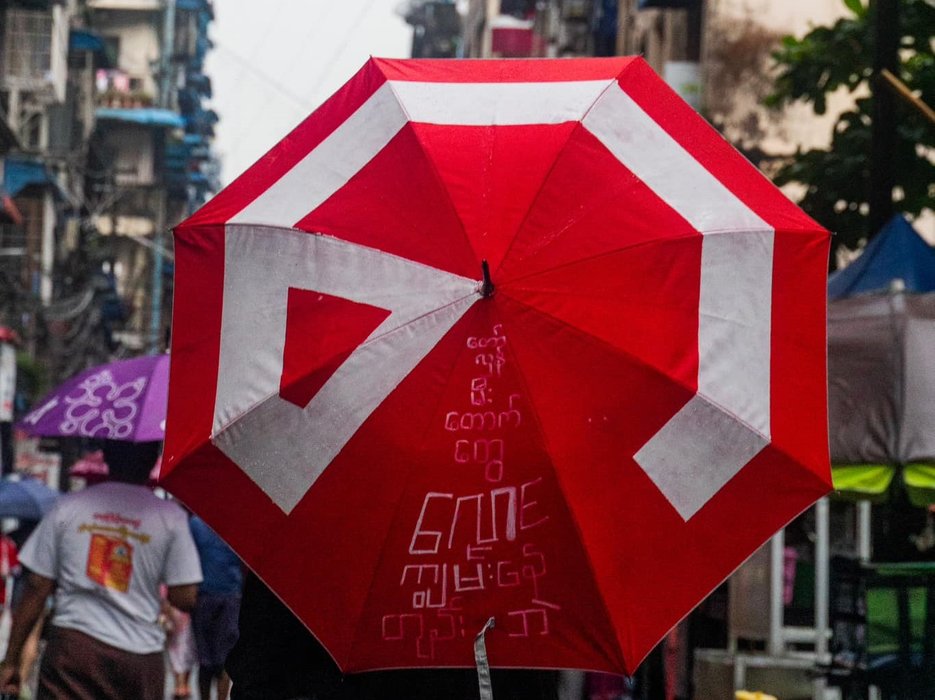 Myanmar's civic space rating was downgraded from 'repressed' to 'closed' by the CIVICUS Monitor in March 2023. This was due to the thousands of activists and protesters who have been detained on fabricated charges including terrorism, incitement and sedition since the January 2021 coup. Many have been convicted by secret military tribunals in unfair trials and given harsh sentences including the death penalty. Some have been tortured or killed. There has also been an unrelenting crackdown on the media and civil society.
The UN has continued to highlight violations by the junta. In July 2023, Volker Türk, the UN High Commissioner for Human Rights, said Myanmar was in deadly freefall into even deeper violence. He highlighted how the voices of civil society and journalists are being strangled and that arbitrary arrests, enforced disappearances and torture continue unabated. In September 2023, Nicholas Koumjian, head of the investigation team of the Independent Investigative Mechanism for Myanmar (IIMM) said "the frequency and intensity of war crimes and crimes against humanity has only increased in recent months." Their June 2023 report found evidence of torture, sexual violence and other forms of severe mistreatment at numerous detention facilities.
Sanctions have also continued to be imposed against the junta. On 21st June 2023, the US imposed sanctions on Myanmar's defence ministry and two banks - The state-owned Myanmar Foreign Trade Bank (MFTB) and Myanma Investment and Commercial Bank (MICB) - used by the military regime to buy arms and other goods from foreign sources. On 20th July 2023, the EU imposed a seventh round of restrictive measures against six individuals and one entity in response to the continuing escalation of violence, grave human rights violations and threats to the peace, security and stability in Myanmar/Burma. This includes three Union Ministers, two members of the State Administration Council (SAC), the Quartermaster General, as well as No. 2 Mining Enterprise (ME 2), a state-owned enterprise that is controlled by and generates revenue for the junta. In August, the United States allowed for sanctions to be imposed on any foreign individual or entity determined to be operating in the jet fuel sector of Myanmar's economy.
While such actions have been taken, ASEAN has continued to hold on to its failed five-point consensus as the 'main reference point' and only offered to review it at the ASEAN leaders meeting in Jakarta in early September 2023. Civil society has continued to call for ASEAN to cut ties with the junta.
In August 2023, the junta officially postponed an election promised this year after extending a state of emergency it imposed in the aftermath of its 2021 coup. In a statement on state television the junta cited ongoing violence as the reason for the election delay.
In recent months, activists including musicians, LGBTQI+ activists, students and writers were arrested, prosecuted or sentenced for their activism. There were reports of the targeting of lawyers and union activists, torture and ill-treatment of political prisoners and enforced disappearances. The junta obstructed humanitarian aid following Cyclone Mocha. The junta continued to crack down on media outlets and journalists and on online spaces. A hunger strike was mobilised by political prisoners in response to harsh restrictions. There were protests around the 35th anniversary of the '8888' pro-democracy uprising.
Association
Arrests and prosecution of activists on fabricated charges
Since the beginning of the coup in February 2021, human rights defenders and other activists have been arrested, prosecuted on trumped up charges and jailed. According to the Assistance Association for Political Prisoners (Burma), as of 15th September 2023, a total of 19,465 individuals are currently under detention, 7,323 of whom are serving sentences.
In July 2023, it was reported that the junta is building two new prisons for political prisoners, an indication it could be planning for more arrests of pro-democracy activists. One of the new prisons is under construction in the Mawlamyine township of Mon state and is nearing completion. The other will be built in the Pathein township of Ayeyarwady region.
#Myanmar: Writer and activist #WaiMoeNaing is now serving a combined sentence of 54 years in prison following months of unfair trials. Our statement ⬇️https://t.co/Im9i0n977f pic.twitter.com/uGr3gx36Js

— PEN International (@pen_int) May 24, 2023
On 19th May 2023, writer and activist Ko Wai Moe Naing was sentenced to another 20 years' imprisonment for committing high treason (Article 122 of the Penal Code). Ko Wai Moe Naing has faced 10 charges, including sedition, unlawful assembly, abduction with the intent to murder, murder and treason, for his role in Monywa's protests after the coup. The junta previously sentenced him to 34 years in prison on eight of the charges.
A court at Insein Prison sentenced singer Byuhar to 20 years in prison on Aug. 23. #WhatsHappeningInMyanmar #Byuhar
Read more here: https://t.co/czeAd1gWM2 pic.twitter.com/mNGUbZr1of

— DVB English News (@DVB_English) August 25, 2023
One of Myanmar's biggest hip-hop artists was detained on 26th May 2023 for criticising the military government on Facebook. Byu Har criticised the junta's handling of nationwide power outages that had hit Myanmar in the previous months. He called the electricity minister "a fool" and "incompetent" in a video posted to Facebook. The musician was detained in Yangon's North Dagon township by police. Prior to his arrest, the rapper had received several warnings from authorities.
The chairperson of LGBT Union Mandalay was sentenced to 10 years in prison by a junta court on Wednesday for alleged incitement and funding terrorism. Justin Min Hein was arrested in September 2022 along with six others. #WhatsHappeningInMyanmar pic.twitter.com/8WB0YSjZHL

— The Irrawaddy (Eng) (@IrrawaddyNews) June 29, 2023
On 29th June 2023, the junta sentenced a male LGBTQI+ activist to 10 years in prison for terrorism. Justin Min Hein, president of the LGBTQ Union in the country's central Mandalay region, was a leader of several anti-junta activities including a strike, flash protests and other organised campaigns in Mandalay prior to his arrest. He was convicted of violating the Anti-Terrorism Act for producing music critical of the junta
The Yangon Eastern District Court added another five years to the prison sentence of Nyan Win Htet, the former chair of Dawbon Township Students' Union, under the Counter-Terrorism Law on July 20. The All Burma Federation of Student Unions /1 #WhatsHappeningInMyanmar #Yangon pic.twitter.com/avKRzjJKWF

— DVB English News (@DVB_English) July 24, 2023
On 24th July 2023, the Eastern Yangon District Court sentenced a student activist to a further five years in prison for alleged terrorism. Nyan Win Htet was a student at the University of East Yangon until his arrest on 30th June 2022. Nyan Win Htet had already been sentenced to 15 years in prison under two sections of the Counter-Terrorism Law which cover the possession of explosives and helping terrorists evade arrest.
The junta arrested the father of a prominent anti-junta activist in September 2023. Retired schoolteacher Kyaw Aye, 68, was detained by the police after he was taken from his home in Tamwe Township. He is being held for incitement under Section 505a of the Penal Code - a charge frequently deployed against critics of the regime. Kyaw Aye is the father of Rahul Kyaw Kyaw Maung, a veteran activist better known as Kyaw Ko Ko. Kyaw Ko Ko, is a former chair of the ABFSU, or All Burma Federation of Student Unions, who was imprisoned in the past for his involvement in the 2007 Saffron Revolution and other efforts to end military rule in Myanmar.
Harassment, arrest and torture of lawyers
At every turn, Myanmar's lawyers have faced systematic, junta-imposed obstacles and restrictions impeding their work.

One lawyer spoke to Human Rights Watch about going into hiding to escape a junta-issued warrant for her arrest: https://t.co/637suoyMrB pic.twitter.com/pDdmvGw1Bu

— Human Rights Watch (@hrw) June 8, 2023
In June 2023, Human Rights Watch published a report "'Our Numbers are Dwindling': Myanmar's Post-Coup Crackdown on Lawyers," examining the junta authorities' pattern of harassment, surveillance, arrests, and in some cases torture, of lawyers since the coup, particularly those taking on political cases.
At least 32 lawyers have been arrested and placed in pre-trial detention with little evidence supporting the charges against them, according to the Assistance Association for Political Prisoners. Many have been charged with incitement and terrorism in summary trials that do not meet international fair trial standards. The junta has created "special courts," closed courts inside prisons to fast-track political cases. Military tribunals hold summary trials in townships where martial law has been declared.
Lawyers also reported ill treatment or torture of detained colleagues. Inside special courts, lawyers and their clients face numerous problems, including being forbidden to privately communicate or discuss their cases prior to hearings. Lawyers said that junta officials frequently obstructed or prevented them from carrying out their professional duties, denying suspects their rights to due process and a fair trial.
Garment workers to face military court after forming union
In July 2023, it was reported that seven garment workers and union activists are facing trial on incitement charges (505(a) of the penal code) in a military court for advocating for a pay raise at a factory that supplied Inditex, the owner of the Spanish retailer Zara.
The case has put a spotlight on the plight of workers in Myanmar's troubled garment sector. Several companies have exited the country since the February 2021 military coup and subsequent deterioration in labour conditions.
Inditex is reportedly set to make a phased exit from the country after the arrests of the five garment workers and two union activists in June. They worked at a Chinese-owned factory operated by Hosheng Myanmar Garment Company Limited in Yangon division. They formed a union in April 2023 to bargain for better conditions.
Torture and ill-treatment of political prisoners persist
There have been ongoing reports of torture and ill-treatment of political prisoners in detention since the coup began.
2023 Prison Report Published

"The Flow of Injustice" details the lived experiences of political prisoners post-coup. From arrest, to interrogation, trial, prison, and then release, they endure what AAPP describes as a flow of injustice

English Link: https://t.co/cO154TQgTv

1/2 pic.twitter.com/CmrHLl44Bs

— AAPP (Burma) (@aapp_burma) July 11, 2023
A report by AAPPB published in July 2023 shines a light on the harsh reality political prisoners and their families must endure. According to the report, from the moment of their arrest they are subjected to interrogation which amounts to torture and inhumane treatment. It also found that even after their release, the aftermath of this ordeal continues to impact their lives. Political prisoners are often left traumatised, but equally affected are their families and loved ones, who bear witness to violent arrests and are left without any information regarding the whereabouts, charges, or physical well-being of those detained.
On 4th August 2023, Radio Free Asia (RFA) reported that prison guards at Myanmar's Thayarwady (Tharyawaddy) Prison had beaten 31 inmates for marking the country's Martyrs' Day, with four having to be treated for their injuries in the prison hospital. Prisoners held a saluting ceremony on 19th July, while women inmates wore black ribbons. The prison ceremonies are thought to have been organised by Than Toe Aung, head of Yangon region's Thanlyin township Youth Group of the National League for Democracy. Than Toe Aung was hospitalised after interrogation, along with three others.
Myanmar Now reported on 23rd August 2023 that at least 20 political prisoners in Mandalay Region's Myingyan Prison were tortured while in solitary confinement. The prisoners were separated from the rest of the prison population three months ago on suspicion of using and hiding mobile phones. According to the report, they "had black bags put over their heads and their hands were cuffed behind their backs. Then they had to kneel as they were hit on their backs and thighs". The prison authorities also used tasers to inflict further injuries on the prisoners.
On 8th September 2023, Myanmar Now reported that authorities had been abusing political prisoners after moving them to Mandalay's Obo Prison from facilities elsewhere in Myanmar. After transfer from Monywa Prison, located 80 miles west of Mandalay, 90 male and 11 female inmates had undergone beatings and torture. Prison authorities allegedly kicked inmates in the face while wearing army boots, shocked them with tasers and beat them with batons. At least 50 were left with lasting injuries.
Reports of enforced disappearances
On 30th August 2023, the Karen Human Rights Group (KHRG) commemorated the International Day of the Victims of Enforced Disappearances by condemning this atrocious crime and standing in solidarity with all victims in their struggle for justice.
Enforced disappearance cases occurred in Southeast Burma even before 2021, resulting from the lack of rule of law holding armed actors accountable, and have dramatically increased since the military coup. Since the 2021 coup, more than 72 civilians have been reported to KHRG as being victims of enforced disappearance in Southeast Burma.
KHRG received reports that disappeared villagers are arrested without warning and taken to army camps or prisons without due process. Families are not informed about these arrests, nor about the welfare of the detained, and come to know only through rumours around the community and the sharing of information among villagers.
KHRG has also received some reports of armed resistance groups operating in locally-defined Karen State who also use this practice, forcibly disappearing civilians accused of being spies.
Junta blocked lifesaving cyclone aid
The junta obstructed humanitarian aid following Cyclone Mocha, putting thousands of lives at risk. According to HRW, junta authorities refused to authorise travel and visas for aid workers, release urgent supplies from customs and warehouses, or relax onerous and unnecessary restrictions on lifesaving assistance.
Cyclone Mocha, that made landfall on 14th May 2023, was one of the strongest cyclones to ever hit the region, with maximum sustained winds of 250 kilometres per hour leaving a trail of destruction. The UN estimated that 7.9 million people were affected across five Myanmar states and regions - Rakhine, Chin, Sagaing, Magway and Kachin. Hundreds were killed and hundreds of thousands of buildings damaged.
HRW interviewed aid workers and people in affected communities who described how the junta's failed relief response has been deliberate. Many aid workers, local activists and villagers expressed the view that the junta used the cyclone response to legitimise and bolster its control.
On 8th June 2023, after weeks of appeals by humanitarian organisations for unrestricted access, the junta formalised its obstruction by issuing a blanket suspension of travel authorisations for aid groups in Rakhine State, reversing initial approvals granted in early June.
Expression
Media outlet licence revoked while journalists jailed for their reporting
The junta has systematically targeted journalists since the coup and shut down independent media outlets.
#CPJ calls on #Myanmar authorities for release of #Irrawaddy news publisher | https://t.co/MZN79yoTt9 pic.twitter.com/IPfVAcsP6Q

— Mizzima News (@MizzimaNews) July 5, 2023
On 10th June 2023, the junta revoked the Ayeyarwaddy Times' media license for allegedly breaching Article 8 of the Publishing Act, which bans disseminating information that "disrupts public peace and tranquillity". Since the coup the junta has banned 14 news publications, the DVB report said. Salai Thant Sin, the outlet's editor-in-chief, said his publication, which operates mainly from underground due to persistent threats to its reporters, would continue to publish despite the ban.
On 28th June, the Western Yangon District Court sentenced Thaung Win, The Irrawaddy's publisher, to five years in prison under Article 124-A of the penal code, which covers penalties for the crime of sedition. The court also fined him 100,000 kyats (about USD 47). Thaung Win was arrested at his home in Yangon in September 2022, and was held at Insein Prison until his trial. Thaung Win was initially charged with violating the Publishing and Distribution Act for allegedly publishing news that "negatively affected national security, rule of law and public peace."
In September 2023, a military tribunal sentenced a photojournalist to 20 years in prison with hard labour over his coverage of the aftermath of a deadly cyclone after convicting him on various charges, including sedition. Junta soldiers arrested Sai Zaw Thaike of independent news outlet Myanmar Now in the Rakhine State capital of Sittwe on 23rd May. Following the arrest, authorities subjected Sai Zaw Thaike to interrogation for about a week in Sittwe and Yangon. He was transferred to Yangon's notorious Insein Prison in mid-June on a remand issued by the township court in South Dagon.
His initial indictment included charges for misinformation, incitement and sedition under various statutes - Article 27 of the Natural Disaster Management Law, section 66(d) of the Telecommunications Law, and sections 505a and 124a of the colonial-era Penal Code. Sai Zaw Thaike was provided with no legal representation throughout his detention. There were no court hearings or other proceedings held inside the Insein Prison compound before his conviction.
Arrests for Flower Strike
Myanmar: Aroud 100 people, mostly women, were arrested across Myanmar for wearing, holding, selling or buying flowers on Monday in connection with "flower strike" protests that marked the 78th birthday of detained leader Aung San Suu Kyi. pic.twitter.com/6VJjGfQ9pK

— DW Asia (@dw_hotspotasia) June 22, 2023
According to Burma Coup Watch, the junta arrested at least 165 people throughout the country for allegedly joining the "Flower Strike" to celebrate State Counsellor Aung San Suu Kyi's 78th birthday on 19th June 2023.
Many Myanmar people at home and abroad embraced the call for a flower strike by wearing flowers to show their support for a civilian leader who almost always wore flowers before she was jailed. Among those arrested include about 40 women were detained by the regime for wearing flowers in the central market of Sagaing Region's Kale Town. In Yangon's Kamayut Township, 15 women who wore or held flowers were arrested according to the Kamayut Information group. Another 20 women from Myit Nge Township in Mandalay Region were also arrested for wearing flowers.
Junta tightens its grasp on online spaces
In June 2023, ARTICLE 19 delivered a statement during the interactive dialogue with the Special Rapporteur on the situation of human rights in Myanmar at the 53rd Session of the UN Human Rights Council.
In the statement the group said that the junta continues to enforce its digital dictatorship to silence those who call for democracy and respect for human rights. This has only been intensified with an increasing number of pro-military accounts being used to harass pro-democracy individuals online, including with threats of imprisonment and execution, particularly against women human rights defenders.
ARTICLE 19 said that the Counterterrorism Law remains one of the primary threats to the country's digital space, with scores of journalists and media workers, human rights defenders, teachers and students arrested and convicted under this law in recent months; some received death sentences. Meanwhile, the draft Cybersecurity Law reveals the military's intention to criminalise the use of unauthorised virtual private networks (VPNs), which millions of individuals use to access information on websites banned by the military.
Further, on 20th June, the military announced that it would begin collecting biometric information in the populous Yangon Region despite a complete lack of privacy and data protection legislation. This also comes against a backdrop of the military rapidly expanding a network of CCTV camera equipped with invasive facial recognition technology.
Social media users arrested for 'anti-regime' posts
On 22nd June 2023, RFA reported that the junta had arrested and prosecuted 50 people in the previous seven days for allegedly posting anti-regime content on social media platforms. According to junta announcements, people had been prosecuted under anti terrorism laws for comments they made on Facebook, Telegram and TikTok.. Those arrested will be prosecuted under Section 52 (a) of the Counter-Terrorism Act – which carries a maximum penalty of seven years in prison.
They also face prosecution under Section 124 (a) of the Penal Code – which carries a sentence of up to seven years for sedition – Section 505 (a) of the Penal Code – which carries a maximum three-year term for high treason – and Section 33 (a) of the Electronic Transactions Act – which carries a maximum prison sentence of 15 years for using technology for acts detrimental to the security of the state.
Hunger strike organised by political prisoners around harsh restrictions
Political prisoners organised a mass hunger strike at Sagaing Region's Monywa Prison in early September 2023. The strike was a response to the harsh restrictions prison authorities had imposed on inmates, including limitations on the receipt of care packages and stricter enforcement of contraband rules.
A "special search force"- including junta police, members of the military, fire department staff and administrators - had come to the prison in the Sagaing Region's capital and confiscated inmates' books, clothing and other personal items on 8th September 2023. The following day, 14 political prisoners initiated a hunger strike, demanding the return of the inmates' personal items, the removal of existing limitations on receiving care packages, and adequate medical care for Monywa Prison inmates.
The prison authorities ignored these demands, prompting more political prisoners to strike. Around 50 political prisoners in total are now participating in the strike.
Peaceful Assembly
Protests around anniversary of the 8888 pro-democracy uprising
#Myanmar: Young people defy military rule by holding symbolic activities to mark the 35th anniversary of the 8 August 1988 uprising (8888) in Yangon #WhatsHappeningInMyanmar pic.twitter.com/UaIxNNndtK

— Md Jamal Photography (@mdjamal315) August 8, 2023
On 8th August 2023, civilians across Myanmar commemorated the 35th anniversary of the pro-democracy uprising as they held protests against the ruling military junta amid heightened security measures imposed by the regime.
In 1988, under the rule of strongman General Ne Win, an anti-dictatorship movement became a nationwide uprising following the regime's announcement which peaked on 8th August of that year and resulted in numerous casualties.
According to RFA, protesters gathered in Yangon, Sagaing, Mandalay and Tanintharyi regions holding red umbrellas, putting up posters with anti-regime slogans, and burning mock-ups of the newly issued 20,000-kyat note to mark the anniversary of "8888." Min Lwin Oo, leading member of the Dawei District Democracy Movement Strike Committee in Tanintharyi region, said his group staged a protest on the outskirts of the town of Launglon. In Mandalay, a member of the city's boycott forces told RFA that residents released balloons attached to banners to commemorate the 8888 uprising.
The military junta increased security by posting authorities dressed in civilian clothes to crowded places like bus stops or markets to arrest protesters.
Three protesters were arrested in Sagaing Region's Monywa Township when the junta opened fire on six young activists commemorating the anniversary. Seven junta personnel in civilian clothes arrived by car on Pyi Htaung Su Road and opened fire on the small flash-mob protest, but three escaped. The fate of the three arrested activists remains unknown.