Myanmar: As assault on human rights persist civil society calls for review of failed ASEAN strategy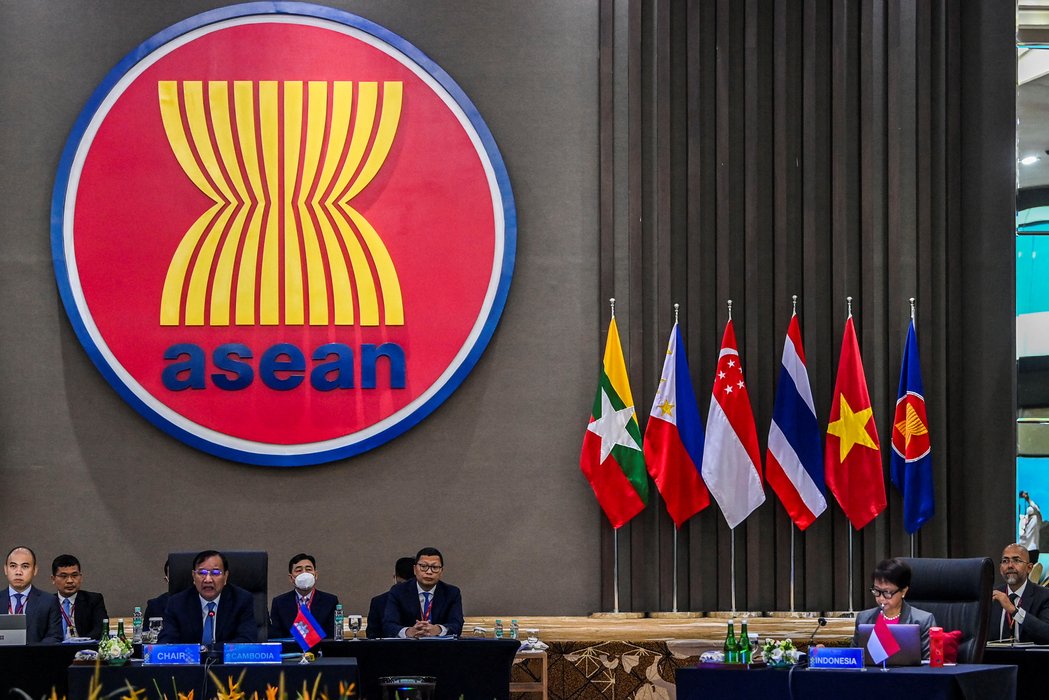 In March 2023, Myanmar's civic space rating was downgraded from 'repressed' to 'closed' by the CIVICUS Monitor. This was due to the thousands of activists and protesters that have been detained since the January 2021 coup on fabricated charges including terrorism, incitement and sedition. Many have been convicted by secret military tribunals in unfair trials and given harsh sentences including the death penalty. Some have been tortured or killed. There has also been an unrelenting crackdown on the media and civil society.
Politicians and lawmakers from the National League for Democracy (NLD) - that won the November 2020 elections - have also been criminalised since the coup, with many sentenced to long prison terms. The country's ousted leader Aung San Suu Kyi has been sentenced on multiple charges in a series of closed trials.
The junta has committed war crimes and possible crimes against humanity including unlawful attacks, killing and injuring civilians through the use of deadly air strikes, extrajudicial executions, artillery shelling, banned landmines, and cluster munitions. According to the United Nations Office for the Coordination of Humanitarian Affairs (OCHA), since the coup, the fighting has displaced 1.4 million people inside the country, burned or destroyed 60,000 civilian properties and pushed 75,400 people to seek refuge in neighbouring countries. The junta has also detained and imprisoned at least 2,000 Rohingyas since the coup for 'unauthorised travel' outside of Rakhine state.
In February 2023, the junta extended their emergency rule over the country for six more months and declared martial law in 37 townships. The junta is planning to seek legitimacy by orchestrating a "sham" election.
The crisis in Myanmar remains on the UN agenda. In March 2023, a report published by the UN Human Rights Office found that the junta has created a perpetual human rights crisis through the continuous use of violence, including the killing, arbitrary arrest, torture and enforced disappearance of anti-coup opponents. On 4th April 2023, a resolution was adopted by the UN Human Rights Council by consensus that unequivocally condemned the junta's continuing violence against civilians and the democratic resistance. However, the resolution failed to explicitly call for a comprehensive arms embargo to stop the military's atrocities and for sanctions on the sale of aviation fuel to the Myanmar military.
Sanctions have also continued to be imposed by states against the junta. On the eve of the two-year anniversary of the military coup, Canada's government moved to prohibit the export, sale, supply or shipment of aviation fuel to the Myanmar military, while the UK also announced sanctions in the aviation fuel industry, targeting two Myanmar companies and two individuals. The Australian government also imposing targeted financial sanctions and travel bans on individuals.
In February 2023, the European Union issued sanctions targeting the military and associates facilitating their crimes. Nine people and seven companies/entities were added to the list of those sanctioned. This round of sanctions focused on suppliers of aviation fuel, arms brokers, military procurement entities and members of the junta and associated bodies. In March 2023, The United States Treasury Department announced additional sanctions on Myanmar to prevent supplies of jet fuel from reaching the military in response to airstrikes on populated areas and other atrocities.
While the sanctions are positive steps, the five-point consensus agreement decided by Association of Southeast Asian Nations (ASEAN) leaders in Jakarta in April 2021 has seen no tangible progress in addressing the crisis and violations by the junta. On 5th May 2023, around the ASEAN summit in Indonesia, civil society organisations, launched a position paper to call for a review and reframing of the five-Point Consensus and the bloc's current approach.
In recent months, human rights defenders, activists and journalists continued to be arrested or prosecuted on fabricated charges by the junta while a new law has been used to shackle the opposition and dissolve parties. The junta is also weaponising social media platforms. Protesters continue to be jailed while amendments grant the junta sweeping new powers under the Anti-Terrorism Law.
Association
Since January 2023, there have been continued reports of activists being arrested and prosecuted by the junta, including religious leaders, student activists and lawyers. According the Assistance Association for Political Prisoners (Burma), as of 17th May 2023, a total of 18,095 individuals are currently under detention, 5,963 of whom are serving sentences.
Activists arrested and prosecuted
Myanmar Junta Sentences Jailed Pro-Democracy Activist to Additional 20 Years in Prison#WhatsHappeningInMyanmarhttps://t.co/KRSj949hNT

— The Irrawaddy (Eng) (@IrrawaddyNews) April 8, 2023
On 5th April 2023, the junta sentenced jailed protest leader Ko Wai Moe Naing to an additional 20 years in prison. The 28-year-old pro-democracy activist has now been sentenced to 34 years in total, having already been given a 14-year sentence on four charges including incitement, and under the Natural Disaster Management Law at trials in August and October 2022
Ko Wai Moe Naing, a former student union leader, has been held in Monywa Prison, Sagaing Region since his arrest in April 2021 during an anti-junta protests. The court in Monywa Prison sentenced him to 20 years under five more charges for robbery, rioting, carrying a deadly weapon in a crowd, inflicting pain on another, and incitement to mutiny under Section 505 (a) of the Penal Code. The activist reportedly defended himself at the trial as neither of his two lawyers was able to attend. One has been detained, while the other is in hiding after being made the subject of an arrest warrant.
RFA reported on 10th April 2023 that a court in northern Sagaing region had sentenced nine activists to prison terms ranging from three to 13 years. Final year law student and anti-junta strike leader Kyaw Win Sein received a 10-year sentence under the Counter Terrorism Law, and one and a half years for incitement to sedition in the civil service. Fellow activists sentenced by the Homalin township - seven men and a woman – also received long prison terms.
Junta court sentences 4 people to life for 'funding terrorism' — Radio Free Asia https://t.co/NDDCahSuTO

— Kyaw Hsan Hlaing (@kyawhsanhlaing1) April 7, 2023
On 16th April 2023, a junta court in Sagaing region sentenced four people to life imprisonment under the junta's anti-terrorism laws. They were all arrested by troops in their homes in Indaw township in March 2023. According to Radio Free Asia, (RFA), they include Thein Hla, a civil disobedience movement teacher; two other women, Khin Pyae Pyae Tun and Aye Aye; and Aye Min Tun. All received life imprisonment sentences under Sections 50 (j) and 52(a) of the Counter-Terrorism Law related to funding terrorism and the organisation of or participation in terrorist acts, along with harbouring terrorists or hosting meetings.
Criminalisation of student activists
A military court sentenced Hein Htet (aka Po Po Ko), a student activist in North Okkalapa Students Union to life imprisonment on Feb. 9. According to All Burma Federation of Student Unions (ABFSU), he was charged for incitement and under the Counter-Terrorism Law. North /1 pic.twitter.com/DDHk25FJoz

— DVB English (@DVB_English) February 15, 2023
A military court sentenced Ko Hein Htet aka Ko Po Po, a student activist of the North Okkalapa students' union, to life in prison on 9th February 2023. According to the All Burma Federation of Student Unions (ABFSU), he was charged under Section 505(a) of the Penal Code and Section 50(j) of the Counter-Terrorism Law.
On 14th February 2023, a Myanmar junta court sentenced jailed former student leader and democracy activist Ko Lin Htet Naing, aka Ko James, to an additional five years in prison on a terrorism charge (Article 52 (b) of the Counter-Terrorism Law). Ko James was previously sentenced to three years' imprisonment under incitement charges and now faces a total of eight years' imprisonment. Junta forces arrested Ko James in June 2022 in Yangon and he has been detained in Yangon's notorious Insein Prison since then.
ABFSU Comrade Ko Kaung Sett Paing was unjustly sentenced to captivate life imprisonment under Fascist Court Martial

2023 March 23 ABFSU

Read More - https://t.co/Nij2mGtzaS#abfsu #KoKaungSettPaing #whathappeninginmyanmar pic.twitter.com/lKE5xn19Et

— All Burma Federation of Student Unions (@abfsu_burma) March 23, 2023
A court inside Insein Prison sentenced Ko Kaung Sett Paing, 20, a member of Yangon's North Okkalapa students' union, to life imprisonment on 22nd March 2023 under Sections 505(a) of the penal code for 'incitement' and 50(j) of the Counter-Terrorism Law. The verdict was delivered nearly four months after he was arrested in December 2022. He was then sentenced to death on 25th April under Sections 50(i) and 49(a) of the Counter-Terrorism Law.
On 2nd May 2023, RFA reported that a court at Yangon's Insein Prison had sentenced student activist Banyar Soe Htet to an additional 10 years in prison, meaning he is set to serve a total of 84 years. The latest conviction was made under Article 50 (j) of the Counter-Terrorism Law which related to funding terrorism. The trial was held in secret in the prison court. The 26-year-old was arrested in November 2022 and has been held in Insein Prison ever since.
Lawyers defending detainees arrested
On 10th February, the junta arrested four lawyers and two others who were defending political detainees in Mandalay. Three of those detained were identified as U Than Tun Aung, U Win Kyaw Soe and Daw Yin Mar Win. The lawyers were acting for political detainees. Three were arrested on arrival at a court and two others were arrested while leaving another court. Another lawyer was detained in the same week. According to the new report, as of 15th February, the junta has detained nearly 50 lawyers in Mandalay who were defending prominent National League for Democracy (NLD) figures and anti-coup protestors. Most lawyers face terrorism charges.
Religious leader convicted
Dr. Hkalam Samson, 65, former president of the Kachin Baptist Convention and the first ethnic leader from Myanmar to appeal to Trump in person, is being tried by a secret internal court in Myitkyina Prison, where he is being held.https://t.co/JStPpKM3LY

— Radio Free Asia (@RadioFreeAsia) January 19, 2023
On 7th April 2023, Kachin Baptist leader Reverend Hkalam Samson was sentenced to six years prison on charges of terrorism, unlawful association (section 17) and inciting opposition to the military regime (section 505A of the penal code).
Reverend Samson is a former head of the Kachin Baptist Convention, which has about 400,000 members, most of whom are ethnic Kachin. He was arrested at Mandalay International Airport in December 2022, when he was on his way to receive medical treatment in Bangkok. He also worked as an adviser for the Kachin Baptist Convention. He has helped lead efforts to provide humanitarian assistance for those impacted by violence and conflicts in Kachin.
Political parties law used to shackle opposition and dissolve parties
A new political parties law announced on 26th January 2023 will prevent key members of the political opposition from running in upcoming elections. Human Rights Watch said the law will be used merely to try to legitimise further military control.
According to HRW, the Political Party Registration Law, which repeals 2010 legislation, prohibits anyone previously convicted of a crime or serving a prison term from joining a political party. This disqualifies many senior members of the National League for Democracy (NLD), including the party leader, Aung San Suu Kyi and President Win Myint, both serving lengthy sentences on fabricated charges.
The new law states that existing political parties must reregister within 60 days of the law's enactment or risk being dissolved, and disqualifies any political group declared as an "unlawful association or terrorist organisation under any existing law." The junta has already declared the opposition National Unity Government (NUG) and its parliamentary body, the Committee Representing the Pyidaungsu Hluttaw (the Union Parliament) as "terrorist organisations" for alleged attacks against the military since the coup.
The law requires political groups seeking to put forward electoral candidates to have at least 100,000 members within three months of registering, a huge increase from 1,000 in the previous law, and a prohibitive bar for most parties. It also requires national political parties to have funds of at least 100 million kyat (USD 47,000) to qualify for registration, far more than most smaller parties can afford. For regional or state parties, the minimum amount required in the party coffers is 10 million kyat (USD 4,700). These requirements will make it nearly impossible for smaller ethnic and minority parties to take part in elections.
On 29th March, the junta announced that the National League for Democracy (NLD) was among 40 political parties and other groups dissolved for failing to meet the political party registration deadline.
Junta weaponising social media platforms
In March 2023, UN experts said that the military junta was orchestrating an online campaign of terror, and weaponising social media platforms to harass and incite violence against activists. Women have been targeted and severely harmed.
According to the experts, pro-junta accounts regularly use hateful, sexualised and discriminatory rhetoric in an attempt to discredit women activists and human rights defenders. The UN experts warned that messaging and social media platforms – Telegram in particular – have become a hotbed of pro-military activity. They noted that women are often targets of so-called "doxxing", the act of publishing private information, including names and addresses, about individuals without their consent. These attacks are frequently accompanied by calls for violence or arrest by junta forces. "Doxxed" women have also been accused of having sexual relations with Muslim men or supporting the Muslim population – a common ultranationalist, discriminatory and Islamophobic narrative in Myanmar.
After being made aware of these offences, and shortly before the publication of critical reports detailing abuse on its platform, Telegram blocked at least 13 pro-military accounts, although at least one of the worst offending channels is back online.
The experts urged Telegram and other social media platforms to meet their responsibilities to identify, prevent and mitigate human rights abuses.
Peaceful Assembly
Court jails 13 youths over protest
Myanmar court jails 13 youths over protest that authorities rammed with cars: https://t.co/pXZIUU8YoN

— RE7 (@rob_e7) April 8, 2023
On 29th March 2023, a junta court sentenced 13 youth activists to three years of hard labour in prison each for "incitement" after they organised a flash protest against military rule that authorities broke up by ploughing into them with vehicles.
They were among nearly 30 activists accused of organising the 13th September 2022 flash protest – organised over social media to keep authorities in the dark – in Yangon's Kyimyindaing township. To quell the protest, junta security personnel drove two taxis and three other civilian cars into the crowd, injuring several people.
The court in Yangon's Insein Prison issued sentences in a closed hearing under Section 505(a) of Myanmar's Penal Code for "spreading rumours or reports with the intent to cause fear or alarm among the public to commit offences against the state". The activists belong to various groups that have protested the junta including the Octopus youth organisation, Basic Education Students & Youths Association, Myanmar Labour Alliance, Bama Youth Network, Pyin Nyar Nan Daw Private School Student's Union, Owl Community, and Confederation of Trade Unions Myanmar.
Expression
Junta arrests reporter, celebrities who criticised deadly military airstrike
Myanma editor Kyaw Min Swe, now faces up to three years in prison after changing his profile picture to a black square in mourning for the victims of a military airstrike that resulted in at least 165 deaths #myanmar #burma #freedom #freedomwriters #freemedia #freedomofspeech pic.twitter.com/hTYMhuIyIF

— PEN Perth (@penperth) May 6, 2023
The junta arrested a journalist and three celebrities who criticised the junta's bombing of a village in Sagaing region that killed 200 people, including children.
Kyaw Min Swe, a reporter in Yangon, actress May Pa Chi, and vocalists Shwe Yi Thein Tan and May La Than Sin were charged in April 2023 with violating Article 505 (a) of Myanmar's penal code for 'incitement'.
The lawyer said that all four had been charged for allegedly inciting the public against the junta by posting messages to their Facebook accounts opposing the junta's air raid at the opening ceremony of a public administration building in Kanbalu township's Pa Zi Gyi village, believed to be one of the deadliest attacks on civilians in Myanmar since the February 2021 coup. The attack has drawn condemnation from across the globe.
Kyaw Min Swe was the editor-in-chief of The Voice Weekly magazine. He also served as the secretary for the Myanmar News and Media Council.
Amendment grants junta sweeping new powers under Anti-Terrorism Law
The junta has expanded its ability to target activists with sweeping new powers in the addendum to the Anti-Terrorism Law issued on 1st March 2023 which allows authorities to eavesdrop on suspects, confiscate their assets and take other steps to crush opposition.
One chapter details the confiscation and control of assets belonging to terrorist groups or individuals and organisations associated with them. Another chapter spells out how authorities can take control of a suspect's assets as part of an investigation, including their bank accounts. Another provision adds protections for witnesses for the prosecution, including the ability to testify via video conferencing to avoid facing the accused in the courtroom.
Six articles in Chapter 14 provide authorities with sweeping new powers over digital information, including the ability to intercept, monitor, cut off and restrict communications, as well as to pinpoint the location of a suspect. Such information can now be used in investigations into terrorism or the financing of terrorism and may be submitted as evidence in a court of law.
There are also concerns that the law will be used to block digital resistance funding. Pro-democracy forces established since the 2021 coup are mainly publicly funded, often through digital wallets from Myanmar's diaspora. Activists advocating for digital privacy said the regime intends to crack down on anyone supporting the resistance.