Mexico: vicious attacks against women, journalists and HRDs continue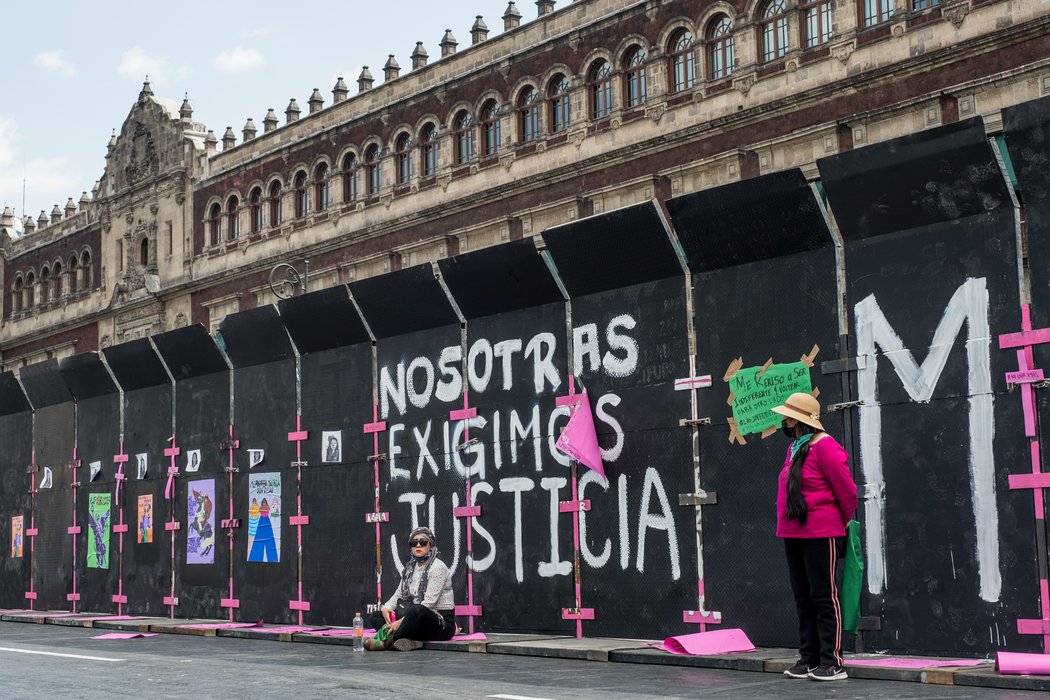 Peaceful Assembly
📸 México protesta por la muerte de Debanhi Escobar: colectivos de mujeres protestaron en varias ciudades de México por el crimen y criticaron la versión de la Fiscalía del Estado de Nuevo León

🔗 https://t.co/xEdeYTvqfc pic.twitter.com/joGrjPSmOA

— EL PAÍS México (@elpaismexico) April 23, 2022
At the end of April 2022, thousands of people protested in multiple cities to demand justice for the murder of 18-year-old student Debanhi Escobar in Nuevo León, and for the killings and disappearances of other women and girls across the country. On 24th April 2022 in Mexico City, people marched from the Bosque de Chapultepec to the Angel of Independence holding signs with messages like, "24,000 are missing" and "Mexico is a mass grave," while others protested near the Monument of the Revolution. Escobar disappeared on 9th April 2022 after getting out of a taxi where the driver allegedly harassed her. She was found dead on 21st April 2022 in a motel cistern. Gender-based violence remains a major concern in the country, with measures to protect women and girls regarded as inadequate, and investigations into domestic violence, rape and femicide often getting no results. Mexico recorded 3,716 killings of women in 2021, of which 969 were investigated as femicides.
In April 2022, environmental activists and groups protested the controversial Tren Maya project in the Yucatán Peninsula. They said that the train project lacks the proper environmental studies and that, without significant changes to the plans, the track would harm the jungle and the massive network of caves which lies beneath it. On 18th April 2022, a judge temporarily suspended the train line's construction. A meeting between the government and activists campaigning against the project, scheduled for 25th April 2022, was cancelled with little notice. Instead, people protested in front of the National Palace, saying "it's not progress, it's ecocide." Similar protests took place in Cancún on Earth Day, 22nd April 2022. President Andrés Manuel López Obrador has publicly stigmatised activists and celebrities campaigning against the Tren Maya.
On 11th April 2022, truck drivers blocked traffic at a major border crossing between Mexico and the U.S. state of Texas in protest at Texas Gov. Greg Abbott's decision to have state troopers inspect northbound commercial vehicles. The bridge connecting Pharr and Reynosa is the busiest trade crossing in the Rio Grande Valley and handles the majority of the produce that crosses into the U.S. Major trade groups evaluated the border inspections as redundant and argued the new policy is causing serious delays at the land entry port.
On 5th April 2022, people from the Indigenous community of Arantepacua staged a protest in Morelia to mark the fifth anniversary of a police operation that resulted in a massacre in the community, with the deaths of four people including one child. Many attending the protest were members of the Purepecha Indigenous people who were joined by members of teachers' union CNTE. They marched to the state Attorney General's Office to demand federal authorities take control of the investigation away from Michoacán authorities, as state police are accused of involvement in the massacre. During the demonstration, some in the crowd vandalised the Public Security Secretariat building and damaged police motorcycles.
Throughout March and April 2022, migrants continued to protest living conditions and long delays in asylum applications. On 1st April 2022, about 500 migrants protested in Tapachula, on Mexico's southern border, in a march that ended in clashes with National Guard and immigration officers. According to media reports, protesters used a wooden cross from a religious ceremony as a battering ram to break through guard lines. Officers, some of whom had riot shields, batons and pepper spray, assaulted some protesters and detained others.
In separate protests in March and April 2022, multiple demonstrations were held in Mexico City to express solidarity with the people of Ukraine. On 6th March 2022, at one event that attracted about 400 people, many carried Ukrainian flags and told stories of friends and family members affected by the war. On 10th April 2022, several dozen people marched from the Angel of Independence monument to the Russian embassy, where some lay on the ground in performance to represent the war victims. Protesters sang the Ukrainian anthem and remained outside the embassy for several hours shouting slogans calling for an end to hostilities.
Expression
Killings of journalists
#MEXICO: CPJ has is shocked to learn of the murder of journalist Luis Enrique Ramírez in Culiacán, capital of the state of Sinaloa, and calls on authorities to investigate.
https://t.co/gU75OdnaG1

— CPJ Américas (@CPJAmericas) May 5, 2022
On 5th May 2022, Luis Enrique Ramírez, a veteran journalist and columnist at El Debate, was found dead on the side of a highway in Culiacán, Sinaloa. His body was discovered by security forces in a black bag and wrapped in plastic. Several journalists and press associations expressed their dismay at the murder and demanded justice for Ramírez, calling on authorities to investigate whether the killing was connected to his work as a journalist.
Separately, at the end of March 2022, civil society group Article 19 warned that authorities had failed to properly investigate the killing of journalist and director of online media El Informativo, Jorge Luis Camero Zazueta. Camero Zazueta was shot and killed in Sonora on 24th February 2022, in a crime that authorities said is being investigated as related to drug trafficking. Article 19 rejected this claim and said authorities had failed to comply with the Standard Protocol for the Investigation of Crimes Committed against Freedom of Expression.
Violence against journalists
On 8th April 2022, three people reportedly attempted to break into the home of Ana Dora Cabrera, director of the Media Octupus, of San Luis Potosí. The journalist said the assailants were scared off after she sounded a neighbourhood alarm. She has been threatened several times before because of her work exposing local officials' involvement in sexual violence.
On 1st April 2022, Rompevento TV director Ernesto Ledesma and UAM professor Violeta Núñez were threatened through phone calls soon after releasing a report about lithium deposits in Mexico. According to Rompevento TV, the phone calls were made from a hotel near the media's office and the venue where the report was launched.
Several journalists were harassed, threatened and victimised by state officials during the reporting period. Ana Luz Solís Frías, director of News San Miguel, was harassed by an adviser to San Miguel de Allende's mayor because of her work exposing alleged corruption related to a local water management facility. The adviser made several stigmatising comments and personal insults against the journalist on social media. In Zacatecas on 30th March 2022, the governor made disparaging comments about the press at a press conference, accusing unnamed media outlets of promoting crime and "spreading terror". On 24th March 2022, a journalist with Ciudadanos Observing was threatened by a state deputy and another member of the Redes Sociales Progresistas (RSP) party after publishing a story about them.
In the new report titled "Denial", Article 19 said violence against journalists skyrocketed to unprecedented levels during the first three years of President Andrés Manuel López Obrador's administration. During that time, there were nearly 2,000 reported attacks against journalists, including 25 murders — up 85% compared to AMLO's predecessor, Enrique Peña Nieto. The group said that in 2021, the tendency to deny and make invisible issues related to human rights in public discourse was consolidated. This denial, they argued, translates into official disinformation, public stigmatisation of the press, political bias in the allocation of official advertising, undermining of the transparency system, violence against the press and other practices.
Cases in the justice system
On 27th April 2022, a prominent prosecutor said an investigation was ongoing against a journalist and an activist who are accused of leaking audio of private conversations between Mexico's Attorney General and a prosecutor. One leaked audio seemingly showed the Attorney General discussing interfering in a criminal case. According to Germán Castillo, the head of the Specialised Prosecutor for Regional Control of the Republic Prosecutor's Office, several people - including a journalist and an activist - are under investigation for allegedly conducting illegal wiretapping. Castillo publicly revealed the identities of two people under investigation, saying they were the first to publish information on the leaked conversation.
On 11th April 2022 in Yucatán, authorities in the local justice system ordered six media outlets to remove articles on alleged corruption by a local official. Through a letter from the Prosecutor's Office, the local media outlets were threatened with sanctions and fines if they did not comply.
Legal protection for Indigenous peoples may affect freedom of expression
In January 2022, a new intellectual property law, the Federal Law for the Protection of the Cultural Heritage of Indigenous and Afro-Mexican People and Communities, was approved prohibiting the unauthorised use of Indigenous art and design. The legislation allows certain communities to file a lawsuit against another party if they are using or imitating traditional art and symbols, and can include a 10-year prison term for illicitly producing or selling Indigenous creations.
However, since its approval, the law has raised questions regarding implementation. "This is something that needs to be addressed. However, there are still doubts on whether this is the most efficient way," an intellectual property lawyer told news media. "Creators need to have a basic level of legal certainty, and also they need to have their freedom of expression and freedom to work and be protected." Critics also said the law failed to identify what qualifies as a cultural creation and who in an Indigenous community has permission-granting authority. The government is expected to clarify the regulations. Mexico has 68 different Indigenous peoples comprising more than 15 percent of the country's population.
Association
🇲🇽#Mexico

Break-in and death threat against environmental human rights defenders Juan Carlos Flores Solis and Miryam Vargas Teutlehttps://t.co/kll5XBW1C7 pic.twitter.com/CqGdwVRNY6

— Front Line Defenders (@FrontLineHRD) April 8, 2022
On 11th April 2022, the home of human rights defenders Miryam Vargas Teutle and Carlos Flores Solís was broken into for the second time in two weeks. They are members of the environmental and lands rights group FPDATMPT and Vargas Teutle is also the Cholollan Community Radio announcer.The raids occurred in the community of Santa María Zacatepec in the municipality of Juan C Bonilla, Puebla.
During the first incident, on 5th April 2022, the house was broken into while the defenders were not at home. The gate and padlock on the door were broken and there were signs that a tree in the garden had been cut down. During the break-in unknown persons left a knife on the bed, stole some documents and removed family photos. They also stole a TV screen, a microwave and a printer. However, they left other valuables that were in plain sight.
On 11th April 2022, the house was raided again. "In the morning we realised that the water pumps had been stolen, the wooden protection that we installed was removed, and they stole the knife left in the house during the first search. They also removed some glass from the window," Vargas Teutle told Article 19. Despite reporting the break-in to authorities, Vargas said they did not follow up with her. The knife, which may have been left behind as a death threat and was considered a key piece of evidence, is now missing.
Trans human rights defender denied entry and deported
Rechazamos todo tipo de discriminación hacia las personas trans en cualquier parte del mundo. Keila Simpson, presidenta de la organización ANTRA, fue discriminada en el AICM por el prejuicio hacia su expresión e identidad de género. (1/7) pic.twitter.com/5VI1d8Bvh4

— Amicus (@amicusdh) May 3, 2022
On 1st May 2022, the president of the Brazilian Association of Travestis and Transsexuals (ANTRA), Keila Simpson, was denied entry at Mexico City airport and deported to Brazil. She had flown to Mexico City to attend the World Social Forum as a speaker, and was among a delegation of 20 members of Brazilian NGOs Association ABONG. She was the only one denied entry. ABONG and ANTRA said Simpson had all the documents required to travel, the same that were provided to the other members of the delegation, and that the decision to deny her entry was motivated by transphobia. A Mexican activist filed a request for a precautionary measure with the country's National Human Rights Council to have the case reviewed, but according to ANTRA there was no time to get a response before Simpson was deported.
Developments in Ayotzinapa students case
#Ayotzinapa | Un dron militar, monitoreo permanente a los normalistas, tortura y comunicaciones intervenidas, son algunos hallazgos del III Informe del @GIEIAYOTZINAPA.

Consulta el resumen en https://t.co/BitABrvdyo pic.twitter.com/A7wYrY04O9

— Centro Prodh (@CentroProdh) March 30, 2022
In March 2022, a group of international experts of the Inter-American Commission on Human Rights said the Mexican government had falsified investigations into the disappearance of 43 students in 2014 from the start. According to the group's report, Mexico's armed forces knew that 43 student teachers were kidnapped by criminals, then hid evidence that could have helped locate them. Prosecutors and military personnel altered crime scenes and records. Investigators then sought to quickly resolve the crime through illegal searches, detentions and torture of alleged suspects.