Mass protests follow disputed election results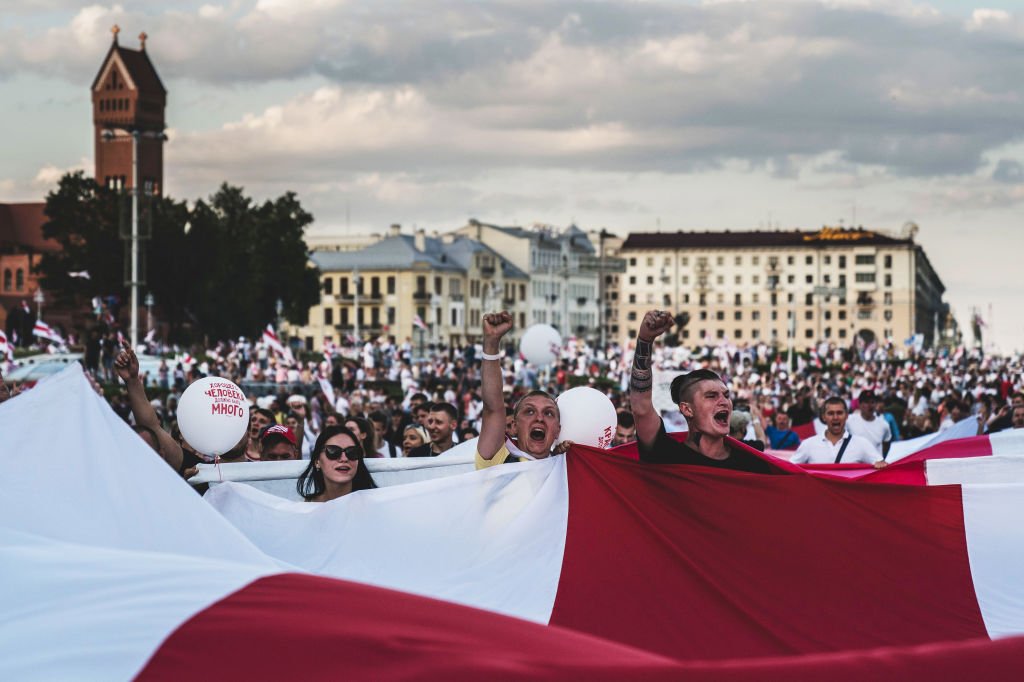 This is what the protests in Belarus — perhaps the largest demonstration in the country's history — looked like on Sunday as tens of thousands turned out to oppose President Alexander G. Lukashenko.

Read the latest. https://t.co/mYZtASGrPK pic.twitter.com/dZAwL5vAo1

— The New York Times (@nytimes) August 16, 2020
Peaceful Assembly
Protests erupt across the country over disputed results
On 9th and 10th August, after election results were announced, demonstrators took to the streets in Minsk and various cities across the country to protest the disputed results. This followed the CEC's announcement that the incumbent, Alexander Lukashenko had won by 80 percent of the votes, with the main opposition candidate, Sviatlana Tsikhanouskaya, garnering only about 10 percent.
Police responded to the protests with force, using stun grenades, rubber bullets, tear gas and blanks from Kalashnikov-type rifles to disperse the protesters. While most protests were peaceful, a few protesters were seen setting off fireworks and building barricades from overturned garbage dumpsters.
On 11th August, it was reported that at least 200 people had been taken to hospitals from injuries sustained during the protests. At least 3000 people were detained on the evening of 9thAugust, and an additional 2000 arrested on 10th August. Several law enforcement officers were injured, with reports indicating that at least 39 were reported injured on the evening of 9th August and an additional 21 were injured on 10th August. One protester was reported dead from the protests on the evening of 9th August after he was hit by a special vehicle. The Ministry of Internal Affairs however indicated that he died after an explosive device detonated in his hands as he tried to throw it at police officers, a narrative that was challenged by some.
On 12th August, Viasna Center reported that about a thousand protesters were detained overnight the previous evening after riot police dispersed dozens of local demonstrations in 25 cities across the country. Many demonstrators were injured and had to seek medical assistance. According to reports, as at 12th August, the official figures of those arrested had soared tosix thousand people.
Similarly, on 13th August, Viasna Center reported that around 700 people were detained after protesting through the previous night in Minsk and other cities of Belarus, including Hrodna, Mahilioŭ, Homieĺ, Brest, Vitebsk, Barysaŭ, Baranavičy, Babrujsk, Lida, Fanipaĺ, Rahačoŭ, Navapolack, Smaliavičy, etc. Excessive violence, stun grenades and rubber bullets were used again, even though the protests were peaceful.
These protests started with a women protest, who came out into the streets in solidarity with those detained after the elections. Another protest was organised by doctors, who came into the streets to show solidarity with one of their colleagues beaten by law enforcement. They also called for an end to the violence, saying they could no longer cope with the number of those seriously injured during the protests.
Only on the evening of 13th August did the authorities start to release some of the detained people. It is expected that protests will continue across the country as people demand repeat elections, the cessation of violence and the punishment of law enforcement officers who use force. Citizens are also demanding the release of all those who have been illegally detained and the provision of medical care.
The violent protests in Belarus have sparked several international reactions. Several non-governmental organizations issued official statements and urged the international community to take a stand against the abuses by government officials and called for sanctions Code against Alexander Lukashenko. In addition, the Council of Europe, the OSCE, the European Union, the United States, the United Nations, presidents or foreign ministers and National NGO Platforms of the Eastern Partnership Civil Society Forum also expressed solidarity with the Belarusian people, insisting on an end to the oppression of peaceful protests.
Human Rights Watch called on law enforcement officers to respect human rights standards on the use of force during police operations. Hugh Williamson, Europe and Central Asia director said:
"Belarusian authorities have unleashed brute force in an effort to crush peaceful protests and stifle public discontent… The response to the protests shows the country is on track for a new low point on human rights during Alexander Lukashenko's 25-year rule."
The main opposition candidate, Svetlana Tihanovskaya, also called on the authorities and protesters to avoid violence and urged law enforcement officers not to use force against civilians.
Several initiatives have been set up by well wishers to support the protesters and those injured by providing food, water and medical care. "BYHELP" action managed to raise 1.5 million USD in just a few days.
Workers down tools to protest disputed results and brutality
On 11th August 2020, it was reported that workers at the Minsk Electromechanical Plant (MEZ) went on strike to protest the disputed election results and the violent dispersal of protesters. This followed a call by a Telegram channel known as 'Nexta' the day before, urging all factory workers in Belarus to go on strike in protest at the violent dispersal of protests and detentions.
Two days later, on 13th August, more workers from different state companies organised strikes across the country, asking for proper elections and a stop to police brutality. Media reported that companies such as Grodno-Azot, BelAZ, Belmedpreparaty, JSC Grodnozhilstroy, Terrazit and others prepared to strike.
Employees of some companies also decided to leave state trade unions and pro-government organisations.
As previously reported on the Monitor, since the beginning of the campaign period, the elections were marred by numerous human rights violations, including the illegal arrest and detention of political leaders and those who protested in support of opposition candidates. In July 2020 alone, police detained more than 420 people, including more than 330 in Minsk, for participating in peaceful assemblies across the country.
On 9th August 2020, presidential elections took place in Belarus. Both the OSCE and the Council of Europe were unable to send observers to Belarus to monitor the presidential election as accreditation was denied by Belarusian authorities. The accredited international observers included only official delegations from international organisations such as the CIS. Many independent national observers were detained and accused under false charges.
One of the observer missions carried out by the Belarusian Helsinki Committee and the Human Rights Centre "Viasna" (an organisation declared illegal by the authorities) which undertook an observer mission under a campaign dubbed: "Human Rights Defenders for Free Elections" reported that "The 2020 presidential election was held in an unprecedented atmosphere of fear and intimidation of society, against the backdrop of repression, which began almost immediately after the announcement of the election and marred every electoral phase." In a press conference that followed the elections, they announced that the process was "far from the standards of free and fair elections" and passed with "critical problems".
Association
CSOs denounce electoral irregularities
On 10th August 2020, several civil society organisations released a statement to express their "shock and outrage at the way the 9th August 2020 presidential elections were conducted in Belarus".
The CSOs noted massive electoral irregularities and violation of standards under the OSCE which undermined conditions for free and fair elections. They noted that several presidential candidates had been illegally disqualified from running, while others were persecuted through legal and administrative actions, with at least 26 political detainees being held in the days leading up to the elections. International observers were prevented from observing, while independent observers were detained and media reporting severely restricted. A number of social media and independent news sites were blocked on the day of elections, and peaceful protests that ensued after the announcement of preliminary results were met with brutal force from the police.
He rigged himself 80% of the vote. The candidate who was chosen by the whole country, Svetlana Tihanovskaya, was intimidated, threatened to deprive her of her own children, forced to read a written text on a video where she says that she is leaving the political race.

— Slava still crying a.k.a crystal castles lover (@goddamn_garbage) August 12, 2020
Opposition candidates intimidated
On 10th August, Svetlana Tihanovskaya went to the headquarters of the Central Electoral Commission (CEC) to file a petition against the falsification of the elections, where she was left for several hours with representatives of the secret services and without the presence of her lawyer. On the evening of the same day, after leaving the CEC office, it was reported that she left the building in an unknown direction. The next day, Linas Linkevicius posted on Twitter that Tihanovskaya was in Lithuania and safe. The following day,two videos appeared, one where Tihanovskaya hinted that she had made a decision which was not easy for her and that her children were her priority, and in the second clip Tihanovskaya read a text on a piece of paper, while in the office of the head of the Central Electoral Commission. Following the analysis of the video images, it was said that it was clear that she was forced to tell people not to go out to protest.
On 11th August, Veronika Tsypkalo, the wife of one of the candidates who were eliminated from the presidential race, told Current Time (a TV channel declared a foreign agent in the Russian Federation) that she had left Belarus (for Moscow) for the second time because she had been warned that she would be arrested as the organiser of the violent protests in Minsk. She said: "I will not be able to speak in prison. I decided to leave because I can do more from here."
please tell the whole world about the terror in Belarus. the government turned off the Internet in Belarus, no one will hear them

— SONYA BLADE (@Cannibalica) August 13, 2020
Expression
Internet and websites blocked during elections
As early as 9th August, even as the presidential elections ensued, deficiencies in communication through mobile data and internet connection were registered throughout the country. Pavel Durov, the founder of Telegram, wrote on Twitter: "We enabled our anti-censorship tools in Belarus so that Telegram remained available for most users there. However, the connection is still very unstable as the Internet is at times shut off completely in the country."
On 11th August 2020, Article 19, in collaboration with 50 other human rights organisations wrote to the UN's Special Rapporteurs on freedom of expression, freedom of assembly and association, and human rights over disruptions to the internet in Belarus. They reported limited or no access to YouTube, Viber, Telegram, Facebook, Twitter, Instagram, and Vkontakte.
● NEWS ● #meduza #ru #russia #Minsk #belarus ☞ 'It changed when the brutality began' 'Meduza' correspondent Maxim Solopov describes his arrest and detention in Belarus https://t.co/egP9If1zL7

— Dr. Roy Schestowitz (罗伊) (@schestowitz) August 19, 2020
Journalists assaulted, detained
In addition, some journalists went missing for a few hours or even days and were released only after diplomatic interventions. It was reported that some were escorted to the border and banned from entering Belarus for another five years. Journalist Maxim Solopov, from the Meduza portal, could not be located by his colleagues or by the employees of the Embassy of the Russian Federation in Minsk. On the evening of 11th August his colleagues announced that he had been escorted to the border.
On the evening of 10th August in Minsk, Znak.com correspondent Nikita Telizhenko who had gone to Belarus on editorial assignment was detained. He was released on the evening of 11th August and described how riot police beat and mocked the detainees who were protesting in the streets of Minsk.
On 12th August 2020, two Ukrainian human rights activists, Yevhen Vasiliev and Kostyantyn Reutskyi were detained in Minsk while filming the situation on the streets with their mobile phones. The two are members of a Ukrainian NGO, Vostok-SOS, and face up to eight years' imprisonment for organising mass actions. Human rights organisations and public organizations in Ukraine issued a statement regarding the detention of Ukrainian citizens in Minsk. In their statement, they demanded the immediate release of the human rights defenders, who were detained illegally, and asked Belarusian state authorities to inform the Embassy of Ukraine in Belarus where they were being held and the grounds for their detention.
That same day, the Committee to Protect Journalists (CPJ) reported that police detained and beat a correspondent with U.S. Congress-funded broadcaster Radio Free Europe, Vital Tsyhankou and his wife Olga Tsyhankou. Two other journalists from Hromadske TV, a Ukrainian TV Channel, were detained that day. In a public statement, they called for the immediate release from detention of the journalists, who worked without accreditation. According to the statement, accreditation was requested a month prior to the elections, but the Belarusian authorities had failed to respond. Journalists Liubov Luneva and Dmitry Soltan, from Belsat TV, one of Belarus's largest independent online media outlets, were also detained but released the same day.
CPJ reported that the Ministry of Interior had issued an order to "free all the journalists" and that the ministry staff were visiting detention centres to ensure that they would be released.
Still, on 12th August, Amnesty International released a statement calling on the Belarusian authorities to immediately end their assault on journalists. Marie Struthers, Amnesty International's Director for Eastern Europe and Central Asia said:
"Journalists in Belarus are doing heroic work to ensure the world knows about the authorities' brutal repression of protests. It is horrifying to see the lengths to which the government will go to suppress this information – attacking reporters with batons and rubber bullets, destroying their equipment, and throwing dozens in jail."
Journalists quit jobs to protest brutality and censorship
On 11th August several journalists from public television submitted their resignation requests in protest at the ongoing brutality by authorities. On 13th August the solidarity action continued as journalists from more stations joined the action.