Malaysia starts its UN Human Rights Council term by harassing activists, protesters and critics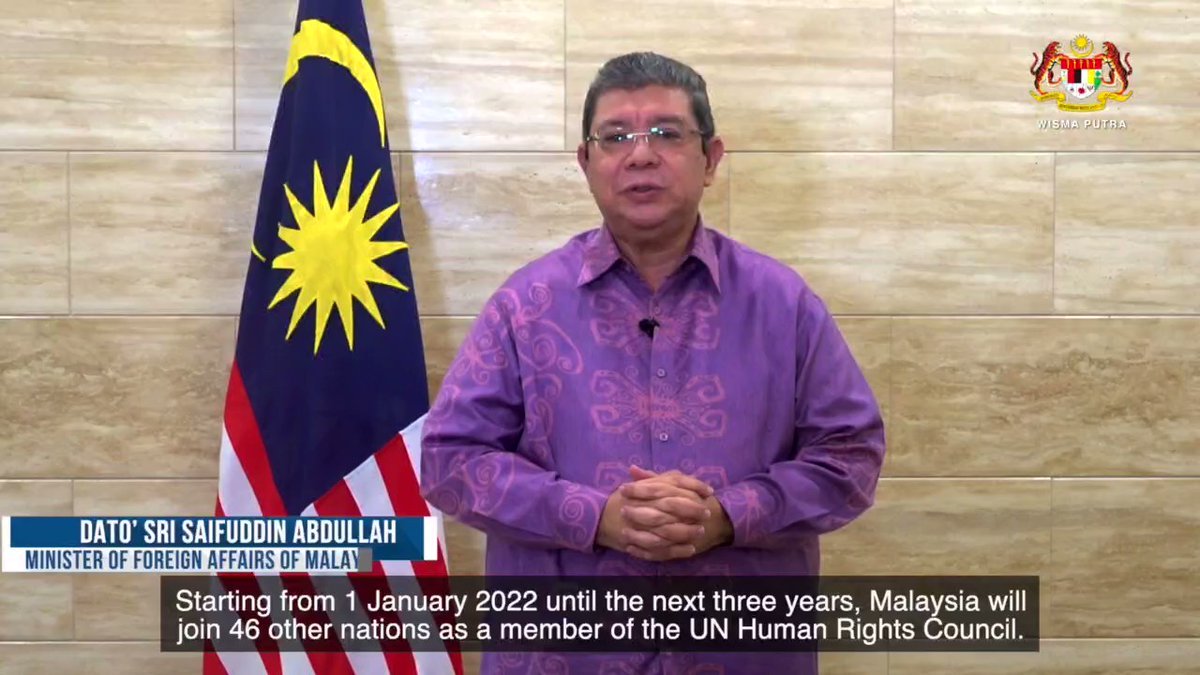 On 14th October 2021, Malaysia was elected as a member of the United Nations Human Rights Council (UNHRC) for the 2022 – 2024 term. In its voluntary pledges submitted earlier to support its candidature, it had pledged to promote and protect human rights, particularly focussing on the implementation of recommendations from its Universal Periodic Review.
Following its election, CIVICUS and ARTICLE 19 called on the government to "reverse systematic abuses and restrictive policies" in Malaysia and to repeal or amend laws that hinder fundamental freedoms. The groups further called on the government to ratify the International Convention on Civil and Political Rights. The Malaysian Bar also called for the repeal of laws such as the Prevention of Crime Act (Poca), Printing Presses and Publications Act, the Sedition Act, and the Communications and Multimedia Act (CMA 1998) which, combined together, it called a "collective affront" to human rights.
Malaysia's civic space rating was rated as 'obstructed' for the fifth year in a row in the "People Power Under Attack 2021" report released by the CIVICUS Monitor in December 2021.
In recent months, the government has targeted journalists and a graphic artist and has attempted to remove critical tweets. It is also harassing a whistle-blower for corruption allegations against the anti-graft chief Azam Baki as well as activists, opposition parliamentarians and protesters seeking an investigation into the case. Police also raided an NGO working on police abuse and have failed five years on to bring the perpetrators of the enforced disappearances of four individuals to justice.
Expression
Government attempts to remove critical tweets
S'gor floods: MCMC tries to remove posts critical of govt, Twitter says 'No' https://t.co/il1hCUK3na

— malaysiakini.com (@malaysiakini) December 23, 2021
In December 2021, the Malaysian Communications and Multimedia Commission (MCMC) unsuccessfully sought to remove Twitter posts that were critical of the government's handling of flash floods that have devastated communities, particularly in parts of Selangor and Pahang. The MCMC claimed the tweets were "obscene" to ensure compliance with Section 233 of the Communications and Multimedia Act (CMA) 1998.
A netizen posted that he had received an email from Twitter informing him about a request made by MCMC to remove his Twitter posts. However, Twitter rejected MCMC's request.
One of the tweets by the netizen criticised a flood fundraising event that involved Women, Family and Community Development Minister Rina Harun. The other content that MCMC took issue with was a tweet that criticised Entrepreneur Development and Cooperatives Minister Noh Omar over the latter's statement regarding the eligibility of flood victims to claim government aid.
The Centre for Independent Journalism (CIJ) condemned this move by the MCMC saying that : "attempts to suppress dissent and criticism of the government to challenge or hold the State to account are grossly disproportionate to any legitimate aim of protecting public order or upholding our democracy. Censoring such dissenting and critical views should never be the norm — even if they make the government look bad".
The group also raised concerns about the repeated use of Section 233 of the CMA law – a broad and vague provision inconsistent with international law and standards - to silence critical voices. According to CIJ, in 2021, at least 236 individuals were implicated in 140 police investigations, arrests and charges related to Section 233 of the CMA.
Journalist hauled in for reporting on floods
Journalist Sean Augustin from the outlet Free Malaysia Today was called in for questioning by the police on 5th January 2021, over an article where he stated that the armed forces had to rescue flood victims amidst rising waters without waiting for the approval from the disaster management agency. Augustin cited a source who claimed that the defence ministry was "fed up" with the National Disaster Management Agency (Nadma) and the Selangor government.
In response, media rights group Gerakan Media Merdeka (Geramm) said the media has a right to raise questions without interference, while international press freedom group Reporters Without Borders condemned the increasing harassment of journalists and stated that the authorities must stop using such intimidatory measures, which push the media to censor themselves.
In December 2021, netizens have voiced online their dissatisfaction over the government's lack of preparedness and the slow pace of rescue and relief efforts following the floods which left dozens of dead and displaced more than 61,000 people.
Authorities continue criminal defamation case against Sarawak Report editor
In November 2021, Malaysian authorities made a public appeal for information on Sarawak Report editor and founder Clare Rewcastle Brown after reviving a three-year-old criminal defamation case against her.
The appeal for information relates to an arrest warrant issued against London-based Rewcastle Brown on 23rd September 2021, for failing to attend proceedings in a defamation suit brought by the Sultanah of Terengganu, Sultanah Nur Zahirah (Terengganu state royalty) regarding her book on the 1Malaysia Development Berhad (1MDB) scandal. Rewcastle Brown faces a criminal defamation charge under section 500 of the Malaysian Penal Code, which carries a punishment of up to two years' imprisonment and a fine.
According to Rewcastle Brown, her case was categorised as "no further action" in 2018. She described the revival of the case in March 2021 as a "politically motivated" move and a "blatant abuse of power and influence within Malaysia".
The International Federation of Journalists (IFJ) said: "The criminal defamation case against Clare Rewcastle Brown is yet another arbitrary attempt by the Malaysian authorities to quash critical reportage and crucial investigative journalism."
Activist summoned by police for satirical online poster
Grafik satira 'House Of Balak', Fahmi Reza 'menghadap' Bukit Aman esok #FMTNews https://t.co/G9LIGqU221

— Free Malaysia Today (@fmtoday) January 24, 2022
Activist Fahmi Reza was called up by the police on 25th January 2022 in connection with a satirical social media poster that allegedly depicted an edited image of the Pahang state Coat of Arms with the words 'House of Balak'. The poster was published on his social media accounts on 3rd January 2022 in the wake of allegations of extensive logging in the state of Pahang.
The investigation is being carried out according to Section 4(1) of the Sedition Act 1948 for acts with seditious tendency and Section 233 of the Communications and Multimedia Act 1998 for improper use of network facilities or services.
The graphic artist had been repeatedly summoned by the police for various graphics designed and uploaded online by him. He was arrested in April 2021 for allegedly insulting the country's queen by uploading a Spotify playlist that seemingly mocked comments on the queen's Instagram account. Fahmi was also investigated by the police in March 2021 over two caricatures of the health minister. In 2018, he was sentenced to a month's jail and a fine for his caricature of former Prime Minister Najib Razak.
Whistle-blower facing judicial harassment 
🇲🇾 #Malaysia: "The legal action brought against Lalitha Kunaratnam clearly constitutes a gag suit with the sole aim of silencing any public debate and threatening this journalist with disproportionate legal costs," said Daniel Bastard of @RSF_AsiaPacific https://t.co/B2QL49r9m1

— IFEX (@IFEX) January 27, 2022
Investigative journalist and whistle-blower Lalitha Kunaratnam is currently facing judicial harassment over two of her articles published in 2021. The articles, which appeared on the Independent News Service (INS) portal, questioned the chief of the Malaysia Anti-CorruptionCommission (MACC) Azam Baki's business ties and claimed he owned shares in two companies. The articles followed earlier claims from an anonymous Twitter account raising irregularities within MACC and naming Azam as among those involved.
On 6th January 2022, Azam issued a letter of demand to Lalitha demanding a public apology within 14 days and the payment of RM10 million (USD 2,393,200) for damaging his reputation. Azam's lawyers threatened legal action for failure to comply with these conditions. On 12th January 2022, Azam sued Lalitha for defamation over failure to comply. The High Court set the date for the management of the suit for 15th February 2021.
On 3rd February 2022, Lalitha was questioned by the federal police for more than three hours as part of a probe into her articles. The journalist revealed how she was asked more than 80 questions by investigators.
Civil society and oppposition MPs and have raised concerns over Lalitha's intimidation. The Centre of Independent Journalism (CIJ) and Gerakan Media Medeka emphasised the role of the media in holding state actors accountable and called on the government to investigate the allegations against Azam. In a joint statement, 21 opposition MPs called on the government to halt its investigation against Lalitha and other whistle-blowers, and instead to use its resources to conduct an investigation into claims made against Azam.
Peaceful Assembly
Youth protesters summoned by police for protest
PKR Youth holds protest at MACC, demands Azam Baki to step down https://t.co/V2TD6nYh9e

— malaysiakini.com (@malaysiakini) January 10, 2022
On 11th January 2022, youth leaders from the People's Justice Party (PKR) were called in for police questioning after participating in a peaceful protest calling for the resignation of Malaysian Anti-Corruption Commission (MACC) chairman Tan Sri Azam Baki Azam over allegations of corruption. PKR youth leader Akmal Nasir said they were questioned under the Peaceful Assembly Act.
Around 50 participants from PKR attended the convoy, held the day before. The group had moved in a convoy of 50 vehicles from Dataran Putrajaya to the MACC headquarters. The group later handed over a memorandum to the MACC office.
Simpang Renggam Member of Parliament (MP) Maszlee Malik was also called in for questioning on 13th January 2022, for witnessing the handing of the memorandum.
Anti-corruption protesters, opposition politicians face harassment
The protest calls for MACC chief commissioner Azam Baki to step down following his stock trading scandal.https://t.co/my1yK1SQgO

— Yahoo Malaysia (@Yahoo_MY) January 23, 2022
Hundreds of individuals, political activists as well as opposition MPs held a protest in the capital Kuala Lumpur on 22nd January 2022 demanding the country's anti-graft chief resign over the purchase of stocks several years ago. Carrying placards and chanting "Tangkap Azam Baki" (Arrest Azam Baki), the crowd of about two hundred called for immediate action against Azam Baki, the Malaysian Anti-Corruption Commission's (MACC) top official.
The protesters had planned to march to the national mosque before ending their protest at Dataran Merdeka. However, police only allowed them to march to the end of Jalan Bangsar — where a wall of police officers stood guard to prevent them from proceeding any further.
The police attempted to block and disrupt the protest ahead of the gathering. Firstly, it obtained a seven-day court order to block public protests at an area in downtown Kuala Lumpur. When this failed to deter the protesters, the police diverted traffic and suspended several train services into the area where the protest was being planned. A briefing held a day ahead of the protest was also raided by the police. Despite this the protest went ahead.
Following the protest, more than 40 activists have since been hauled in for questioning. According to the police, on 24th January they had identified 78 individuals in connection with the protest as well as 16 from the briefing held before the protest. Police are reportedly investigating the individuals under Section 505 (b) of the Penal Code, Section 9 (5) of the Peaceful Assembly Act 2012 and regulations under the Prevention and Control of Infectious Diseases Act 1988.
Bersama Sdr @HannZiq sebagai peguam Sdri @LimYiWei4MY dan Sdr @iskandarfareez, yang dipanggil bersama dengan Sdri @youngsyefura dan Sdr @rajiv4malaysia dan juga individu lain, ke IPD Brickfields tadi bagi memberi keterangan mengenai #TangkapAzamBaki pic.twitter.com/zusUQHmIEb

— Syahredzan Johan (@syahredzan) January 28, 2022
Opposition politicians have also been targeted. MP Teresa Kok (Seputeh) as well as three assembly members - Lim Yi Wei (Kampung Tunku), Young Syefura Othman (Ketari) and Rajiv Rishyakaran (Bukit Gasing) have also been hauled up by the police for their involvement in the protests.
Separately, on 28th January 2022, MPs Maria Chin Abdullah and Fahmi Fadzil were summoned by police in Kuala Lumpur. The pair were called in for questioning regarding their involvement in a protest held outside the country's parliament building on 20th January 2021 calling for the arrest of the anti-graft chief.
Association
Police raid NGO working on police abuse
In December 2021, police raided the office of Eliminating Deaths & Abuse in Custody Together (EDICT), a group working on police abuse. According to the group's executive director Khalid Mohd Ismath, he and other EDICT members were in court when the policemen made their unannounced visit at around 10.30am over a media statement EDICT released on 26th November 2021 with the title "PDRM must take action against two policemen who allowed the suspect to kill the victim". The statement was around the failure of the police to intervene in a fight in Ipoh city.
As EDICT was sharing office space with another NGO, the policemen were not allowed into the premises. Later in the day, Khalid received a call from the Ipoh police who wanted him to give a statement.
Still no accountability for enforced disappearances five years on
Family of missing Amri Che Mat denied govt's report on disappearance, told it's 'secret', release against 'national interest' https://t.co/0m2tuIvx8e

— Malay Mail (@malaymail) November 24, 2021
There continues to be a lack of accountability around the enforced disappearances of activist Amri Che Mat and Pastor Raymond Koh as well as Pastor Joshua Hilmy and his wife Ruth Hilmy.
As previously documented, Koh was abducted in February 2017 in Petaling Jaya, Selangor State, while Amri Che Mat, founder of local community NGO Perlis Hope, was abducted in November 2016 in Kangar, Perlis State. Joshua, a Malay Muslim who converted to Christianity, and Ruth, were last seen in November 2016.
In April 2019, after an extensive public inquiry, the national human rights commission (SUHAKAM) concluded that the abductions of Amri Che Mat and Raymond Koh were both cases of enforced disappearances carried out by state agents, namely the Special Branch or the police intelligence unit.
In June 2019, the Home Ministry announced the formation of a special task force to reinvestigate the alleged enforced disappearances of Koh and Amri. However, the Malaysian government has refused to publish the findings of the special task force saying the report is classified as "secret" under the Official Secrets Act 1972 and that its public release would be against 'national interest'.
In December 2021, the wife of Amri Che Mat filed an application at the Kuala Lumpur High Court to commence a legal challenge to declassify the report of the taskforce over her husband's disappearance. Norhayati Mohd Ariffin is seeking leave to initiate a judicial review in an attempt to set aside several provisions in the Official Secrets Act (OSA) under which the report has been classified. She also wants the court to declare as unconstitutional the government's decision to classify the taskforce report as secret.
Pastor Joshua Hilmy, wife disappearance follow a pattern https://t.co/zqHkNMKB23

— malaysiakini.com (@malaysiakini) January 20, 2022
In January 2022, during the SUHAKAM public inquiry on the disappearance of Joshua Hilmy and Ruth Sitepu, multiple groups of observers criticised police inefficiencies in carrying out investigations. Lawyer Philip Koh said the case of the two is possibly linked to the disappearances of Koh and Amri. He pointed out how the Special Branch in November 2016 had branded Christian proselytisers and proponents of Shia teachings as the "real enemies", that they had reportedly received prior threats or harassment before they went missing and pointed to the police's lackadaisical attitude towards investigating these cases.