#KilltheBill protests continue amid police violence; Extinction Rebellion co-founder arrested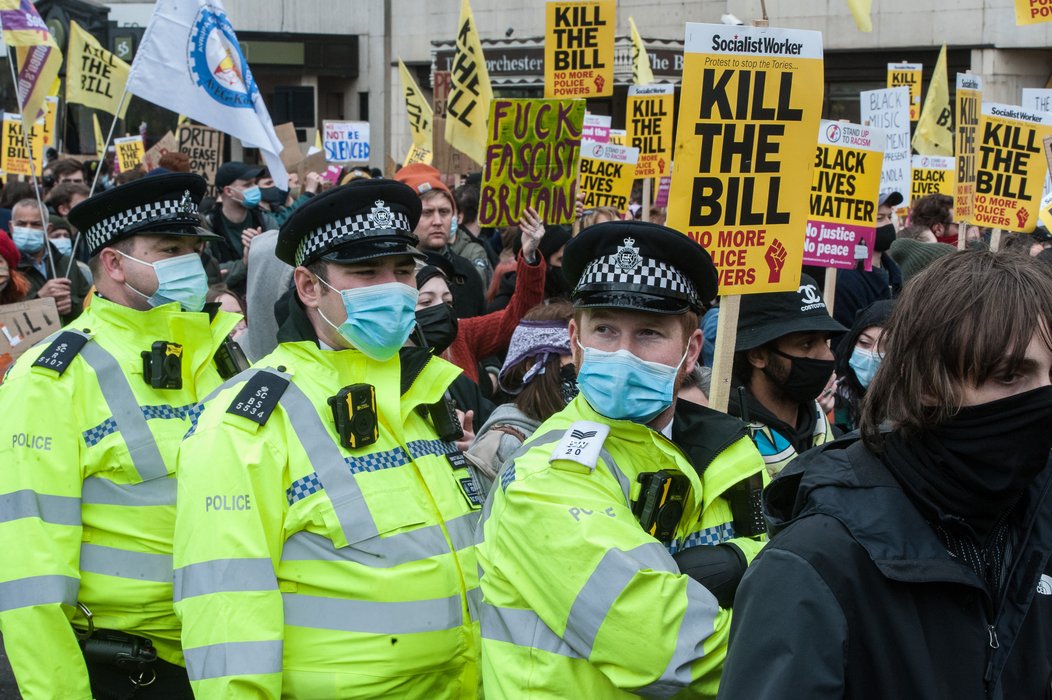 Introduction
#KilltheBill protests against the policing bill continue across the UK, as protesters advocate for the protection of peaceful assembly rights. Meanwhile, the controversial bill has been declared in violation of international rights standards.Amid these developments, climate defenders from Extinction Rebellion remain under threat, with the arrest of the group's co-founder.
Association
Conservative MPs launch complaint against Runnymede Trust
Runnymede Trust, an independent race equality think-tank which recently criticised the UK government's report on Race and Ethnic Disparities, have been on the receiving end of a complaint submitted to the Charity Commission by over 20 Conservative MPs. The MPs are urging the Charity Commission to investigate the trust for "pursuing a political agenda". Referring to the think-tank, MP Haynes called upon equalities minister Kemi Badenoch to make representations to "stop the worthless work of organisations, often publicly funded, promulgating weird, woke ideas and in doing so seeding doubt and fear, and more than that, disharmony and disunity."
The think-tank has strongly rejected the complaint from the Conservative MPs, stating that:
"The trust regrets the recent trend for politicians to forsake dialogue and simply file complaints against charities whose efforts to address and challenge racism they contest. Beloved British institutions including the National Trust and Barnardo's have also fallen foul of this worrying trend. Indeed, we are extremely concerned that the efforts made by these charities to address racism are the single common factor behind the grievances to which they have been subjected by what would appear to be a core group of MPs."
"Any attempt by politicians to "weaponise" the Charities Commission or use it as a bulwark against organisations that express their dissenting voice on matters of national importance, and that relate to the core functions of the organisation in question, should be a cause for significant alarm."
A group of leading UK charities has also condemned the complaint in an open letter, highlighting the essential role of CSOs in "solving some of this country's most enduring challenges," and that many organisations exist "because the state has failed and a clear example of the failure of the state is a failure to dismantle race inequality in Britain".
The open letter to #RejectTheReport was delivered to Downing Street on Friday. Given the staggering number of signatures, we have decided to keep it open. Keep signing and sharing, and together we can create real, tangible change: https://t.co/hFb9UHqbbk pic.twitter.com/AREiEpG0Yq

— Runnymede Trust (@RunnymedeTrust) April 11, 2021
In addition to being criticised by CSOs, the Race and Ethnic Disparities report has been criticised, including by UN independent human rights experts.
"In 2021, it is stunning to read a report on race and ethnicity that repackages racist tropes and stereotypes into fact, twisting data and misapplying statistics and studies into conclusory findings and ad hominem attacks on people of African descent", the UN Working Group of Experts on People of African Descent said.
CSOs condemn massive aid cut
In "a tragic blow for many of the world's most marginalised people", 200 UK NGOs have condemned government cuts to aid budget, which will not only have a devastating impact overseas, but will also leave many CSOs out of pocket, unable to sustain their programmes. In an open letter, CSOs warn that the government's move to make cuts of up to 80% in the UK aid sector will severely endanger protection of local civil society activists, human rights defenders and journalists. The cuts will also see the removal of aid programmes providing vital support to people in poverty, women and girls, those in war zones, amongst others, whilst at the same time damaging the UK's legitimacy to challenge other countries, protect fundamental freedoms and rights, and promote positive change globally. Neil Heslop, the chief executive of the Charities Aid Foundation, said:
"Aid cuts at this level risk permanent damage to dozens of international development charities and their delivery of life-saving programmes for the poorest…Without support, vital services will go and lives will be lost."
The impact of the cuts is especially devasting following the tireless work of CSOs during the COVID-19 pandemic, who have stepped up to fill the gaps in government policy, both at home and abroad. The cuts have also been wide criticised by MPs and Members of the House of Lords.
Government cuts 50% of its funding to Bond, the UK network for organisations working in humanitarian assistance and international development.

For more information and for an accessible quote from our CEO @SDStephDraper click here: https://t.co/9ufcLu6hjl pic.twitter.com/Scx9wIKXzG

— Bond (@bondngo) May 6, 2021
Parliamentary accountability eroded by emergency legislation
One year on from in the introduction of emergency legislation due to COVID-19, the Hansard society has highlighted how accountability and control over government decision-making has diminished. Namely, the erosion of parliamentary control in relation to:
the denial of equal participation rights to some MPs in the House of Commons,
the business and the wholesale and unnecessary use of proxy votes.
With decision-making concentrated at the Ministerial level, the lack of opportunities for democratic scrutiny has set damaging and dangerous precedents. Crucially, the ability of MPs, and in turn, ordinary people or CSOs in their constituencies, to scrutinise and hold policymakers to account, has a direct impact on transparency and democratic accountability.
🧵1/A year ago today the @HouseofCommons that returned from the Easter recess was transformed by #Covid. Since then parliamentary accountability for & control over govt decision-making has diminished to a degree that would have been unthinkable prior to the pandemic.

— Hansard Society (@HansardSociety) April 21, 2021
Administrative and judicial review threaten avenues for accountability
The UK government has undertaken to conduct a review of Administrative Law, at the same time as launching a consultation on the reform of judicial review. CSOs have warned that the review could impact the ways in which people can hold the government to account. Jo Hickman, Director of Public Law Project said:
"Reforms that affect the carefully balanced system for judicial review could make it harder for people to hold governments to account and should not be undertaken lightly."
Worryingly, the UK government appears to suggest that there is cause for reform, despite responses to the "The Independent Review of Administrative Law" report calling for this evidence and advocating for no or only gradual reform.
Priti Patel's detention policies found in breach of human rights
In April 2021, a landmark court ruling held Home Secretary Priti Patel accountable for failures to ensure proper investigation of deaths in detention centres. Two judges in the UK's immigration courts ruled that the Home Secretary's detention policies breached human rights, following deficiencies in an investigation into the death of Oscar Lucky Okwurime from Nigeria in September 2019. The jury found that Okwurime had died unnaturally, because of neglect following a subarachnoid hemorrhage, which can rupture due to hypertension. CSOs have strongly condemned the Home Secretary's increasingly restrictive immigration policies, which they argue puts migrants at even greater risk of human rights abuses. Liberty UK has warned that the proposals are part of "the government's broader plan...to limit how it is held accountable through the courts, in Parliament, and on the streets" due to the narrowing of mechanisms in which ordinary people can hold them to account.
Peaceful Assembly
Biggest 'Kill the Bill' protest yet
On 1st May 2021, thousands of protesters took to the streets in London and other major cities across the UK to protest the "Police, crime, sentencing and courts" bill, a controversial new draft law that proposes to grant the police extra powers to crack down on protests. This follows a series of protests in March 2021, when the Bill passed its second reading in parliament. Pragna Patel, director of Southall Black Sisters, told the Guardian:
"The bill represents a massive assault on civil liberties and it's part of a wider trend on the part of the government to shut down free speech, shut down protest, shut down dissenting voices."
In London, it was reported that over 100 people were arrested, while in Bristol seven people were arrested. On Twitter, protesters raised the alarm regarding one protester who was reported to have been held for 12 hours with no justification, after being violently arrested by police. Just the day before that, it was also revealed that Met police officers used excessive force against a young black teenage girl with learning disabilities. Police violence was also reported at the Newcastle 'Kill the Bill' protests, including at least three protesters who sustained injuries from being tackled to the ground by the police. There is widespread concern about the use of violence employed by the police throughout the series of 'Kill the Bill' protests, which sets a dangerous precedent should this bill come to pass.
Our statement following Saturday's Kill the Bill protest in Newcastle.

⚠️ TW: we will follow this tweet with a thread of Police violence against peaceful protesters on Saturday.

If anyone has more footage of Police violence, please DM them to us. pic.twitter.com/9Wr7Cyxm1h

— RESIST NCL💜 (@resistncl) May 3, 2021
Protesters chant "SHAME ON YOU" as it was revealed yesterday that Met police officers used excessive force against a young black teenage girl with learning disabilities. Police officers do not need more powers to abuse us. #KILLTHEBILL pic.twitter.com/2fWUIMyKlW

— Sisters Uncut (@SistersUncut) May 1, 2021
Anti-protest curbs in UK policing bill 'violate international rights standards'
In giving evidence to the joint committee of human rights in late April 2021, lawyers warned that the Police, crime, sentencing and courts bill, "clearly violates international human rights standards". The bill has been widely criticised for its attack on peaceful assembly rights, motivating mobilisation's across the UK, as previously reported on the CIVICUS monitor. Of particular concern is the way in which the bill casts the right to protest as an inconvenience, rather than a fundamental right to be protected. Kevin Blowe, coordinator at Netpol, the Network for Police Monitoring, said the bill would have a "chilling effect", and that it was less interested in upholding the right to protest than "in way finding ways of imposing restrictions".
Zehrah Hasan, the director of Black Protest Legal Support, said:
"There's a concern that protests about police violence, brutality against black people in the UK, are exactly the types of protest that the state might want to stifle. And, you know, we've seen this reflected also in the comments of the home secretary, who branded last year's Black Lives Matter protests "dreadful"."
The European Centre for Not-for-Profit Law (ECNL) has published an analysis on the bill, stating that it will "likely violate international human rights standards by striking at the essence of the right to freedom of peaceful assembly by:
conferring discretion on the Home Secretary to define 'disruption' without Parliamentary oversight,
introducing vague concepts (e.g., 'serious unease') subject to discretionary interpretation by the police;
increasing the powers of the police to decide on fundamental issues about the exercise of the right, and
disproportionately increasing the penalties that protesters may face.
The bill is due to return to the House of Commons for debate by 24th June 2021.
The #PoliceCrackdownBill will soon be back in Parliament:

🚫More police powers to stop protest
🔐Up to 10 years in prison for 'serious annoyance'
🚔More stop & search w/out suspicion
🚨Criminalises Gypsy, Roma & Traveller way of life

⬇️Petition⬇️ https://t.co/5r78KolZLr

— Liberty (@libertyhq) May 2, 2021
Figures reveal scale of Bristol protesters injured by police
Police monitoring network Netpol has released figures on the extent to which Bristol protesters were injured by the police, during 'Kill the Bill' protests in Bristol between 21st-26th March 2021. Netpol reports 62 protesters were injured by police, including legal observers, local journalists and street medics. The figure includes 7 people who required treatment in hospital and 22 head injuries. The overall number of injuries is likely to be greater than these figures, considering those that did not feel comfortable coming forward or who did not know about the reporting email address.
Since the protests, Avon and Somerset police have corrected their statement which originally alleged that two officers suffered fractured bones. There has been criticism from protesters who argue that the police's lack of ability to fact check has resulted in smears against protesters in mainstream media coverage. The Home Secretary Priti Patel also labelled them as "thugs" in expressing support for police on Twitter.
'Abuse of power' during Bristol police raids
Two young women reported that they were subject to "terrifying ordeals" in a series of undercover raids following the Bristol protests. Both women (aged 21 and 16 years) report being mistakenly arrested in their homes after plain clothed policemen arrived at their doors pretending to be postal workers, one was only partially clothed when arrested, and the other (16 years old) was tasered and held up against a wall. These cases foment the growing degradation of women's confidence in police, following anger over the vindication of the policing of the Sarah Everard vigil in Clapham Common.
"It's difficult to imagine how officers could possibly attempt to justify going undercover and using such aggressive tactics, including threatening the use of Tasers....We all have the right to protest and stand up for what we believe in. Aggressive treatment of protesters, and seeking to criminalise them, is intimidatory and threatens to deter people from exercising their rights."- Lana Adamou, a lawyer at Liberty UK.
Exclusive: police accused of covert anti-terror style raids on "kill the bill" protestors
🚨 21 year-old woman claims officers posing as postmen subjected her to terrifying ordeal
🚨 16 year-old girl claims officers pointed tasers at her during raidhttps://t.co/VwxgvP0dqO

— Tom Wall (@_tomwall) April 3, 2021
Climate activists targeted
As reported previously on the monitor, climate defenders have come under serious attack by the conservative government, with protesters facing vilification from senior governmental officials by being labelled as "extremists". Several legal developments related to climate activists and their participation in protests took place:
On 10th May 2021, the first in a series of trials for 50 Extinction Rebellion activists who blockaded Rupert Murdoch's Broxbourne printworks began. Six activists who appeared in St Albans Magistrates' Court are faces charges for obstructing a highway during a protest in September 2020 that disrupted the distribution of Murdoch's newspapers.
"Civil disobedience is a revolutionary tool with a rich history. It works, and it's beyond necessary. I take no pleasure in being arrested, being put on trial, or being trashed by the billionaire press, but I am not ashamed. Because I know that nothing will ever change unless ordinary people are prepared to make sacrifices, and I know that our sacrifice here and now pales in comparison to that of activists in the global south, or that of the generations that will come after me," Extinction Rebellion activist and defendant Gully Bujack.
BREAKING: Extinction Rebellion Co-founder Gail Bradbrook arrested at her home this morning

Extinction Rebellion co-founder Gail Bradbrook was arrested by officers from the Metropolitan Police at her home in Stroud at around 5:30 am this morning. pic.twitter.com/iQQohWtLQM

— Extinction Rebellion UK 🌍 (@XRebellionUK) May 11, 2021
According to Extinction Rebellion UK, since April 2019, there have been an estimated 2,000 prosecutions for protests organised by the group, with almost 1,000 trials still underway.
12 days of violent protest in Northern Ireland
From 29th March – 9th April 2021, a series of nightly protests took place in the cities of Londonderry, Belfast, Carrickfergus, Ballymena and Newtownabbey. The protests follow introduction of an Irish sea border and tensions over Brexit between pro-United Kingdom unionists and pro-Irish nationalist communities. Protests involved the use of bricks, bars, fireworks and petrol bombs, culminating in ongoing unrest and 88 injured police officers, who reacted with water cannons and arrests. Protestors have also suffered injuries, but numbers are unconfirmed. The protests bring serious concerns for Ireland and the Good Friday Agreement, which brought an end to the three-decades-long conflict over British rule in Northern Ireland
Manchester United protest
On 2nd March 2021, thousands of Man United supporters gathered at Old Trafford to call for a greater say in the running of the club in the wake of the decision, which has since been reversed, to join the European Super League. One protester was left with a broken jaw and cracked ribs following a beating by three police officers. Greater Manchester Police stated that they would be investigating the matter.
Expression
Journalist assaulted by police officer during 'Kill the Bill' protest in Bristol
In the early hours of the morning of 27th March 2021, Matthew Dresch, a journalist from the Daily Mirror was assaulted by a police officer in Bristol. In a tweet, Matthew explained that he was "respectfully observing what was happening and posed no threat to any of the officers". Local Labour party candidates later issuedan open letter voicing concern about multiple reports that journalists were intimidated and, in some cases, assaulted by police during the weekend's 'Kill the Bill' protests. Some national politicians have also called for an independent investigation into the policing of demonstrations.
Belfast photographer attacked
In early April 2021, whilst covering scenes of unrest in Northern Ireland, Belfast, photographer Kevin Scott was attacked by two masked men. He was pushed to ground from behind, subject to sectarian abuse and his camera was destroyed. Belfast Telegraph Editor in Chief Eoin Brannigan said:
"Journalists should not be attacked, threatened or be subject to sectarian abuse while doing their jobs. It's shameful and should be condemned without equivocation."
Amnesty International's Patrick Corrigan said the incident was
"the latest attempt to intimidate journalists from doing their jobs and constitutes an outrageous attack on freedom of the press".
He said Amnesty had "been warning of the escalation of chilling threats against journalists" and called for police to bring those responsible to justice. The attack on Kevin Scott coincides with the outbreak of 12 days of violent protest in Northern Ireland sparked by between unionists and pro-Irish nationalist communities.