Journalists come under attack during violent protests over COVID-19 curfew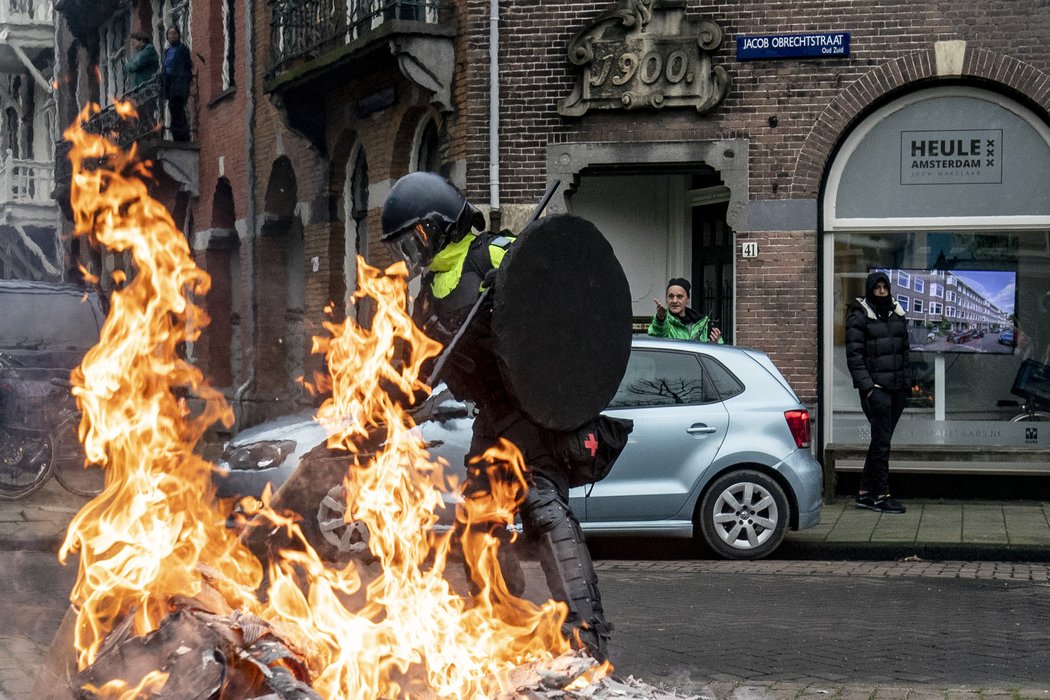 Association
In January a group of 50 organisations led by UNICEF called for the opening of primary schools in the Netherlands. Primary schools had been closed since 15th December 2020 to limit the spread of COVID-19. However, the collective, including CSOs and mental health organisations, says this is harmful, especially for vulnerable students, and is not necessary. On 8th February 2021 primary schools opened again for in-person teaching.
Peaceful Assembly
Anti-COVID-19 protests
In response to the reinstated curfew to curb the spread of COVID-19, the Netherlands saw a new wave of protests against the government's handling of the health crisis. On 23rd January 2021, the first evening of the curfew, protests took place in several places throughout the country. Some of these turned violent, such as in Urk where rioting youth set fire to a COVID-19 testing centre. The next day unauthorised demonstrations against the measure in Eindhoven and Amsterdam were forcefully broken up by riot-police with water cannon and tear gas when protesters refused to disperse and turned violent. Some of the protesters then started to riot in the city centre. In the following days riots broke out across the country, with mainly young men looting shops, damaging public and private property and even setting fire to a hospital. After some days the riots died down. Several smaller-scale protests were organised in different locations.
Anti-curfew protests broke out across the Netherlands while the govt extended lockdown in fear of the more contagious UK variant. pic.twitter.com/m3kHJjGjZh

— AJ+ (@ajplus) January 26, 2021
Police say around 300 people were detained for rioting so far and 5,700 were fined for breaking the COVID-19 curfew. The riots and looting were strongly condemned by all political leaders with some right-wing opposition leaders even calling for the deployment of the army.
Other protests
On 10th January 2021, a demonstration against fascism took place in Amsterdam in response to the storming of the Capitol in the US. The protest, under the title "From US to NL, never again fascism" was organised by several CSOs, including Code Red and Extinction Rebellion.
At a demonstration organised by climate action group Extinction Rebellion at Schiphol airport on 6th February 2021, seven protesters were arrested - five of them for vandalism and two for trespassing. As all COVID-19 measures were respected, the mayor allowed the protest to continue after its planned end time. This is not the first time that XR has protested at the airport. As previously reported on the Monitor, protests were also staged on 18th December 2020, where 14 people were detained by police.
Gisteren voerden 40 rebellen actie op Schiphol! Eis: luchtvaart brengt CO2-uitstoot terug tot netto nul in 2025. KLM is voor 15% in handen v/d overheid & heeft anno 2021 geen serieus beleid om de uitstoot terug te dringen. Toch ontvangt het elk jaar 5 miljard staatssteun. pic.twitter.com/mG6yeUqL8I

— Extinction Rebellion Nederland (@NLRebellion) February 7, 2021
Expression
Incidents against journalists
The following incidents were documented against journalists by Mapping Media Freedom:
On 27th December 2020, Jos Emonts who works for the De Limburger newspaper found a hand grenade outside his house. The Explosive Ordnance Disposal Service Defence (EOD) was called in to deal with the grenade. Editor-in-chief Bjorn Oostra believes that the incident was related to Emonts' journalistic work:
"This is an attack on the free press and independent journalism. That's the worst thing you can experience as a reporter."
On 21st January 2020, Dutch Public Broadcaster NOS reported that an online video on social media aimed at threatening and insulting journalists, and directly mentioned the broadcaster. The video was made by Ronald Laken, a former candidate for Almere city councillor, who called on journalists to "flee the Netherlands" or face repercussions, adding "You can resign and we will remove you from the blacklist". The video was released amid the ongoing protests against COVID-19 measures (see above). The broadcaster filed a complaint against Laken.
De @NOS doet aangifte tegen de afzender van een video die de afgelopen dagen rondging in appgroepen en op sociale media. In die video (letterlijke tekst hieronder) werden rechtstreekse bedreigingen geuit aan het adres van journalisten van oa de NOS. pic.twitter.com/OgLDYvcKTq

— PersVeilig (@persveilig) January 21, 2021
Model Ronald Laken dreigt (NOS-)journalisten die verslag deden van rellen Museumplein met 'zwarte lijst': "Ik zou vluchten uit NL (...) omdat ik weet dat jou iets wordt aangedaan. Dat is mij verteld via-via. (...) Je kunt ook ontslag nemen dan halen we je van de zwarte lijst af." pic.twitter.com/O4NTQ0yHkp

— Rudy Bouma 🧑‍💻🎦📺 (@rudybouma) January 19, 2021
A number of journalists also faced attacks during protests against COVID-19 measures (see above).
On 24th January 2021, a security guard was attacked by protesters while accompanying a NOS camera operator in Urk. The NOS crew were covering the aftermath of the protest where a COVID-19 centre was set on fire, during which two young protesters were hindering the work of the camera person. As a result of his intervening, the security guard was pepper sprayed in the face. Due to the incident the NOS crew left the area and had to report from a different area.
Vanmiddag opnieuw geweld tegen cameraploeg. Laat de journalistiek nou gewoon haar werk doen. #persveilig NOS-ploeg belaagd tijdens opnames bij uitgebrande teststraat in Urk /via @NOS https://t.co/HRfvXztPTe

— thomas bruning (@thomasbruning) January 24, 2021
On 24th January 2021, stones were thrown at a reporter, who was chased after by groups rioting against the COVID-19 curfew.

Similarly, on 25th January 2021, photojournalist Laurens Bosch was also pelted with stones in Haarlem. Bosch fell to the ground but was able to return to his car and leave.
In Haarlem wordt momenteel gereld. Er worden stenen gegooid. Ik heb er een van dichtbij tegen m'n hoofd gekregen. De ME wordt ook bekogeld. Er wordt luid vuurwerk afgestoken. https://t.co/pQxivpEWFK pic.twitter.com/jRIHMj0HBe

— Laurens Bosch (@BoschLaurens) January 25, 2021
On 24th January 2021, a freelance journalist reporting on the unrest in the city centre of Enschede faced attacks, with protesters attempting to grab her camera and physically attacking her. The freelancer said:
"I had nowhere to go, one of those rioters with an army print hoody came up to me, saw my camera and wanted to take it away."