Journalists come under attack during environmental rights protests and other protests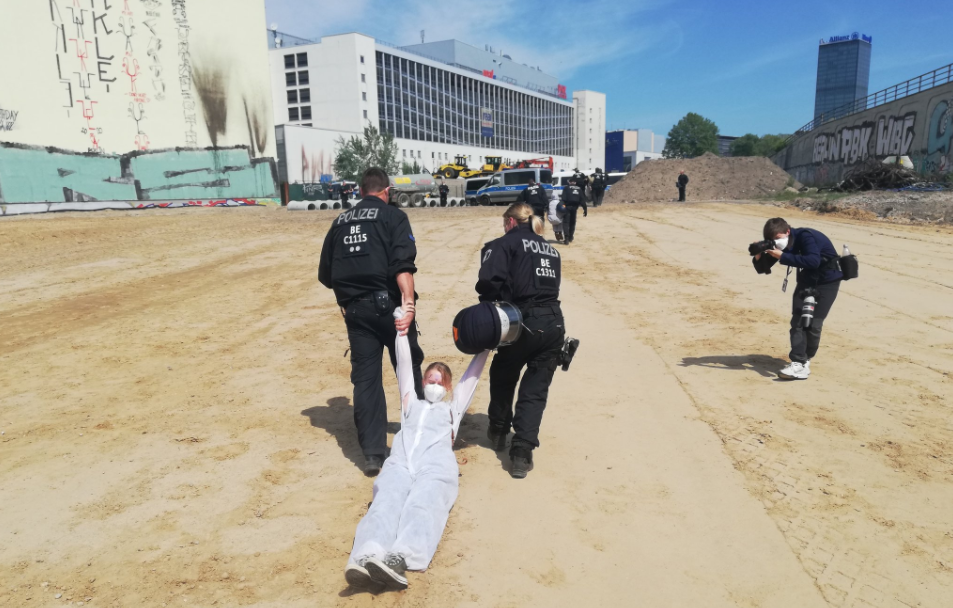 Association
German non-profit law can jeopardise CSOs' activity
On 5th July 2021, the English version of the study titled "Shrinking Space in Germany, Shrinking Space in Europe" by Gesellschaft für Freiheitsrechte and Open Society Foundations was published. The study highlights that restrictions on civil society organisations have reached a worrying level within the European Union and in Germany. In the latest case, one of the most problematic developments identified is when the charitable status of anti-globalisation network Attac was revoked by the Federal Fiscal Court, due to its political activity. This had a chilling effect as many German NGOs have begun self-censoring by avoiding voicing political messages as they fear facing the same consequences as Attac.
Charitable status is fundamental for civil society organisations as it implies several practical benefits, such as tax privileges, and is a pre-requisite for further funding by states or private foundations. Furthermore, the non-profit label represents a guarantee of trust and credibility vis-a-vis the public.
In addition to recognising the political role of civil society organisations within a democracy, the study recommends German authorities reform the non-profit law to include current pressing topics such as fundamental and human rights, gender justice, social justice, global climate justice and the promotion of democracy and peace. In fact, the current German non-profit law lists sports and chess, preservation of local history, local lore and local beautification among the possible missions of organisations with a charitable purpose, but it does not include much more pressing issues mentioned above.
The study also mentions the difficulties encountered by German civil society organisations in their daily work due to the lack of financial support received during the COVID-19 pandemic and a tendency by certain right-wing actors to criminalise CSOs, especially those operating in the field of migrants' and refugees' rights. 
Job portal for COVID-19 sceptics taken down by hacktivists
COVID-19 sceptics have created an online job portal, "Impffrei work" (vaccine-free work) exclusively dedicated to people who are not vaccinated, are against the imposition of masks and are in general sceptical about the existence of COVID-19 or its sanitary consequences. Anonymous, a self-defined group of hacktivists, attacked the website with the objective of preventing the dissemination of false information concerning the pandemic and to protect other workers that potentially could get infected by unvaccinated people. Overall, vaccine scepticism has been rising in Germany lately, with anti-COVID-19 protests taking place and the spread of conspiracy theories. 
wie lange das halten wird? @querdenkenwatch @AnonNewsDE @Korallenherz @ThomasPWue pic.twitter.com/VPNNekGnMV

— #HambiBleibt - ReulNicht👎 (@hambinition) June 8, 2021
Peaceful Assembly
Protesters carried away during blockage of large German meat producer
During 12th to 17th July 2021, the Alliance, Gemeinsam gegen die Tierindustrie (Together against the Animal Industry), organised a protest with around 150 to 200 people against the PHW group, one of the largest meat producers in Germany. For hours they blocked access to the PHW headquarters in Rechterfeld, Lower Saxony. Activists were eventually carried away by police for refusing to move their protest from the entrance of the company's headquarters. Organiser Franziska Klein said:
"As the largest German poultry company, PHW represents the animal industry. The billions in profits of these companies are based on violence and exploitation. Today we show that we can no longer accept it. Our movement consists of climate activists, animal rights activists, labor lawyers and citizens' groups. We are determined to stand in the way of the destructive animal industry." (translated from German)
Wir haben es geschafft! Seit 11:30 Uhr blockieren ca 100 Aktivist*innen vom Bündnis Gemeinsam gegen die #Tierindustrie die #PHW-Zentrale in #Rechterfeld, Niedersachsen#PHW_Ade #shutdowntierindustrie pic.twitter.com/Z9usBj7yC4

— Gemeinsam gegen die Tierindustrie (@GGTierindustrie) July 15, 2021
Autobahn protests continue
On 5th June 2021,protests against the expansion of the A100 freeway in Berlin took place, with activists from the alliances "Sand im Getriebe", "Ende Gelände", "Fridays for Future" and "Robin Wood" occupying two construction sites on the A100. Police arrested the protesters, who are being investigated for trespassing, while others were reportedly carried away. 
So geht die rot-rot-grüne Landesregierung mit Menschen um, die das Klima & unsere Stadt schützen wollen vor dem Autowahnsinn #A100
Unser Protest für #A100stoppen ist legitimer Ausdruck eures politischen Versagens @spdberlin - wir kämpfen weiter für Klimagerechtigkeit ✊💚 https://t.co/JVRz5uSgOY

— Ende Gelände Berlin (@EG_Berlin) June 5, 2021
As reported by Mapping Media Freedom Rapid Response, journalists were also obstructed from doing their jobs, after a dozen journalists were detained by police during the first occupation in Neukölln. Later, during the second occupation in Treptow, many journalists reported that the police did not let them approach and that they were kept about 150 meters away from the demonstrations. Renate Gensch, state chairwoman of the German Union of Journalists (dju) said:
"Twelve journalists were partially surrounded by the police, taken into custody and received reports of trespassing and reprimanding. One colleague was even physically searched. It is simply absurd that our colleagues, who were recognisable as press representatives simply by their camera equipment and ten with the national press ID legitimized by the Conference of Interior Ministers (IMK), were prevented from exercising their profession by such means. The area on Sonnenallee was freely accessible. The police later prevented other journalists from accessing and reporting. All a clear obstruction to the freedom of the press! "
Heute kam es bei Protesten zu #A100stoppen in Berlin zu massiven Behinderungen der #Pressefreiheit. Neben Verweigerung der freien Berichterstattung, wurden Journalist*innen wegen ihrer Arbeit mit Anzeigen bedroht. Gewerkschafter @ver_jorg erläutert die Geschehnisse. #B0506 pic.twitter.com/vsIAjziUMu

— Tim Lüddemann (@timluedde) June 5, 2021
Expression
Constitutional rules on state's protection of IT rights
On 21st July 2021, the German Federal Constitutional Court ruled on a constitutional complaint advanced by Gesellschaft für Freiheitsrechte (GFF) regarding the amendment to the Baden-Württemberg Police Act introduced in 2017 which offered a legal basis for "source telecommunications surveillance" (Quellen-TKÜ) of suspects. Since then, running electronic communications can be monitored by installing state spy software – the so-called state Trojans. The NGO argued that such use of the software is incompatible with fundamental rights and with the Constitution, as it exploits shortcomings of hardware and software without assessing their risk and without the suspect being aware of it.
To a certain extent, the Court ruling contradicts GFF's position, as it does not consider the employment of telecommunication surveillance as a breach of constitutional law. However, the decision also establishes that the state is obliged to guarantee Information Technology security and is not allowed to exploit software vulnerabilities to carry out surveillance on suspects if it is not justified. Furthermore, the police are obliged to report security gaps of software and hardware if the interest of keeping the gap open for surveillance purposes has ceased or does not prevail. Gesellschaft für Freiheitsrechte considers this decision a victory and a crucial step towards the protection of IT rights. 
In its landmark decision published today, the German Constitutional Court ruled that the state is obliged to protect #IT security. #Police and #intelligence agencies are not allowed to keep #vulnerabilities secret without assessing their risks. A great success for @GFF_NGO. https://t.co/Q2N81yUTgJ pic.twitter.com/IKclB5PiFj

— David Werdermann (@DavidWerdermann) July 21, 2021
Incidents against journalists
On 5th June 2021, Bundestag member of the far right AfD party (Alternative for Germany) Beatrix von Storch asked the police to "remove" the press representatives who had photographed her upon her arrival at the AfD party convention in Berlin. The politician labelled journalists as "Antifa photographers".

On 16th June 2021, at least three journalists were prevented from entering the street where a protest by left-wing house squatters of the Rigaer94 building was taking place in Berlin. In addition, a freelance journalist and photographer was targeted with a water cannon during a police operation, even though he was clearly identifiable as "press" through his clothing.
#b1606 12:01 Berlin #Rigaer94: Angriff auf Journalisten durch @polizeiberlin. Ein Journalist wird von einem Wasserwerfer mit einem Wasserstrahl angegriffen. Der Journalist war durch Pressehelm und Fotokamera auf der Brust klar und deutlich erkennbar. #Pressefreiheit https://t.co/eTgHjQkdV8

— Jörg Reichel (dju in ver.di) (@ver_jorg) June 16, 2021
On 26th June 2021, a photographer from the German Press Agency (dpa) was reportedly beaten by police in Düsseldorf, Germany, during a protest against a planned assembly law in North Rhine Westphalia. Protesters from the "Stop the NRW Assembly Act! Receive basic rights", mainly including groups, organisations and parties from the political left. Clashes broke out between police and protesters, with police using batons and irritant gas. The journalist reports being beaten with a baton, while his other colleague was also attacked,

As documented by Mapping Media Freedom Rapid Response (MFRR), on 13th July 2021, during a "Querdenker" anti-COVID19 demonstration in Dresden, a journalist working for "Vue Critique" was sexually harassed by a protester. During the incident, a woman demonstrator forcibly hugged the journalist from behind for seconds and said into his ear "do you want to cuddle?" and "do you want a hug?".
CN Sexuelle Gewalt #dd1307 18:40 Dresden Altmarkt Querdenken: Sexueller Übergriff auf Journalist durch TN der Demo. TN umarmt Jour. von hinten mit Zwang, umklammert den Bauch sekundenlang, spricht dem Jour. ins Ohr "Willst Du kuscheln" "Willst Du eine Umarmung". #Pressefreiheit https://t.co/CiARJLDSSD

— Jörg Reichel (dju in ver.di) (@ver_jorg) July 14, 2021
Erk Acarer, a Turkish journalist who is in exile in Germany, has received numerous threats during July 2021. On 7th July 2021 he was attacked and injured outside his house in Berlin. Following this, he found an egg in his garden wrapped in paper with the words "Just you wait" written on it. On Twitter, the journalist said:
"The AKP-MHP government, its gangs and the German Government, which I think have been idle in terms of measures, will be responsible for any further incidents that may happen to me."
Dün gece evimin bahçesine üzerinde 'Sen bekle' yazısı sardıkları pişmiş bir yumurta attılar.Sabah saatlerinde bilgiyi polis verdi. Başıma gelecek herhangi bir yeni olaydan AKP-MHP iktidarı, çeteleri ile tedbirler konusunda atıl kaldığını düşündüğüm Alman Hükümeti sorumlu olacak. pic.twitter.com/sjnVLNrqER

— Erk Acarer (@eacarer) July 20, 2021