Journalists bear the brunt of repression of expression in Somalia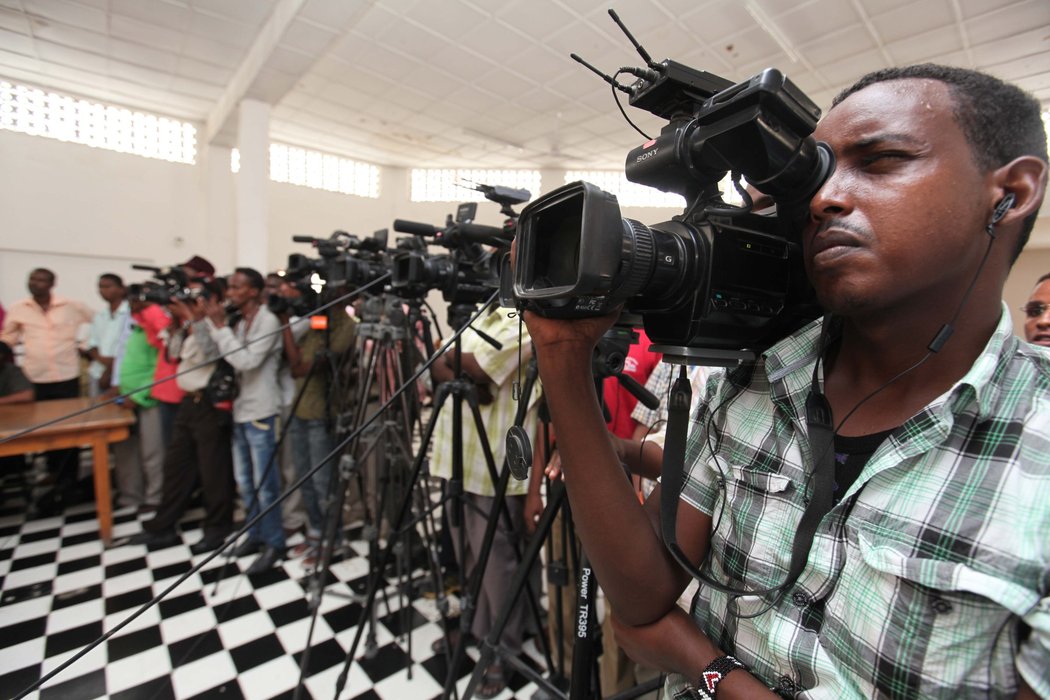 Abdiaziz Ahmed Gurbiye of Somalia's @Goobjoognews arrested for "spreading false news and offending the honour of the president". The media is being attacked for doing its vital job in this difficult period. See our map at https://t.co/G8QV19JNyL pic.twitter.com/rmu5E7YJuI

— Index on Censorship (@IndexCensorship) April 19, 2020
Expression
On 18th April 2020, it was reported that at least four journalists covering the COVID-19 pandemic, who reported on the pandemic andalleged smuggling in of goods during the lock down period, were briefly detained and/or harassed, as some were also forced to drop their stories.
Abdiaziz Ahmed Gurbiye, an editor and deputy director of the privately owned Goobjoog Media Group, was summoned by the police and arrested on 14th April 2020. He was accused of spreading false news and offending the honour of the president after he published a social media post in which he alleged that a hospital ventilator was transferred to the office of the Somali president. On 29th July 2020 the Banadir Regional court in the capital, Mogadishu, convicted Abdiaziz and also fined him five million Somali shillings ($200). He was however released the following day after his jail sentence was converted to a fine.
A second journalist, Adan Mohamed Salad of Somali National TV was also detained briefly in Kismayo as he was reporting on khat smuggling in Somalia. He was compelled to drop the story after his release.
Similarly, authorities harassed TV reporter Abdullahi Farah Nur of Somali Cable TV and attacked his cameraman Abdirahman Omar while they were conducting interviews on the shortage of masks and gloves in the local markets.
Mohamed Dhaysane Moalim, a freelance journalist working for Anadolu, a Turkish news agency, also said that an official from the presidential palace had contacted him on Twitter asking him where he got his sources, after he wrote a story about Somalia sending doctors to Italy.
Speaking to VOA, Abdalle Ahmed Mumin, secretary general of the Somali Journalists Syndicate (SJS) said the pandemic has led to new attempts by the government to repress and intimidate journalists. He said in part:
"What we have seen recently is quite different… a new version of repression and intimidation by the government to censor journalists reporting COVID-19. This is a new tactic because instead of educating the public and providing the information about the coronavirus, the government is trying to curb the flow of information necessary to inform the public."
On 20th April 2020, journalist Mukhtar Mohamed Atosh, a reporter for Voice of America (VOA) Somali Service and Secretary of Trainings of The National Union of Somali Journalists (NUSOJ), was arrested in Baidoa by Southwest State police. Atosh was arrested in relation to a report he had made the previous day on the death of a 14-year-old girl who was raped and taken to Baidoa hospital, where she died due to injuries sustained in the rape attack. Southwest authorities had ordered the hospital administration not to talk to journalists and to deny that the rape victim died at the hospital.
NUSOJ condemned the arrest in the strongest terms possible and called for the charges to be dropped as they were directly linked to his legitimate activity as a journalist.
Omar Faruk Osman, NUSOJ Secretary-General said:
"The journalist has a right to shed light on this crime and Mukhtar Mohamed Atosh must regain his freedom… Clearly the arrest and detention of Mukhtar Atosh is in an attempt to silence his reporting on a serious sexual assault and the ramification of his arrest is to stop local journalists spreading the truth. This must stop now, people must know the truth, the rape victim deserves justice and journalists must continue doing their journalistic work freely and without intimidations."
Atosh was accused of violating Articles 271, 326, 327 and 328 of the Penal Code (spreading exaggerated news that disturbs the public order and causing public panic) and risked being sentenced to six months to a year's imprisonment. He was released on bail on 22nd April. 
South West State Bans Radio Barawe to Broadcast Local Dialect and Arrests VOA Journalist in Baidoa .https://t.co/wKf3KxHNa4 pic.twitter.com/fmhW59fk9f

— Federation of Somali Journalists (FESOJ) (@FESOJ_SOMALIA) April 21, 2020
On 21st April 2020, authorities in Barawe town, South West state banned Radio Barawe from airing news and programmes in the Barawani dialect. Citizens denounced the move by authorities on social media. The following day, it was reported that the government had been forced to rescind their decision following sustained social media protests by activists and members of the community.
On 22nd April 2020, the Federal Government of Somalia said journalist Mohamed Abdiwahab Abuuja, who had been arrested on 27th February 2020, is a member of the Al-Shabaab terrorist group. A letter from the Ministry of information indicated that charges would be preferred against him. Since his arrest in February, Abuuja had yet to be presented at court in April when the announcement was made.
In positive developments, on 2nd May 2020, Somalia President Mohamed Abdullahi Mohamed "Farmaajo" announced that Somalia's outdated and punitive Penal Code of 1964 would be amended to protect journalists and freedom of expression. In a message issued in commemoration of World Press Freedom Day he said:
"Journalism is a noble profession & Penal Code of 1964 will be reformed to ensure it is not used against journalists. My administration fully supports the de-criminalisation of journalism & free expression through legal reform."
The law which has routinely been used to detain and prosecute journalists contains broad provisions which criminalise insult, false news, sedition and defamation which stifle media actors from reporting on issues fully and has often led to self-censorship.
On 4th May 2020, two journalists from Shabelle Media Network, reporter Safia Osman Abdulle and cameraman Abdulkadir Ga'al, were attacked by officials of Mogadishu's Waberi district while covering a protest by women who were demanding payment of their salaries and allowances from the Waberi District Commissioner.
Safia Abdulle sustained a serious head wound while Abdulkadir Ga'al was beaten up and had his video camera, voice recorders and mobile phones confiscated.
On 5th May 2020, Said Yusuf Ali, a reporter for Kalsan TV, was stabbed to death on a street in Mogadishu when he intervened in what appeared to be a fight between a man and a woman. Reporters Without Borders (RSF) called for a full and thorough investigation into the killing, because the initial evidence suggested that he was the victim of premeditated murder. Ali had, among other topics, covered terrorist group Al-Shabaab.
Arnaud Froger, the head of RSF's Africa desk said:
"The initial information suggests that this journalist was deliberately targeted and lured to his death… The Somali authorities must do everything possible to catch all those suspected of being behind his murder and to establish their precise motive. Somali journalists have been dying amid indifference and with complete impunity for too long. Only serious investigations and firm measures to reinforce their protection will obtain results capable of producing a lasting improvement in press freedom in Somalia."