Journalists in Bangladesh face criminalisation amid the pandemic while critics are silenced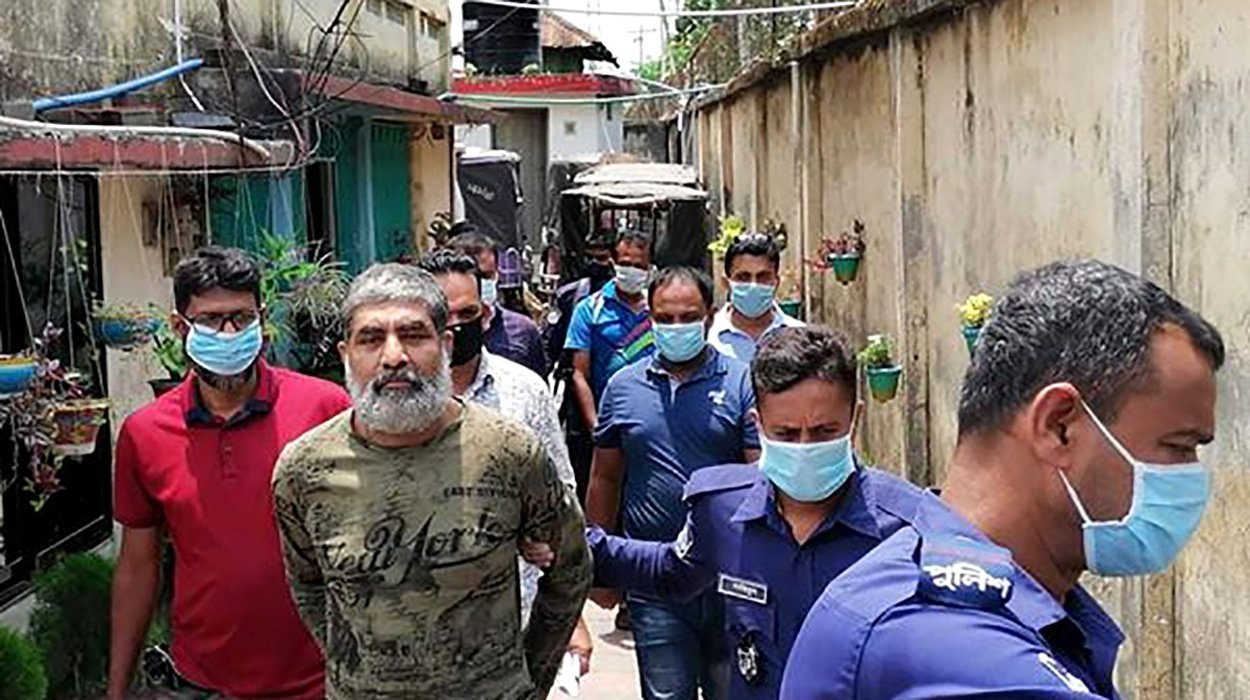 Bangladesh imposed a nationwide lockdown in March 2020 to curb the spread of the coronavirus (COVID-19). Authorities declared a ban on passenger travel via water, rail and on domestic air routes. Despite the restrictions, three months on, hospitals are struggling to cope and the humanitarian crisis is deepening as the country emerges from lockdown. On 15th June 2020, Bangladesh had reported 87,520 cases, with 1,171 deaths.
The Bangladesh government has taken advantage of the COVID-19 pandemic to ramp up its assault on civic freedoms. Journalists have been systematically targeted since March 2020 under the draconian Digital Security Act for their reporting on the pandemic and on other critical issues. There have also been reports of journalists allegedly being tortured or forcibly disappeared. Further, other critics who have been targeted include students, opposition activists, academics, cartoonists and writers. There has been failure to hold to account those involved in violations related to the 2018 student protests.
Expression
Parliamentarian files charges against editor and journalists for their reporting
Manabzamin Editor-in-Chief Matiur Rahman Chowdhury and 31 others have been sued under the #Digital Security Act on charge of "publishing #false #news and circulating it on #social media." #Bangladesh #news https://t.co/mZq8jkDbAJ

— The Daily Star (@dailystarnews) March 10, 2020
Prominent journalists including a national daily editor have been subjected to criminal charges under the draconian Digital Security Act, filed by a parliamentarian from the ruling party, the Bangladesh Awami League.
On 22nd February 2020, the Rapid Action Battalion (RAB), an elite government crime-fighting force claimed that it had arrested four persons for possessing 'illegal firearms and fake foreign currencies' while departing from the country. The RAB also claimed that it had found that one of the detained women, who was a leader of the ruling party's female wing, was leading a gang to operate prostitution in a lavish hotel in the posh area of Dhaka and acquired disproportionate amount of wealth. The detainees were taken in for interrogation.
Media reports on 2nd March 2020 subsequently claimed that the detained woman had revealed names of high-profile individuals including parliamentarians, financial and bureaucratic elites, and journalists who were part of her business.
Following the coverage, Saifuzzaman Shikhor, a ruling party parliamentarian, filed a case against 32 persons on 10th March for publishing "offensive, false and defamatory news". They include Matiur Rahman Chowdhury, editor-in-chief of national daily Manabzamin, and other journalists, although the outlet did not publish the name of the parliamentarian in its report.
In response to the cases filed, Amnesty International said:
"We call on the government to maintain restraint on further actions against the Manabzamin editor and 31 others and drop the case filed against them immediately. The case is a glaring example of how the law is being arbitrarily used against people by influential quarters and state agencies including the police"
The Editors' Council of Bangladesh also demanded withdrawal of the case against Chowdhury and the others. On 18th March, Chowdhury was given anticipatory bail for four weeks by a High Court Bench.
According to Amnesty International, nearly 400 cases have been filed under the Digital Security Act at the cybercrime tribunal in the first 11 months since the legislation was passed at the Bangladesh Parliament in October 2018. According to media reports, more than 200 cases have been dismissed for lacking sufficient evidence.
Increasing number of journalists charged under Digital Security Act
In a media report published on 7th May 2020 it was reported that at least nine journalists have been arrested in cases filed under the Digital Security Act (DSA) since 8th March 2020, bringing the number of cases filed against journalists to 22. Some of the recent cases include the following:
On 14th April 2020, police arrested Golam Sarwar Pintu, a journalist of Dainik Bangladesher Alo, in a DSA case filed with the Badda Police Station. Pintu filed a news report regarding a protest reportedly carried out by those deprived of relief amid the lockdown. Sheikh Salim, a Dhaka city corporation councillor of Ward 38, filed the case, accusing the journalist of 'spreading rumours'.
On 19th April 2020, cases were filed against Toufique Imrose Khalidi, editor-in-chief of bdnews24.com; Mohiuddin Sarker, acting editor of jagonews24.com; and two other journalists -- Rahim Suvho, Thakurgaon correspondent of bdnews24.com and local journalist Shaown Amin -- under the Digital Security Act. This was over a report on the alleged embezzlement of aid in Thakurgaon's Baliadangi Upazila.
On 2nd May 2020, three local journalists - Ramjan Ali Pramanik, Shanta Banik and Shaon Khondoker Shahin were arrested in Narsingdi for publishing a report on an auto-rickshaw driver's sudden death on 29 April, after allegedly being tortured by police near Ghorashal Police Outpost for 'breaching lockdown rules'.Later, the police claimed that in their initial investigation the deceased man was found to have died of a heart attack. Subsequently, the police arrested three journalists in a case filed for 'spreading rumours' against the law-enforcement agency and detained them. The three journalists remain in jail at the time of writing.
On 5th May 2020, Mahtabuddin Talukdar, a local correspondent of a private television channel and editor of a newspaper in Sunamganj, was sent to jail in a case filed under the DSA regarding a Facebook post where the journalist criticised a ruling party member of parliament. A ruling party leader filed a complaint against him for 'spreading rumours' against the MP and the police detained him, while the court sent him to jail without granting bail. His wife claimed that his Facebook profile had been hacked.
On 6th May 2020, the Barguna police arrested two journalists, Sumon Shikdar - district correspondent of Dhaka Tribune - and Mir Jamal - correspondent of BanglaNews24.Com. The police alleged that the journalists had defamed a woman and her mother through on YouTube. The Chief Judicial Magistrate's Court of Barguna ordered journalists in prison to be detained and rejected their bail petitions.
Journalists attacked for their reporting
On 1st April 2020, Amnesty International reported that three journalists - Shah Sultan Ahmed, (correspondent of the Dainik Protidiner Sangbad), Mujibur Rahman, (correspondent of Dainik Amar Sangbad) and Bulbul Ahmed (correspondent of private TV Channel-S) - were attacked with a cricket bat by Mahibur Rahman Harun, a local government representative and local ruling party leader of the north-eastern district of Hobiganj's Nabiganj Upazila.
The three journalists were attacked for reporting irregularities in relief distribution by the local government administration. One of the journalists suffered critical injuries and was immediately taken to hospital.
On the same day, another journalist, Shah Sultan Ahmed, a reporter for the Sangbad Protidin newspaper, was also physically assaulted by a local council chairman (a ruling party leader) and 25 of his men for reporting irregularities in relief distribution. At least five other journalists who went to Ahmed's aid came under attack as well.
Photojournalist disappeared for 53 days now in pre-trial detention
Photojournalist Shafiqul Islam Kajol, editor of fortnightly magazine 'Pakkhakal', disappeared for 53 days before reappearing in May 2020 charged under the Digital Security Act. He went missing on 10th March 2020, one day after a criminal defamation suit under the Digital Security Act was filed against him and 31 others (see case above). Human rights groups believe he was subjected to a suspected enforced disappearance.
Shafiqul reappeared on 3rd May 2020 at the Benapole Port police station in Jashore district, a town close to the Indian border. The police claimed that Kajol had 'trespassed' from India to Bangladesh through a paddy field.
He faces at least three cases under the repressive 2018 Digital Security Act (DSA), for allegedly publishing "false, offensive, illegally obtained and defamatory" content on Facebook that "could deteriorate law and order". The police have also registered a fourth case against Shafiqul Islam Kajol under the Bangladesh Passport Order 1973, accusing him of "trespassing" into his own country on 3rd May 2020.
The Jashore magistrate's court granted him bail in the "trespassing" case, but police refused to let him go and filed another case against him later that evening under Section 54 of the Code of Criminal Procedure-1898, which allowed police to hold Kajol without a warrant until he is prosecuted under the DSA.
His attempts to file a bail petition has faced challenges, as he could not be produced in person from the Jashore Central Jail, which is around 250 kilometres away from the Dhaka Court, due to the ongoing court shutdown amid the COVID-19 outbreak. He is now at risk of contracting COVID-19 after a prison guard of the Jashore Central Jail was tested positive for the virus on 17th June 2020.
On 26th May, UN experts expressed alarm at the ongoing persecution of Shafiqul Islam Kajol. They said:
"The targeting of investigative journalists like Shafiqul Islam Kajol raises serious questions about Bangladesh's commitment to a free and independent media. Such persecution has devastating consequences for the journalists and their families – and also for society as a whole"
Despite Bangladesh's denial of the allegations of enforced disappearances, human rights organisations have repeatedly raised concerns about the practice of unacknowledged detention and enforced disappearances. In 2019, the local human rights organisation Odhikar documented at least 34 incidents of alleged enforced disappearances. Eight of them were later found dead, 17 were shown arrested, while the fate and whereabouts of the other nine remain unknown.
Journalist arrested on trumped up charges and allegedly tortured
#Bangladesh 🇧🇩 Journalist Ariful Islam was arrested on 13 March and sentenced within a few hours by a "mobile court". Authorities must immediately release Ariful and strip the archaic mobile court of their powers to arbitrarily prosecute https://t.co/vX4qsvaU4d @ifjasiapacific

— IFJ (@IFJGlobal) March 16, 2020
On 14th March 2020, Ariful Islam, correspondent of the Dhaka Tribune was arrested for exposing alleged corruption by the Deputy Commissioner (DC) of Kurigram district. He was allegedly tortured after his arrest, charged with narcotics possession - believed to be trumped up - and sentenced to a year's imprisonment.
The Dhaka-based Sampadak Parishad (Editors' Council) issued a statement calling the drug charges part of a politically motivated campaign to silence Ariful for his work as a journalist. As a result, Ariful was released on bail on 15th March. Following a petition on Arif's behalf a High Court Bench on 23rd March stayed the Mobile Court's punishment for six months, while the case against him has not yet been dropped.
Arrests for criticism or comments on COVID-19 handling
Since mid-March 2020, the authorities have apparently arrested individuals for their comments about the coronavirus, most of them under the Digital Security Act. The Information Ministry announced that it has formed a unit to monitor social media and various television outlets for "rumours" about COVID-19 cases.
On 22nd March 2010, the Detective Branch reportedly arrested two students, Sohel Sheikh Hridoy and Anam Sheikh, in Pirojpur for "spreading rumours" about the coronavirus on Facebook.
On 24th March 2020, the police reportedly arrested two men, Shahidul Islam Russel and Abdul Ahad, and filed a case against a third in Feni, all under the Digital Security Act, apparently for spreading rumours on Facebook that a police officer had contracted COVID-19.
Opposition activists were also targeted. On 21st March 2020, the police reportedly arrested Dr. Iftekhar Adnan for "spreading rumours" after a 35-second audio clip went viral in which Adnan warns his friend over the phone that the death toll from the coronavirus in Chattogram is rising and alleges that the government is withholding information. Notably, the police said Adnan is a supporter of the opposition Bangladesh Nationalist Party (BNP).
On 24th March 2020, an opposition activist, Sumon Sawdagar in Jamalpur was sent to jail after he criticised ministers in a Facebook post for their remarks on the coronavirus issue. Police arrested him hours after a local ruling party Awami League leader filed a case with the Bakshiganj police station.
In May 2020, police arrested 11 individuals following criticism of the government's handling of the COVID-19 pandemic, including cartoonist Ahmed Kabir Kishore, writer Mushtaq Ahmed, IT specialist Md. Didarul Islam Bhuyan and Dhaka Stock Exchange Director Minhaz Mannan Emon. A further seven people have been also charged.
All four detainees disappeared for hours after they were picked up by the Rapid Action Battalion (RAB) from different locations in Dhaka on 5th May 2020. Following a social media outcry, the RAB officially handed them over to the Metropolitan police on 6th May and a case under the Digital Security Act was filed against them. The seven other individuals accused in the same case are Tasneem Khalil, Editor-in-Chief of Netra News, which the government has blocked in Bangladesh since it was launched last year from Sweden; Saer Zulkarnain; Shahed Alam; Ashik Imran; Shapan Wahed; Philip Schuhmacher; and Asif Mohiuddin, a blogger of Bangladeshi origin living in Germany.
Academic freedom stifled to censor reporting on COVID-19 
#MalayKantiMridha, one of the researchers at #BRACUniversity's #JamesPGrantSchool of Public Health, is now under investigation for co-authoring a report on #COVID19 situation in #Bangladesh. Researchers face #reprisals as Govt. hides its failure to act.https://t.co/faPcpEW6ji

— Ashraf Zaman (@ZamanAshraf) March 22, 2020
Academic researchers involved in a study on the COVID-19 pandemic have apparently been pressured by the authorities to disown their research. The study projected that without governmental action around half a million people will die in Bangladesh, based on an epidemiological model used by researchers at the Imperial College of London.
The researchers, who jointly conducted the study, were from BRAC University, North South University and Johns Hopkins University. However BRAC university subsequently denied publishing any research on COVID-19, reportedly due to pressure from the government. The national media followed the government line and did not publish or broadcast either the local or the foreign projection models.
The mirror site of Netra News, a Sweden-based online news site, which published the study was blocked by the Bangladesh Telecommunication Regulatory Authority for publishing "rumours and false information".
Further, BRAC University has initiated an investigation against one of its most respected researchers for his role in producing a report on the numbers of expected COVID-19 infections, hospitalisations and deaths in Bangladesh. The researcher under investigation is Malay Kanti Mridha, the director of the university's Centre of Excellence for Non-communicable Diseases and Nutrition.
Calls for end to internet shutdown in Rohingya refugee camps
Bangladesh: Internet blackout and phone restrictions at Rohingya refugee camps are obstructing humanitarian groups from addressing the #COVID19 threat.

The health of 1 million are at risk. #KeepItOn! https://t.co/ex45pXvv2q pic.twitter.com/V2pTVzccrr

— Human Rights Watch (@hrw) March 29, 2020
In May 2020, the #KeepItOn coalition, a global network that unites more than 210 organisations from 75 countries that work to end internet shutdowns globally and who raised concerns about the situation in the Rohingya refugee camps in Bangladesh, has been shut down since September 2019. Though the authorities described the decision as a security measure, this broad restriction on communication was neither necessary nor proportionate, both of which criteria are required under international human rights law and will hurt the COVID-19 response. The shutdowns deny access to health information on COVID-19 provided by the WHO and other experts that could save lives.
According to the coalition, aid workers and community leaders in the camps rely on WhatsApp and other internet-based communication tools to coordinate emergency services and share important information in the camps. The shutdown prevents effective dissemination of coronavirus information as well as impeding aid workers' ability to conduct "contact tracing" to contain transmission of the virus.
Association
Military intelligence agency hacks Facebook profiles of critics
Bangladesh's highly powerful military intelligence agency - the Directorate General Forces Intelligence (DGFI) has been hacking the Facebook profiles of critics of the government, according to televised remarks by the country's Telecommunications and Information Communication Technology Minister Mustafa Jabbar.
His remarks triggered an investigative report citing whistleblowers associated with the DGFI. Although the Telecommunications and ICT Minster refused an interview with Netra News, which published the investigative report, the information provided by the whistleblowers exposed the fact that social media profiles are consistently hacked by the DGFI.
The whistleblowers told Netra News that this is routine work for the military intelligence agency's Public Relations Monitoring Cell (PRMC), an online troll army. Civilian contractors, who maintain thousands of fake pages and accounts on Facebook, receive daily instructions on spreadsheets containing URLs of specific posts, pages and profiles to target. Most of these targets are critical journalists, political dissidents and opposition figures.
Peaceful Assembly
Lack of accountability for violations during 2018 student protests
🇧🇩#Bangladesh: New report 'Crushing Student Protests'

Movements that started in 2018 to improve road safety and end the quota system for government jobs were both met with excessive force.

Activists continue to face surveillance and harassment.
➡️https://t.co/XogRXHipCw pic.twitter.com/y9JPYy8ceJ

— CIVICUS (@CIVICUSalliance) June 9, 2020
On 10th June 2020, civil society groups Front Line Defenders, CIVICUS and South Asians for Human Rights (SAHR) published a report on the lack of accountability for human rights violations against protesters, two years since student protest movements mobilised in Bangladesh.
'Crushing Student Protests' highlights the use of excessive force, arbitrary arrests and allegations of torture and ill-treatment by the Bangladesh security forces during the protests, as well as attacks by non-state actors perpetrated with impunity against the students.
Police also arbitrarily arrested protesters and filed multiple cases against them without specifying names, detaining students at will. Some reported torture and ill-treatment in detention.
Bangladeshi journalists were also assaulted and detained as part of government efforts to control the narrative and silence critical voices.
Long after the protests stopped, many student activists, their friends and family members continue to face surveillance, intimidation and harassment, effectively silencing future dissent. Social media has been deployed to intimidate and smear human rights defenders and civil society groups that supported the protests.