Journalists and activists continue to be given long jail sentences on fabricated charges nearly two years on from the illegal coup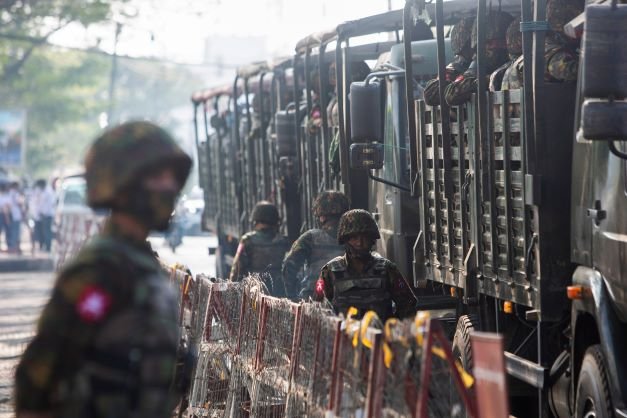 Nearly two years on from the illegal coup, violations of civic freedoms by the military junta continue to be documented in Myanmar, which is rated as 'repressed' by the CIVICUS Monitor.
Over the last two years, the CIVICUS Monitor has documented how activists have continued to be arrested on fabricated charges and convicted in unfair trials by secret military tribunals - including for terrorism, incitement and sedition - and given harsh sentences including the death penalty. Many have also been killed. Political prisoners have also been tortured or ill-treated. The junta is also blocking aid and imposing restrictions on humanitarian workers. Journalists have been criminalised, attacked or killed, while attacks on anti-coup protests and strikes have continued. Civil society organisations and trade unions are facing an existential threat.
In September 2022, the UN Special Rapporteur on Myanmar told the Human Rights Council in Geneva that conditions have "gone from bad to worse, to horrific for untold numbers of innocent people in Myanmar". He presented a grim assessment of 1.3 million displaced people; 28,000 destroyed homes; villages burnt to the ground; more than 13,000 children killed as the death toll for innocent people rises significantly; a looming food crisis; and 130,000 Rohingya in de facto internment camps while others suffer deprivation and discrimination rooted in their lack of citizenship.
On 15th December 2022, the UN General Assembly's credentials committee deferred action on the military's request to take over the country's seat at the UN. The decision means that Kyaw Moe Tun, who was appointed Myanmar's UN ambassador by the elected government of civilian leader Aung San Suu Kyi, will continue to hold the post.
The United Nations Security Council adopted a resolution on 21st December 2022, denouncing the Myanmar military's rights violations since the coup. The landmark resolution was passed with 12 yes votes and 3 abstentions. The resolution expressed deep concern at the "ongoing state of emergency imposed by the military in Myanmar on 1st February 2021 and its grave impact on the people of Myanmar." It condemned the military's execution of pro-democracy activists, urged the military to "immediately release all arbitrarily detained prisoners" and demanded an "immediate end to all forms of violence throughout the country." All Security Council members voted for the resolution, except for China, India and Russia, which abstained.
ASEAN states has continued to remain ineffective in addressing the human rights violations in Myanmar. A special ASEAN Foreign Ministers' Meeting at the ASEAN Secretariat on 27th October decided to persist with the failed peace plan. The ministers emphasised the need to ensure the time-bound implementation of a five-point consensus agreed to with the Burmese junta in April 2021. In November 2022, Southeast Asian heads of governments issued a warning to Myanmar to make measurable progress on the peace plan or risk being barred from the bloc's meetings. The leaders concluded a need for "concrete, practical and measurable indicators with a specific timeline."
To stave off pressure from ASEAN, Myanmar has organised prisoner releases. In November 2022, to mark a national holiday, the junta released Australian economist Sean Turnell, former UK ambassador Vicky Bowman, Japanese journalist Toru Kubota, US-Burmese national Kyaw Htay Oo and several senior opposition figures. The UN Special Rapporteur on Myanmar said "this is part of the junta's efforts to create a veneer of progress in Myanmar to sway international opinion." He said he had received reports that some were immediately rearrested, and that within 24 hours of being released.
Some countries have continued to increase sanctions on the junta. In November 2022, the British government announced sanctions on the Office of the Chief of Military and Security Affairs; The 33rd Light Infantry Division (33 LID) of the Myanmar Army and the 99 Light Infantry Division (99 LID) of the Myanmar Army because of its responsibility for the use of torture, including sexual violence, against human rights and democracy activists who are illegally detained in Myanmar. On 10t December, Canada imposed sanctions on Myanmar military jet fuel suppliers, designating Asia Sun Group, a Myanmar conglomerate. Asia Sun Group is a local partner of the Myanmar military and is involved in procuring, storing and distributing jet fuel. Asia Sun has been found to import aviation fuel and directly deliver it to the Myanmar military.
On 20th December, both houses of the United States (US) legislature passed the Burma Act as part of the National Defense Authorisation Act (NDAA), to provide non-military aid to the parallel National Unity Government (NUG) and its affiliate organisations, including the National Unity Consultative Council, the People's Defense Forces (PDF) and ethnic armed organisations (EAO). The Burma Act also authorises measures to prevent the military regime from acquiring weapons and expands sanctions against junta businesses.
According to ALTSEAN Burma, the regime has stepped up preparations for its sham 2023 'election,' gathering support from two minor political parties and five ethnic armed organisations. The regime plans to hold the election in August 2023.
According to the Assistance Association for Political Prisoners (Burma), as of 30th December 2022 a total of 2688 people, pro-democracy activists and other civilians have been killed through military crackdowns while a total of 13,217 people are currently under detention.
Since September 2022, the arrest and imprisonment of journalists has persisted while media outlets have been banned. The junta has issued an order for SIM card registration to track resistance activities while more than 800 people have been arrested for social media posts critical of the junta or in support of the resistance forces. The junta has continued to criminalise medics, students, activists, religious leaders and politicians. The jailing of protesters has also persisted.
Expression
Ongoing imprisonment of journalists
In December 2022, The Committee to Protect Journalists said that the junta "has doubled down on its repression of journalists" as it tightens it grip on the country. After arresting scores of journalists to block coverage of its abuses and resistance to the takeover, its second year in power saw the handing down of harsh prison sentences in a bid to silence and eliminate the country's few remaining independent media outlets.
CPJ found that at least 42 journalists were imprisoned in Myanmar for their reporting as of 1st December 2022, a repressive 40% rise on the number recorded by CPJ on the same date in 2021. Nearly half of those detained were sentenced in 2022, most under Article 505(a) of the penal code, an anti-state provision that broadly penalises "incitement" and "false news", both ill-defined terms in law and arbitrarily interpreted by military-influenced courts to hand down two- and three-year sentences.
Others were given harsher, longer sentences on terrorism and other anti-state charges, often for contacting or reporting on the activities of anti-military armed resistance groups, including newly formed "people's defence forces", or PDFs, which the junta deems as terrorist organisations, as well as decades-old ethnic armies fighting for autonomy and rights.
The following are some recent cases that have been documented by civil society groups:
Htet Htet Khine, a reporter and presenter for the BBC's Media Action program, was sentenced to three more years in prison with hard labor by Myanmar's military junta court, with the sentence to be served in Yangon's notorious Insein Prison. pic.twitter.com/IJERndGs33

— Radio Free Asia (@RadioFreeAsia) September 28, 2022
Htet Htet Khine, a Burmese freelance journalist and former BBC Media Action presenter, was sentenced to three years in prison with hard labour in a sham trial on 15th September 2022 after more than a year in pre-trial detention in Yangon's notorious Insein prison. She was arrested on 15th August 2021. A court in Yangon convicted Htet Htet Khine under Section 505 (a) of the Myanmar penal code on a charge of inciting hatred and violence against the armed forces in her reporting. On 27th September 2022 she was again sentenced to three years in prison and hard labour.
Toru Kubota, a Japanese documentary filmmaker who was arrested on 30th July 2022, was sentenced to ten years in prison. He was convicted in complete secrecy on 5th October 2022 by a military court in Insein prison, receiving seven years in prison on a sedition charge and an additional three years under penal code section 505 (b), a vague law that penalises "causing fear or alarm to the public." He was released during a prisoner amnesty in November 2022.
Reporters without Borders (RSF) calls for the immediate release of veteran journalist Sithu Aung Myint, who was arrested in Yangon on Aug. 15, 2021. Sithu Aung Myint was handed a 12-year prison sentence by a military court last week. "RSF demands his release and sounds the /1 pic.twitter.com/51NibnOfsU

— DVB English (@DVB_English) December 16, 2022
Sithu Aung Myint, a reporter and commentator for both local and international media, has been given a combined sentence of 12 years in prison. He was sentenced to three years after 14 months in pre-trial detention. Sithu Aung Myint was convicted on 7th October 2022 by a special military court inside Yangon's Insein prison, where he has been held ever since his arrest on 15th August 2021. He was convicted of "inciting government employees to commit crimes" under penal code Section 505 (a). He was given another two years on 24th November and a further seven years on 9th December on a charge of sedition under Section 124 (a) of the criminal code.
Ah Hla Lay Thuzar, a Burmese journalist better known by the pseudonym of Ma Thuzar, received a two-year jail sentence with hard labour on 22nd November by a court inside Insein prison. Arrested on 1st September 2021, she had spent nearly 15 months in pre-trial detention. She was prosecuted under Section 505 (a) of Myanmar's penal code, which punishes inciting "hatred against the army forces."
Two journalists with the Myanmar Pressphoto Agency (MPA) – video reporter Hmu Yadanar Khet Moh Moh Tun and photographer Kaung Sett Lin – were notified of their sentences on 21st December. Both were badly injured when arrested just over a year ago while trying to cover a flash mob in Yangon's Kyimyindaing district. Journalist Han Thar Nyein was tried in the utmost secrecy on 26th December by a court inside Insein prison and was sentenced to five years in prison for allegedly violating Section 33 (A) of Myanmar's Electronic Transactions Law, which penalises acts detrimental to the security of the state. 
Myo San Soe, a journalist based in Ayeyarwady's Pyapon, was sentenced to 15 years in prison on Nov. 30. He was arrested in October 2021 and charged under Section 50(j) and 52(a) of the Counter Terrorism Act. "He did non-profit work during the COVID-19 epidemic. Prior to the /1 pic.twitter.com/t34uuiaQJ9

— DVB English (@DVB_English) December 2, 2022
Journalist Myo San Soe was sentenced to 15 years in prison on two terrorism counts by a court at Pyapon Prison in Ayeyarwady region on 2nd December 2022. He received a 10-year sentence under Section 50(j) of the Counter-Terrorism Act and five years under Section 52(a).Myo San Soe is a freelance journalist who has reported for The Ayeyarwaddy Times, BNI News and Delta News Agency, which were banned by the junta after the military seized power.
Junta bans Irrawaddy news agency after months of harassment
On 31st October, the junta officially banned online news outlet The Irrawaddy and charged the outlet's registered publisher for violating national security laws, following months of legal harassment, Radio Free Asia reported.
The Irrrawaddy, founded in 1993, is known for its breaking news coverage and investigative pieces that shed light on government abuses in both Burmese and English. Its editorials were critical of the military rule, and it had ceased operations in Myanmar after the February 2021 coup, moving production and editorial staff outside the country. Because of that, the practical impact of the ban on The Irrawaddy was limited.
The junta also said it had charged the news agency's former director, Thaung Win, arrested on 29th September 2022 with violating the Publishing and Distribution Act by reporting news that "negatively affected national security, rule of law and public peace."
RFA reported that, in total, the military regime has banned 14 news agencies, four publishing houses and two printing presses in the 20 months since the coup.
Junta issues order for SIM card registration to track resistance activities
RFA reported that an order was issued by the junta requiring anyone buying a SIM card to register their identity. Activists believe it is a bid by the junta to crack down on anti-junta activities by leveraging personal data.
On 19th September, the Department of Post and Telecommunications under the junta's Ministry of Transport and Communications announced that it would cancel all SIM cards that haven't been registered with a national ID card and confiscate any remaining balance on the cards. The announcement said that junta authorities would check the registered data against Myanmar's census data and warned that any telecom operators or SIM card vendors found in violation of the new registration system would be subject to prosecution.
Resistance groups said the move is to weaken anti-junta movements by cutting off their support network. It would make it easier to identify the user of a specific phone SIM card and "facilitate finding, arresting and suppressing those engaged in resistance activities".
More than 800 people arrested for social media posts
According to a report from January to the end of November 2022, 817 people were arrested or prosecuted for posting in support of the National Unity Government (NUG), the Committee Representing Pyidaungsu Hluttaw (CRPH) and People's Defense Forces (PDFs) on social media platforms.
The junta monitored through social media and took action against 817 people who wrote in support of the opposition on a total of 806 Facebook accounts, Facebook Group Facebook Pages and Tik Tok accounts. The junta had announced in January 2022 that if people knowingly or unknowingly encourage the actions of organisations and individuals related to the NUG and CRPH, they would be prosecuted under existing laws, including Article 52 (a) of the Anti-Terrorism Act, Article 124 (a) and Article 505 (a) of the Penal Code, and Article 33 (a) of the Electronic Act. In addition, supporters of the revolutionary forces would not only be jailed, but their homes and other assets would be confiscated.
Association
Human rights defenders and activists have been targeted by the junta for their activism. In September 2022, UN experts said human rights defenders documenting and responding to atrocities by Myanmar's military junta urgently need comprehensive support, including financial support.
In October 2022, the junta transferred dozens of political prisoners from Myanmar's Insein Prison in Yangon to western Bago region's Tharyarwaddy Prison, a facility where former inmates have reported being subjected to torture and other forms of abuse. Former political prisoners say transferring inmates to prisons such as Tharyarwaddy, where they have little access to family members and are subjected to poor treatment, is a tactic the junta uses to punish them for their activism and break their spirit.
In the same month, RFA Burmese reported that at least 145 people have died while being interrogated by authorities in Myanmar over the 19 months since the junta seized control of the country in a coup. Many of the victims found to have died in custody were members of the deposed National League for Democracy (NLD) party.
Criminalisation of medics, students and activists
In October 2022, a junta court in northern Sagaing region sentenced nine People's Defense Force (PDF) medics to 12 years each in prison. The women were charged under the military regime's Counter-Terrorism Law and sentenced at Kale Prison Court. The women from Kale township, all in their 20s, were arrested when junta troops raided a PDF camp in Kale township in November 2021. They each received two-year sentences under Section 505 (a) of the Counter Terrorism Law and 10 years under section 50 (j).
On 30th November 2022, the junta handed death sentences to ten people, including seven university students. A closed military court in Yangon handed down the death sentences for the seven students, all members of the Dagon University Students' Union, under section 302 of Myanmar's penal code. The seven had taken part in anti-regime protests and participated in the resistance against the junta's rule. The tribunal convicted the students for their alleged involvement in a shooting that killed a former military officer in Yangon in April.
Police arrested all seven in April 2022. The students are Khant Zin Win; Thura Maung Maung; Zaw Lin Naing; Thiha Htet Zaw; Hein Htet; Thet Paing Oo; and Khant Linn Maung Maung. A military court also sentenced Wai Zin Yan, Thu Htoo Aung, and Min Htet Thar to death under section 302 of the penal code for a separate incident in June, for allegedly shooting and killing a ward administrator.
Junta Court Hands Leading Myanmar LGBTQ+ activist 22 Years in Jail#WhatsHappeningInMyanmarhttps://t.co/cWm44KtqHF

— The Irrawaddy (Eng) (@IrrawaddyNews) December 14, 2022
On 14th December 2022, prominent Myanmar LGBTQI+ activist Sue Sha Shinn Thant was sentenced to 22 years in prison by a junta court in Mandalay. Obo Prison Court handed down the sentence for allegedly violating Section 505 (b) of Myanmar's Penal code for inciting sedition against the State, and Section 50 (j) of the Counter Terrorism Law for aiding and abetting murder. She had already received a three-year sentence for allegedly inciting sedition against the military. Sue Sha Shinn Thant was arrested in Mandalay in October 2021.
On 16th December 2022, a court in Yangon's Insein Prison sentenced Ye Lin Oo, who served on the central executive committee of Dagon University Students' Union, to a further seven years in prison under Section 52(a) of the Counter-Terrorism Law. He had already received a three-year prison term in March 2022, under Section 505 (a) of the Penal Code, for incitement against the military. Ye Lin Oo was arrested along with five other students' union members in September 2021 in central Yangon's Kyauktada township and accused of participating in anti-junta activities.
Ma Nu Nu Aung & Ma Khet Khet Aung from 88 Generation Peace & Open Society, and Ko Myat Thu, son of Ma Khet Khet Aung, who were arrested by junta on Apr 26, were sentenced to 15 years in prison each on Dec 23.#AcceptNUGRejectMilitary #2022Dec23Coup #WhatsHappeningInMyanmar pic.twitter.com/sv4gCTnA8b

— Nway Oo Jasmine (@nway_jasmine) December 23, 2022
Three 88 Generation Peace and Open Society members, Ma Nu Nu Aung, Ma Khet Khet Aung and Ko Myat Thu were each sentenced to 15 years in prison. They were sentenced to 10 years in prison under section 50(j) and five years in prison under section 51(c) of the counter- terrorism law at the Kyaikmaraw Prison Court on 23rd December 2022. The three of them were interrogated at an interrogation centre in Mawlamyine for 12 days before being sent to Kyaikmaraw Prison.
On 30th December 2022, the junta charged Dr Hkalam Samson, the former president of the Kachin Baptist Convention (KBC), under Section 17(1) of the Unlawful Association Act. The doctor has been remanded in custody at Myitkyina Prison in the Kachin State capital Myitkyina. If convicted he faces three years in jail plus a fine.
Jailing of politicians
Politicians have also been criminalised since the coup with many sentenced to long prison terms.
In October 2022, a court convicted the country's ousted leader, Aung San Suu Kyi, on two more corruption charges, with two three-year sentences to be served concurrently, adding to previous convictions. She has denied the allegations against her in this case, in which she was accused of receiving $550,000 as a bribe from Maung Weik, a tycoon convicted of drug trafficking.
On 30th December 2022, a military court sentenced Suu Kyi to a further seven years in prison, taking her overall jail time to 33 years. A court found her guilty of corruption because she had not followed regulations in renting a helicopter for a government minister.
On 28th November 2022, a former lawmaker for the National League for Democracy (NLD) was sentenced to 26 years plus hard labour. Wai Lin Aung, 30, was an MP for Myaungmya township in Myanmar's southeastern Ayeyarwady region. He was re-elected in the 2020 election, serving until the February 2021 coup that toppled the NLD-led civilian government. More than 200 police and troops captured him in December 2021. Wai Lin Aung was charged with terrorism and treason and held for the next 11 months.
On 30th November 2022, Tun Tun Hein, a member of the Central Executive Committee of the NLD, was sentenced to 20 years in prison on charges of treason and rebellion. On top of a four-year term he received at the end of 2021 for incitement, the sentence takes his total prison time to 24 years. Tun Tun Hein won the 2020 election as an MP for Nawnghkio township in Shan State. The NLD's top leaders said he would have become speaker of the national People's Assembly if the military had not seized power in February 2021.
Peaceful Assembly
Protesters continue to be jailed
Protests have persisted in Myanmar despite threats and attacks against protesters by the junta. The junta has continued to criminalise protesters.
A student leader who took part in anti-junta protests in Magway region was sentenced to 15 years in prison by a court in Kayin State on 1st December 2022. Myawaddy District Court handed down his sentence, under Section 49(a) of the Counter-Terrorism law. Kaung Set Naing was the student leader of Magway city's Medical University when the junta seized power. He was arrested in December 2021 at a military checkpoint between Kayin State's Myawaddy township and Lay Kay Kaw new town.
Lu Phan Kar, who led anti-regime protests in Ayeyarwady region's Pathein city, has been sentenced to another two years in prison for incitement against the military. https://t.co/oTvK01Dr1z

— Radio Free Asia (@RadioFreeAsia) December 22, 2022
On 20th December 2022, Lu Phan Kar, who led anti-regime protests in Ayeyarwady region's Pathein city, was sentenced to another two years in prison for incitement against the military under Section 505 (a) of Myanmar's Penal Code. Lu Phan Kar is a published poet who began leading anti-junta demonstrations in Ayeyarwady region following the coup. In November 2021, Lu Phan Kar was sentenced to 26 years in prison under Sections 122 and 124 of the Penal Code for sedition and treason, and six months for breaking prison rules.
On 22nd December 2022, a secret military court in the Insein Prison sentenced seven anti-coup protesters to a maximum three years in prison each with labour for "incitement" for violating section 505 (a) of the country's Penal Code. They were arrested after soldiers crashed a military vehicle into crowds of peaceful anti-regime protesters in Yangon's Kyimyindaing township in December 2021. They had all been held in pre-trial detention for one year.