India: Ahead of the G20 summit, human rights defenders face raids, arrests and detention while impunity persists in Manipur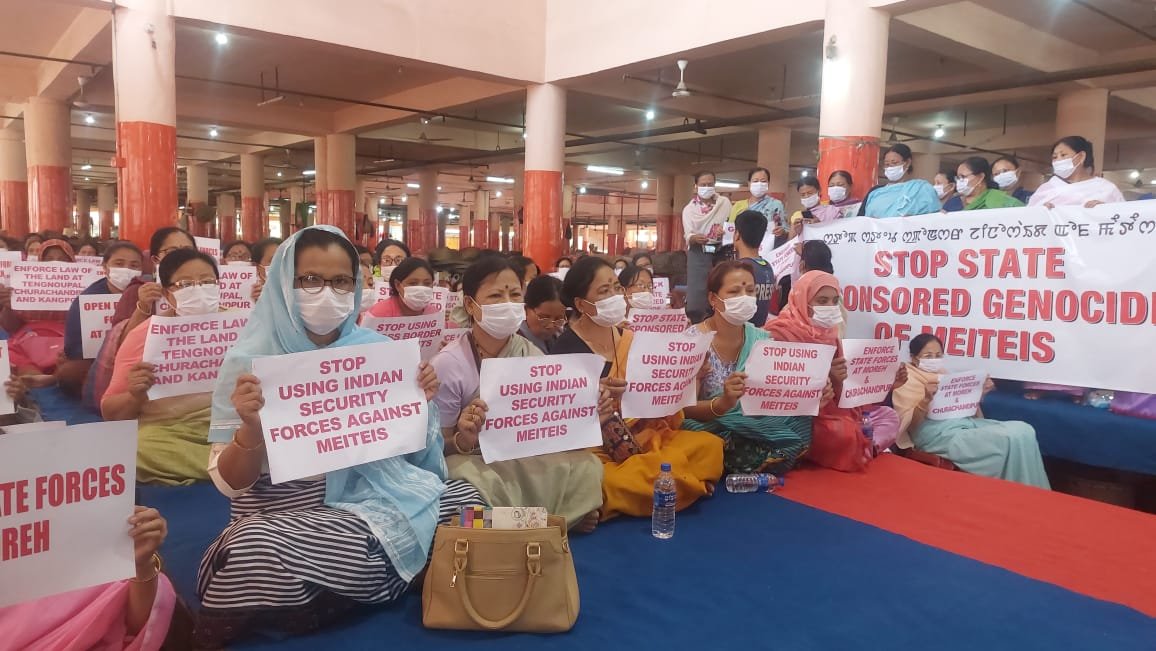 India's civic space continues to be rated as 'repressed' by the CIVICUS Monitor. In recent years, India has witnessed the misuse of the draconian anti-terror Unlawful Activities (Prevention) Act (UAPA) and other laws to keep activists behind bars and fabricate cases against activists and against journalists for undertaking their work. The authorities blocked access to foreign funding for NGOs using the restrictive Foreign Contribution (Regulation) Act (FCRA) and human rights defenders and journalists in Indian-administered Jammu and Kashmir continue to be targeted for speaking out again the government's regressive and divisive political agenda.
Since coming into power in 2014, the Bharatiya Janata Party's (BJP) political discourse has exacerbated communal tensions between Hindus and Muslims and other minority religious groups across the country. The most recent being in the northeastern Indian state of Manipur.
For more than three months, Manipur state has been wracked by ethnic violence between Kuki tribal groups and the majority Meitei community. At least 160 people have died and nearly 40,000 displaced and living in temporary camps. Over 200 churches were burned or destroyed in the violence between 3rd and 15th May 2023. Kuki community members have accused the police of siding with the Meitei community, alleging they did not protect them, and at times even joined the mobs to carry out violence with impunity.
The ruling BJP however failed to respond to the violence until a video emerged from 4th May 2023 showing a Meitei mob stripping and parading two Kuki women. Prime Minister Narendra Modi called the incident a "disgrace for the entire country." The BJP's chief minister in Manipur state, N. Biren Singh, announced arrests, defending the delay in responding to the complaint of the incident to police. Civil society activists have alleged that Chief Minister Singh had fueled divisiveness in Manipur with political patronage to violent groups in the Hindu-majority Meitei community.
On 24th May 2023, the Law Commission, which advises the Indian government on legal reforms, recommended retaining the country's sedition law, expanding the definition of sedition, and increasing the punishment for violating the law, citing the need for national security. The government has promised to review the law after the Supreme Court suspended its use in May 2022 after its constitutional validity was challenged by civil society groups. A new penal code that has been proposed contains clause 150 that closely resembles the current sedition provision in section 124A in the current law.
Ahead of the G20 Summit in September 2023, the assault on civic freedoms has continued. Journalists were assaulted in Manipur, while a partial internet ban remains. Women protesting in the province have been injured by security forces. Human rights defenders in Jharkhand and Uttar Pradesh have faced raids and arrests, while the repression and detention of activists in Kahmir persists. An activist detained for protests in 2020 has spent nearly three years in detention.
Expression
Soldiers assault three journalists in Manipur
Three journalists were physically assaulted by security forces in the Indian state of Manipur whilst covering unrest on May 22, 2023. EBI condemn this attacks on #journalists and urge authority in India to respects the press freedom law. #JournalismIsNotACrime pic.twitter.com/skkLGWoWRE

— Egobiafra International (EBI) (@ebgioafraInt) May 31, 2023
On 22nd May 2023, three journalists were physically assaulted by soldiers of the Indian Army's Jat Regiment while covering the unrest. The journalists - Soram Inaoba and Nongthombam Johnson from the channel Mami TV and Brahmacharimayum Dayananda from the news agency ANI - were allegedly assaulted with batons while recording footage of a burning building from a construction site in the Imphal region.
The All Manipur Working Journalists' Union, Editor's Guild Manipur and Manipur Hill Journalists' Union submitted a memorandum to the Chief Minister of Manipur demanding the suspension of the security personnel who allegedly assaulted the journalists and called on the government to restore internet services. The International Federation of Journalists (IFJ) and its affiliate, the Indian Journalists' Union (IJU), has also condemned the assault and have called on the authorities to ensure journalists are permitted to report without jeopardising their safety.
The Committee to Protect Journalists issued a strongly-worded statement condemning the assault despite the journalists having worn their press identification.
"Authorities in India's Manipur state must thoroughly investigate the recent attack on three journalists by security forces, and ensure that those responsible are held to account," said Beh Lih Yi, CPJ's Asia programme coordinator. "Journalists in Manipur must be able to do their work safely and without fear of harassment and abuse by soldiers."
Courts order government to partially lift internet ban
Following the outbreak of violence in May 2023, the internet was shut down in Manipur. Manipur authorities said that the shutdown was to "thwart the design and activities of anti-national and anti-social elements" and to "maintain peace and communal harmony". The prolonged shutdown disrupted the work of journalists and civil society and also local businesses, schooling, and delivery of services.
On 7th July 2023, the Manipur High Court ordered the state government to partially lift the internet shutdown. However, the Manipur government only partially lifted a ban on broadband internet for the first time on 25th July. The state government issued an order announcing its decision to lift the suspension of broadband service subject to a number of conditions: connections will only be allowed through static internet protocol (IP) addresses – which means users will not be allowed to change their IP addresses occasionally. However, mobile internet, social media websites and VPN services will remain suspended.
Amnesty International noted in their report on 12th July 2023 that "state parties must not block or hinder internet connectivity to curb freedom of expression, which is a right enshrined in the International Covenant on Civil and Political Rights, to which India is a state party, as well as in the Constitution of India."
The group added that "imposing such prolonged and blanket internet shutdowns stops important information from reaching people. It also prevents journalists, international and local organisations from documenting critical human rights violations. It further forces them to rely on unencrypted means of communication, thereby increasing their risk and detrimentally affecting their safety."
Peaceful Assembly
Women protesting in Manipur injured by security forces
#Manipurviolence: CM @NBirenSingh refuses to meet women protestors, 19 injured as security forces resort to smoke bomb pic.twitter.com/znjyvSWXOm

— India Today NE (@IndiaTodayNE) July 18, 2023
On 17th July 2023, at least 19 women were injured after security forces fired tear gas and smoke bombs to disperse a peaceful protest by hundreds of women demanding peace and stability in the state of Manipur.
The women staged a rally from Singjamei Bazaar under Imphal West district towards the Chief Minister's Secretariat and were stopped by a combined team of Rapid Action Forces and State Police at the Singjamei Chingamathak traffic junction, which is around two kilometres from the secretariat. Unable to proceed further, the women staged a sit-in protest in the middle of the road and demanded the Chief Minister Biren Singh or one of his colleagues come and meet them.
The Chief Minister however didn't turn up to meet the women protestors after they had waited for a whole day. Rather they were dispersed by security forces using tear gas and smoke bombs.
Protests by women in Delhi for Manipur
On 28th July 2023, the Kuki-Zo Women's Forum organised a protest in Delhi, demanding a separate administration for tribal people in Manipur. The Kuki-Zo Women's Forum organised a protest at Jantar Mantar and demanded a separate administration for the tribal population of Manipur living in its hill districts. The protesters also demanded the imposition of President's Rule in the northeastern state engulfed in ethnic violence. Scores of people attended the protest. Some of the protesters were seen wearing T-shirts with "separate administration is the only solution" written on them. Many of the protesters donned their traditional attire.
Association
Raid on houses of activists and journalists in Jharkhand
Rupesh Kumar Singh was arrested after reporting on the pollution caused by factories in Giridih. #UAPAhttps://t.co/GKnURkAW6n

— Milli Gazette (@milligazette) August 2, 2023
The house of jailed independent journalist Rupesh Kumar Singh, along with those of several of Jharkhand's most well-known rights and Adivasi activists were raided by the National Investigation Agency (NIA).
On 2nd May 2023, the houses of independent journalist Rupesh Kumar Singh; Damodar Turi, Convenor of the Vishthapan Virodhi Jan Vikas Andolan; Bacha Singh, General Secretary of the Mazdoor Sangathan Samiti (MSS); and Anil Hansda, Dinesh Tutu, Nageshwar Mahato and Sanjay Turi of Jharkhand Jan Sangharsh Morcha were raided.
The NIA officers raided activist Bacha Singh's house at Bokaro Thermal, activist Dinesh Tudu's house at Lalpania and Damodar Turi's house at Tundi in Dhanbad. The NIA seized Damodar's phone and other documents from his house and asked him to come to the NIA's Ranchi office for questioning. The NIA also seized Rupesh's wife Ipsa's phone, along with some books. An independent journalist, Rupesh has been jailed since 17th July 2022.
The NIA also took renowned Jharkhand civil rights activist Damodar Turi to the nearby police station in Dhanbad on the same morning following a three-hour raid. He was later released. Damodar said that only he and his mother were present at his house in Tundi when around 150 police personnel arrived at 6am. Civil society organisations have claimed that this is the Union government's attempt to suppress every dissenting voice in the country. Damodar has been particularly vocal on the forced displacement of Adivasi communities as a result of state-sanctioned infrastructural projects.
Death in custody of environmental activist
On 5th May 2023, Sendhu Munda, a member of the people's forest protection committee that advocated against the illegal felling of trees and other social rights of the villagers, was brutally beaten by jail personnel in Latehar Jail in Jharkhand.
His wife, Reena Devi, has said that she is yet to receive her husband's post-mortem report. Sendhu Munda was arrested in connection with a case involving the tragic death of an elderly couple. The police forcefully entered Munda's house and took him into custody without any explanation. Munda's family has denied any previous health issue and has claimed that he was beaten to death in custody.
According to a report, the visible injuries on Sendhu Munda's body suggest severe beatings while in custody. Allegations of collusion between jail personnel, police and government doctors have surfaced, fueling suspicion of a potential cover-up operation.
The family's requests for documentation and reports related to the incident have gone unanswered. Despite CCTV footage capturing the assault on Munda and the identification of five jail personnel involved, no arrests have been made in the case so far.
Human rights activist detained for alleged links to a banned group
UP: Lawyer-activist Mohammed Shoaib picked up by police, says his wife https://t.co/lBtNQ6HcWD

— Scroll.in (@scroll_in) May 7, 2023
On the morning of 7th May 2023, a group of police from the state of Uttar Pradesh picked up 75 year old lawyer-activist Mohammed Shoaib at his house. Shaoib is the founder of Rihai Manch, an organisation that offers legal aid and assistance to marginalised communities.
His wife Malka Bi said the police personnel did not provide any documentation while picking him up from their house. When he did not return home at night, his wife rushed to the Aminabad police station where she was informed that Shoaib was not brought to the station. Malka Bi then drafted a letter to the Station House Officer (SHO) of the station requesting that an FIR be registered about the disappearance of Shoaib, which was never considered. Shoaib reached his house soon after at around 10pm the same night.
Accusing the police of illegally arresting him and taking him to the Anti-Terrorism Squad (ATS), he said the ATS questioned him about the Popular Front of India (PFI) – a banned group - for several hours and asked him to disband his NGO Rihai Manch. In December 2019, he was arrested in connection with protests against the discriminatory Citizenship (Amendment) Act and was granted bail.
UN body calls for release of Kashmiri activist
#India: UN Working Group on Arbitrary Detention (WGAD) says the detention of Kashmiri human rights defender Khurram Parvez is "arbitrary", demands his immediate release https://t.co/XbQGzxXjUZ #FreeKhurramParvez #Kashmir

— AG (@ag_fidh) June 15, 2023
On 5th June 2023, the UN Working Group on Arbitrary Detention (WGAD) released an opinion on Kashmiri human rights defender Khurram Parvez, who has been detained since his arrest on 22nd November 2021 under India's draconian anti-terrorism legislation and is currently detained in Rohini Jail, Delhi.
In the opinion adopted on 28th March 2023, the WGAD said Parvez's detention was "arbitrary" and called on the authorities to immediately release him and to provide him with an "enforceable right to compensation and other reparations." The WGAD expressed serious concern about "the chilling effects" of Mr Parvez's arrest and mprolonged detention on civil society, human rights defenders and journalists in India.
Khurram Parvez is the Programe Coordinator of the Jammu Kashmir Coalition of Civil Society (JKCCS), the Chairperson of the Asian Federation Against Involuntary Disappearances (AFAD) and FIDH Deputy Secretary-General. In February 2023, he was awarded the prestigious Martin Ennals Award, an annual prize which recognises human rights defenders.
Parvez was arbitrarily arrested in November 2021 and has since been prosecuted under multiple trumped-up charges related to criminal conspiracy and terrorism, and his fundamental rights to due process and a fair trial have constantly been violated. In addition to the charges against Parvez under the Unlawful Activities (Prevention) Act (UAPA), another case was filed by the NIA against him and journalist Irfan Mehraj in October 2020, specifically targeting JKCCS and anyone associated with the organisation.
On 13th June, a Delhi Court extended the judicial custody for Khurram Parvez and Irfan Mehraj for 45 more days under the UAPA.
Two Bhima Koregaon activists released but several others still in detention
Activists Vernon Gonsalves and Arun Ferreira, accused in the Elgar Parishad-Maoist links case, walk out of jail on Saturday. A special court issued their release order, after they were granted bail by the Supreme Court.

The were lodged in Taloja jail in Navi Mumbai. pic.twitter.com/vc4NclblTV

— The Polis Project (@project_polis) August 5, 2023
On 28th July 2023, the Supreme Court of India granted bail to Vernon Gonsalves and Arun Ferreira in connection with the Bhima Koregaon-Elgar Parishad case, stating that actual involvement of Gonsalves and Ferreira in any terrorist act has not surfaced from any third-party communications.
Both the activists walked out of prison on 5th August 2023 after being held in custody since August 2018 on allegations of involvement in offences under the Unlawful Activities (Prevention) Act, 1967 (UAPA). With their release, five out of the 16 accused arrested in the case are now out on bail. One of the 16 accused — Fr. Stan Swamy — a Jesuit priest — died at a private hospital in July 2021 while in judicial custody.
Since 2018, the Indian authorities have arrested 16 activists under the draconian UAPA in connection with the Bhima Koregaon-Elgar Parishad case. They are accused of provoking caste-based riots and of having links with the banned Communist Party of India (Maoist) and have been charged under various provisions of the Indian Penal Code and the UAPA.
Attacks on Muslim communities and demolition of homes in Haryana
The Nuh administration on Sunday continued its demolition drive in the violence-hit district for a fourth straight day on Sunday, with authorities razing 94 houses and 212 other structures

(@leenadhankhar reports)https://t.co/UrbDsOXV4P

— Hindustan Times (@htTweets) August 6, 2023
On 31st July 2023, communal violence broke out between two groups during a religious procession organised by the far-right hindutva fringe Bajrang Dal and the Vishwa Hindu Parishad in Haryana's Nuh district, claiming the lives of six people including two Home Guards and injuring 88 others. As many as 216 people have been arrested and 55 FIRs have been registered in connection with the incident. Internet and mobile networks were suspended till 8th August 2023
The district administration has claimed that the violence began after unknown individuals threw stones at a religious procession from the roof of a hotel. What followed was a week-long rampage by Hindu mobs in Haryana's Gurugram, torching a mosque, killing its deputy imam and setting fire to shops and shanties of Muslim migrant workers in the area. A few days later, the BJP-led state government began a demolition drive, destroying the shanties of over 250 Muslim migrant workers, alleging encroachment on government land. Several other houses and shops were demolished during the week. Over a period of four days, the district administration demolished more than 750 buildings and structures.
On 7th August 2023, the Nuh administration paused the demolition drive in the district after the Punjab and Haryana high court took note of the action and ordered the authorities to pause. The court also questioned the government's demolition drive for bringing down structures without serving any notices to affected parties.
There has been a growing practice of demolishing the homes of Muslim protesters critical of the actions of local or federal authorities. India's Supreme Court has cautioned against the controversial practice and said "they cannot be retaliatory."
Raid on the residence of Kashmiri human rights defender
The National Investigation Agency, which reports to Home Minister @AmitShah continues to crackdown on renowned human rights activists in Jammu & Kashmir such as Parvez Imroz under the guise of combatting terrorist financing.https://t.co/slsagseToL

— Amnesty India (@AIIndia) August 1, 2023
On 1st August 2023, the residence of Jammu Kashmir Coalition of Civil Society (JKCCS) co-founder and lawyer Parvez Imroz was raided by the NIA. FORUM-ASIA reported that the NIA had conducted searches in 23 places earlier in these cases, recently conducted searches in four other places, and confiscated digital devices. Such actions are seen as an attempt to harass and intimidate human rights defenders, thereby creating a chilling effect on all human rights work in Kashmir.
In October 2020, the NIA filed a case against Parvez for allegedly 'funding terror activities in the valley…under the garb of protection of human rights.' Parvez - who is already imprisoned in the 2021 case - was arrested in this case alongside journalist Irfan Mehraj, who was previously associated as a researcher with JKCCS. In the same case, other human rights defenders have received summonses and their residences have been raided.
Activist bail hearing delayed by Supreme Court
On 9th August 2023, Justice Prashant Kumar Mishra, a Supreme Court judge, recused himself from presiding over the plea filed by activist Umar Khalid, who is seeking bail in a case under the draconian Unlawful Activities (Prevention) Act (UAPA) related to the riots in Delhi in February 2020. Khalid has denied the charges, saying he only took part in a peaceful protest. He has spent nearly three years in detention.
Khalid's petition, challenging the Delhi High Court's October 2021 decision that denied him bail, was scheduled for a hearing before a bench comprised of Justices A S Bopanna and Prashant Kumar Mishra.
As previously documented, the activist was arrested on 13th September 2020 and is facing charges under the UAPA for making speeches during mass protests against the discriminatory Citizenship Amendment Act (CAA). He has also been charged for allegedly damaging public property, raising funds for terrorist acts and conspiring to defame the Indian government. Khalid, along with more than a dozen other Muslim activists, is accused by the Delhi police of being part of a "larger conspiracy" that led to an anti-Muslim pogrom in New Delhi in February 2020, which left 53 people dead and over 700 injured.