Indian authorities criminalise activists and bulldoze homes of protesters to silence dissent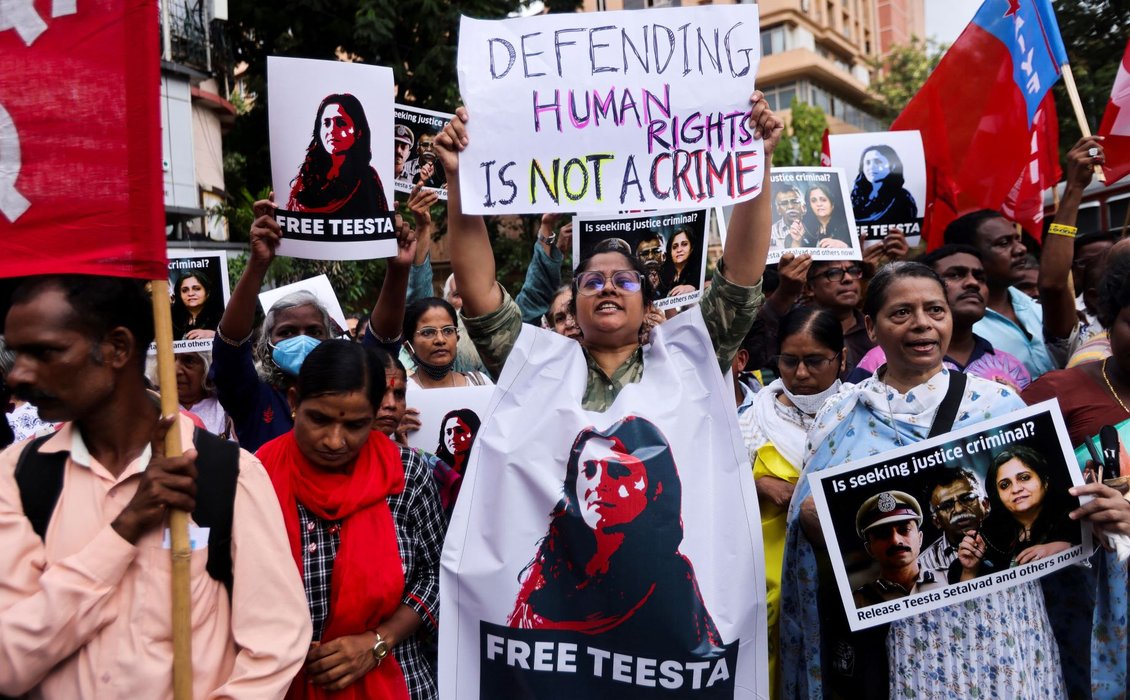 The government of India, under Prime Minister Narendra Modi, has continued its crackdown on civic freedoms. In March 2022, India was included in the new CIVICUS Monitor Watchlist, highlighting serious concerns over the rapid decline in civic space protections in the country. The Human Rights Council and the UN High Commissioner for Human Rights have expressed concerns over the use of repressive laws to jail activists as well as the ongoing human rights violations in Jammu and Kashmir.
Scores of human rights defenders and activists remain in detention under the draconian Unlawful Activities (Prevention) Act (UAPA) and other laws, with some facing deteriorating health in prison. In addition, the Foreign Contribution Regulation Act 1976 (FCRA) continues to be used to target NGOs critical of the authorities.
In recent months, fabricated cases have been brought against activists, including prominent human rights defender Teesta Setalvad who has been arrested and detained. Journalist Mohammed Zubair, who has exposed hate speech and disinformation, was also arrested. The homes of protesters against the anti-Islam remarks by two members of the ruling party, were bulldozed.
Association
Prominent human rights defender Teesta Setalvad arrested
🇮🇳India: CIVICUS condemns the arrest of Teesta Setalvad, a human rights defender campaigning for justice for the victims of the 2002 Gujarat riots. The government must immediately end all acts of harassment against her & other activists in the country https://t.co/iXPX0TEyvM pic.twitter.com/DymAwcjMuJ

— CIVICUS (@CIVICUSalliance) June 30, 2022
On 25th June 2022, human rights defender, author, and award-winning journalist Teesta Setalvad was arrested by the anti-terrorism wing of the Gujarat police at her house in Mumbai She faces charges of criminal conspiracy, forgery, and fabricating evidence in a case related to the 2002 Gujarat riots. Setalvad and her organisation — Citizens for Justice and Peace (CJP) – have played a prominent role in campaigning for justice on behalf of the victims of the 2002 massacre of close to 2,000 Muslims in the state of Gujarat, when now President Narendra Modi served as chief minister in the state.
The arrest came hours after India's Union Home Minister Amit Shah accused Setalvad of giving baseless information to the police about the 2002 Gujarat riots, and just days after the Supreme Court of India had dismissed a plea filed by Setalvad and Zakia Jafri, the wife of a former politician, challenging the report of a Special Investigation Team that had cleared Narendra Modi of any responsibility. The Court had said that the petition from the activists was filed with ulterior motives.
Setalvad was brought to Ahmedabad and is facing charges, together with two former police officers. While she was detained, Setalvad had filed a written complaint to the Santacruz police station, alleging that the police officials forcibly entered her bedroom and assaulted her when she demanded to speak to her lawyer.
Several national and international human rights organisations have criticised the arrest and called for her release. The United Nations Human Rights Office also issued a statement, saying that the activist and the police officers arrested with her must not be persecuted for their activism and efforts to bring justice to the victims of the riots.
On 20th July, a court in Ahmedabad reserved the order on Teesta's bail application, thus prolonging her detention. A sessions court in Ahmedabad on 30th July denied her bail.
Fabricated cases against activists
On 24th April 2022, the West Bengal police arrested activists Arkadeep Goswami and Tipu Sultan (Mustafa Kamal) from their home in the Birbhum district. The complaint for their arrest was filed by the police in January 2022, in connection with an alleged conspiracy against the government of India on behalf of the banned CPI (Maoist) group. Police claimed that they seized leaflets that contain speeches by wanted Maoist leader Akash from the arrested persons but refused to share the alleged evidence with the activists' lawyers and family members. Several student activists protesting the arrests of the activists have also been arrested.
On 25th April 2022, activist Aabid Shekh was accused by the Uttar Pradesh police of planning to disrupt the peace in the city of Varanasi, ahead of the Vice President's visit, Shekh was handed a notice issued by the Special Executive Magistrate of Varanasi which demanded a surety of 1 lakh Indian rupees (USD 1,252) or property in the same amount. The notice referred to an investigation and requested Shekh to appear before the court to explain why he had refused to pay the surety bond.
Human Rights Defenders Alert - India issued a statement saying that the notice was a tool to stifle dissent and freedom of speech and expression. The group added that Shekh has no prior criminal record and there is no reason for the police and district administration to ask him to provide a surety bond for disrupting the peace. Shekh has been a participant in many peaceful protests against the discriminatory 2019 Citizenship Amendment Act (CAA) and National Register of Citizens (NRC).
In another incident from the state of Chhattisgarh, on 25th April, activist Rainu Oyam was illegally detained by the Central Reserve Police Force (CRPF) as he and a few others were transporting their rice paddy product to have it processed at a rice mill. The police did not produce any information regarding the case or a warrant for the arrest. However, Oyam faces multiple falsified cases against him, including firing on security forces, planting of mines and explosives, arson and murder between June 2020 to January 2022. Oyam was named in eight cases in total. As a member of the Adivasi Indigenous rights group Moolwasi Bachao Manch, he had organised peaceful protests against the establishment of the CRPF camps in the region, arguing that it was in violation of forest rights and land acquisition laws and being done without the consent of the local residents.
Environmental activist assaulted
On 4th May 2022, environmental activist Tamilselvan was at an internet centre when two unidentified men came in and started hitting the activist with iron rods, causing severe injury. He was rushed to the hospital and the police were informed of the situation. However, tto date there has been no action by the police on the case. Friends and family of the activist say that Tamilselvan was attacked for speaking out against the illegal stone mining in the Chennaimali region of Tamil Nadu, adding that he had received death threats from the quarry owners.
Kashmiri human rights defender remains behind bars
Today, @KhurramParvez completed 8 months #incarcerated in #India over frivolous charges! Each day over this period, @AFAD_Updates has missed his capable leadership. Our support-solidarity for Khurram only strengthens as we value his voice & work more each day. #FreeKhurramParvez pic.twitter.com/t6ZxCC7tuk

— Ashraf Zaman (@ZamanAshraf) July 22, 2022
On 13th May 2022, the National Investigation Agency (NIA) filed a charge sheet against human rights defender Khurram Parvez and seven others before the NIA Special Court in New Delhi. He was detained in November 2021 and is accused of being in contact with individuals linked to a Pakistani militant group.
Parvez was charged under Sections 120B and 121A of the Indian Penal Code (criminal conspiracy and punishment for conspiracy to wage war against the government of India, respectively); Section 8 of the Prevention of Corruption Act (taking gratification, in order, by corrupt or illegal means, to influence public servant); and Sections 13, 18, 18B, 38 and 39 of the Unlawful Activities (Prevention) Act (UAPA) (unlawful activities, conspiracy, recruiting any person or persons for commission of a terrorist act, offence relating to membership of a terrorist organisation" and "giving support to a terrorist organisation, respectively).
Parvez, a Kashmiri human rights defender, has been working relentlessly to expose human rights violations in Jammu and Kashmir, including documenting cases of enforced disappearances and investigating unmarked graves. He is the Programme Coordinator of the Jammu and Kashmir Coalition of Civil Society (JKCCS) and the Chairperson of the Asian Federation Against Involuntary Disappearance (AFAD). 
Concerns over deteriorating health of activist G.N. Saibaba
In June 2022, seven human rights organizations, including CIVICUS, expressed concerns over the deteriorating health of activist and Delhi University professor Gokarakonda Naga Saibaba in Nagpur Central Jail, Maharashtra State, and called on the Indian authorities to provide him with urgent access to health care.
G.N. Saibaba was initially arrested in 2014 and accused of links to banned Maoist organisations. In March 2017, he was convicted under the Unlawful Activities Prevention Act (UAPA) and sentenced to life in prison. An appeal for the suspension of his sentence is pending in the Nagpur Bench of the Bombay High Court. An activist, scholar, and professor at the University of Delhi, he is a well-known campaigner for the rights of oppressed communities, especially Dalit and Indigenous communities in India.
Saibaba has a disability due to polio and other severe health issues. Family members said that in prison, where he is being held in solitary confinement in a windowless cell, he has suffered a serious deterioration in his health, including rectal bleeding and breathing difficulties, exacerbated by the extreme summer heat in cramped conditions. Prison staff have not made the necessary accommodations in consideration of his disabilities. The courts have denied repeated appeals for parole and requests for medical bail. The courts have also denied requests to transfer him out of solitary confinement or to move him to prison in Hyderabad city so he can be close to his family.
Expression
Journalist who exposed hate speech and disinformation arrested 
🇮🇳#India: We welcome the release on bail of independent journalist & rights defender Mohammad Zubair @zoo_bear after 23 days of unjust detention.

📢We urge the authorities to quash all cases against him. pic.twitter.com/yUlNS7zY24

— The Observatory (@OBS_defenders) July 21, 2022
On 27th June 2022, human rights defender and journalist Mohammed Zubair was arrested after spotlighting controversial comments against the Prophet Muhammed by former spokesperson Nupur Sharma with the ruling Bharatiya Janta Party, comments which sparked domestic and international indignation.
Zubair is the co-founder of Alt News, a fact-checking website that has played a key role in debunking claims that spread disinformation about religion,caste, and unscientific myths. He has also spoken out against hate speech and divisive propaganda, which especially targets minority communities.
The Delhi police arrested Zubair over a 2018 tweet for "insulting Hindu religious beliefs". The Delhi Police Special Cell filed a First Information Report (FIR) against him under Sections 153(a) and 295(a) of the Indian Penal Code (promoting enmity between different groups on grounds of religion, race, place of birth, residence and deliberate and malicious acts, intended to outrage religious feelings of any class by insulting its religious beliefs, respectively). They later added other charges under Section 35 of the Foreign Contribution Regulation Act (FCRA) against him for allegedly receiving foreign funds and also included criminal conspiracy and destroying evidence (Sections 120B and 201 of the Indian Penal Code). He was not provided a copy of the First Information Report (FIR) and was detained incommunicado during the initial hours following his arrest.
On 4th July, Zubair was taken to Sitapur District, Uttar Pradesh State by the Delhi police and presented before the Sitapur magistrate in relation to a separate case registered against him under Section 295 (a) of the Indian Penal Code and Section 67 of the Information Technology Act (publishing and transmitting obscene material electronically).
On 8th July, the Supreme Court of India granted interim bail to Zubair in a recently registered case by the Uttar Pradesh police; however, he remained in police custody under the case filed by the Delhi police. After three weeks behind bars, the Supreme Court granted him bail. In its decision to grant bail, the Court reminded the authorities that "the existence of the power to arrest must be distinguished from the exercise of the power of arrest", and that the latter "must be pursued sparingly".
Aakar Patel, chair of board for Amnesty International India, said: "The Indian authorities are targeting Mohammed Zubair for his crucial work combatting the rise in fake news and disinformation and calling out discrimination against minorities. The arrest of Mohammed Zubair shows the danger facing human rights defenders in India has reached a crisis point".
In the past few years as previously documented, there has been a steady decline in press freedom in India. The latest Press Freedom Index prepared by the Paris-based, non-profit organisation Reporters Without Borders (RSF) places India at 150 to of the 180 countries. According to RSF, India is among the five most dangerous countries in the world for journalists. As per the UNESCO observatory, nearly 45 journalists were killed in India between 2010 to 2022.
Harassment of journalists from The Kashmir Walla
Abdul Aala Fazili, who was a vocal voice in Kashmir's human rights circuit, had authored a piece titled 'The Shackles of Slavery Will Break' which was published by The Kashmiri Walla on November 6, 2011. | @gaamuk https://t.co/0JacpV1H50

— The Wire (@thewire_in) April 18, 2022
On 17th April 2022, the State Investigation Agency (SIA) in Indian-administered Jammu and Kashmir arrested Abdul Aala Fazili, a former contributor to the privately owned news portal The Kashmir Walla, in connection to a November 2011 opinion article published therein, according to the Committee to Protect Journalists. The SIA and Kashmir police also raided The Kashmir Walla office, the home of editor Fahad Shah - who was arrested in March 2022 and Fazili's home, seizing electronic devices, including laptops.
The SIA claimed that Fazili's 2011 opinion piece supporting Kashmir's separation from the Indian state was "highly provocative, seditious and intended to create unrest" and written to propagate "the false narrative which is essential to sustain [a] secessionist cum terrorist campaign aimed at breaking the territorial integrity of India". The SIA did not give any information as to why it was acting only now in relation to the article.
Following this, in June 2022, the SIA questioned Yashraj Sharma, interim editor of The Kashmir Walla, and the portal's staff at the Joint Interrogation Centre in Jammu, according to multiple news reports.
As previously documented, journalists in Jammu and Kashmir have faced systematic harassment including being questioned, arrested, and charged for their reporting.
Peaceful assembly
Homes of Muslim protesters bulldozed
Student activist Afreen Fatima (@AfreenFatima136) sends SOS for India's Muslims after the government demolishes her home https://t.co/Rko2KEcnof pic.twitter.com/AWVcN2B5Qm

— TIME (@TIME) July 5, 2022
In June 2022, protests over comments by the ruling BJP spokesperson against the Prophet Muhammad were met with curfews and the suspension of the internet in several places in the North Indian state of Uttar Pradesh.
The authorities also brought bulldozers and razed the houses of some of the protesters in Prayagraj city. Among those whose houses were bulldozed was student activist Afreen Fatima. Her father, Javed Mohammad, was also arrested by the police for being the alleged 'mastermind' behind the protests in the region.
Fatima called the bulldozing of her house "an act of vendetta against her family" by the government, adding that the demolition was a part of the policies of the Hindu nationalist government against Muslims exercising their democratic right to protest. She added: "We saw our house crumble down. It was our home for 21 years. We had some amazing and defining moments in that home that shaped who I am". Her mother and sister were also illegally detained by the police for more than 30 hours.
Activists claim the bulldozer has become a signifier of targeted violence against Muslims in India. In April 2022, authorities in the state of Madhya Pradesh — also ruled by the BJP — bulldozed houses and shops belonging to Muslims following religious violence during a Hindu festival. In Delhi, Muslim owned shops were among those razed as part of an 'encroachment' drive by the Delhi municipal authorities, but residents claimed that the operations were "biased". Several prominent people, including former Supreme Court and High Court judges and lawyers, sent a letter to India's chief justice urging him to put an end to 'Bulldozer Justice' calling the actions illegal and "a form of collective extrajudicial punishment".
Activist Umar Khalid spends his fourth Eid in prison
#DelhiHighCourt will shortly hear Umar Khalid's appeal challenging Trial Court's orders refusing him bail in the Delhi riots larger conspiracy case.#UmarKhalid #UAPA #DelhiRiots pic.twitter.com/l0KsQJXvp4

— Live Law (@LiveLawIndia) July 28, 2022
Student activist Umar Khalid spent his fourth Eid in prison. The activist The activist arrested on 13th September 2020 is facing draconian charges under the 'anti-terror' law UAPA for making speeches during mass protests against the discriminatory CAA-NRC citizenship law. Khalid, along with more than a dozen other Muslims, are accused by the Delhi police of being part of a "larger conspiracy" that led to an anti-Muslim pogrom in New Delhi in February 2020, which left 53 people dead and over 700 injured. The violence followed peaceful sit-ins across the country, mainly organised by Muslim women, against the passage of the Citizenship Amendment Act (CAA) in 2019.  On 28th July, a Delhi High Court heard a new bail application for Khalid.