Human rights defenders and journalists arrested, prosecuted and tortured in China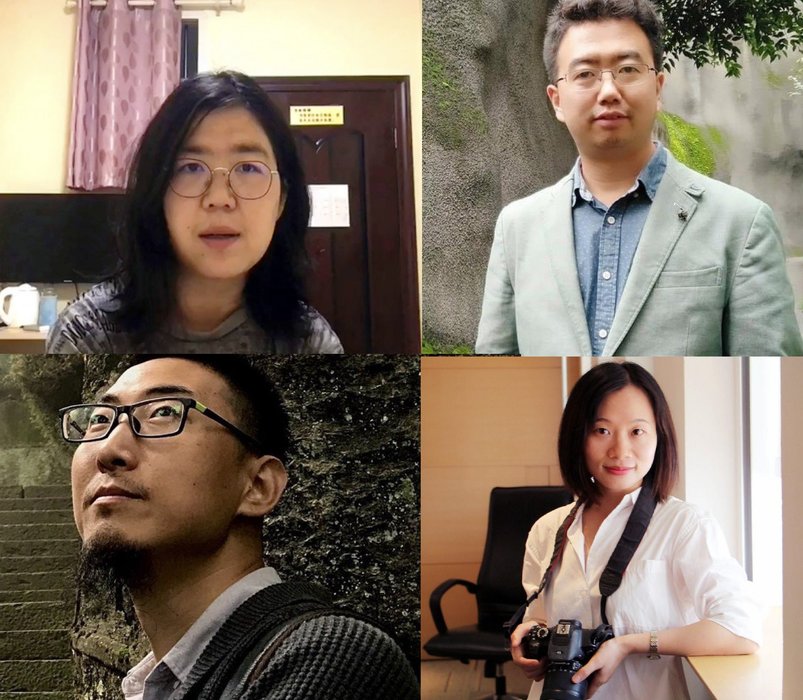 Reports continue of violations of civic freedoms in China which is rated 'closed' by the CIVICUS Monitor. In a landmark report in September 2021, the European Parliament urged the European Union to adopt a new China strategy and place human rights squarely at the heart of it. Building on previous European Parliament resolutions, the report makes a number of detailed recommendations to the EU and its member states, including calls to adopt targeted sanctions against senior Chinese officials responsible for abuses in Hong Kong and Xinjiang. It calls for better coordination to counter Beijing's growing global influence and anti-rights agenda, and for a diplomatic boycott of the upcoming Winter Olympics in Beijing.
Also in September, Michelle Bachelet, the United Nations High Commissioner for Human Rights, said that there was no progress on her efforts "to seek meaningful access to the Xinjiang Uyghur Autonomous Region". Bachelet said her office is finalising its review of available information on the human rights allegations and plans on making it public.
In October 2021, 43 countries called on China to "ensure full respect for the rule of law" for the Muslim Uyghur community in Xinjiang, in a statement read at the United Nations. The declaration, signed by the United States as well as several European and Asian member states and others, accused China of a litany of human rights violations against the Uyghurs, including torture, forced sterilisation and forced disappearances.
In recent months there have been reports of activists and journalists being arrested under vague charges, detained, convicted and tortured or ill-treated. A journalist who reported on the pandemic is at risk of dying in detention while an LGBTQI+ activist group shut down due to ongoing repression.
Expression
Chinese journalist jailed over pandemic reporting at risk of dying
In September 2021, human rights groups raised concerns about a citizen journalist jailed for reporting on the early days of the COVID-19 pandemic in Wuhan who was at risk of dying.
Zhang Zhan, a former lawyer, travelled to Wuhan in February 2020 to provide on-the-ground information about what was happening there. She posted on social media about how government officials had detained independent reporters and harassed families of COVID-19 patients.
She went missing in Wuhan in May 2020. It later emerged that she had been taken by the Chinese authorities and detained in Shanghai.
In December, a court convicted her of "picking quarrels and provoking trouble" after a sham trial and sentenced her to four years in prison. Zhang declined to appeal her conviction, telling her lawyers that she rejected the validity of the legal process used to imprison her.
To demonstrate her innocence, Zhang has been on hunger strike since May 2020, during which she was force-fed through a nasal tube, and is at risk of dying if not immediately released.
She was hospitalised for 11 days in August 2021 but has since been returned to prison despite her worsening health condition. Zhang's mother, who had a video visit with Zhang in October 2021, said her daughter could not hold her head up for lack of strength. In a Twitter post on 30th October, her brother Zhang Ju wrote: "I don't think she's going to live much longer. If she doesn't make it through the coming winter, I hope the world will remember her as she once was."
According to Human Rights Watch, conditions in China's detention facilities and prisons are poor, usually with minimal nutrition and rudimentary health care. In recent years, a number of prominent dissidents in China have become seriously ill in detention, been denied adequate care, and died either in detention or shortly after being released.
Association
Human rights defender detained and tortured
The Observatory for the Protection of Human Rights Defenders reported on the acts of torture and ill-treatment perpetrated against Chang Weiping, a prominent human rights lawyer known for taking on sensitive human rights cases and filing lawsuits against companies for discrimination in the workplace against women, LGBTQI+ persons, and individuals affected by HIV/AIDS.
On 14th September 2021, during a meeting with his lawyer which took place at the Feng County Detention Centre, in the area of Baoji City, Shaanxi Province, Chang reported having been subjected to numerous forms of physical and psychological torture in the six-month period he spent under "residential surveillance in a designated location" (RSDL), a form of enforced disappearance, from October 2020 to April 2021.
Chang was subjected to the "tiger chair" for six consecutive days. The "tiger chair" is a metal chair regularly used by Chinese police officers as a restraint to immobilise suspects during interrogations and obtain forced confessions. Detainees can remain bound to the chair for hours and days. He was also subjected to sleep deprivation, placed under 24 hour video surveillance, denied food and allowed to shower only five times during the six-month period.
As previously documented, Chang was formally arrested on 7th April 2021 on the charge of "subversion of state power". Prior to the formal arrest, he had been detained since October 2020 in an undisclosed location and denied access to lawyers.
Six days before his arrest, Chang Weiping had published a video statement on social media denouncing the physical and psychological torture he had been subjected to while in detention under RSDL. In January 2020, Chang was one of several people who were detained by the government after an informal gathering in the southern coastal city of Xiamen in December 2019 to discuss democracy and civil society.
Journalist and labour rights activist detained
Sophia Huang Xueqin and labour activist Wang Jianbing were arrested in the Chinese city of Guangzhou on 19th September 2021, the day before Huang was planning to leave China for the UK to study for a master's degree at the University of Sussex.
Their families have confirmed that they have now been officially detained under the charge of "inciting subversion of state power". Chinese authorities have frequently used this state security crime against members of civil society, including for peaceful gatherings at private residences.
Huang Xueqin is a journalist who has been involved in several #MeToo campaigns to provide support and assistance to victims of sexual assault and harassment. She was previously detained between October 2019 and January 2020 and charged with "picking quarrels and provoking trouble" after writing about mass protests in Hong Kong.
Labour activist Wang Jianbing has provided legal support for people with disabilities and workers with occupational diseases. He is also a prominent supporter of the #MeToo movement in China.
Since their arrest, both activists have been prevented from choosing a lawyer or seeing family members. Meanwhile, several of their friends have been summoned by the police and had their homes searched and devices confiscated.
"Chinese officials are likely launching another round of crackdowns on civil society ahead of next year's Beijing Winter Olympics. Authorities have been going after any attempt to form associations, assemble peacefully, or to build communities of mutual support, apparently seeing them as 'threats' to national security," said Chinese Human Rights Defenders (CHRD) senior researcher Ramona Li.
Environmental activist sentenced 
Chinese animal protection volunteer environmental protection volunteer Li Genshan was sentenced on suspicion of illegal hunting of wild animals. The lawyer said he would appeal. pic.twitter.com/IgdiWWBjpM

— VinsonGuo#Pi (@VinsonGuo_) September 4, 2021
In September 2021, Li Genshan, a well-known environmental activist based in northwestern China, was sentenced by a local court to 54 months in prison and ordered to pay a 10,000 yuan (USD 1,500) fine for endangering rare or precious wildlife and "picking quarrels and provoking trouble".
Li was found guilty on 31st August 2021 of involvement in the killing of two goitered gazelles, a nationally protected species in China, as well as of disturbing the social order "in the guise of membership in a wildlife conservation organisation". Three of Li's co-defendants were also found guilty on the same charges. Throughout the trial, Li professed his innocence on both counts.
The group used to chase poachers in the desert at night and shortly before being detained in September 2020, had reportedly accused local forest police of sheltering poachers. In 2019, Li Genshan exposed that a paper manufacturer had been illegally discharging sewage in the Tengger Desert in Inner Mongolia for years, resulting in an investigation from the Ministry of Ecology and Environment.
LGBTQI+ activist group shuts down 
A prominent LGBTQ+ rights group in China has shut down amid growing oppression in the nation. The atmosphere in China is becoming increasingly repressive, even though many major cities still have vibrant LGBTQ+ scenes.https://t.co/TJYH8w4kbZ

— SPW (@sxpolitics) November 24, 2021
A prominent LGBTQI+ rights group in China has shut down amid growing oppression in the nation. LGBT Rights Advocacy China made the announcement on 4th November 2021 and closed its accounts on the social media platforms Weibo and WeChat. It's unclear if the government was involved in the shutdown, although the Ministry of Civil Affairs announced that it had taken action against thousands of illegal social organisations and hundreds of websites and social media accounts.
The atmosphere in China is becoming increasingly repressive, even though many major cities still have vibrant LGBTQI+ scenes, and the nation decriminalised homosexuality in 1997. In July 2021, WeChat moderators shut down several LGBTQI+ accounts run by university students and groups.
The Chinese government has been pushing the idea that LGBTQI+ identity is a Western concept. In September 2021, regulators banned portrayals of so-called effeminate men from television. The National Radio and TV Administration told broadcasters that they must "resolutely put an end to sissy men and other abnormal aesthetics." The government also banned depictions of "gay love" in video games.
LGBT Rights Advocacy China was founded in 2013 by activists Peng Yanzi and AQiang. It has campaigned for recognition of same-sex relationships, but that has not happened yet, and against conversion therapy. It has also brought several lawsuits for LGBTQI+ clients.