Honduras: Guapinol water defenders released after trial annulled by Supreme Court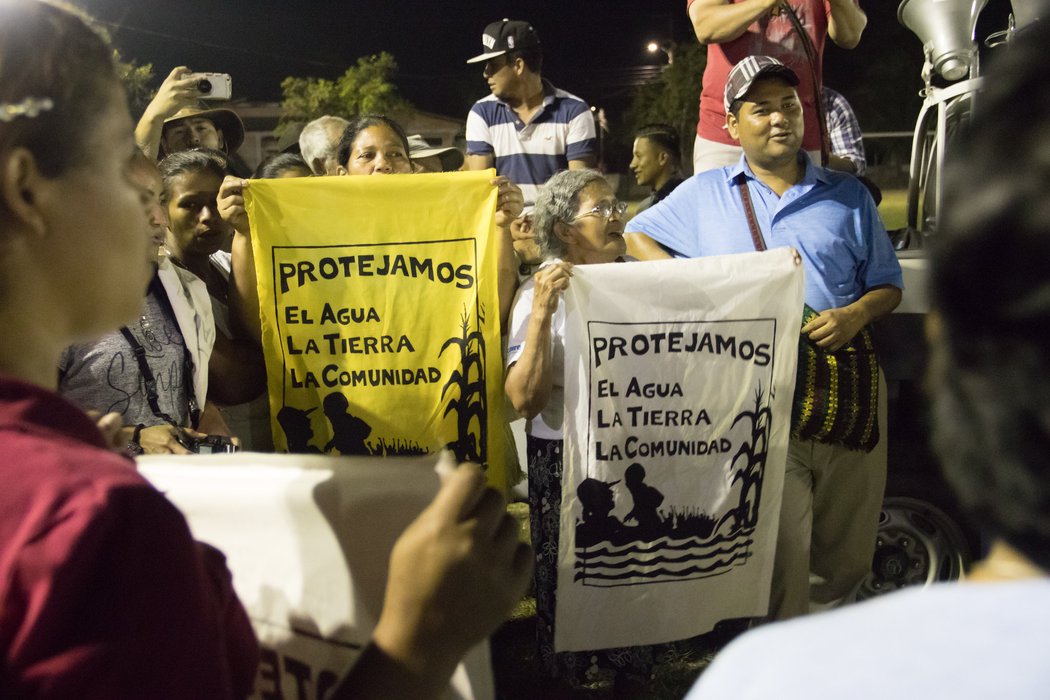 On 27th January 2022, Xiomara Castro of the Libre party was sworn in as Honduras' president. She took office amid a dispute with dissidents in her own party, who rebelled against her preferred choice for Congress leadership. On 7th February 2022, Libre congressman Jorge Cálix agreed to step aside and end the controversy that had split legislators, allowing Luis Redondo of the Saviour party to take over as undisputed head of Congress.
In separate developments, on 15th February 2022 former President Juan Orlando Hernández was arrested on drugs charges following an extradition request from the United States. Hernández faces drug trafficking and weapons charges in the U.S., whose authorities said the former president was part of a "violent drug-trafficking" conspiracy that had trafficked roughly 500,000 kilos of cocaine since 2004.
Association
Guapinol water defenders released
✊🏾Por levantarse para proteger el agua, 8 defensores estuvieron detenidos ilegalmente 914 días.

🙏🏾Reconocemos su sacrificio y el de sus familias & comunidad. Nos comprometemos a seguir luchando por una Tocoa sin minería porque #AguaEsVida.#GuapinolResiste#DiaMundialdelAgua2022 pic.twitter.com/LSUc7AJe2j

— Libertad para el río Guapinol (@guapinolre) March 22, 2022
After two and a half years of pre-trial detention, the Guapinol and Sector San Pedro water defenders were finally released on 24th February 2022. The group was part of a protest camp against open-pit mining, for which they faced a series of criminal charges in proceedings marred by irregularities.
They were released after the Honduran Supreme Court reviewed an appeal that challenged the constitutionality of the charges, ruling on 10th February 2022 that the defenders should never have been put on trial. The day before, a local Trujillo court had convicted six of the eight Guapinol defenders for "aggravated damages" and "wrongful deprivation of liberty." Two defenders were absolved of the same charges.
The Supreme Court found that the case should never have gone to trial because the judge who sanctioned the indictment against the defenders – and later ordered pre-trial detention – was not authorised to do so. The ruling said the charges must be annulled as the judge had violated due process by presiding on cases outside her jurisdiction. It took two weeks for the case file to arrive back at the local court in charge of releasing the defenders. They were welcomed outside the Trujillo Courthouse on 24th February by hundreds of people, including their families, residents from Guapinol and surrounding communities, and representatives of local and international organisations.
However, a few days before their release, there was an attack on the home of human rights defender and leader of the Guapinol Environmental Committee, Juana Zúniga. On 16th February 2022, assailants on motorcycles and in a private vehicle opened fire at the corner of the house, where a bus with several Committee members was about to leave. At least 20 shots were fired. Zúniga has faced surveillance and violence for her work advocating for the community and the detained defenders.
Continued threats against Garífuna defenders
Reporto al mundo¡¡, una hora después de haber hecho esta denuncia he recibido amenazas desde un número de teléfono desconocido, amenazas a mi familia en donde me dicen " estas advertida". Tenemos tderecho a seguir existiendo como pueblo Garifuna, nos están aniquilando. Basta Ya https://t.co/AamE4iNDGc

— Miriam Miranda (@baraudawaguchu) February 26, 2022
On 26th February 2022, Miriam Miranda, coordinator of the Organización Fraternal Negra Hondureña (Black Fraternal Organisation of Honduras - OFRANEH), reported receiving death threats over the phone hours after she denounced intimidation in the Garífuna community of Triunfo de la Cruz. On the same day, Miranda had warned on social media that heavily armed men had been in the community to ask around about a young leader.
As previously reported on the CIVICUS Monitor, Garífuna leaders were abducted from Triunfo de la Cruz in July 2020 and authorities in the country have failed to provide adequate information on the investigation into the disappearances.
Report on Honduras
In an oral update on Honduras, delivered on 8th March 2022, United Nations High Commissioner for Human Rights Michelle Bachelet highlighted the attacks and threats against 302 human rights defenders and journalists, 10 of whom were killed in 2021. She also expressed alarm that conflicts over land between extractive companies and communities continue to cause attacks against environmental and land defenders, as well as forced evictions. Bachelet called on Honduras' government to improve policies to strengthen the protection of all people who stand up for human rights.
In her report, the High Commissioner also underscored the high levels of violence, stating that her Office had recorded 318 violent deaths of women and 28 violent deaths of LGBTQIA+ people in Honduras in 2021. On a related note, trans activist Rihanna Ferrera told news media in February 2022 that, just in the first few weeks of 2022, there were five murders of LGBTQIA+ people in the country. She called on the incoming government to promote policies for inclusion and differentiated care protocols for vulnerable peoples.
Expression
Attack on radio's building
#ActualidadCC | Desconocido dispara contra el edificio Villatoro, donde funcionan los medios Radio Globo y Globo TV. De acuerdo a declaraciones de Héctor Amador, director del programa «Interpretando la Noticia», el ataque es contra la radio.

Foto CC/ @FerDestephen pic.twitter.com/E7WHATzf4d

— Contracorriente (@ContraC_HN) March 7, 2022
On 7th March 2022, an individual on a motorcycle fired multiple gunshots at the Radio Globo's building in Tegucigalpa, destroying several windows of a neighbouring shop. The attack did not affect the media's office, which is located on the building's second floor. Radio Globo Director Hector Amador told the Committee to Protect Journalists (CPJ) that he was in the station's parking lot when he heard the shots. By the following day, Honduran authorities had arrested two people suspected to be responsible for the attack. The anti-gang security force (FNAMP) told news media that both men are presumed members of criminal gang Pandilla 18.
According to CPJ, Amador believes the attack may have been in retaliation for the outlet's coverage of extradition proceedings against former President Juan Orlando Hernández. CPJ called on Honduran authorities to fully investigate the recent attack and determine its motive.
Other developments
Honduras repeals 'secrets law' in fight against corruption. https://t.co/nMhwFv1tWD

— ARTICLE19 right2info (@a19right2info) March 4, 2022
In a positive development, on 2nd March 2022 Honduran lawmakers repealed legislation that critics dubbed the "official secrets law" for classifying public documents on national security and defence. The law allowed public institutions to classify such information as confidential, secret and top-secret for five to 25 years. It was enacted in 2014 under former President Orlando Hernández, whose administration had defended the legislation saying it was needed to avoid jeopardising police operations against drug cartels and gangs by keeping certain documents and contracts from public view. On 4th March 2022, the Inter-American Press Association (IAPA) welcomed the decision to repeal this legal instrument, which it said was used to govern without transparency and establish a "secrecy culture."
Separately, also on 2nd March 2022, Dagoberto Rodríguez, former president of the Colegio de Periodistas de Honduras (Honduran Association of Journalists – CPH), reported that the presidency's office was demanding that journalists fill out an extensive form disclosing private data, such as their criminal and judicial records, in order to accredit them as correspondents. Rodríguez called this "a clear excess" and said it had never been requested by a presidency's office before.