Homophobic killing sparks nationwide protests; 2020 lockdown restrictions declared unconstitutional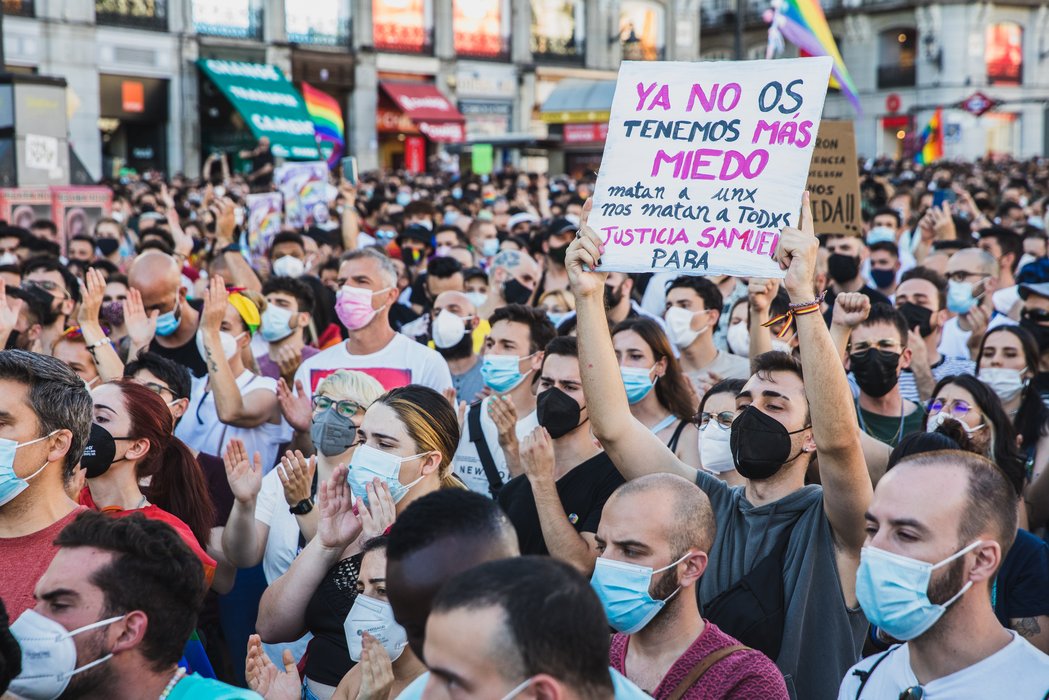 Introduction
The fifth wave hit Spain in July 2021 with tens of thousands of new COVID-19 infection cases every week. Thanks to the vaccinations the death rate is however much lower. Despite the rising numbers, the Spanish parliament approved a government decree that ends the obligatoryoutdoor face mask rule. As of 17th August, many authorities have maintained strict measures, including nightly curfews and travel controls. However, to impose restrictions on movement, they must seek approval from local courts. In one such case, on 23rd August, the High Court of Justice of Catalonia rejected the Catalan government's request to extend a nightly curfew, arguing that the measure would be "unnecessary and disproportionate."
Peaceful Assembly
Unconstitutionality of lockdown
In a case with international significance, the Constitutional Court ruled on 14th July 2021 that the lockdown imposed by the government between 14th March and 21st June 2020 was illegal. The lockdown was one of the world's strictest, with no one allowed to leave their homes except for essential reasons such as buying food, medicine, or going to work. With a narrow majority of six to five, the court said in a statement that instead of limiting fundamental rights – allowed under the state of alarm invoked by Prime Minister Pedro Sánchez – the government had suspended them altogether. For the latter, a state of exception is required, which must first be approved by Spain's Congress of Deputies. The court declared Article 7 of Royal Decree 463/2020, which had given the green light to the "limitation of the freedom of movement of people", unconstitutional. The lawsuit was brought forward by the far-right party Vox. This is the first major victory for the party at the Constitutional Court. The ruling may annul many of the 1.2 million fines issued during the three-month lockdown.
Sentence against Isabel Serra
On 2nd July 2021, the Supreme Court confirmed the previous decision of the Superior Court of Justice of Madrid against Isabel Serra, which sentenced her to 19 months in prison for allegedly insulting and throwing objects at policemen during protests against an eviction in the Lavapiés neighborhood in 2014. Serra, an activist and former member of the Podemos Parliamentary Group in the Assembly of Madrid, has denied these allegations. Eirene de Prada, a lawyer at the NGO Rights International Spain, argues that the Supreme Court fully accepted the version written in the police report and ignored graphic material that shows excessive police force during the protests, which would have given a different perspective. There are numerous reports of excessive police brutality in Spain, such as those that took place in pro-independence demonstrations in Catalonia in October 2017, which left almost 1,000 people injured. The conviction disqualifies Serra from presenting herself in elections. She announced that she would appeal the decision to the European Court of Human Rights.
Supreme Court rejects Digital COVID Certificate
Unlike in other European countries, Spain's Supreme Court on 18th August 2021 rejected the introduction of a Digital COVID Certificate to access restaurants, bars, museums and other public places. The judges argued that there was no "substantial justification" to require citizens to present a health pass before entering bars and nightclubs, a measure that "restrictively affects basic elements of freedom of movement and the right of assembly". Previously, regional courts in Andalusia, the Canary Islands, Galicia and Cantabria had issued similar rulings, announcing that there would be no obligation to show vaccination passes to enter nightclubs, bars, restaurants or other similar venues.
Related to the pandemic, on 16th August 2021, anti-COVID-19 protests were staged against mask wearing and other restrictions in Madrid. Protesters held signs such as "The virus does not exist", "Masks kill" and "We are not afraid". During this protest, a journalist faced threats (see below).
Homophobic killing sparks nationwide protests
The brutal killing of Samuel Luiz, a young gay man in the city of A Coruña in Galicia sparked nationwide protests. The murder, which came less than a week after the country's annual Pride celebration, shocked the LGBTQI+ community and led to outrage and expression on social media of the everyday aggressions that LGBTQI+ people face. In Madrid, clashes erupted between protesters and the police, with police using excessive force against protesters as graphic images shared on Twitter show police attacking protesters with batons. The spokesperson for Mas Madrid, a political party in the regional Assembly, asked the police to explain the disproportionate use of force. In Madrid, a young man said that a police agent shouted homophobic insults and physically attacked his partner after they left the annual LGBTQI+ Pride.
Demonstration in #Madrid #PuertadelSol in support of #SamuelLuiz (24) who was murdered outside a nightclub in #ACoruña, #Spain .It has been described as a #homophobic #crime.#homophobiacrime #homophobia #crime #lgtbiq🏳️‍🌈 #justiciaporsamuel🏳️‍🌈 #justiciaparasamuel @marikasMMM pic.twitter.com/A2vF4tNneA

— Guillermo (@Guillermodgc) July 5, 2021
Expression
TV correspondents insulted
On 28th July 2021, Sonia Lopez, a correspondent for the television channel Antena 3, was insulted while covering an anti-mask demonstration in Madrid. A few days earlier, Antonia Campos, a journalist for the local public channel Direct Madrid, faced similar aggressions during a protest against the administration of vaccines to minors in Madrid. Journalists across Europe are increasingly harassed during protests, according to the media watchdog Reporters Without Borders (RSF).
"Journalists should not be scapegoats for protesters' disagreements with their governments. Subjecting them to attacks, threats and obstruction while they are covering events as independent observers is unacceptable. We call for journalists to be given effective protection during protests and for physical attacks to be investigated thoroughly. The right to report the news must prevail,"- Pavol Szalai, the head of RSF's European Union and Balkans desk.
💉Nuestro compañero Antonio acude a la doble manifestación en #Colón contra la vacunación de los menores de edad. Entre de gritos de censura nuestro reportero consigue hablar con una de las activistas.

🐦#MD1167 🧑‍💻Síguelo en 📡@telemadrid
https://t.co/CwKcM8RjGW pic.twitter.com/aU53w5z5ir

— Madrid Directo (@MadridDirecto) July 24, 2021
Judge allows protests in favour of ETA prisoners
The judge of the National Court, Ismael Moreno refused to prohibit protests in favour of ETA prisoners, a terrorist group that fought for the independence of the Basque Country in the second half of the 20th and beginning of the 21st century, claiming that the support for these inmates falls within the right to freedom of expression. At the same time, Moreno asked the Security Forces to monitor the three-day march that will take place in October and intervene if crimes of glorification of terrorism or humiliation of victims occur. The request to prohibit the protest was put forward by an association that supports victims of terrorism. There are currently 187 ETA prisoners in Spain.