High inflation and attacks on LGBTIQ on the spotlight ahead of elections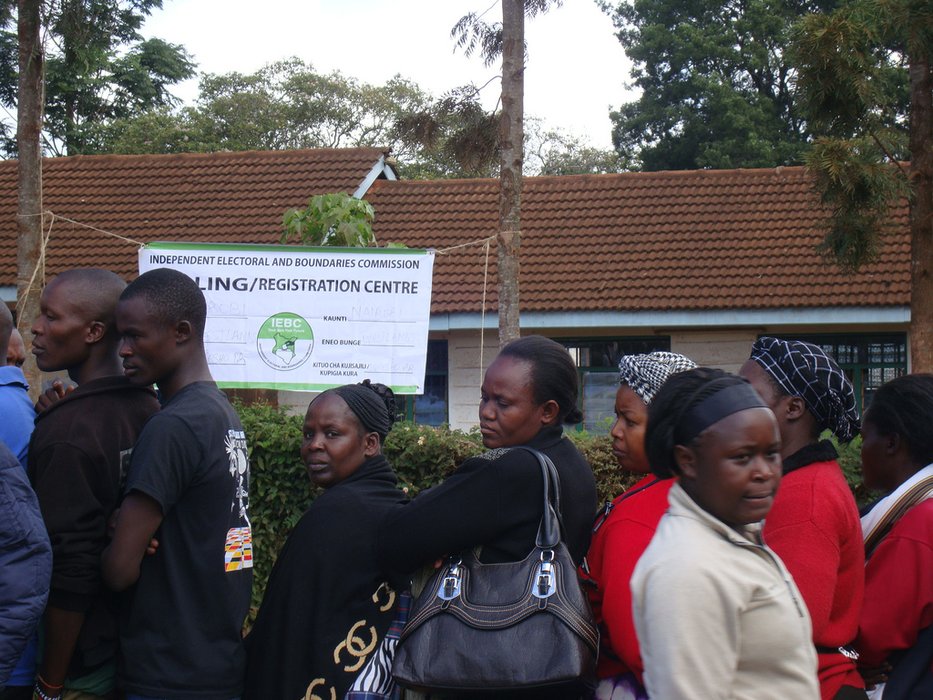 General Update
In May 2022, the National Integrity Alliance (NIA), a coalition made up of Transparency International Kenya (TI-Kenya), Inuka Kenya Ni Sisi!, Mzalendo Trust, The Institute for Social Accountability (TISA), and the Kenya Human Rights Commission (KHRC), launched the RedCard campaign that holds all current and aspiring leaders accountable to Chapter 6 of the Constitution. The RedCard list comprised 25 politicians whose integrity is 'questionable'. The NIA is calling on the Electoral Commission to deny politicians clearance certificates. They are also calling on voters to red card them publicly in all their rallies.
UN experts called upon government authorities to observe fundamental freedoms and upon political players to commit themselves to peaceful conduct to prevent the risk of election-related violence before, during and after the country's general elections. "Civic space, public participation, fundamental freedoms and a violence-free environment are critical to foster inclusive engagement in the electoral process and the exercise of political rights," the experts urged.
On 9th August 2022, general elections were held across Kenya. In a highly contested election, the Independent Electoral and Boundaries Commission (IEBC) announced that former Deputy President William Ruto had won with 50.5 per cent of the vote. His opponent, Raila Odinga, the former prime minister, who won 48.5% of the votes, claimed the results were null and void. Four of the seven senior IEBC officials rejected the results due to the "opaque nature" of the last phase of the general elections.
On 22nd August, Raila Odinga filed a presidential petition with the Supreme Court alleging that the results were fraudulent, and on 5th September the Supreme Court upheld the election outcome, declaring William Ruto as the fifth president of Kenya. The Supreme Court delivered a unanimous verdict declaring the election valid. In her judgement, Justice Martha Koome stated that the four commissioners did not provide any evidence that the election was compromised. She added that there was no evidence supporting the hacking of the IEBC server.
On 17th August 2022, the IEBC reported that one of its returning officials – Daniel Musyoka of Embakasi East constituency – had been murdered. Other IEBC staff, including Chairperson Wafula Chebukati had been profiled, harassed and intimidated in the course of discharging their duties as presiding officers over the country's 9th August polls. Mr. Musyoka's murder remains unsolved to date.
Separately, the UN Special Rapporteur on the rights of Indigenous people hailed the decision by the African Court on Human and People's Rights to award reparations to the Ogiek Indigenous community for the injustice suffered due to longstanding discrimination in Kenya. The ruling directs the Kenyan government to compensate the Ogiek people for material and moral prejudice to the tune of Kenya Shillings 157,580,000 for land, resources and general discrimination suffered over the years.
Association
On 6th May 2022, Police in Cherang'any constituency, Trans Nzoia County, found the lifeless body of a 50-year-old intersex woman , with reports indicating that she had been raped. The lesbian, gay, bisexual, transgender, queer, and others (LGBTQ+) community in Kenya continues to be targeted. As previously reported by the Monitor, another LGBTIQ+ member, Sheila Adhiambo Lumumba, was found dead after failing to report to work in April 2022.
On 20th July 2022, police officers arrested four HRDs working on sexual orientation, gender identity and expression (SOGIE) in Malindi for "illegally assembling". Police officers allegedly raided a meeting organised to discuss issues affecting the LGBTIQ+ community and arrested four HRDs out of the 30 that took part in the meeting. Even though the venue hosted other meetings, the authorities declared this particular meeting illegal and demanded they provide a permit.
The developments around harassment and attacks on members of the LGBTIQ+ community are especially concerning given the apparent lack of political will from previous and current governments to affirm the rights of members of the community. In a CNN interview with Christiane Amanpour on 7th September 2022, Ruto stated that LGBTIQ+ matters were not a big issue for Kenyans. However, when asked about his previous remarks where he stated that "we have no room for gays," President Ruto stated that although "we respect everybody," former President Uhuru Kenyatta was right when he said that homosexuality "is not agreeable."
On 22nd July 2022, the Kenyan High Court found three officers and a civilian guilty of the murder of human rights lawyer Willie Kimani and two other people, while the fourth officer was acquitted. As previously reported by the Monitor, Kimani, a Kenyan lawyer working with the International Justice Mission, his client Josephat Mwenda and taxi driver Joseph Muiruri were abducted by police officers in June 2016 and found dead a few days later with their bodies showing signs of torture. Mr Kimani represented his client Josephat Mwenda in a case against a police officer who had unlawfully shot Josephat the previous year.
On 28th September 2022, two human rights defenders (HRDs) charged with obstructing police officers from conducting their work appeared in court. In June 2022, activists Ian Kinyua and Dawin Wangechi, who are members of Activista Laikipia, an organisation based in Laikipia, were arrested for allegedly witnessing an illegal search and unlawful arrest being carried out, and calling on the officers involved to follow the law. They proceeded to take videos of the said police misconduct. The next hearing is set to take place on 10th November 2022.
Peaceful Assembly
On 3rd June 2022, General Service Unit (GSU) officers used tear gas and live bullets to disperse a protest in Masimba, Kajiado county, killing four people and injuring seven others. After an elephant killed a teacher, residents of Masimba protested wildlife invasion in the area by burning tires and barricading the road.
@DefendersKE can confirm the arrest of four peaceful protestors - John Pasha, Joel Meitaya, Myson Nkuruna & 1 other who assembled to call on the President of #Tanzania @SuluhuSamia to #STOP the illegal & violent eviction of the Maa people from their homes. WE ARE ON THE CASE pic.twitter.com/0RcT6EMi4l

— @Defenders Coalition 🇰🇪 (@DefendersKE) June 17, 2022
On 18th June 2022, authorities arrested four people during a demonstration in Nairobi's Central Business District against the forceful eviction of the Maasai community in Tanzania. They were released without charge that same day. As previously reported by the Monitor, police authorities fired live bullets at Maasai protestors in Tanzania after residents protested the government's intention to evict 167,000 Maasai from the Ngorongoro Conservation Area (NCA) and Loliondo to make way for trophy hunting and elite tourists earlier this year.
During the annual Saba Saba (seven seven in Swahili) protest that takes place every year on 7th July, Kenyans protested the high cost of living. Protesters declared that they would not participate in the general election if the government did not cut the cost of food and other necessities. They used the slogan "Hakuna kura bila kula (There is no election without eating)." Saba Saba was a pro-democracy nationwide protest started in 1990 to demand free elections and a multi-party system. However, HRDs and civil society organisations now commemorate the day by protesting police brutality, extrajudicial killings, and to demand respect for the Constitution. Positively, the government subsidised the price of maize flour at 100 Kenyan Shillings (KES) (1 USD) for a month. It retailed at KES 209 (2 USD).
In August 2022, a police commissioner in Kenya's Rift Valley region banned election-related demonstrations during and after Kenya's 9th August polls, warning that peaceful protests during the electoral season would be "dealt with accordingly." The pronouncement was, however, immediately protested by a coalition of 10 Kenyan civil society organisations, who argued that "constitutionally guaranteed freedoms cannot be suspended because we are exercising other constitutional rights."
On 16th August 2022, a protest erupted in Kisumu following the announcement by the Electoral Commission declaring Deputy President William Ruto the winner of the presidential election. Police fired teargas to disperse the protestors who blocked roads with burning tyres.
Separately, on 26th September 2022, police officers teargassed Azimio la Umoja Members of Parliament (MP) and activists demonstrating against the interdiction of IEBC Deputy Chief Executive Officer Ruth Kulundu. Kulundu was interdicted for gross misconduct and insubordination. Azimio MPs claimed that the move was unconstitutional, and that the Commission's chair and the CEO disregarded the guidelines stipulated in the IEBC Act.
On 28th September 2022, 32 ward representatives and members of county representatives blocked the gate leading to Kenya Wildlife Service's Tsavo conservation headquarters at Sophia Estate, Voi, while protesting a rise in human-wildlife conflict in the area. The protestors demanded that the Kenya Wildlife Service drive back to the park a herd of elephants that were attacking people. The police commander ordered the police officers to disperse the protest calling the meeting illegal. Police officers fired tear gas at the protestors. 
Hey @Twitter why are you banning handles tweeting using #NjaaRevolution hashtag? It's a movement by Kenya's grassroots activists protesting inflation and the high cost of living. Njaa means hunger and your moderators are censoring active citizens voices. Restore their accounts. pic.twitter.com/hz2M080vE7

— The People's Watchman (@bonifacemwangi) May 29, 2022
Expression
On 27th May 2022, Twitter suspended 22 accounts belonging to human rights defenders who took part in the #NjaaRevolution campaign on the platform. As previously reported by the Monitor, "NjaaRevolution" (translated to 'hunger revolution'), is a protest against the high cost of living. Twitter's suspension notice claimed that some of these accounts were suspended because their users looked to be acting suspiciously. The platform failed to explain to users what the word "suspicious" behaviour meant or what behaviour was considered suspicious. Twitter did not give a specific reason for permanently suspending accounts, instead giving a generic justification for 'violating Twitter Rules.' According to article 19, the suspensions of these accounts amount to censorship of civic actors at a crucial time leading up to the general elections in August 2022.
On 10th July 2022, Ian Byron, a journalist working for the Nation Media Group was assaulted with a machete by unknown assailants at Kakrao Shopping Centre in Migori County. The journalist reported cases of harassment prior to the attack. He believed that it was related to a story he covered on Suna East Member of Parliament and the Orange Democratic Party (ODM) Minority Leader Honourable Junet Mohammed. The story was taken down following complaints from Junet.
On 25th July 2022, the Media Council of Kenya (MCK) issued a statement criticising the Cabinet Secretary (CS) for Education, Professor George Magoha, with unfortunate remarks that profiled a Nation Media Group journalist during a Question-and-Answer session. The CS accused an NTV journalist of being 'affiliated' with a terror organisation. While responding to a question, Professor Magoha asked the Muslim journalist, "Where do you come from? Who are you representing? Because if you are representing Al-Shabaab, I will not answer you?" The Council demanded the CS issue an apology and withdraw his remarks.
In separate developments, according to Christopher Wambua, acting CEO of the Kenya Film Classification Board (KFCB), all movies with LGBTQ+ content are forbidden in Kenya. On 23rd September 2022, in an interview, he claimed that the law does not allow LGBTQ+ content and relationships and that KFCB considers other applicable laws when rating and classifying content. Moreover, he claimed that Kenya's position has always been to prohibit and not broadcast, show or distribute information that normalises or praises same-sex relationships within the borders of the country.