Government stalls near abortion ban; while women protest leaders face threats to their safety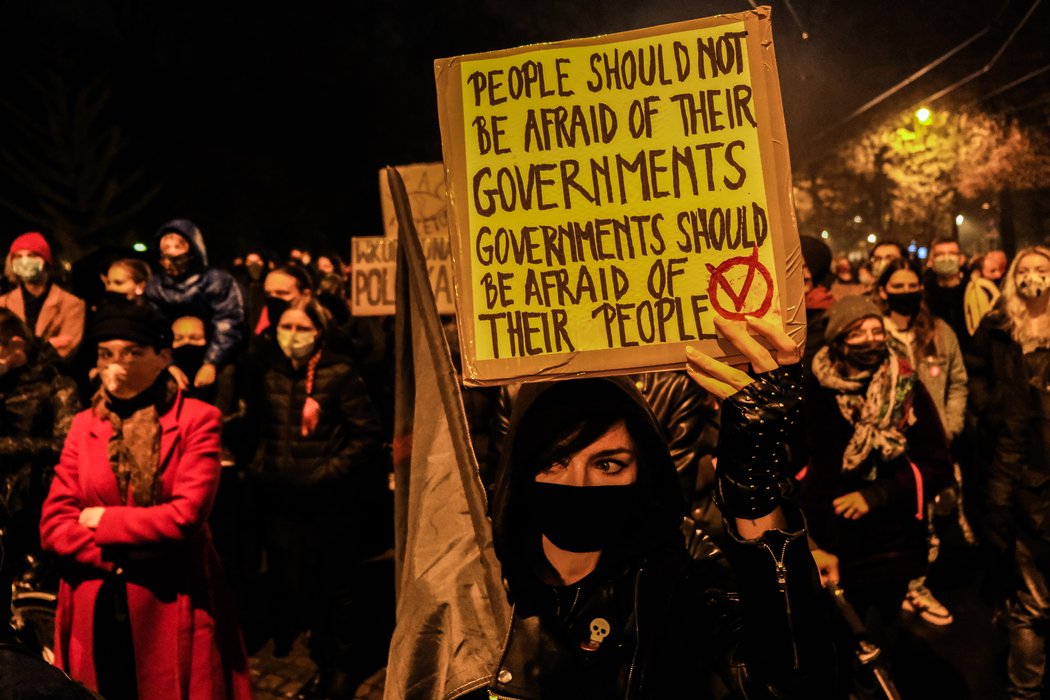 Introduction
As reported in our previous update, on 22nd October 2020 the Constitutional Tribunal of Poland ruled that access to abortion care on the grounds of "severe and irreversible foetal defect or incurable illness that threatens the foetus' life" is unconstitutional. This ruling imposes a near-ban on abortions except in cases of rape or incest, or if the mother is in lethal danger due to her pregnancy. Questions have been raised about the judicial independence of the Tribunal, given that fourteen out of the fifteen Tribunal members were elected by the ruling majority, some in violation of the Polish constitution.
This isn't the first time that Poland's abortion laws are in the spotlight. In 2016 an estimated 100,000 people, mostly women, took to the streets to protest such a move. At the time, the government retreated from making changes to the law. Poland has one of the strictest abortion laws in the EU. The latest attack on women's sexual and reproductive health rights has led to thousands taking to the streets to protest.
On the ninth consecutive day of protests, 30th October 2020, the largest protest since the fall of communism in 1989 was staged in Poland. It is estimated that about half a million people attended demonstrations which took place in various cities across the country.
Following almost two weeks of continuous protests, on 3rd November 2020 the ruling PiS party announced that it is delaying the publication of the Tribunal decision and its implementation.
🇵🇱❗️#Poland delays abortion ban amid nationwide protests. But we are concerned that the government will propose a 'compromise' that will continue to harm women. Meanwhile, hospitals are already turning away women seeking abortion care.

👉🏼 https://t.co/7AjLlPux1B #StrajkKobiet pic.twitter.com/HQ6d665OEb

— IPPF European Network (@ippfen) November 3, 2020
Association and Peaceful Assembly
The protest against a total abortion ban. I never seen something like that. It is turning point for Poland! Women protesting on streets! @strajkkobiet #tojestwojna pic.twitter.com/hqR5oMftBb

— Bart Staszewski ᴸᴳᴮᵀ 🏳️‍🌈🇵🇱 (@BartStaszewski) October 30, 2020
Threats against protest leaders and protesters
Women Human Rights Defenders (WHRDs) from the Women's Strike, organisers of protests, have told the CIVICUS Monitor that they have faced continuous threats, to the extent where they cannot return to their homes due to fears for their safety. Protest leaders and organisers have reported that their personal details were leaked online by far-right groups which led to many of them being subjected to hate messages daily.
The PiS government has also attempted to repress activists. Poland's national public prosecutor, Bogdan Święczkowski, has issued an instruction via a letter to his office to bring charges against the organisers of mass protests. The letter stated:
"every person organising an illegal demonstration or inciting participation in one should be assessed in the context of the prohibited act…of causing danger to the life and health of many people by causing an epidemiological threat".
The governing party is also trying to repress student protesters, who have come out in large numbers to support the march. The education and science minister, Przemysław Czarnek, has threatened funding cuts in the higher education sector due to students' participation in protests and the role of university staff in permitting such participation.
Jeżeli potwierdzi się, że niektórzy nauczyciele namawiali uczniów do udziału w protestach lub sami brali w nich udział, powodując zagrożenie w czasie epidemii i zachowując się w sposób uwłaczający etosowi ich zawodu, będą wyciągnięte konsekwencje przewidziane prawem.

— Ministerstwo Edukacji Narodowej (@MEN_GOV_PL) November 2, 2020
Violence at protests
While protests have largely been peaceful there have been incidents of violence from law enforcement and far-right groups documented by the media and on social media. Police stated that a total of 37 people were detained following a massive demonstration on 30th October 2020. Of these, 35 are people related to hooligan groups, the police said. The following cases have been documented and are by no means an exhaustive list of incidents which took place during various protests.
Attacks by far-right groups

One protester reports how she was punched in the face by football hooligan groups, who were disguised with Women's Strike lightning bolts on their clothes.

Jan Śpiewak, an activist from the Free City of Warsaw association reports that a group of masked people dressed in black approached him and launched flares, one of which hit him in the face. It is reported that the group used firecrackers and pepper spray on protesters. In addition, Śpiewak says that police were not there to protect protesters but were instead guarding the surrounding churches.

Member of the Civic Coalition and former Interior Minister Bartłomiej Sienkiewicz also reported being attacked with tear gas by fascist groups.

Two women were hurt, with one hospitalised, after a car drove through a group of protesters who were blocking a road.
Naziole rzucili się na pokojowych demonstrantów. Dostałem flarą w twarz. pic.twitter.com/vDhhG01WWB

— Jan Śpiewak (@JanSpiewak) October 30, 2020
Właśnie zostałem potraktowany gazem przy próbie interwencji poselskiej - grupa faszystów zaatakowała ludzi przy próbie oddzielenia faszystów oberwałem. pic.twitter.com/KgKuS4UloD

— Bartłomiej Sienkiewicz (@BartSienkiewicz) October 30, 2020
Police violence against protesters
One protester reported being beaten by police and facing homophobic slurs. The incident occurred on 27th October 2020 when the protester attended protests and was arrested by police towards the end of the night. He was also attacked by nationalist groups during the evening, where police failed to intervene. The National Mechanism for the Prevention of Torture was notified about the case and they intend bringing a case against Polish police.

On 30th October 2020, Marta Rozmysłowicz, member of the national committee of the Initiative Pracownicza (IP) trade union and activist of the Social Women's Congress was on her way with other union members to attend a protest in Warsaw. However, the group were stopped by police three times. The unionist was detained by police and never made it to the protest, where she was meant to give a speech. She and others were detained and police failed to give reasons for the detention. The group was released after a few hours. She told OKO press:
"In my opinion, this is some attempt to criminalise and discourage union activity, which is a manifestation of the police state - this is the only way I can understand it."


Expression
During protests, there have been reports of attacks against journalists by far-right groups. The following incidents have been documented by Media Rapid Response:
On 28th October 2020, Magda Kozioł, a journalist from leading Polish daily newspaper Gazeta Wyborcza, was hit in the stomach and thrown to the ground as she was attempting to film a group of 30 black clad men during the protest in Wrocław. She was treated in hospital for minor injuries. Following this, it was reported that the man suspected of attacking the journalist belonged to a football hooligan group and was detained by police.
"We stand in protest against the barbaric attack and guarantee that we will do everything to ensure that the perpetrators responsible for the assault face justice," Gazeta Wyborcza said in a statement.
During the same incident, Gazeta Wyborcza reporter Joanna Urbańska-Jaworska was "dragged and thrown to the ground" by one of the masked men, knocking the camera out of her hands. It is reported that the District Prosecutor's Office in Wrocław filed a motion for the arrest of the man suspected of assaulting Urbańska-Jaworska. However, the very next day the motion for arrest was withdrawn by the same court. Adam Michnik, Editor-in-chief of Gazeta Wyborcza warned that this decision will only encourage further physical violence against journalists.
"It is becoming clear that criminals attacking women and journalists in the PiS state can expect Ziobro's prosecutor's office to go unpunished. This is an unimaginable situation in a state of law belonging to the European Union."
#Wrocław: grupa ok 40 mezczyzn zaatakowała uczestników protestu na wysokości Krupniczej. Dwie osoby zabrało pogotowie. Na ulicach wielotysięczne tłumy. #StrajkKobiet #StrajkStudentek #protest @RMF24pl pic.twitter.com/fxlywnyf7H

— Mateusz Czmiel (@MCzmiel) October 28, 2020
Panie Kaczyński, brawo. Jest Pan skuteczny, chłopcy już w akcji. Atak na Strajk Kobiet, Wrocław 28.10.2020 Krupnicza/K.Wielkiego @gaz_wroclawska @gazeta_wyborcza @rzeczpospolita @DoRzeczy_pl @lis_tomasz @KrzysztofBrejza @krzysztofbosak #atak #StrajkKobiet #wroclaw #wroclaw pic.twitter.com/p3sAPQVlhQ

— Hubert Hańcza (@huberthancza) October 28, 2020
The International Press Institute (IPI) also condemned violence against journalists covering protests.
"All attacks on the media in Poland, regardless of what outlet or publication they work for, are an attack on press freedom. No journalist should ever become the target of intimidation, threats or physical aggression because of their work... All attacks documented over the last few days must be fully investigated by authorities and those responsible must be held accountable."
IPI also report that journalists and crew from Poland's public television Telewizja Polska (TVP) have also been subject to attacks from protesters. During coverage of protests, Poland's Public TV has continued to serve as a state propaganda machine. According to protest leaders it has smeared them and accused them of attempting to overthrow the government. As previously reported on the Monitor, the public broadcaster was accused of acting as a state mouthpiece during the elections which took place earlier this year.
"Leftist fascism is destroying Poland" headlined the main evening news on state TV (a government mouthpiece) for the second night in a row.

They said that abortion protesters have expressed "approval of cannibalism" and use a symbol associated with Nazism and Satan pic.twitter.com/8Xufk66tih

— Daniel Tilles (@danieltilles1) October 28, 2020