Government considers harsher penalties as journalists continue to face physical attacks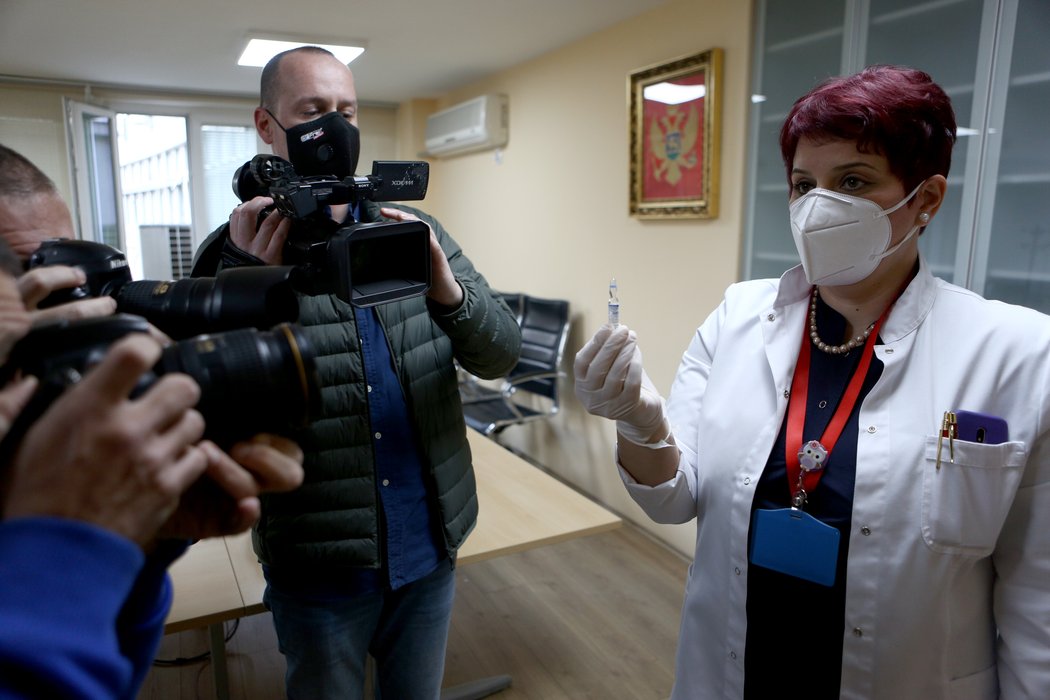 Association
According to the latest Freedom House annual report, the new government coalition that came to power in late 2020 - ending three decades of rule by the Democratic Party of Socialists (DPS) - has signaled a positive shift from the previous administration by being more responsive to criticism from civil society and declaring civil society actors as strategic partners in comprehensive reforms. In contrast, NGOs - especially those that investigate corruption or that criticised the former DPS government - have faced pressure by government officials. The US State Department's Country Report on Human Rights Practices also noted "substantial interference" with the freedom of association in 2020.
In a separate development, on 3rd March 2021, LGBTI rights activist and member of the LGBTI Forum Progres was attacked in front of his family home. The unknown attackers carved a cross across the victim's chest. The incident was condemned by the United States' Ambassador to Montenegro.
"The embassy condemns last night's violent attack on a member of the LGBTQI community in Podgorica. We call on the authorities to take swift action and ensure that justice is served. Every person deserves to be treated with respect and dignity, no matter who they are or who they like."
Sinoć je napadnut član LGBT Foruma Progres, oštrim predmetom su mu nanesene povrede u predjelu genitalija, iscrtan mu je krst u predjelu grudi, ukraden novac i sat.

Apelujem na policiju i tužilaštvo da počinioce što prije pronađu i procesuiraju.

— Bojana Jokić 💤 (@Bojana_Jok) March 4, 2021
Peaceful Assembly
Protests related to COVID19 measures
Government health measures for curbing COVID-19 have caused tensions in the town of Tuzi near the capital, where the Mayor and local citizens blocked the main road to Albania. Police forces were deployed in the town as protesters called on the government to withdraw the ban on cafes and restaurants operating – which they insist is politically motivated and is prohibiting the work of cafes and restaurants in the town.
Bus drivers in Podgorica also protested the health measures prohibiting intercity transport, warning that they are on the brink of survival and demanding state support to keep their employees.
In addition, people from around the country protested against the restrictions and the "selective" health measures related to COVID-19, Some expressed their dissatisfaction by organising 'patriotic car rallies' in a few cities. During the rally in Bijelo Polje, journalist Sead Sadikovic was attackedand beaten, while a few days earlier he reported numerous provocations and threats. Trade Union of Media of Montenegro considers the attack a direct consequence of the heated political and national tensions in Montenegro, where "journalists are the first and easiest to suffer".
"...in Montenegro it is no longer safe to walk the streets of your city without the danger of being verbally and physically targeted because of the work you do that is in the public interest.... This situation has also shown that decision-makers need to once again seriously consider increasing the penalties for attacks on journalists, photojournalists and cameramen, because this is a dangerous social phenomenon that is continuously present in our country."
Following the detention of two suspects for attacking Sadikovic, dozens of Bijelo Polje citizens gathered in front of the prosecutor's office building to protest the detentions, despite the ban on gatherings.
Protests over citizenship law
On 8th April 2021, in Podgorica, hundreds of people participated in protests against "demographic engineering". Participants protested the announced changes in the criteria for acquiring Montenegrin citizenship, which could affect the voting rights of people who live in Montenegro who originally come from other countries in the region. As the protest was going on, police prevented people from other cities from joining the anti-governmental protest in Podgorica. This situation led to an incident in which an official government vehicle was attacked by the protesters. In addition, the team of Radio-Television (RTV) Budva were subject to an attack on their way back to work, where protesters hit the official car and even threatened to come to RTV Budva. The Trade Union of Media of Montenegro (SMCG) strongly condemned the attack.
Court rulings on 2015 protests
On 11th March 2021, the European Court of Human Rights (ECHR) ruled that Montenegro's Special Police Unit, SAJ, breached its powers during opposition protests in October 2015, violating the European Convention on Human Rights. The court awarded two plaintiffs, Branimir Vukcevic and Momcilo Baranin, 7,500 Euros each in non-pecuniary damages for the inhumane or degrading treatment they faced during their arrest. In another ruling, however, on 1st April 2021, ECHR rejected a case brought by Montenegrin boxing legend Milorad "Mijo" Martinovic against official failure to investigate police brutality during the anti-government protests in October 2015, when he was beaten up by 20 officers and left lying in the street.
In its report, Freedom House notes that:
"while citizens generally enjoy freedom of peaceful assembly, authorities in the past have attempted to limit protests organised by the opposition Democratic Front (DF) party, violence at demonstrations had erupted occasionally, and DPS-controlled media has referred to opposition protests as "antistate. Some protests in 2020 were marred by arrests and excessive use of force against peaceful demonstrators."
The US State Department's Country Report on Human Rights Practices notes that the government selectively restricted freedom of peaceful assembly in conjunction with the issuance of health measures by the Ministry of Health to prevent the spread of COVID-19 through arbitrary arrests, detentions and fines.
Expression
The Rapporteur of the European Parliament for Montenegro, Tonino Picula, assessed the situation in the area of freedom and independence of the media in Montenegro as worrying. The latest Freedom House report and the US State Department's Country Report on Human Rights Practices also reaffirmed the lack of free and independent media reporting in Montenegro, self-censorship due to political pressures, unresolved cases of attacks against journalists from previous years and persistent intimidation of journalists and media who are critical of the government. In addition, the reports both mention the arrests of several people during 2020 in connection with social media posts that contained either disinformation and "fake news", satirical content or remarks (perceived as) insulting to authorities.
Attacks against journalists
During the reporting period, the editor-in-chief of "Monitor", Esad Kocan, was attackedon 27th March 2021 in front of his apartment in Podgorica. He was first verbally and then physically attacked by a fifty-five-year-old man who was subsequently arrested and charged with the criminal offence of endangering safety. The Trade Union of Media of Montenegro (TUMM) and Human Rights Action (HRA) strongly condemned the attack, which was the third attack on a journalist in Montenegro within 15 days, referring to the attacks on Sead Sadikovic and Jelena Jovanovic (who was physically hurton 14th March 2021 amid tensions on election night in Nikšić).
#SMCG i @HRA_MNE oštro osuđuju napad na glavnog i odgovornog urednika nedjeljnika "Monitor" Esada Kočana i pozivaju nadležne organe da adekvatno istraže slučaj i kazne počinioca.
Ovo je već treći napad na novinare/ke u CG samo u posljednjih 15 dana. https://t.co/8GWLNp6xUY

— Sindikat medija CG (@sindikatmedija) March 29, 2021
Following these events, on 31st March 2021, Montenegro's Interior Ministry called for stricter penalties for attacks on journalists, promising to consider granting them the same status as state officials. According to the authorities, as the penalties for attacking officials are tougher, it may make perpetrators "think twice" before committing an attack.
As the Court of Appeals confirmed the ruling against journalist Jovo Martinović, who was accused of drug trafficking, journalists considered this a direct attack on freedom of the media and a "message to those that dare to do investigative work". Reporters without Borders labelled the ruling as "dark days for the media in Montenegro", and the International Press Institute (IPI) joined leading press freedom and journalists' organisations in strongly condemning the decision.
"We call on Montenegrin authorities and courts to work in line with their commitment to media freedom and European standards, as part of their commitment to the ascension process for the European Union, to ensure Martinović is not further criminalised or persecuted for his journalism."
A black day for #pressfreedom in Europe! Investigative journalist #JovoMartinovic has been found guilty of mediation in drug trafficking by the High Court of #Montenegro. Again. Despite lack of evidence observed by the Court of Appeals in 2019. The sentence: 1 year in prison. pic.twitter.com/1aZrxFWMjh

— RSF in English (@RSF_en) October 8, 2020
Hate speech prosecution
Meanwhile, despite sanctions imposed for hate speech, the country faces unequal sentencing in relation to the acts committed. A public policy expert warns that the sentences imposed do not deter the perpetrators from recommitting the acts. The largest number of hate speech complaints reported to the police were on the basis of sexual orientation.
"It is necessary to further strengthen the capacity of police and judiciary to prosecute computer crime and human rights violations through information and communication technologies, especially on the basis of sexual orientation and gender identity, as well as to take measures to combat hate speech online and online harassment, in terms of prosecution of cases of hate speech against members of the LGBTIQ population,"- CeMI Public Policy Researcher, Milica Zrnović (translated from Bosnian).
Lawsuit against research centre
In a positive development, in mid-March 2021, the Public Prosecution Office did not recognise grounds for a lawsuit against the director of research centre MANS, Dejan Milovac, submitted by Ivan Vuković, the Mayor of Podgorica. Milovac was accused of false reporting after MANS published an investigative story exposing corruption. This decision of the Public Prosecution Office was preceded by heavy pressureon Milovac and MANS. A statement by MANS which stresses the continuous pressure over the association, notes that
"Employees of MANS have so far been arrested, wiretapped by state authorities, subjected to the dirtiest public campaigns and sued by privileged individuals and companies whose interests have been threatened by [their] research, due to [their] work and detection of corruption." (translated from Bosnian).