Freedoms under attack with legislation restricting protests and hostility toward journalists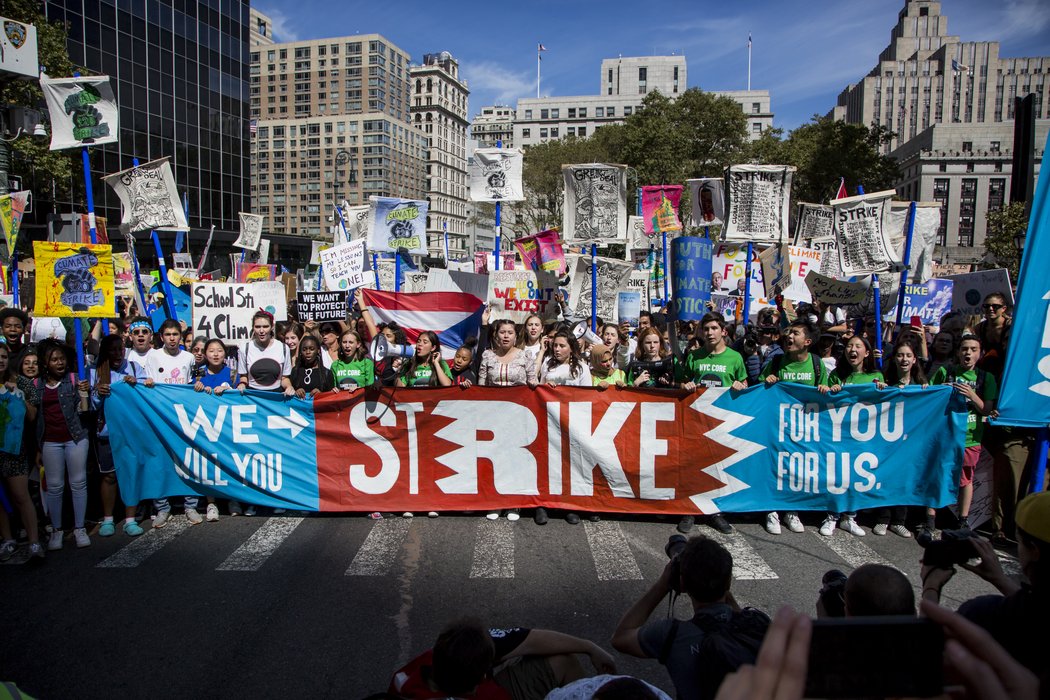 In September and October 2019, there were protests across the U.S. calling on leaders to address climate change. Meanwhile some states have been considering legislation that would criminalise protests near certain infrastructure sites, including oil pipelines - which are often contested by climate and indigenous rights activists. This update also details protests on refugee & immigration policy, education, police brutality and pro- and against President Trump. In the 'Expression' section, incidents of harassment of journalists show an increasingly hostile environment for the press in the U.S. 
Peaceful Assembly
The estimated number in New York is over 250'000! They closed the park because there were too many people... I'm speaking soon at Battery Park. #ClimateStrike pic.twitter.com/YOD80SxHaa

— Greta Thunberg (@GretaThunberg) September 20, 2019
On 19th September 2019, thousands of people across the United States joined rallies to call on world leaders to address climate change. Over 200,000 people participated in a march in New York City, gathering in Battery Park to hear Greta Thunberg, a 16-year-old Swedish environmental activist who inspired the protests. "Around the world today about four million people have been striking," Thunberg said. "This is the biggest climate strike ever in history and we all should be so proud of ourselves because we have done this together." Protestors held signs with messages like, "Climate change is worse than homework," and "Stop denying the Earth is frying." In Washington, DC, people carried signs saying, "This can't wait until I finish high school." One month later, actors Jane Fonda and Sam Waterston and others were arrested for participating in a similar protest at the U.S. Capitol in Washington, DC. "Scientists tell us the tipping point for catastrophe is only 11 years off," Fonda says in a video. "But there is still time if we move quickly and ambitiously to prevent the worst impacts."
On 20th September 2019, hundreds of protesters and supporters of U.S. Immigration and Customs Enforcement (ICE) faced off near an ICE facility in Aurora, Colorado. Barricades and police kept the two groups apart and both sides peacefully protested in the streets without incident. A related protest was held in New York City, where almost 100 people were arrested on 15th September 2019 while protesting against Microsoft's contract with ICE. They had staged a sit-in blocking an avenue outside a Microsoft store. At the University of Pennsylvania, an event featuring a former ICE director was cancelled on 23rd October 2019 after students gathered outside the building to call for the abolition of these facilities, chanting "No hate. No fear. Immigrants are welcome here". Protests against the ICE have increased since the U.S. government began implementing a "zero tolerance" policy on immigration, which resulted in thousands of families being separated at the U.S.-Mexico border.
On 10th October 2019, protesters and supporters of President Trump clashed outside a Minneapolis arena after the president held a rally. According to news reports, a spokesperson for the Minneapolis police stated that the protests were largely peaceful, but some people were aggressive or behaved illegally. Outside the arena, some protesters set pro-Trump hats on fire, threw urine, and broke through a police barricade before police used pepper spray on the crowd. A group of people attacked a Trump supporter who was leaving the rally. At least one person was arrested for damage to property.
@MargaretLHuang of @amnestyusa and others before being arrested for peacefully protesting disgraceful collapse of #refugee admission program. Proud to stand in solidarity with them today pic.twitter.com/Barx7UDY8r

— Philippe Nassif (@ptnassif) October 15, 2019
On 15th October 2019, 18 people were arrested while protesting at the U.S. Capitol Building to mark the drastic reduction of refugees the country would be accepting under the White House's new Refugee Resettlement Program. "Today we are sending a strong message to the administration that the country we want to live in is one where we take care of people who need safety and we are not afraid to be silenced," said Amnesty International USA executive director Margaret Huang, who was among those arrested.
On 22nd October 2019, about three dozen Republican lawmakers staged an unprecedented protest on Capitol Hill by forcing their way into a secure hearing room where House Democrats were conducting the impeachment inquiry into the president. Republican House members interrupted testimony and began making speeches as a protest against the impeachment process. Many of the protesting Congress members had permission to participate in the hearing but chose not to attend.
On 31st October 2019, an 11-day teacher strike in Chicago ended after a tentative agreement was reached with the city. Teachers had been picketing to raise salaries, improve conditions for students in classrooms and to address housing issues. The agreement includes a commitment to spend $35 million to reduce overcrowded classrooms, sanctuary protection for undocumented immigrants on school property and the hiring of new school staff such as nurses and social workers. "Did we accomplish every single little thing? No. But I can say that we moved the needle on educational justice in the city," said Jesse Sharkey, president of the Chicago Teachers Union. About 32,000 teachers and aides participated in the strike.
#FTP march is now taking over the streets of Brooklyn in protest of rampant NYPD violence against Black & Brown people. pic.twitter.com/xx3vkurj80

— Ash J (@AshAgony) November 1, 2019
On 1st November 2019, hundreds of people marched in downtown Brooklyn to protest police brutality by the New York Police Department after two recent incidents involving police attacking teenagers were caught on video. Demonstrators called for the repeal of a law that limits the release of certain police records, such as officer performance records, and for the city to end its fare evasion campaign in the subway system.
Legislative proposals restricting protest
Ohio and Wisconsin lawmakers are considering bills that would criminalise protests near certain infrastructure sites and silence student protests on campus. As previously reported on the Monitor, similar legislation restricting protests near infrastructure has been introduced in several U.S. states. In May 2019, Ohio's State Senate approved bill SB33 increasing penalties for peaceful protests and civil disobedience at pipelines and other so-called "critical infrastructure" sites, and imposing large fines on groups that support protests. The penalty for "tampering" with a pipeline (which could include graffiti or other impermanent alteration) could mean ten years in prison and a $20,000 fine. CSOs are now campaigning to pressure Ohio's governor to veto the bill. In Ohio's House of Representatives, bill HB362 introduced in October 2019 would establish new penalties for protesters who conceal their identity with masks and other disguises.
On 11th October 2019 in Wisconsin, legislators approved a similar anti-protest bill (AB426) introducing new potential penalties for protests near oil and gas pipelines and other property of "energy providers". The bill was signed by Governor Evers on 21st November 2019. Wisconsin lawmakers are also considering another bill that would mandate a one semester suspension for students who twice disrupt a campus speaker and expulsion for three such offenses (AB444). "As a result, rowdy protests in public areas of campus that, for instance, made it difficult to hear a speech, would be banned and its participants liable to penalties," according to the International Center for Not-for-Profit Law. Fourteen other states have passed similar campus protest legislation. Wisconsin's governor is expected to veto the campus bill if passed.
Association
On 20th September 2019, the National Labor Relations Board (NLRB) issued a proposed rule stating that graduate students are not employees with a right to unionise. If implemented, the new rule would overturn a 2016 ruling by the same body that allowed grad students at Columbia University to be considered as such. Students at colleges across the country have vowed to fight the ruling. "Solidarity forever, solidarity forever, solidarity forever, the Union makes us strong," graduate students at Brown chanted at a 4th October rally. The NLRB will be accepting public comment on the announcement for 60 days.
Expression
Attacks on journalists
On 11th September 2019, North Carolina State Senator Paul Lowe apologised for assaulting a reporter earlier in the day inside the state Legislative Building in Raleigh. According to the Greensboro News & Record, N.C. Policy Watch's Joe Killian was filming lawmakers after the governor vetoed the state's budget when Lowe approached him and "engaged in a brief struggle" before taking Killian's phone and throwing it.
On 21st September 2019, the FBI arrested a man after he was caught making plans to bomb a major news network and threatening presidential candidate Beto O'Rourke. According to the FBI, Jarrett William Smith is a member of the U.S. military stationed in Kansas. Speaking to an undercover FBI informant online, Smith talked about his violent plans and shared information on how to make explosive devices. Since the election of President Trump in 2016, attacks and threats towards the press have increased, including the killing of five employees at an Annapolis newspaper.
Journalists harassed at border
On 3rd October 2019, a Customs and Border Protection (CBP) officer at Dulles airport near Washington, DC refused to return a reporter's passport and forced him to say he writes "propaganda" before he could re-enter the country. Defense One's Ben Watson said he was asked four times if he "writes propaganda" before he reluctantly relented. Watson has filed a civil rights complaint with the Department of Homeland Security. Several other reporters, including New York Times' Michael Sokolove and The Washington Post's Ann Gerhart, have also been stopped and questioned by CBP officers upon returning to the U.S. "I just found it appalling," Sokolove said, "that upon coming back into this country with my U.S. passport, because I was a journalist I would be asked by an immigration officer what I thought about the president and then told exactly how we ought to be writing about him."
Hostile rhetoric against media
In an op-ed published on 23rd September 2019, New York Times publisher A.G. Sulzberger argued that the Trump administration threatens global press freedom and has contributed to the increasing threat to members of the media by continuing to use rhetoric such as "fake news" and "enemy of the people" to describe the work of journalists. According to Sulzberger, since taking office, President Trump has tweeted about "fake news" nearly 600 times and the term has been been co-opted by over 50 government leaders to justify anti-press activity.
In a related story, press advocates are calling on the White House to condemn a cartoon video depicting Donald Trump committing a series of violent acts against the news media and his political opponents. The video was shown during a conference for the president's supporters in Miami. "We at RSF are horrified by this video, which is a clear attempt to chill journalism in the United States," said Dokhi Fassihian, Executive Director of Reporters without Borders (RSF) USA. "This video is a direct threat to the safety of journalists. President Trump should denounce it immediately."