Freedom of expression on a steady decline, accountability for police brutality an elusive feat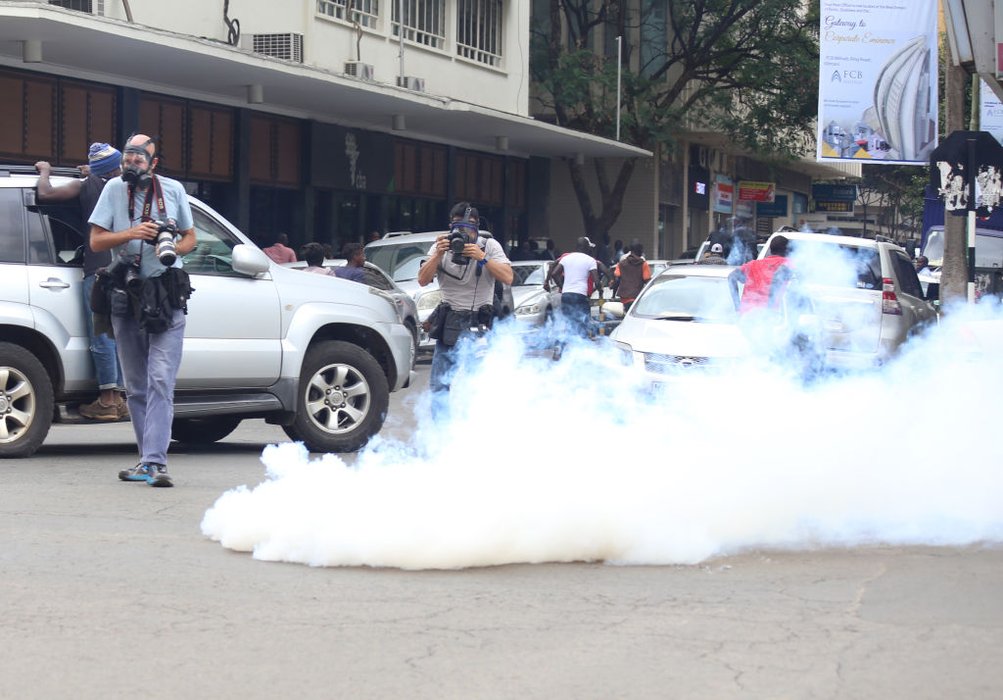 General update
On 1st February 2021, the Office of the Director of Public Prosecutions (ODPP) withdrew a case against 15 police officers and 6 county enforcement officers, in which they were accused of violating people's rights while implementing COVID-19 measures in 2020. The Police Reforms Working Group expressed their shock and dismay at the decision, which they categorised as "a return of the dark days" for justice in Kenya. As previously documented, human rights activists and the public at large protested assault and killings by Kenyan police officers while enforcing virus-related restrictions after police brutality increased significantly following the imposition of a curfew in late March 2020.
The move by the ODPP is particularly concerning considering the rise in police brutality in Kenya throughout 2020, as reported in numerous Monitor updates in 2020.
Expression
Journalists not spared from police excesses during COVID-19
Media actors including journalists have also been victims of increased police brutality since the onset of the COVID-19 pandemic. Between 12th March and 31st August 2020, Article 19 Eastern Africa documented 48 incidents involving 34 male and 14 female journalists and media workers who faced various forms of violations, including physical assault, arrest, threats and harassment.
Attacks on journalists on the rise
On 19th October 2020, a group of journalists from Royal Media Services were teargassed during a live broadcast in Kisii. The incident was reportedly caused by police officers attempting to disperse the journalists and the crowd surrounding them, as the crew allegedly did not have the necessary permits to film. The issue was later resolved and the crew allowed to proceed with their live broadcast.
Two journalists from Nation Media Group, Geoffrey Ondieki and Jeff Lekupe, were hospitalised after being assaulted in Serelipi, on the Isiolo-Samburu border, on 21st October 2020. Reports suggested that the journalists were covering clashes between police and residents in the area when they were attacked by unknown persons who were armed with clubs and swords. Their car was also damaged.
"We were on our way to cover an incident involving the fatal shooting of a moran by a police officer at Serelipi area. Before we got there, armed morans ambushed and attacked us. We are very lucky to escape with injurie,." said Ondieki
In mid-November 2020, two photojournalists working for the Nation Media Group and People Daily were sexually harassed and assaulted by the bodyguard of the Cabinet Secretary, Ministry of Education, when covering the tour of a school. The incident was caught on tape, prompting outrage from the public and condemnation from the Media Council of Kenya (MCK). The incident came only a week after the MCK released a study finding that 73% of female journalists in Kenya are highly likely to experience sexual harassment during assignments.
Ex-governor claims politically motivated harassment over remarks
On 1st February 2021,former Nairobi Governor Mike Sonko was arrested and charged with assault and robbery concerning alleged offences committed in 2019. However, Sonko's lawyers and others stated that his arrest was politically motivated, and linked to statements he had recently made at a roadside rally about President Uhuru Kenyatta, and separate statements he had made linking Interior Principal Secretary Karanja Kibicho to the 2017 elections-related violence. He was arraigned at the Kiambu Law Courts where he denied all the charges. Sonko was impeached in November 2020 over gross misconduct, abuse of office and corruption.
Online expression facing severe restrictions
On 4th March 2021, controversial social media blogger Edgar Obare was arrested and charged with publishing false information under section 23 of the Computer Misuse and Cybercrime Act 2018. Additionally, he was accused of coaching a lady to extort 10 million Kenya shillings from a governor. The arrest followed an exposé which he had published on his Instagram account, about a young lady who was accusing a prominent governor of impregnating and then abandoning her. Obare, who runs a popular Instagram page specialising in local celebrity exposés, denied the charges and was released on Sh100,000 (USD 1,000) bail with an option of Sh300,000 (USD 3,000) bond.
Activist Mutemi Kiama in court over poster warning IMF against giving President Uhuru new loan. pic.twitter.com/UZi8pmAhLF

— Nation Africa (@NationAfrica) April 7, 2021
In a separate incident, on the evening of 6th April 2021, activist Edwin Kiama was arrested and detained by five police officers over a poster he published on his Twitter account criticising the president. In the poster, which had an image of President Kenyatta, Kiama urged the International Monetary Fund to stop issuing loans to Kenya. He was presented in court the following day, where the investigating officer informed the court that he was still investigating alleged breaches of the Computer Misuse and Cybercrimes Act, terming the case a matter of public interest because the accused had implicated the presidency by publishing the president's picture and circulating his identification number. Although Kiama was released on bail the following day, the court also directed that Kiama's social media accounts be blocked, barred him from speaking on matters relating to COVID-19 loans and directed that he appear before the investigating officer at the Department of Criminal Investigations every day until 18th April 2021. The bail terms were also set at Sh 500,000 (USD 4,575). Civil society criticised these conditions for being unfair and punitive as no formal charges had been levied against him.
Reacting to Kiama's arrest, Mugambi Kiai, Regional Director at ARTICLE 19 Eastern Africa said:
"State-sanctioned intimidation and harassment of activists who use online and offline tools and platforms to protest and express themselves, using creative and artistic tools, on social and political issues must become a knee-jerk reaction of the past. The State is attempting to water down the sanctity of the right to protest and the right to freedom of political expression, but their primacy in the Constitution cannot be shifted."
Kiama's arrest comes at a time when deeply aggrieved Kenyans have resorted to social media to denounce heavy borrowing of funds by the Kenyan government which has been characterised by massive embezzlement at the expense of taxpayers.
We will not tolerate the surge in targeted unlawful arrests of activists by the state.

We demand the release of 17 activists arrested in Kileleshwa on allegations that they were planning a peaceful protest.#COVID19 cannot be used as a licence for unlawful arrests.@IG_NPS pic.twitter.com/AFxRTGepXE

— KHRC (@thekhrc) April 7, 2021
A day after his arrest, on 7th April 2021, a total of seven human rights defenders were arrested in Nairobi for marching to demand Kiama's release.
Peaceful Assembly
On 10th November 2020, two people were shot dead in unclear circumstances, and many more injured, during a two-day long demonstration in Mai Mahiu town. The demonstrations were reportedly started by local sand harvesters who were protesting the doubling of sand harvesting fees by the owners of Kedong ranch, who own vast parcels of land from which the sand is harvested. Police launched investigations into the two deaths, as conflicting reports emerged. While some said that an armed motorist shot them dead as they tried to rob him when some youths embarked on a looting spree attacking motorists who had been stranded on the road, other protesters blamed the police and accused them of shooting the two.
4 Kenyan human rights defenders were this morning arrested outside Uganda House in Nairobi as they went to present a protest letter on the Uganda elections. #UGDecides2021

— Daniel Maithya 🇰🇪 🇺🇬 🇿🇦 (@DanielMaithyaKE) January 13, 2021
Separately, several protests were held in Kenya in solidarity with Ugandans as their general elections approached. On 13th January 2021, rights group HAKI Africa held a demonstration outside the Ugandan embassy in Nairobi to protest human rights violations in Uganda ahead of the elections. The head of HAKI Africa and three other activists were injured by police and arrested for protesting. Days later, following president Museveni's re-election as president in the controversial elections, on 22nd January 2021, protesters held a demonstration at Jeevanjee Gardens in Nairobi's city centre, demanding the resignation of President Museveni, claiming that the elections were neither free nor fair. The protest was dispersed by police, who confiscated placards, on the basis that officials were not notified of the demonstration, however this was later proven to be incorrect.
In other developments, on 4th March 2021, Taveta residents and members of Muslims for Human Rights (MUHURI) protested the lack of personal protective equipment for doctors and poor health services in the country. Authorities used teargas on the protestors and arrested seven people. The protest followed several strikes by medical practitioners in the area in protest at the lack of PPEs, delayed salaries and unremitted statutory deductions. According to the residents, the strikes by the medical staff were affecting delivery of healthcare services by the hospitals, the brunt of which was being borne by the residents and their families, hence their decision to protest peacefully.
On 26th March 2021, traders in Kisii town blocked roads and lit fires during a demonstration against the demolition of business stalls in the city centre. The traders decried the county's decision to demolish their stalls despite an earlier agreement to delay the planned demolitions. They also faulted authorities for being unreasonable by taking away their means of livelihood given the tough economic effects of COVID-19. Police officers dispersed the protest by firing tear gas.
Association
In November 2020, LGBTIQ+ activists reported a spike in cases of attacks on the community during the COVID-19 pandemic, with the Gay and Lesbian Coalition of Kenya (GALCK) reporting up to 10 attacks per month on members of the community. They added that while the government had raised an alarm over an upsurge on gender-based violence during the pandemic, no targeted assistance had been extended to LGBTIQ+ members.
Months later in early March 2021, similar concerns were raised relating to increased attacks faced by the LGBTIQ+ community in the Kakuma refugee camp. In February 2021 for instance, it was reported that three gay men needed hospital treatment for burns after attackers set their bedding alight as they slept. On 5th March 2021, members of the community in the camp requested resettlement to a safer area after a spate of targeted attacks. In the past few years, the LGBTIQ+ members in Kakuma have reported and even protested against targeted attacks, as previously documented.
Gilbert Kagarura, who fled persecution in Uganda said:
"We left our homes and came here to be safe, but even here we are hunted and attacked. We want to be moved to another area of camp… Violence against LGBT+ people in Kakuma camp has been happening for years. Homophobia is ingrained here. The other refugees and community members simply look for excuses to come after us and attack us."
In separate developments, on 8th November 2020, prominent Tanzanian opposition politician Godbless Lema was arrested in Kenya after fleeing to the country following the Tanzanian elections in late October 2020. Lema's lawyer feared he would face deportation from Kenya, even though he intended to seek asylum. Lema was releasedfrom detention on 10th November, and remains in Kenya.