Hong Kong protests met with excessive force as activists suppressed around Tiananmen anniversary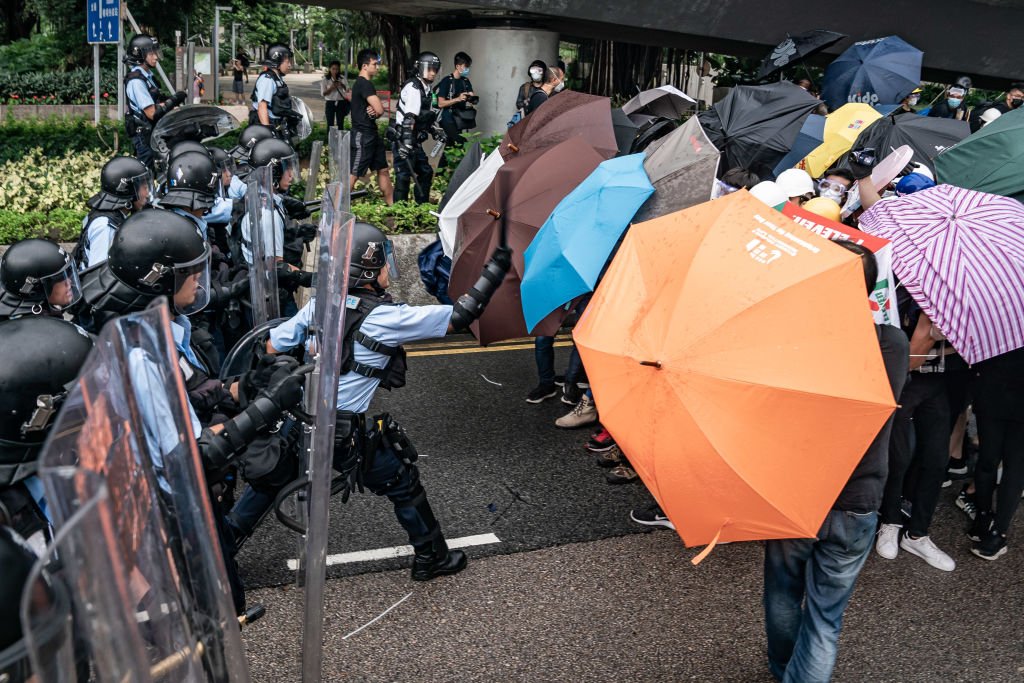 In March 2019, the UN Human Rights Council adopted the outcomes of the Universal Periodic Review of China. Out of the 346 recommendations received, China accepted 284 and noted 62. During the adoption CIVICUS and International Service for Human Rights criticised China for its rejection of all recommendations to grant access to Xinjiang province where there has been mass arbitrary detention, torture and ill-treatment, and increasingly pervasive controls on the daily life of the Uighur minority community.
On 3-4th July 2019, activists marked the 30th anniversary of the Tiananmen Square crackdown in 1989 when hundreds of unarmed peaceful pro-democracy protesters were killed in Beijing and tens of thousands of demonstrators in cities across China were arrested. Ahead of the anniversary more than 20 Chinese activists who took part in the pro-democracy movement called on the UN Human Rights Council to investigate the crackdown and the "the consistent pattern of human rights violations in persecuting Chinese citizens during the past three decades who broke the silence" about the events of 1989.
Since March 2019, activists in China have been arrested for their work and human rights lawyers banned from leaving the country while peaceful protesters have been detained by the authorities. Hong Kong has witnessed mass protests against an extradition bill which was met with excessive force by the police while surveillance was ramped up around the Tiananmen anniversary in July 2019.
Peaceful Assembly
Excessive use of force used against protesters in Hong Kong
Millions of people have taken to the streets of Hong Kong in the past one month to protest against a proposed extradition Bill. Amendments to the Fugitives Offenders Ordinance Bill would allow individuals, including foreigners, to be sent to mainland China to face trial in courts controlled by the Communist Party.
Many in Hong Kong see the extradition bill which erodes special freedoms afforded to them under the "One Country, Two Systems" model, which was created during Hong Kong's handover from British to Chinese rule in 1997. The city maintains distinct and independent rule of law to China as part of that framework.
On 9th June 2019, around a million people marched to the government headquarters to protest the bill. Despite this, authorities vowed to press ahead with the extradition bill.
Another protest was held on 12th June 2019 when tens of thousands of protesters assembled around the Legislative Council (LegCo) building and its nearby roads. Hong Kong police used beanbag rounds, rubber bullets, pepper spray, and batons on peaceful protesters. According to Human Rights Watch, at least 81 protesters were injured. Official figures claim that 22 police officers were injured in clashes.
Amnesty International published details of verified instances of unnecessary and excessive use of force by police. They included: the beating of subdued protesters by police officers; the firing of rubber bullets at a protester's head, risking serious injury; multiple rounds of tear gas fired against protesters trapped in a confined area with severely limited opportunities for escape and aggressive police tactics against journalists.
Man-kei Tam, Director of Amnesty International Hong Kong said:
"The evidence of the unlawful use of force by police against peaceful protesters on 12 June is irrefutable. The Hong Kong authorities should send a clear message that these failures in policing will not be tolerated. A thorough, independent and effective investigation needs to take place and any officers found responsible must face justice, at any level of the chain of command."
On 18th June 2019, Hong Kong Chief Executive Carrie Lam offered a personal apology on how she handled the extradition bill saga and stated that she will not restart the legislative process of the extradition bill "as long as the conflict in society is not resolved". However, protesters have made several demands including the complete withdrawal of the extradition bill and for Lam to step down
On 1st July 2019, hundreds of thousands marched peacefully on the streets as it marked the 22nd anniversary of its return to Chinese rule. However, several hundred activists occupied the Legislative Council building for hours. They ransacked desks and filing cabinets and tore down portraits. They raised a black banner, that read: "There is no way left,". Within minutes of protesters taking a collective decision to exit the building, police again fired tear gas and used baton charges to disperse the crowd.
On 7th July 2019, protesters marched through the streets of Kowloon towards West Kowloon train station. The train station links Hong Kong to mainland China's high-speed rail network. In a bid to attract attention from mainland tourists, demonstrators were heard chanting in Mandarin instead of Cantonese, the language used in Hong Kong. Banners were also written in simplified Chinese - the script used in mainland China - instead of traditional characters. Protest organisers say around 200,000 people took part in the march.
Nine convicted over 'umbrella movement' protests in Hong Kong
Hong Kong: Free jailed pro-democracy Umbrella Movement protest leaders | Amnesty International @amnesty https://t.co/f1E8i4bQna

— Patrick Kar-Wai Poon 潘嘉偉🎐 (@patrickpoon) April 24, 2019
As previously documented, nine leaders of the 2014 Hong Kong pro-democracy protests known as the Umbrella movement were facing trial for vague and ambiguous offences. The government accused the activists of obstructing public places and roads. It is the first time the Hong Kong government has used these charges against peaceful protesters.
On 9th April 2019, the nine activists were convicted of "public nuisance" related charges for using a loudspeaker to urge participants to join the protests. On 24th April 2019, four of the "Umbrella Nine" leaders were given jail terms ranging from eight to 16 months in prison at West Kowloon Magistrates' Courts. Legal scholar Professor Benny Tai Yiu-ting and sociologist Professor Chan Kin-man each received 16 months' imprisonment. Political party leader Raphael Wong and lawmaker Shiu Ka-chun were each sentenced to eight months' imprisonment. Retired pastor Rev. Chu Yiu-ming, student leader Eason Chung Yiu-wa and political party leader Lee Wing-tat were sentenced to suspended imprisonment while student leader Tommy Cheung Sau-yin to community service.
On 10th June 2019, Hong Kong lawmaker Tanya Chan was handed down an eight-month suspended prison sentence . Her eight-month prison term is to be suspended for two years. Her sentencing had been adjourned so she could undergo surgery for a life-threatening condition for which she is still receiving medical treatment.
Police in Guangzhou detain eight protesters at forced eviction
Eight land rights protesters were detained in the province of Guangdong after a clash between over a hundred police forces and over two hundred protesters. On 17th April 2019, hundreds of local residents gathered in protest against a planned forced eviction by a group of demolition workers dispatched to their region by local government officials in Tanwei. Their village had been identified as being "illegal structures".
Villagers suspect their land had been sold off by the officials for business interests. Radio Free Asia (RFA) reported that the Tanwei village committee and the Liwan district Chinese Communist Party and government refused to disclose specific details of the clash or any comments on the detention of the eight protesters.
Thousands protest in Wuhan against incinerator
Beijing has sent 1,000 riot police to quell street protests in the eastern city of Wuhan over plans to build a waste incineration plant https://t.co/SSCdJRCqfx

— The Times (@thetimes) July 5, 2019
On 4th July 2019, authorities in the city of Wuhan detained around 20 people in a crackdown on a mass protest at plans to build a new waste incineration plant. According to RFA, an estimated 10,000 residents from apartments near the Yangluo industrial development area in Wuhan's Xinzhou district gathered to protest against the incinerator.
The local government deployed around 1,000 riot police to disperse the crowd, with large numbers of injuries reported. The authorities also blocked mobile network coverage, resulting in a loss of phone signal. Many of the arrests were targeted at social media users after they posted or forwarded information about the protests via the WeChat platform.
Local residents, numbering around 400,000, said they first learned of the renewed incinerator plan in mid-June 2019, and immediately organised a petition against it. The government responded by having around 20 of the petitioners detained. However, after the protest, the authorities reportedly promised the project would not begin without residents' approval.
Expression
Suppression around Tiananmen crackdown anniversary
Why does China consider these people dangerous revolutionaries who need to be monitored by government surveillance? Because they are family members of democracy activists whom the Chinese army killed thirty years ago during the Tiananmen Square protests. https://t.co/8ufG7j5yJ1 pic.twitter.com/syCJfjOdEK

— Kenneth Roth (@KenRoth) May 22, 2019
According to Amnesty International, in the weeks leading up to the 30th anniversary of the Tiananmen crackdown, police detained, placed under house arrest or threatened dozens of activists as well as the relatives of those killed.
In April 2019, activist Chen Bing was sentenced to three and a half years in jail after he and three other activists – Fu Hailu, Luo Fuyu and Zhang Junyong – were found guilty of "picking quarrels and provoking trouble" for using labels on liquor bottles to encourage people to remember the 1989 military crackdown in Tiananmen

Sichuan activist Deng Chuanbin was placed under criminal detention on suspicion of "picking quarrels and provoking trouble" on 18th May 2019. His detention is believed to relate to a tweet he posted commemorating the Tiananmen protests.

On 20th May 2019, police ordered 82-year old Ding Zilin, whose then-17-year-old son Jiang Jielian was killed by troops during the crackdown, to leave her home in Beijing and travel more than 1,100km to her hometown Wuxi, Jiangsu Province. Ding Zilin is the founder of the Tiananmen Mothers, a group of families of victims who are seeking an investigation into the crackdown. Other in the groups have also been placed under police surveillance.
According to Amnesty International "any references to the Tiananmen crackdown continue to be systematically censored in China. Anyone who seeks to commemorate the victims does so at great personal risk and is likely to be harassed or detained".
Despite this, in Hong Kong thousands took to the streets to commemorate the anniversary of Beijing's bloody crackdown on democracy protesters in Tiananmen Square. The Hong Kong Alliance in Support of Patriotic Democratic Movements of China has organised the Hong Kong march every year since 1990 and the candlelight vigil for the Tiananmen victims in Victoria Park.
China responds to UPR review session in Geneva with threats
According to Human Rights Watch, China used a combination of pressure and warnings to stifle criticism of its poor human rights record throughout the UN Human Rights Council session that concluded on 22nd March 2019, in Geneva.
Delegates attending the session identified a number of concerns about China's efforts to mute criticism and to present a distorted account of its rights record, These actions included pressuring UN officials to remove the UN country team and certain NGO submissions from UPR materials; urging delegations to sign up for the UPR to praise China's rights record; approaching delegations that criticised China's rights record to warn of negative consequences to their bilateral relationship and flooding speaker lists with government-organised non-governmental organizations (GONGOs) to uncritically endorse China's rights record, while not allowing any opportunity for independent groups from China to participate in any government consultation or make submissions without fear of reprisals.
App used to conduct mass surveillance
How did @hrw find and reverse engineer a policing app at the heart of mass surveillance in Xinjiang, China? @wang_maya discusses the process with @nazishd: https://t.co/zmyMzNyNgB pic.twitter.com/LSnL5xxekS

— Human Rights Watch (@hrw) May 18, 2019
In May 2019, Human Rights Watch (HRW) said it has reverse-engineered a Chinese government surveillance app and revealed how authorities use mass surveillance data to track the behaviour and patterns of residents in Xinjiang province. HRW revealed in their report, "China's Algorithms of Repression: Reverse Engineering a Xinjiang Police Mass Surveillance App" how that the app has been used by Chinese police and other government officials to identify and track anyone believed to be a potential threat to what it considered the stability of the largely Muslim province.
The app allows authorities to connect to the country and region's infamous social credit surveillance system, otherwise known as the Integrated Joint Operations Platform (IJOP). The system collates mass amounts of data through CCTV, bank records, computer details, citizen movements, legal past, and phone records. Among the features revealed in the app used was a list of 36 different behaviours considered problematic that police could filter through the IJOP for.
These included — among many other things — people who had returned from abroad, were recently released from detention, shared or engaged in Islamic activities, stopped using smartphones, failed to "socialise with neighbours", or even used too much electricity — anything considered abnormal behaviour.
The authorities have justified the creation of mass surveillance programmes in Xinjiang as a means to fight terrorism. As previously documented, the province has also seen mass arbitrary detention, torture, and mistreatment, and increasingly pervasive controls on the daily life of Uighurs in Xinjiang. The population of 13 million people are currently being subjected to forced political indoctrination, collective punishment, restrictions on movement and communications, heightened religious restrictions, and mass surveillance in violation of international human rights law.
Association
Human rights lawyers banned from leaving country
China Slaps Travel Ban on Another Human Rights Lawyer https://t.co/jQ47OJzouo pic.twitter.com/PHf1CtyF4U

— TheEazyCadet (@CadetLazy) April 25, 2019
Chinese authorities prevented prominent human rights lawyer, Cheng Hai from leaving the country. On 25th April 2019, Cheng Hai was stopped by security guards at the Hefei Xinqiao International Airport in the eastern province of Anhui, as he tried boarding a plane for Taiwan.
According to a security official, Cheng Hai "may endanger national security" after leaving the country. The official said that the authorities were enforcing restrictions in accordance with the provisions of Article 12, Clause 5 of the Exit and Entry Administration Law. Cheng Hai said he planned to lodge a formal complaint.
Cheng Hai has previously represented followers of the banned Falun Gong spiritual movement and also acted as defence attorney to lawyer Wang Quanzhang. In February 2018, Cheng's law firm was shut down by Beijing's judicial department. Cheng lost his license to practice in August 2018. His ban comes amid an ongoing crackdown on hundreds of human rights lawyers and their families launched in July 2015.
Previously, on 1st April 2019, a well-known human rights lawyer, Chen Jiangang was stopped at the Beijing Airport and blocked from leaving China to study in the US . The reason cited for this was that he would "endanger the national security" of China based on the provisions of Article 12, Clause 5 of the Exit and Entry Administration Law. Chen was denied a request for a written document outlining the reasons for the ban. However, the police verbally told him that the ban was due to his work, representing another rights lawyer, Xie Yang.
Xie was detained during the nationwide crackdown on Chinese human rights activists and lawyer in 2015 and tortured in police custody. Chen took the lead in issuing a statement on the abuses against her and the police told him that he was on the blacklist because of it.
Nine jailed in Tibet for organising against land grabbing
In April 2019, a court in Qinghai province sentenced nine Tibetan villagers to long prison terms for "gathering people to disturb social order," and creating and running an "illegal" organisation. The villagers had organised to urge authorities to return community land taken by authorities but then left unused since 2011. According to the Tibetan Centre for Human Rights and Democracy (TCHRD), the nine, all residents of Horgyal village in Qinghai's Rebgong county, were handed prison terms of from three to seven years. Detained in July 2018, the nine men were formally arrested in August 2018. TCHRD stated that the sentence and imprisonment was intended to silence the nine and to suppress the campaign ran by the villagers to reclaim their territory, which was forcefully taken by the local authorities and the ruling Chinese Communist Party.
Chinese development projects in Tibetan areas have led to frequent standoffs with Tibetans who accuse Chinese firms and local officials of improperly seizing land and disrupting the lives of local people. These frequently result in violent suppression, the detention of protest organisers, and intense pressure on the local population to comply.
Dissidents and petitioners under surveillance ahead of Belt and Road forum
A few weeks ahead of the Belt and Road Forum held in Beijing on 23rd April 2019, it was reported that numerous high-profile critics were put under increased surveillance and were under police watch. Most of those who claimed that they were being watched by the police were former pro-democracy movement activists who were also denied from travelling near Beijing where the forum was being held.
Qi Zhiyong, a former student movement organiser was under close surveillance from 22nd April 2019 and stated he was not the only one who had been targeted. Another Beijing-based activist, Li Wei, who was imprisoned for two years for '"gathering people to disrupt public order", posted on Twitter that he had also been under police surveillance since 22nd April 2019 and he expects to be monitored until the end of April.
Human rights defenders detained after UN rights review
Several human rights defenders working on socio-economic rights issues were detained just days after the close of China's 3rd Universal Periodic Review (UPR) at the Human Rights Council in Geneva on 15th March 2019..
According to the organisation, Chinese Human Rights Defenders, Chen Jianfang was disappeared from her home on 19th March 2019 after she penned a tribute to her former colleague Cao Shunli to mark the fifth anniversary of her death in custody. Her current whereabouts are unknown. Chen, a human rights defender was stopped in September 2013, from boarding a flight to attend a human rights training and observe a Human Rights Council session in Geneva—on the same day when Cao Shunli was abducted by police while heading to the same event.
In a separate case, three editors - Wei Zhili , Ke Chengbing Yang Zhengjun - from an online labour rights magazine New Generation are believed to have been detained by the police in March 2019 but their whereabouts are currently unknown. The detentions may be related to the publication's reporting on migrant workers demanding compensation after being sickened with the occupational disease pneumoconiosis.