EU signs trade deal with Vietnam despite ongoing suppression of civic freedoms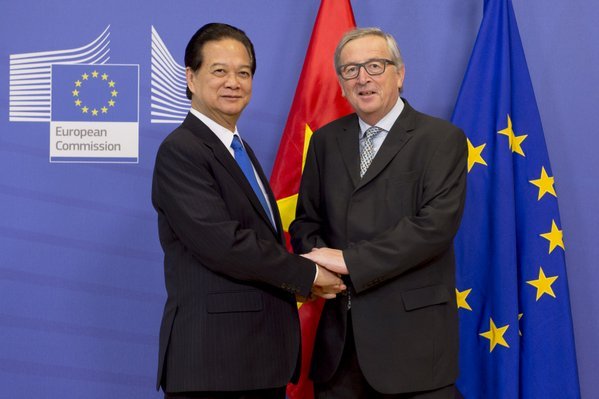 Despite criticism from civil society, on 30th June 2019, the European Union (EU) and Vietnam signed a free trade deal that will reduce duties on almost all goods. It also includes rules around labour rights and environmental protections. Human rights groups had urged the EU to postpone the ratification of the EU-Vietnam Free Trade Agreement until the Vietnamese government shows "concrete improvements in its deteriorating human rights record". In September 2018, 32 members of the European Parliament signed a public letter raising serious concerns about Vietnam's ongoing crackdown on human rights and calling on the country to improve its human rights record ahead of any vote on the deal.
Previously, in May 2019, Amnesty International released a report stating it had identified 128 prisoners of conscience in Vietnam. According to the organisation, many of them were arbitrarily detained, prosecuted in unfair trial on national security and other vaguely-worded charges, and handed lengthy prison sentences. Some have been transferred to prisons far from their families as a punitive measure and were tortured and otherwise ill-treated in prison. For prolonged periods, human rights defenders and activists have been denied access to legal counsel and their family members have not been informed of their whereabouts.
In July 2019, the UN Human Rights Council adopted Vietnam's Universal Periodic Review (UPR) of its human rights record. While it accepted 241 recommendations on a range of human rights issues including to extend cooperation with UN Special Procedures it rejected recommendations to release political prisoners. During the adoption session, civil society groups VOICE and CIVICUS raised concerns about the continued prosecution of activists, crackdown on peaceful assembly and restrictive legal framework used to suppress the formation of independent CSOs.
In the last few months, civil society has documented arrests and prosecution of individuals for their peaceful expression in Vietnam, the disappearance of activists and long sentences handed down to protesters.
Association
Environmentalist abducted and interrogated for her activism
#Vietnam: Environmentalist Cao Vinh Thinh was kidnapped by plain clothed security officer when she was on her way to her shop. She was detained and questioned about the documentary film "DON'T BE AFRAID" focusing on #Formosa disaster. pic.twitter.com/RuRmEz4SmI

— Anh Chí (@AnhChiVN) March 27, 2019
In March 2019, Vietnam's security forces abducted and detained a female environmentalist and interrogated her for a day about her activism. According to Defend the Defenders, Cao Vinh Thinh, a key member of the independent group Green Trees, was detained by undercover police officers in the morning of 27th March 2019 when she was on her way to her shop named Zero Waste Hanoi, which sells environment-friendly products in the capital city of Hanoi.
The security forces confiscated her laptop and cell phone and took her to an office of the Security Investigation Agency of the Ministry of Public Security where she was questioned by officers about her activities and that of her environmental group Green Trees. She was also questioned about a Green Trees documentary entitled "Don't be afraid" which is about the April 2016 toxic spill by Formosa Plastics Group, a Taiwanese steel corporation (previously documented by the CIVICUS Monitor) and the civil society movement in Vietnam. Police also used IT specialists to try to get access to her equipment because she refused to give them the passwords for her laptop and cell phone. Thinh was released that night but the authorities kept her equipment.
Thinh is one of the most active members of Green Trees which was established by activists in 2015 to protest plans to chop down thousands of aged trees in the capital city's main streets. The group was also involved in a campaign documented by the CIVICUS Monitor, which saw mass protests around the 2016 toxic spill against Formosa.
Concerns raised about arrest and disappearance of blogger Truong Duy Nhat 
We think that the Thai authorities should investigate the Thai police's role in Viet Nam's abduction of journalist Truong Duy Nhat: https://t.co/kxXGs5VD3o #humanrights

— Amnesty Den Haag (@AmnestyDenHaag) July 11, 2019
In April 2019, the UN sent a communication to Vietnam raising concerns about the alleged arbitrary arrest, enforced disappearance and subsequent repatriation of Truong Duy Nhat from Thailand to Vietnam.
Truong Duy Nhat is a Vietnamese blogger and journalist, regularly commenting on social and political issues, including human rights issues. On 16th January 2019, Vietnamese police allegedly initiated surveillance of Nhat and his home following rumours that he was preparing to publish information concerning officials of the Vietnamese communist party. As a result, Nhat went into hiding.
He entered Thailand on 19th January 2019 and submitted an application for refugee status. On 26th February 2019, police arrested Nhat in a mall in Bangkok. His fate and whereabouts were unknown from then until sometime between 15th and 20th March 2019, when Vietnamese police provided persons associated with Nhat with a document stating he was in state custody in Hanoi Detention Centre T16. He was reportedly charged on suspicion of violation of article 355 of the Penal Code, which concerns "abuse of power or position for appropriation of property" and carries a possible maximum sentencing of life imprisonment.
Those who signed off on the UN communication include the Working Group on Arbitrary Detention; Working Group on Enforced or Involuntary Disappearances; Special Rapporteur on the promotion and protection of the right to freedom of opinion and expression; Special Rapporteur on the situation of human rights defenders; Special Rapporteur on the human rights of migrants and Special Rapporteur on torture and other cruel, inhuman or degrading treatment or punishment.
Nicholas Bequelin, Amnesty International's regional director for East and Southeast Asia said:
"Nhat's abduction appears to be part of a deeply worrying trend in the region regarding the forced and often unlawful return of refugees and asylum seekers. A number of countries in the region are trading off political dissidents and individuals fleeing persecution as part of an unholy alliance to shore up each other's regimes."
Peaceful Assembly
Three activists jailed for supporting protests
Vietnamese-American Michael Nguyen was sentenced to 12 years in Vietnamese prison for "attempting to overthrow the state", a lawyer and state media said, as the one-party country squeezes dissenthttps://t.co/U3iVNxjrFo

— AFP news agency (@AFP) June 24, 2019
In June 2019, three individuals were sentenced after a half-day trial for activities "aimed at overthrowing the state". Vietnamese-American Michael Nguyen was sentenced to 12 years jail, while two other activists Tran Long Phi and Huynh Duc Thanh Binh, were jailed for eight years and ten years respectively for the same charge.
According to reports, government authorities had accused the three of plotting with a previously unknown group to help incite protests that erupted across Vietnam in June 2018 in opposition to two controversial bills, one regarding special economic zones (SEZ) and the other concerning cybersecurity. Prosecutors also charged the three with preparing political leaflets, gasoline bombs, and slingshots to use in attacking police forces during the protests.
Nguyen, who had been held without access to lawyers after disappearing in July 2018 while visiting friends and relatives in Vietnam, will be deported after his sentence has been served.
Protesters handed down long prison sentences
A court in Binh Thuan province has sentenced Pham Thanh (31, left) and Dang Ngoc Tan (19) to 11 and 17 yrs in #prison for destroying public assets. The two took part in the #unrest against special economic zones in June 2018. They're accused of burning down police cars #Vietnam pic.twitter.com/yHagFjlSNm

— Nga Pham (@ngaphambbc) May 22, 2019
According to The 88 Project, on 21st May 2019, Dang Ngoc Tan and Pham Thanh, two protesters who had participated in mass demonstrations against the bills on Special Economic Zones and Cybersecurity in June 2018 were sentenced to 17 years and 11 years in prison, respectively, for "deliberate destruction of public property," under Clause 4, Article 178 of the 2015 Criminal Code. In addition, Tan and Thanh also had to pay a compensation of 3.6 billion VND (USD 154,210) and more than 1 billion VND (USD 42,836), respectively for damages.
For their involvement in the protests, the two had already been tried before under a different charge in September 2018 for "disturbing public order," under Article 318 of the 2015 Criminal Code. Pham Thanh was sentenced to four years and six months in prison while Dang Ngoc Tan to four years.
The 88 Project stated that violence at protests in Vietnam are often incited by officials in plainclothes who mingle with the crowd. This then is used to justify the use of excessive force to disperse the crowd, such as tear gas, water cannons, physical assaults and arrests as well as the harsh punishment. This method is part of what the Public Security calls Project A2 – Disperse Protests and Repress Riots.
Expression
Environmental activist and blogger sentenced to six years in prison 
#Vietnam: Court sentences Facebook user Nguyen Ngoc Anh to six years in prison over "anti-state" online posts https://t.co/mnZsIgAkQ1

— AG (@ag_fidh) June 6, 2019
On 6th June 2019 an environmental activist and blogger was sentenced to six years in prison under Article 117 of Vietnam's 2015 Criminal Code for his Facebook posts and live broadcasts critical of the state. Nguyen Ngoc Anh, a 39-year old shrimp farmer from the southern town of Binh Dai, was arrested and tried for "making, storing, spreading and declaring transmitted information and documents to combat the State of the Socialist Republic of Vietnam". He was arrested on 30th August 2018.
According to Human Rights Watch (HRW), Nguyen took part in environmental protests against Formosa (see above). Phil Robertson, deputy Asia director at Human Rights Watch said:
"The Vietnam government's ongoing crackdown on critical voices now has Nguyen Ngoc Anh in its sight, subjecting him to a show trial and years of imprisonment to frighten others who might dare to question the government. "
Activist arrested for online comments 
June 29, Public Security of Thanh Hoa Province arrested Pham Van Diep, a 54 yrs-old Vietnamese Russian, under Art 117 (propagating against socialist Republic of #Vietnam) for his online postings & opposition of a mega-construction project in Sam Son. More: https://t.co/mkQZocvcD5 pic.twitter.com/OD0VZtLjqv

— The 88 Project (@The88Project) July 2, 2019
The 88 Project reported that on 29th June 2019, authorities in Thanh Hoa Province arrested Pham Van Diep, for "producing, storing, disseminating and propagating information, documents against the Socialist Republic of Vietnam" under Article 117 of Vietnam's 2015 Criminal Code. Diep was arrested at his home and will be detained for four months for further investigation.
According to state-owned newspapers, Diep studied in Russia before being involved in "anti-state activities" and that he had shared his political views on Facebook and participated in protests against the 2016 Formosa toxic spill and against the draft bills on Cybersecurity and Special Economic Zones in 2018. 
Government increased pressure on Google's YouTube advertisers
In June 2019, it was reported that Vietnam has asked companies not to advertise on videos hosted by Google's YouTube that contain "anti-state propaganda". The ministry listed several foreign companies, including Samsung Electronics, Huawei Technologies, Yamaha Motors and ride-sharing app Grab, which were found to have advertised on videos containing "illegal and malicious content".
According to the report, Vietnam's information ministry has identified about 55,000 YouTube videos it deemed "harmful", or in violation of Vietnamese law. Of these, 8,000 were deleted at the request of Vietnamese authorities.
As previously documented, a controversial law on cybersecurity took effect in January 2019 that requires companies to set up offices in Vietnam and store data there. Global technology firms and rights groups have pushed back against the law, and some company officials have privately expressed concern it could allow authorities to more easily seize customer data and expose Vietnamese employees to arrest.