Espionage Act charges against Assange jeopardise press freedom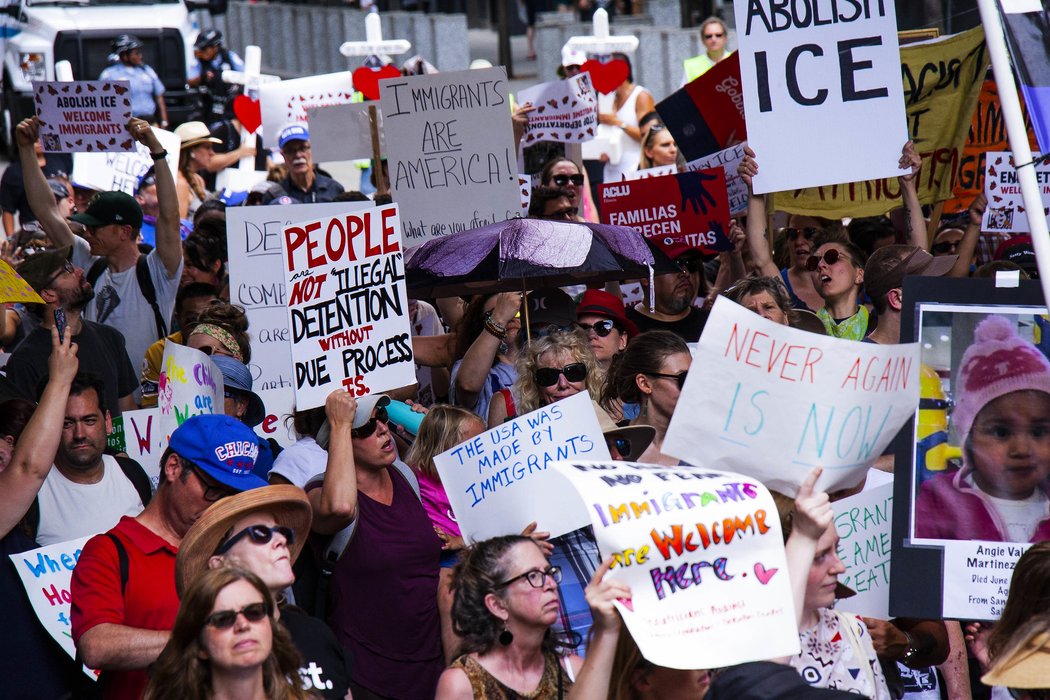 In the period covered by this update, from 20th May to the 8th July 2019, there have been coordinated rallies and demonstrations across the US on issues ranging from migration, women's rights, public housing and climate change. In many cases, demonstrations resulted in the arrest of some participants. There have also been a number of developments related to freedom of association and expression - in particular, indictments in the Julian Assange WikiLeaks case which have drawn concerns over the state of press freedom in the country.
Peaceful Assembly
Outrage over migrant detention centres led to mobilisation in 200 cities
Calling attention to inhumane conditions at Immigration and Customs Enforcement (ICE) detention centres, groups organised demonstrations in nearly 200 cities on or around the 4th July. In many cities, people protested outside of their local congressional district offices demanding that government #closethecamps and reunite families that have been separated by the Trump administration's zero tolerance policy. An estimated 4,000 people participated in a rally in Minneapolis, holding signs with messages like, "Where are the Children?" and "#AbolishICE." In Boston, nearly 1,000 people marched from the New England Holocaust Memorial to an ICE detention center. According to the Never Again Action group, who organised this march in Boston, at least 18 people were arrested. Around 200 demonstrators gathered in Oklahoma, criticising the Trump administration's plans to house migrant children at an Oklahoma Army base. Among the protestors were several Japanese Americans who were detained by the U.S. government during World War II. "We are here to say, 'Stop repeating history,'" Satsuki Ina, a 75-year-old internment survivor, told the crowd.
Strict state laws on abortion sparks coordinated protests
You're showing up, you're speaking out, and you're standing strong. This is personal—tell us your story about why this fight is your fight: https://t.co/olF5B24H7a pic.twitter.com/PnAdqBwzAU

— Planned Parenthood (@ppmn) May 26, 2019
In a different development, thousands of people participated in coordinated rallies across the country to protest against state bills that restrict abortion and criminalise healthcare. Organised by groups like the American Civil Liberties Union (ACLU), National Abortion and Reproductive Rights Action League, Women's March, and Planned Parenthood, the #StopTheBans demonstrations were held in all 50 states and in Puerto Rico. In Georgia, for example, people carried signs that read "Stop the bans" and "Don't take away our care". None of the anti-abortion bills approved by state legislatures in Missouri, Alabama, Georgia, Kentucky, Mississippi and Ohio have taken effect, and they are expected to be challenged in court.
Housing activists arrested in NY
On 4th June 2019, at least 61 people were arrested in Albany for allegedly blocking access to the New York state Senate and Assembly chambers while protesting for tenants' rights. Wearing red "Housing Justice For All" T-shirts, the people arrested had been demanding that state legislators pass universal rent control legislation before the city's rent control and rent stabilisation rules expire at the end of the month. New York City Public Advocate Jumaane D. Williams was among those arrested. Most demonstrators detained were charged with disorderly conduct, but two people also face third-degree assault charges for allegedly hitting the Assembly's sergeant-at-arms.
Demonstrations end in violent confrontation and arrests
On 29th June, a white nationalist demonstration in Portland turned violent before police evacuated the area. At least three people were arrested and several more were injured when verbal sparring between a far-right group and anti-fascist activists turned violent in Pioneer Courthouse Square. Similar incidents have occurred in cities where far-right groups have held events.
A few days later, on 4th July 2019, two people were arrested in front of the White House after an American flag was set on fire and demonstrators from the Revolutionary Communist Party clashed with a pro-Trump group. There were also reports of violence between anti-Trump protestors and members of the white nationalist group Proud Boys throughout the city. The Secret Service later issued a statement saying two people were charged in the flag-burning incident, one for felony assault on a police officer and malicious burning, and one for obstructing a police investigation and resisting arrest. One of the individuals was taken to a hospital for minor injuries.
Climate emergency demonstrators arrested for disorderly conduct
On 22nd June 2019, 70 people were arrested outside of The New York Times building in New York City during a protest calling news outlets to change their coverage of the climate crisis. Organised by Extinction Rebellion, a climate activist group, the protest briefly blocked traffic and led to demonstrators climbing on the awning of the New York Times building and other nearby buildings to hang protest banners and signs. Their messages read "#EarthtoMedia" and demanded the replacement of "climate change" with the phrase "climate emergency" in news reporting. According to the police, most demonstrators arrested were charged with disorderly conduct.
On June 22 Extinction Rebellion blocked traffic in front of the @nytimes building to demand the media report the climate crisis like the emergency it is. #ClimateCrisis #TellTheTruth pic.twitter.com/Cb38ILEOab

— Extinction Rebellion NYC 🌎 (@XR_NYC) July 9, 2019
Association
New State Department rules require U.S. visa applicants to submit social media information for review. Almost all visa applicants will now have to disclose usernames, emails and phone numbers they have used in the past five years. Proposed by the Trump administration last year, this rule gives authorities access to applicants' photos, locations, and other personal data shared on social media platforms. The American Civil Liberties Union (ACLU) warns that the policy infringes "on the rights of immigrants and U.S. citizens by chilling freedom of speech and association, particularly because people will now have to wonder if what they say online will be misconstrued or misunderstood by a government official." Authorities estimate that 15 million people could be affected by this new rule annually.
In a 3-1 decision on 3rd July, the National Labor Relations Board changed guidelines to protect employers who want to withdraw recognition of workplace unions. The new rules modify conditions under which employers can stop bargaining with a union before the expiration of a collective bargaining agreement, when they have determined that a majority of workers no longer wish to be represented by that union. In these cases, employers make an "anticipatory withdrawal" and announce that they will end their relationship with the union. Under the new rules, employers enjoy stronger protection against charges of unfair labour practices when making such withdrawals. It has been seen as the latest action by the Trump administration to undermine unions.
Expression
Supreme Court ruling concerns free press advocates
On 24th June 2019, the Supreme Court ruled to restrict reporters' access to government documents by broadening the definition of "confidential" materials that are exempt from Freedom of Information Act (FOIA) requests. The change in definition, which now includes all information "intended to be secret" regardless of whether its release would cause "harm" or not, creates additional barriers that undermine government transparency and accountability, according to free press advocates. "This is a massive blow to the public's right to know how its tax dollars are being spent, and who is benefiting," says the news director for the Argus Leader, a South Dakota newspaper and plaintiff in the original case (Food Marketing Institute v. Argus Leader Media). The previous definition of "confidential" documents was limited to documents that would cause "substantial harm" if publicised and had been in effect since 1974.
Espionage charges in Assange case viewed as threat to press freedom
On 23rd May 2019, the Justice Department indicted WikiLeaks founder Julian Assange on 17 counts under the Espionage Act, for obtaining and publishing classified government documents on his website in 2010. Legal experts and free press advocates say the decision by the Trump administration to use this particular law, which does not make a distinction between journalists and non-journalists, against Assange could be unconstitutional. "[N]o matter what we think of the individual defendant, once the government sets a precedent that merely publishing or even receiving this kind of information … can subjected to prosecution, it's hard to see why the same theory couldn't encompass and therefore chill some of the most important journalism we see," said Stephen Vladeck, law professor at the University of Texas. The case involves Assange's role in the leak of classified State Department and military documents by former U.S. army intelligence analyst Chelsea Manning.
In light of the indictment, Salil Tripathi, chair of PEN International's Writers in Prison Committee, urged British authorities to deter from extraditing Assange and commented:
"The new charges brought by the US Department of Justice against Assange represent a real threat to investigative journalism and mark a major escalation of the Trump administration's attempts to deflect media scrutiny. Invoking the Espionage Act for practices that include receiving and publishing classified information sends a dangerous signal to journalists and publishers. Merely because a government decides that a specific document is secret or confidential does not make it so, and on many occasions the public's right to know overrides the state's desire to keep matters secret, such as evidence of human rights violations or corruption. This latest move effectively seeks to criminalize investigative journalism."
Multiple incidents affecting journalists covering political rallies and demonstrations
On 18th June 2019, a reporter with the Orlando Sentinel was attacked by a man attending a Trump rally in Orlando. Video of the incident shows a man, later identified as Daniel Kestner, making threatening statements toward journalist Michael Williams and smacking his hand, attempting to knock his cell phone out of his hand. Kestner was arrested and charged with battery for "willingly striking" Williams. Several reporters have been attacked and threatened while covering Trump's political rallies.
On 29th May 2019, members of the Kansas state capital security staff, under the direction of the Senate's president, arrested protestors in the state Senate chambers and threatened journalists attempting to cover the arrests. According to press reports, about nine people calling for Medicaid expansion were arrested for protesting in the chambers. Before the protesters were detained, reporters were then ordered to leave under threat of losing access to future Senate proceedings. According to a Topeka Capital Journal reporter, a Senate president staff member said journalists were giving the protesters "an audience."
On 12th June, at least two journalists were assaulted while covering a protest over a fatal shooting in Memphis. TV reporter Luke Jones said online that he had a contusion and was taken to the hospital after he was struck in the head by an unknown assailant. TV cameraman Patrick Niedzwiedz was also reportedly struck by a person in the crowd. Video of the incident shows a group of people pushing around him and one person attempting to grab the microphone from another reporter's hand. Niedzwiedz was not injured in the incident. The protests erupted after U.S. Marshals shot and killed Brandon Webber, a 20-year old Memphis native.
Dismissal of SLAPP against environmental activist in Colorado
ICYMI: Paonia environmental activist @PKolbenschlag, who helped persuade state lawmakers to pass an anti-SLAPP law during this year's #coleg session, won a Colorado Court of Appeals victory against the oil and gas company that sued him for libel https://t.co/4emUoCLthh #SLAPP pic.twitter.com/Sa5FAfu008

— Colorado Freedom of Information Coalition (@CoFOIC) June 28, 2019
A libel suit brought against an environmental activist by a Texas energy firm was dismissed by a Colorado state appeals court that found the lawsuit sought to stifle the activist's freedom of speech. Pete Kolbenschlag was sued after posting comments about the oil and gas company on a news outlet's website in 2016. The appeals court upheld a lower court's ruling that had said his online comments were "substantially true" and ordered the energy company to pay his legal fees. "Commencing and maintaining a lawsuit as a form of retaliation or to silence a critic is a clear example of vexatious litigation", the judge in the case wrote. Colorado is one of nearly 30 states that have passed measures to curb strategic lawsuits against public participation (SLAPP) to protect journalists and activists from retaliatory lawsuits.
Campus free speech legislation adopted in Alabama
In line with President Trump's executive order on free speech on college campuses, legislators in Alabama passed a so-called free speech bill (HB498) on 30th May 2019. While lacking specific details about the sanctions and enforcement, the bill prohibits public universities from establishing "free speech zones" - a provision that critics of this practice argue overly limit the spaces where free speech can take place on campus. The legislation also states that the attorney general and those whose rights were allegedly violated could pursue legal action against higher education institutions for violations. "HB498 will go a long way to reestablishing fairness and encouraging a diversity of views on campus," Representative Matt Fridy, the bill's sponsor posted online. Several states have introduced or passed similar legislation.
Other incidents related to freedom of expression
San Francisco Police Chief Bill Scott issued a public apology for the raids on journalist Bryan Carmody's home and office in early May. The searches occurred as part of an ongoing investigation into who leaked a police report on the death of San Francisco Public Defender Jeff Adachi. Police Chief Scott said that the warrant applications for the raid did not adequately identify Carmody as a journalist and that the officers who carried out the warrant violated department policy. The warrant gave police access to Carmody's phone records, data and messaging use, and allowed round-the-clock location tracking of his phone – in a bid to identify the journalist's source. Carmody's lawyer said the warrant, by allowing a search of the journalists' phone records, "clearly violated the First Amendment and the California Shield Law," which protects journalists from revealing the identities of confidential sources. Police officers forcibly entered Carmody's home with a sledgehammer and detained the reporter for seven hours.
A Navy prosecutor suspected of spying on defense lawyers and a reporter as part of an effort to uncover leaks in a war crimes case was removed from the case on 3rd June 2019. According to media reports, Navy prosecutor Cmdr. Christopher Czaplak sent an email embedded with a secret digital tracking code to 13 members of the defendant's legal defense team and to the editor of the Navy Times. The tracking device came at a time when the Navy is investigating media leaks surrounding the high-profile court-martial of a Navy SEAL accused of war crimes. The defense attorneys say the digital intrusion may have violated constitutional protections against illegal searches and freedom of the press. Gabe Rottman, director of the Technology and Press Freedom Project at the Reporters Committee for Freedom of the Press, commented to the U.S. Press Freedom Tracker that this is "one of several incidents in recent weeks that raise great concerns about press freedom."