Escalation of attacks against independent media and civil society organisations in Venezuela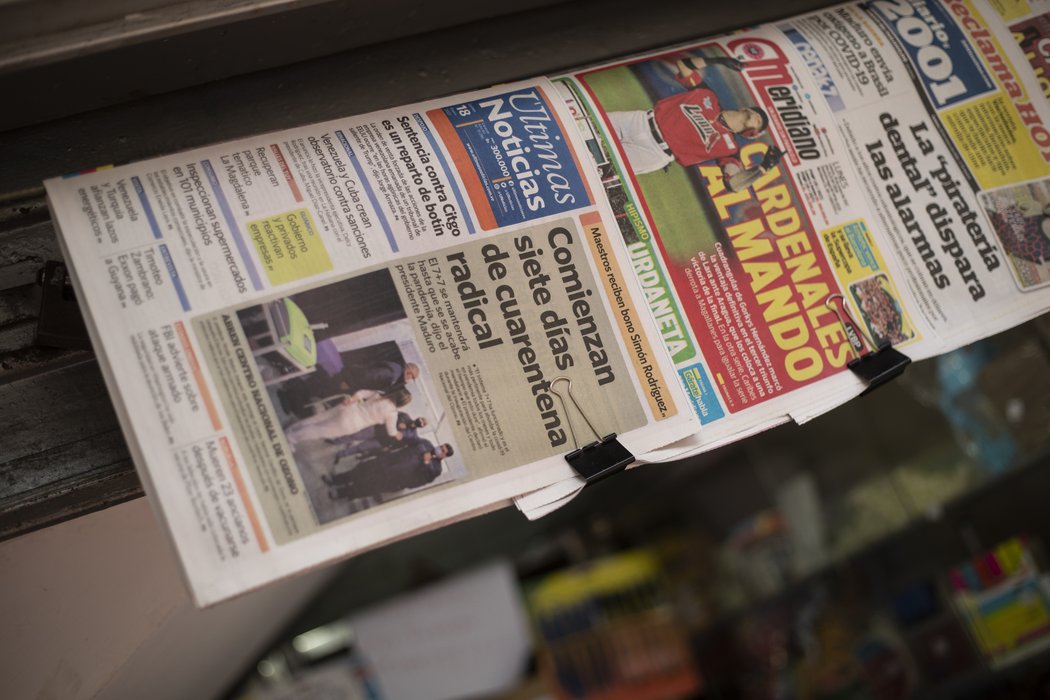 Expression
VENEZUELA | Nueva ola de incursiones y cierres de medios

👉"La censura estatal del gobierno de Maduro a la prensa crítica tiene consecuencias dramáticas para los venezolanos, que veb cada vez más limitado el acceso a información plural y contrastada"https://t.co/1Li5X395un

— RSF España (@RSF_ES) January 14, 2021
In January 2021, international human rights and press organisations alerted to a crackdown on the press in Venezuela. Human Rights Watch, Amnesty International, WOLA and other organisations published a joint statement saying media outlet Efecto Cocuyo, community radio channel Fe y Alegría, as well as the National Press Workers Union, VPI TV and Panorama, among other media outlets, have been the target of stigmatisation campaigns and legal scrutiny by authorities that respond to Nicolás Maduro. Since 6th January 2021 pro-government media and public authorities have accused these and other independent press outlets of receiving foreign funding to interfere in the country.
On 8th January 2021, VPI TV's press office in Caracas was dismantled and its equipment taken in a joint operation by tax and telecommunications authorities. The outlet announced they would have to temporarily close their operations in Venezuela due to the intervention. Another news outlet, Tal Cual, faced a cyberattack on the same day. Meanwhile the Maracaibo daily Panorama was sanctioned by tax authorities, forcing the outlet to close their office and operation for five days. Their website has been down since 7th January 2021. In addition, community radio station Fe y Alegría in Monagas was raided and its equipment stolen.
On 11th January 2021, the Inter-American Press Association (IAPA) condemned the systematic violation of press freedom in Venezuela. The statement was in response to what they called an escalation in attacks against independent media. Reporters without Borders also denounced the wave of recent attacks. The director of their office in Latin America, Emmanuel Colombié, commented regretfully:
"The state censorship exercised by the government of Nicolás Maduro against the critical and opposition press has dramatic consequences for the Venezuelan people, who see access to plural and contrasted information increasingly limited."
Association
Johan León, Yordy Bermúdez, Layners Gutiérrez, Alejandro Gómez y Luís Ferrebuz suman hoy 23 días detenidos en la sede de la DGCIM.

Se encuentran detenidos por el trabajo humanitario que realizan en Venezuela. @UN exige su liberación inmediata.

#LiberenAzulPositivo #NosFaltan5 pic.twitter.com/7Y9Roxp7JH

— Codhez (@Codhez) February 3, 2021
On 12th January 2021, state security forces raided civil society organisation Azul Positivo and arrested six of their staff members in Maracaibo, Zulia state. The organisation works on HIV prevention and has provided health services and humanitarian aid in Zulia since 2014. According to the UN Human Rights office, documents were seized from the NGO's office and five staff members remained in detention for two days without any communication with their families or lawyers. Only one of the people detained, a driver, was released. An initial court hearing was held on 14th January 2021, where the Azul Positivo staff were presented with charges related to money laundering, fraud and criminal association. All five humanitarian workers were placed in preventive detention.
A few days later, on 22nd January 2021, local organisations reported that the Azul Positivo workers had developed COVID-19 symptoms. A state court dismissed a request by their lawyers to transfer the detained defenders to a health centre and review the preventive measures in light of the health situation. UNAIDS and a spokesperson for UN Secretary-General António Guterres called for the humanitarian workers' immediate release. According to the latter, the United Nations has been following up with the Venezuelan government on the case.
A separate case of detention of a human rights defender also mobilised Venezuelan organisations in January 2021. Vanessa Rosales, a teacher and activist in Mérida, was arrested in October 2020 for aiding a 13-year-old in terminating a pregnancy. According to news reports, the girl had become pregnant after being a victim of repeated rape and Rosales, who did community work in the region, provided her with an abortifacient medicine when the family sought help. Rosales has been charged and put under house arrest while awaiting trial. Over 200 women's rights and human rights groups signed a statement saying the legal case against the defender has been fraught with irregularities. They called for a fair trial for Vanessa as well as for a change in the country's legislation which prohibits abortion except in cases of risk to the mother's life. The case has generated controversy and reignited the debate on Venezuela's restrictive law.
In another development, on 13th January 2021 PSUV legislator Diosdado Cabello vilified a coordinator of human rights organisation PROVEA on his television programme. Cabello, one of the most powerful politicians in Venezuela, frequently uses his television show to attack dissidents and criminalise and stigmatise human rights defenders and activists. On this occasion, he criticised a tweet by PROVEA coordinator Rafael Uzcátegui and said Uzcátegui should be investigated and taken to court for his comments.
Bureaucratic restrictions and monitoring
New regulations created at the end of 2020 expand government control over the operation of non-profit organisations in Venezuela, local civil society warned. As reported by Acceso a la Justicia, a new norm orders international organisations operating in the country to register in the Special Automated Registry of Non-Resident Non-Governmental Organisations (REONG) to continue working. According to their analysis, this regulation limits such organisations' activity to aid and international cooperation within the framework of the UN's Humanitarian Response Plan and creates new bureaucratic hurdles to their work.
The purpose for the norm, as stated in Venezuela's official diary, is to "control and prevent the development of any activity that results in organised delinquency, terrorism and its financing, narco-trafficking and other illegal activities" (Gaceta Oficial N°41994, 27th October 2020). In addition, Venezuela's authority for the banking sector, Sudeban, issued instructions for banks and other financial institutions to strengthen the monitoring of transactions by non-profit organisations. According to a note by Sudeban, the purpose of this is to identify persons who receive or send funds to these organisations, and detect suspicious activities related to money laundering, terrorism financing and arms proliferation. As previously reported by the Monitor, Venezuela's authorities have commonly used such narratives to promote hostility against and justify persecution of civil society organisations and human rights defenders.
Peaceful Assembly
Nuestro #InformeAnualOVCS.

▶️9.633 manifestaciones, en promedio 26 diarias.
▶️La mayoría fueron protestas sociales
▶️86.159 manifestaciones en los últimos 10 años.
▶️Ni el Covid-19, ni la represión lograron detener las protestas sociales.
https://t.co/FMivwA9ems pic.twitter.com/FaBA49rQBO

— Observatorio de Conflictos (@OVCSocial) January 26, 2021
On 25th January 2021, civil society organisation Observatorio Venezolano de Conflictividad Social (OVCS) published their annual report. In their analysis, protests did not stop amid COVID-19 and repression – although the overall number of protests documented in 2020 was 42% lower than in 2019. OVCS documented 9,633 demonstrations over 2020, of which 412 were repressed by public security forces and paramilitary groups. At least 415 people were detained and 150 wounded. 85% of the protests were organised over demands related to basic social, economic and cultural rights. These included demonstrations for public services, food, education and health, among other concerns.