Environmental rights protests & activists continue to come under attack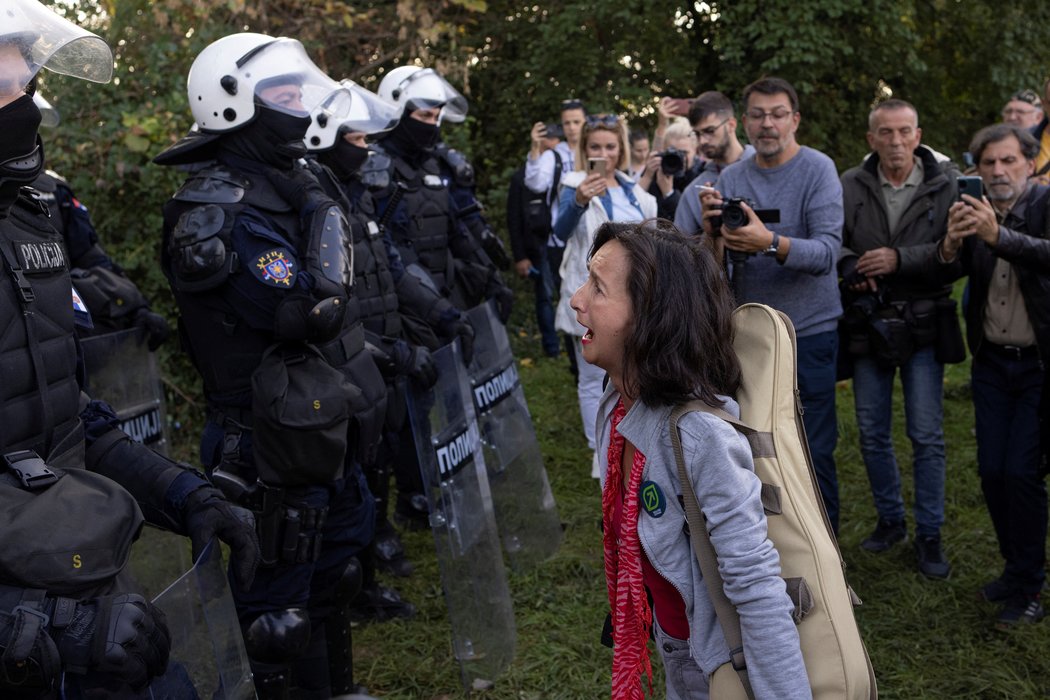 Peaceful Assembly
Developments related to EuroPride
The Ministry of Internal Affairs banned eight people from entering Serbia and filed criminal charges against two people who participated in EuroPride on 17th September 2022 in Belgrade.
The Ministry announced that they had acted on the request of the competent prosecutor's office and that two citizens of Turkey and Italy were identified, against whom criminal charges were filed for "causing national, racial and religious hatred and intolerance." The Ministry did not provide details about these cases, but it is assumed that they are people whose pictures were shared on social networks by right-wing profiles during EuroPride who were bothered by the way LGBTI people were dressed during the event. Given that these persons are not in Serbia, the police have launched a search for them. The police additionally banned a total of eight people from entering Serbia, citing "insulting public morals".
On 27th September 2022, the "Da se zna" association, which provides legal and psychological assistance to LGBTQI+ persons, announced that it had recorded 14 attacks, of which 8 were physical, during EuroPride on 17th September 2022 (see previous update). The organisation denied the statements made by the Minister of Internal Affairs and the Prime Minister which claimed: "the state managed to protect all the participants of the EuroPride march."
"The claims of Interior Minister Aleksandar Vulin and Prime Minister Ana Brnabić that the state managed to protect all participants of the EuroPride walk are a denial of the horrific homophobic and transphobic violence and discrimination that many people from our community were exposed to," the statement said.
It was also stated that most of these incidents and attacks were not reported to the competent institutions, "due to distrust in their work." Prior to the statement, the media reported on a group of 10 to12 young men who attacked a group of EuroPride participants on their way back from the concerts while a police informant was in the immediate vicinity.
Environment protest marked with repressions
On 23rd October 2022, environmental activists protested the planned construction of a new bridge in Novi Sad, claiming that it will devastate the last green oasis in this city. They gathered in Šodroš but were met with a strong police presence. Following clashes with police units, activists were detained and suffered serious injuries.
N1 shared a video of a woman with visible injuries to her head, who stated that a policeman hit her with his shield after she fell to the ground. Another activist reported on his social media profile that he had suffered injuries during the protest and posted a photo of his medical report by a medical centre which documented his condition. In another video posted on social media, Gendarmerie members were seen using excessive force against a woman who tried to get away from them, while protesters continuously shouted at the police to let go of her. Another video showed one of the activists with visible injuries to his neck. N1 reported that four people were detained, while three received injuries that needed to be treated immediately. All injured activists received medical care at the nearby activist camp, while N1 reported that all those detained were released in late hours of the evening. Activists told CSO Civic Initiatives that emergency services on the scene declined their request to attend and provide urgent medical care to the injured, stating that activists first needed to request urgent health care from the police.
Protesters were not only met with a large police presence but were also publicly vilified by politicians who discredited and insulted them. This is a continuation of a months-long trend aimed at discouraging citizens from exercising their right to freedom of peaceful assembly. On the latest protest, Novi Sad Mayor and a candidate for Minister of Defence Miloš Vučević stated that "the bridge will be built despite protests" and that "protesters cannot stop the state". Additionally, Prime Minister-designate Ana Brnabić called the protests "ugly", stating that a new bridge would lower pollution in the city and that she does not understand why "someone is preventing a better quality of life and a healthier environment". Additionally, the China Road and Bridge Corporation (CRBC), which is conducting construction works in Šodroš, issued a statement in front of the protest, saying that "their business image was damaged" and that they will file "a claim for damages that will be submitted to the competent authorities of Serbia" for damages to "the construction site fence and construction site board". Moreover, the police stopped and searched vehicles heading for the protest location.
As documented previously on the Monitor, since June 2022, environmental activists have been protesting the planned construction of a new bridge in Novi Sad, claiming that the works will completely devastate Šodroš, the last green oasis in this city, and an area inhabited by protected species, while also claiming that the works are a prelude to building a new residential and building complex similar to Belgrade Waterfront, a project marked with human rights violations. In July 2022, activists protested changes to the Novi Sad General Urban Plan (GUP), when they were met with brutal repression by private security and police, who exceeded their authority by forcibly detaining, kicking and knocking down demonstrators. Civil society organisations stated that for months citizens of Novi Sad have warned the government about the concerning proposals of the new GUP via more than 10,000 objections from citizenswhich competent institutions rejected. Additionally, in March 2022, criminal prosecution  has been initiated against three activists of the Youth Student Action (OSA) who interrupted a debate on the GUP, an action which showed that citizens were forced to resort to extra-institutional mechanisms in cases when institutions turn a deaf ear to their problems and prevent them from influencing the decision-making that concerns them.
Jedna od građanki opisala je kako je povređena na protestu za odbranu Šodroša https://t.co/cWRNEeBvhN pic.twitter.com/rDaluIWTRw

— TV N1 Beograd (@N1infoBG) October 23, 2022
Association
Environmental rights activists targeted
On 21st September 2022, environmental activist Miroslav Perović from Kosjerić, Central Serbia, was beaten in front of his building. The activist had received threats earlier after he supported locals protesting the construction of a quarry in the town.
Environmental activists from Majdanpek, who have been protesting for months on the nearby Starica mountain to stop further mining operations by the ZiJin company, have been subjected to police torture, including beatings, confession by coercion, and denial of contact with lawyers and family members. According to the information from Civic Initiatives, obtained from activists on the ground in Majdanpek, two activists were in custody in Negotin and have not been able to get in touch with their lawyers. According to eyewitnesses, they were taken to the local police station on 27th September 2022 for questioning and later were seen being brought by police officers to the local Health Centre with visible injuries and in a serious condition where they could not walk independently.
Activist Dragan Dmitrović publicly testified that police officers hit him on the head and back, that he was threatened with death and that he was forced to sign a false confession incriminating three other activists for the events on Mount Starica on 24th September 2022, when an employee of the company ZiJin was attacked. In connection with the case, the "Three Freedoms" Platform also reacted and called on institutions, including the Ombudsman, to hold the perpetrators to account, investigate allegations of police torture and ensure transparency about the condition of the activists. A request to initiate a procedure for controlling the work of police officers was also sent to the Ombudsman.
On 4th October 2022, the Bor Police Department announced that a criminal complaint would be filed against Dragan Dmitrović for causing panic and disorder after he publicised information about the violence that he suffered during interrogation at the police station in Majdanpek on 29th September 2022. The statement said that Dmitrović was interrogated at the police station on 3rd October 2022, regarding these claims, and was then referred to the Health Centre in Majdanpek, where no injuries were confirmed.
Further threats to activists
On 18th September 2022, activists of the Youth Student Action and members of the opposition "Zajedno" ("Together") political party from Novi Sad were detained and questioned by local police after they protested the erection of a "Monument to innocent victims of 1944/45", stating the monument contains names of people responsible for atrocities against the civilian population in that period in Bačka Region and Novi Sad. Protesters have been charged with "destruction of public property" for writing messages on the walkway and have been summoned more than once by the authorities.
On 2nd October 2022, volunteer of the "Da se zna" organisation Lazar Savić was attacked in Čačak twice on the same day. According to a statement, the organsiation said that the case was motivated by homophobia, after Savić appeared in public several times, adding that these attacks "depict the life of all LGBTQI+ persons who decide to come out publicly and talk about their lives." The attacks were not reported to the police "due to previous bad experiences".
On 9th October 2022, the premises of the Pride Info Centre in Belgrade were burglarised twice. The organisation "Da se zna" reported that an unknown young person took money from the donation box and then, together with another person, entered the PIC again during the night and stole the rest of the money from the box. The organisation stated that the money was collected by the PIC to provide support services, including psychological and legal assistance, to victims of homophobia and transphobia. The matter was reported to the police.
Expression
Attacks on journalists
Journalist Slobodan Dukić from the "Pančevo.SiTi" portal received death threats after unknown persons left funeral wreaths at the entrance to his property in Kovin. The journalist stated that these threats came after he published a text in which he disputed the higher education diploma of a person close to the president of the municipality of Kovin.

Journalist Marjana Stevanović from the "Danas" daily was insulted during a panel discussion on "The Position of the Serbian Language in Contemporary Society" in Loznica by professor Aleksandar Milanović who called her a "foreign agent" cooperating with "foreign services who wants to regulate the Serbian educational system".

Journalist Srđan Nonić of the "Niška inicijativa" portal and MP Jelena Milošević were sued by Svetlana Mitić, the acting director of "Pčelica", a public preschool institution in Niš, for "causing panic and disorder", over a public statement in which they announced that the institution was serving expired food. The MP stated that this was not the first time that food has been discussed in this kindergarten. Journalist Nonić added that he suspected the falsification of internal documents related to the food items.

Vladimir Mitrić, journalist and correspondent of newspaper "Večernje Novosti", was verbally attacked in the town of Draginac near Loznica, where he was on assignment. Mitrić has been under police protection for 17 years since he was beaten by a former police officer at the entrance of the building where he lives.

Martin Bežinarević, activist and Councillor in the Majdanpek Municipal Assembly, was forcibly taken to court on 3rd October 2022. Bežinarević stated that he was taken to court because he did not respond to a court summons, which he has denied receiving. He stated that the invitation was allegedly delivered to him on the day he attended the session of the local parliament, and no invitation was delivered to his home address. A case of insult was brought against Bežinarević by Srđan Milutinović, police chief in Majdanpek. The lawsuit follows a 2020 incident, when Bežinarević reacted to the police chief's physical attack on citizen Dijana Ilić. He was also sued by the deputy president of the municipality. He told the media that "all public officials must endure a certain amount of public criticism and have a threshold of tolerance for such things."