An environmental defender and a communicator killed in Ecuador in early 2021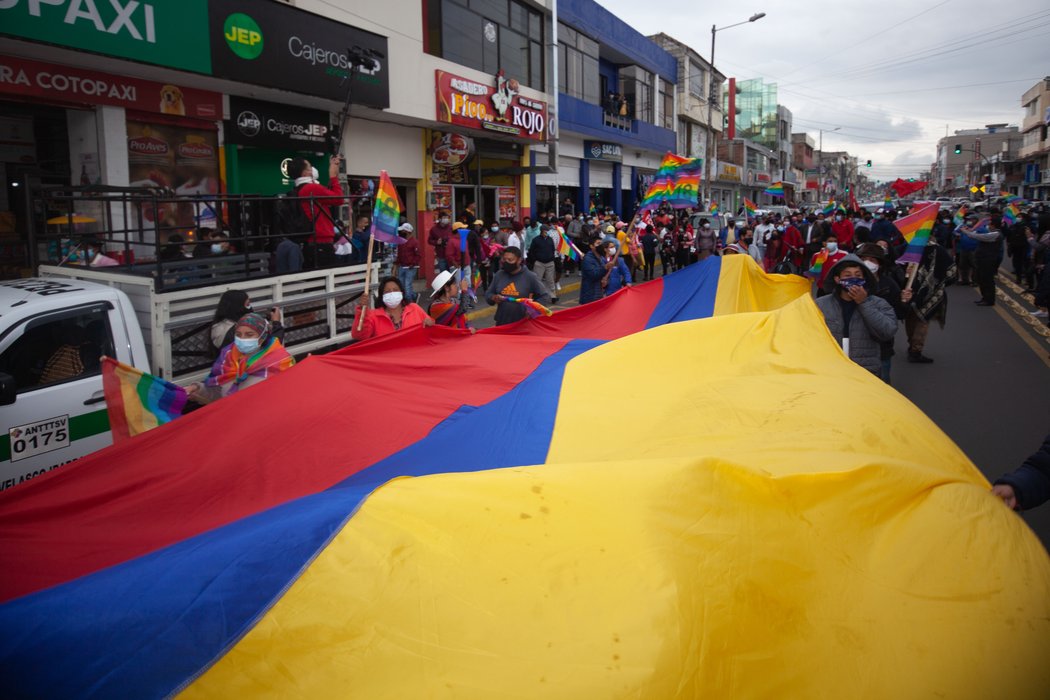 The first round of Ecuador's presidential election was held on 7th February 2021. Andrés Arauz, economist and candidate of the Union for Hope Alliance (UNES), emerged as the front runner. Former banker and Creating Opportunities (CREO) candidate Guillermo Lasso came second, winning 19.74% of the vote. Lasso's small edge over Indigenous candidate Yaku Pérez, who secured 19.38% of the vote, led to protests, allegations of fraud and demands for a recount.
The results of the first round were confirmed on 21st February 2021, without a recount, after several days of deadlock in the electoral council regarding the issue. The election run-off is currently scheduled for 11th April 2021.
Peaceful Assembly
Indigenous peoples protest election results

On 23rd February 2021, hundreds of protesters gathered outside the National Electoral Council (CNE) in Quito to demand a recount of election results, which had been confirmed by the Council two days before. The mobilisation was convened by Indigenous candidate Yaku Pérez's political party Pachakutik. As reported by news media, protesters shouted slogans such as "transparency yes, fraud no" and carried flags associated with Indigenous peoples in Ecuador. Many of the demonstrators had followed a caravan through the south of the country, marching over several days before arriving in Quito. After the protest, Pérez reportedly presented 16,000 ballots with inconsistencies to the Council.
Police used teargas and water cannons to disperse another protest in front of the CNE on 26th February 2021. On International Women's Day, 8th March 2021, Blanca Chancosa, a leader of the Indigenous movement of Ecuador, performed an ancestral ceremony before the CNE.
Indigenous communities demand justice and reparation
🔴HAPPENING NOW: Kichwa communities impacted by the massive oil spill in #Ecuador's Amazon have traveled to Quito & are outside the @CorteConstEcu demanding comprehensive reparations & justice. #JusticeForTheAmazon

Watch live via @confeniae1: https://t.co/6J0aiyRzDC pic.twitter.com/WNmWAc2NhT

— AFrontlines (@AFrontlines) March 5, 2021
As previously reported by the Monitor, in April 2020 a crude oil spill impacted waterways vital to several Indigenous communities in the Ecuadoran Amazon. Affected Kichwa communities filed a lawsuit to request compensation for the losses to their land and livelihood. However, a lower court judge dismissed the case in September 2020, stating that the Constitutional Court, which addresses rights violations, was the incorrect legal avenue to demand environmental remediation.
On 5th March 2021, almost a year after the event, communities affected by the spill protested outside Quito's Judicial Council to demand justice and reparation. They denounced the effect of the polluted waters on local Indigenous people's health. A sit-in was also held outside the Constitutional Court. On 24th March 2021, a Orellana court rejected the Kichwa communities' appeal.
Indigenous and human rights organisations supporting the lawsuit published a statement saying they intend to take the case to the country's Supreme Court and will continue to protest. They also denounced the criminalisation of human rights defenders involved in the case. As reported in their statement, plaintiffs and lawyers were subpoenaed and face criminal charges for their work defending the communities' claims, following allegations of intimidation and instigation by the lower court judge. According to the organisations, this is chilling evidence of the judicial branch's attempts to discredit the Kichwas' case.
International Women's Day
Hoy se convocaron las mujeres cuencanas en el Puente "Vivas Nos Queremos" para conmemorar el #8M.
Se realizaron algunas expresiones artísticas y se enunciaron consignas feministas contra el facismo y el machismo. #CoberturaFeminista8M pic.twitter.com/oVtxLaUpu2

— Camaleón 💜🏳️🌈 (@progcamaleon) March 9, 2021
On 8th March 2021, women's groups organised marches and artistic interventions in Quito, Cuenca,Guayaquil and other cities. Hundreds of women joined the day's events, in some places protesting under heavy rain. In many of the events, women called for policies to address Ecuador's high rates of gender-based violence, demanded decriminalisation of abortion and recognition of their sexual and reproductive rights. Indigenous women mobilised to demand respect for their land rights and to protest against environmental exploitation.
Association
Fue asesinado #AndrésDurazno, defensor del agua y de los páramos del Macizo del Cajas, vocero de la resistencia antiminera en Río Blanco y Molleturo en Azuay. @FiscaliaEcuador urge una investigación, que no quede impune, un caso que estaría vinculado a la resistencia antiminera. pic.twitter.com/UzBFRXKMa1

— CONAIE (@CONAIE_Ecuador) March 19, 2021
On 17th March 2021, environmental defender Andrés Durazno was killed near his home in Llantahuayco, Azuay province. Durazno was president of a local community water and irrigation system near the National Cajas Park. He worked to challenge mining extraction in the area, both from government-authorised projects and illegal mining. Various human rights organisations and Indigenous movements denounced the killing and expressed their solidarity, demanding a thorough investigation into the case to determine if the crime was connected to Durazno's anti-mining activism.
In a separate development, a preliminary report by the American Bar Association's Center for Human Rights (CHR) found evidence of alleged irregularities in criminal proceedings against trade unionist Jorge Acosta. The organisation conducts trial observations around the world to encourage compliance with fair trial standards. Acosta, a workers' rights advocate and the coordinator of the banana workers' union ASTAC in Ecuador, has faced criminal accusations related to his organising efforts. He has been the subject of three criminal complaints alleging various offences including spreading of false information, invasion of privacy and tax fraud. As previously reported on the Monitor, the unionist has also faced threats in relation to his defence of labour rights.
Expression
#Alerta | Fundamedios condena el asesinato del periodista, Efraín Ruales, asesinado esta mañana en Guayaquil. Exigimos a las autoridades contundencia en sus acciones. Una vez más se revela que no existen políticas de seguridad para periodistas en Ecuador.https://t.co/dlKWpzhTbM

— FUNDAMEDIOS (@FUNDAMEDIOS) January 27, 2021
On 27th January 2021, actor and communicator Efraín Ruales, who hosted the television programme "En Contacto" on broadcaster Ecuavisa, was murdered in Guayaquil. Attackers shot him at least four times when he was in his vehicle returning home. According to the Inter American Press Association, Ruales used his social networks to report alleged corruption. He said in June 2020 that he had received several threats. Three suspects were detained by Ecuadoran authorities in connection with the crime. According to news reports, the three suspects, who will be tried for murder, are connected to a criminal group and may have been hired to conduct the killing.
Other attacks on journalists
On 19th January 2021, radio journalist Marilú Capa was attacked by an individual who entered a restaurant she owns in Nueva Loja, Sucumbios, and shot her six times. The attacker fled the scene on a motorcycle driven by a second unidentified man. Capa was admitted to hospital in a critical condition. She hosts a daily programme on Radio Sucumbios, which features commentary on human rights, migration and other news, and co-produces a weekly radio programme on women's health issues and violence against women. On 20th January 2021, several local journalists organised a vigil in front of the hospital to express their support for Capa.
In a separate incident, on 15th December 2020 two unlit dynamite tubes were found in journalist Mario Pinto's house in the city of Machala, El Oro province. According to the International Federation of Journalists, the journalist, who works for the MPNoticias website, was alerted to the explosives by a person carrying out repairs at his home. The police later found that the dynamite was armed and ready to explode, but the fuse had not been lit. The National Federation of Journalists of Ecuador (FENAPE) said that Pinto was one of the first reporters to warn about a narcotics and human trafficking ring operating in the region, which is close to Ecuador's border with Peru. The Federation called on authorities to provide security for the journalist.
Journalist faces judicial harassment and threats from former president
Former president of #Ecuador Abdalá Bucaram attacked journalist @dayannamonroy in a video. Dayanna Monroy investigates corruption which exposes her to online smear campaigns. We documented one of them just in November, linked to Abdalá Bucaram himself: https://t.co/GK50aTAsaN https://t.co/P0rXZht8Ma

— #WomenInJournalism (@CFWIJ) January 28, 2021
On 27th January 2021, former Ecuadorian President Abdalá Bucaram Ortiz posted a video to his personal Facebook account in which he made apparent threats against journalist Dayanna Monroy and actor David Reinoso. In the original video, which was removed from his page, Bucaram complained about Monroy's coverage of alleged criminality involving himself and his family, and said: "What people have failed to ask is: 'Wouldn't it make more sense to kill her?'" As previously reported by the Monitor, in 2020 Bucaram's son threatened a number of journalists for reporting on his supposed involvement in a corruption scandal.
Monroy, who works with broadcaster Teleamazonas TV, filed a complaint and has received police protection. On 28th January 2021, the Attorney General's Office issued a public statement calling on the Ecuadorian Police to investigate potential risks to journalists and whistle-blowers, stressing that democracy is built on respect for freedom of expression.
On 1st February 2021, Bucaram filed a criminal lawsuit accusing Monroy of publishing confidential information about his family, the journalist told the Committee to Protect Journalists. If found guilty, she could face up to three years in prison. The Inter American Press Association reported that prosecutor Javier Pucha Paguay requested information about Monroy's assets from various state institutions and urged Teleamazonas to deliver videos and journalistic notes referred to Bucaram's son, Jacobo Bucaram Pulley. The IAPA said this is judicial harassment against Dayanna Monroy and called it "an act of intimidation that undermines press freedom".