El Salvador: hostile environment for human rights defenders and journalists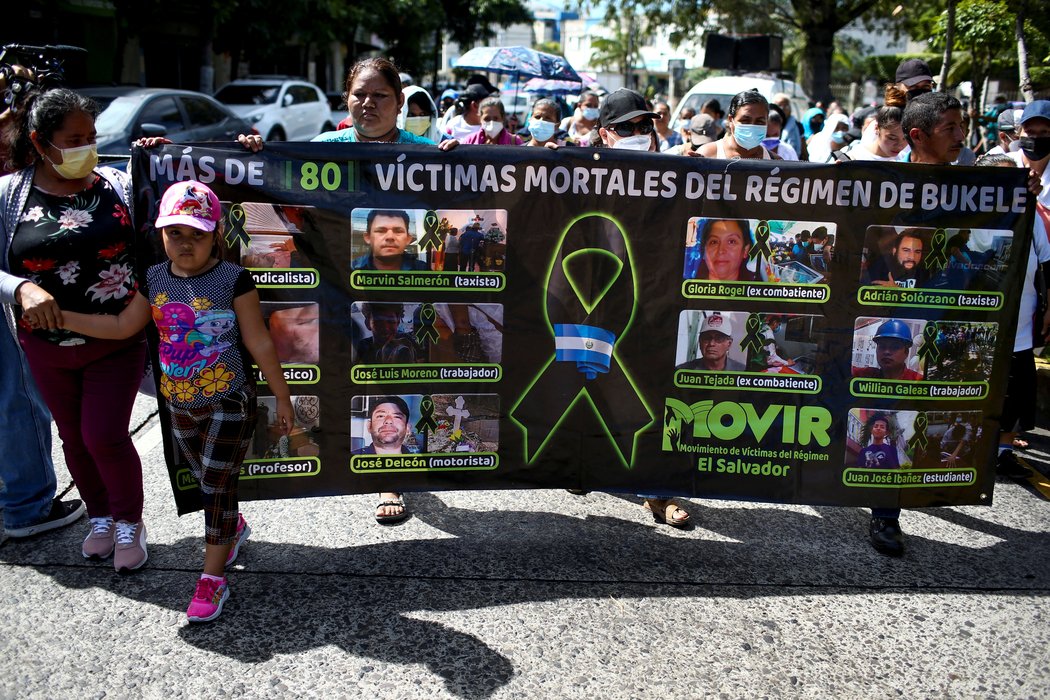 Association
Organizaciones que conforman la @MesaporelDDD se pronuncian en el marco del Día Nacional del Defensor y Defensora de DDHH demandando la no estigmatización ni criminalización de su labor por parte de instancias estatales. @MesaporelDDD @IM_Defensoras pic.twitter.com/8HTdWIiB5n

— Red Salvadoreña de Defensoras de DDHH (@rdefensoras) October 26, 2022
In September and October 2022, civil society organisations and international human rights experts expressed concern about the effect of continued exception measures on fundamental freedoms in El Salvador. The coalition Mesa por el Derecho a Defender Derechos (Board for the Right to Defend Rights) said human rights defenders are carrying out their work amid a hostile environment, subjected to daily attacks. These most often take place in the form of stigmatisation, intimidation, harassment and threats made by public officials and institutions. Women human rights defenders are particularly targeted. The groups said this situation had worsened with the state of exception, with authorities often making accusations linking the defence of human rights with criminal or illegal activities.
Similarly, on 18th October 2022 the United Nations Committee on Economic, Social and Cultural Rights (CERSCR) expressed concern about the impact of the state of exception on freedom of peaceful assembly and on the work of human rights defenders. The CERSCR recommended that the government re-establish spaces for participation and dialogue, open and constructively, with all actors at the national level.
Feminist network IM-Defensoras also warned about the digital violence against women journalists and human rights defenders. In January and February 2022 alone, the organisation said, there were 81 online attacks affecting 40 women human rights defenders (WHRDs). Online attacks are currently the main aggression faced by WHRDs, constituting a pattern of violence that includes threats and sometimes physical aggression. In most cases, perpetrators are public authorities and officials. IM-Defensoras and ten other civil society groups signed a statement condemning these attacks and calling on public authorities to take responsibility for their actions.
Mass dismissals of legislative workers
On 22nd September 2022, a group of legislative workers gathered in front of the Legislative Assembly to denounce alleged mass dismissals that have taken place since May 2021. According to the Sindicato de Trabajadores de la Asamblea Legislativa (Union of Legislative Assembly Workers - SITRAL), over 2,000 employees of El Salvador's legislature were fired in this period. On 22nd September 2022, 50 people were allegedly dismissed without justification. Many are said to still be awaiting compensation due to them. SITRAL's secretary-general told news outlets that union leaders were among those fired without justification.
Expression
Al menos 12 periodistas de la radio Suchitlán, ubicada en Suchitoto, Cuscatlán, denunciaron ayer amenazas, espionaje e intento de censura por parte de supuestos sectores políticos de la localidad. https://t.co/U70YuJJgqX

— La Prensa Gráfica (@prensagrafica) October 27, 2022
On 26th October 2022, at least twelve people working with community radio station Radio Suchitlán reported being subject to intimidation and surveillance by local political figures. A journalist working for the station said unidentified individuals had asked local residents about the place of residence and working hours of members of staff. Most of the radio's staff are young volunteers. The Asociación de Periodistas de El Salvador (El Salvador's Association of Journalists - APES) said it was monitoring the case and supporting affected communication workers.
On a separate but related note, during a conference in October 2022, the president of APES said at least ten journalists have left El Salvador because of the challenges imposed by the exception regime and the newly adopted sanctions on reporting related to criminal gangs. Between the beginning of January and the end of October 2022, the organisation documented 92 attacks against journalists.
On 18th November 2022, government party legislator Jorge Castro stigmatised and threatened news outlets El Faro and GatoEncerrado, and civil society group Cristosal in a Twitter post. The Nuevas Ideas lawmaker said these groups "are nefarious 'reaction' tools used by powerholders" that held El Salvador hostage. He continued: "We are at war against all of them." APES issued an alert over the message and called on public officials to respect the work of the press.
Officers arrested four decades later for killing of journalists
#ElSalvador🇸🇻: Two people were arrested for the murder of four Dutch journalists in 1982. UN investigation in 1993 showed that their murders were premeditated. We want justice, we want the truth.https://t.co/9GJObxgsjn

— IFJ (@IFJGlobal) October 17, 2022
A judge ordered the provisional arrest of three retired high-ranking military officers for their alleged responsibility in the murder of four Dutch journalists in 1982. Among them is General Guillermo García, former Minister of Defence and strongman of the armed forces in the early 1980s. He and a former colonel were arrested on 11th October 2022, according to news reports. Another arrest warrant was issued, and extradition requested, for a former officer who now resides in the United States.
The journalists' killings took place during the height of El Salvador's civil war. The four journalists worked for the Dutch television agency IKON and were producing a video report on the guerrillas' zones of influence in San Salvador and other parts of the country. They were ambushed and killed by Salvadoran armed forces on 17th March 1982.