Journalist shot as authorities and military attempt to curtail dissent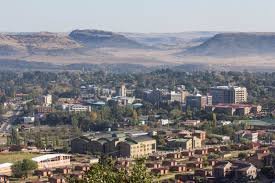 Expression
On 9th July, Lesotho Times journalist Lloyd Mutungamiri was shot four times outside his home in Maseru. The shooting followed a period in which government authorities had harassed Mutungamiri and his colleagues Keiso Mohloboli and Basildon Peta because of several critical articles they authored. Both Mutungamiri, who was left with serious injuries, and Mohloboli, who was arrested and forced to reveal her sources, were forced to flee the country and remain in exile. The two of them had recently reported on a case involving an army general, which had riled both him and the army. Self-censorship has become increasingly common as media workers fear falling victim to the marauding army, the police or other government agencies.
#Lesotho: Lloyd Mutungamiri, #HRD and editor of the Lesotho Times, shot outside his home https://t.co/nln5QJaiGt pic.twitter.com/RFjl5xCXzf

— Front Line Defenders (@FrontLineHRD) July 13, 2016
Association
In September, a member of the Lesotho's governing coalition publicly vilified civil society organisations including the Transformation Resource Centre (TRC) because of a constitutional challenge to some provisions of the Human Rights Commission Act. The Lesotho Congress for Democracy's (LRC) spokesperson accused the TRC of being a front for opposition parties and not a genuine civil society organisation. The LRC claimed that the collaboration of TRC with opposition political parties on this case had the effect of undermining its standing as an independent organisation in the eyes of the public.
Misapprehension regarding the role of civil society in monitoring policy-making and implementation processes was also on show at a ceremony in August to announce an award by the European Union of 15 million Maloti (approximately US$1.1 million) to Basotho civil society. During the event, the Minister of Justice expressed his disappointment over the fact that CSOs had raised concerns surrounding the establishment of the Lesotho Human Rights Commission, revealing his expectation that civil society side with, rather than question, the government.
Peaceful Assembly
The right to peacefully assemble in Lesotho is selectively upheld depending on whether demonstrators are perceived as pro- or anti-government. On 17th September it was reported that government supporters planned to march into the capital on 26th September, where they would be addressed by the Prime Minister; this march was not only allowed but also encouraged to proceed. On the other hand, several anti-government protests have been either forcefully prevented or violently suppressed. For instance, on 10th September the police turned back eight buses hired to ferry protesting students from the National University of Lesotho to Maseru's city center on the basis that the planned demonstration was illegal since the students had not sought permission to protest. As the students refused to turn back, the police assaulted them, leaving several injured.