Detentions and excessive force used at climate related protests against gas & the motor industry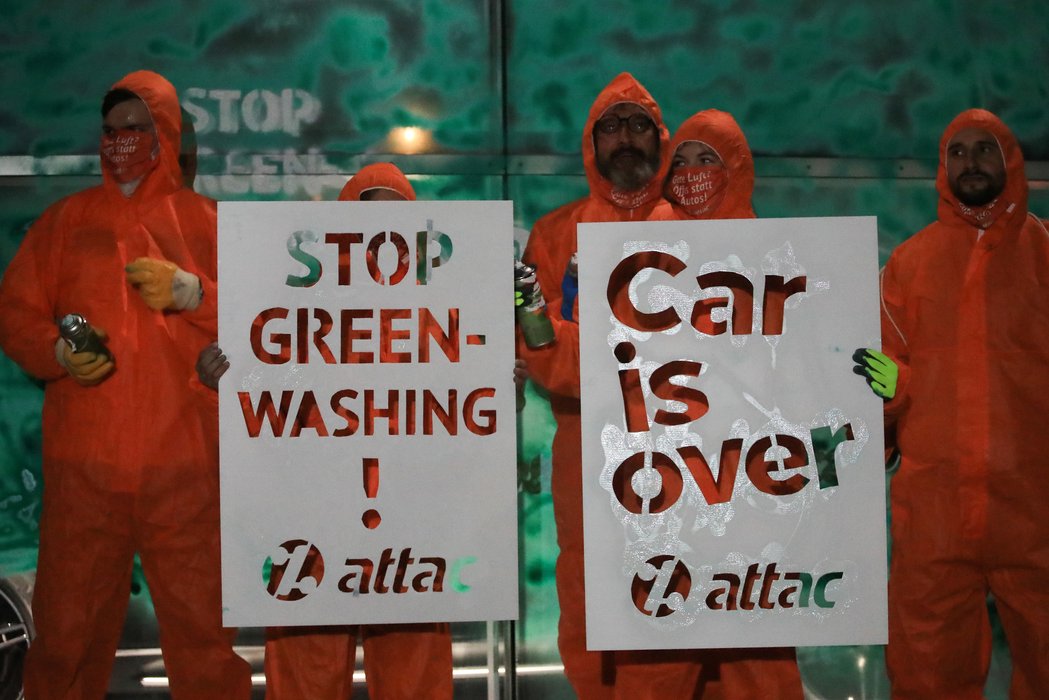 Peaceful Assembly
15 arrests among Ende Gelände activists in civil disobedience actions
Environmental activism group Ende Gelände organised a series of civil disobedience actions during the summer to raise awareness to the urgency of climate change threats and to call German institutions to act in a meaningful and effective way to protect the environment. At the end of July 2021, the group organised a mass action for climate justice in Brunsbüttel in which 2,000 activists participated. Protests were directed against a planned fracking gas terminal in the industrial park "ChemCoast". During the three-day camp, the protesters locked the railroad tracks to the ChemCoast Park at important points. On 31st July 2021, activists with canoes blocked one of the most important waterways in the world, the Kiel Canal, causing a major jam of ships. During this blockade, 15 activists were taken into custody by police, Ende Gelände reports. Among those arrested is Argentinian climate activist, Esteban Servat, who had to leave his country because of state repression and death threats.
"The gas and fracking industry today is a continuation of colonial forms of exploitation: the open veins of the global south bleed through the waterways of Europe. That's why we decided to block the most important channel for cargo traffic in Europe....I had to flee Argentina because I opposed the gas industry. Now I'm facing legal action in Germany. But we will not be intimidated. It's time for civil disobedience."
Esteban Servat hat sich heute mit uns gegen Klimakolonialismus und Fracking gestellt. Dafür wird er mit anderen aus dem Finger immer noch von der Polizei festgehalten. Klimagerechtigkeit ist kein Verbrechen!

Lasst Esteban und die anderen endlich frei! #FreeEsteban #FreeThemAll https://t.co/MGvkJtIxIz

— Ende Gelände #ZADRheinland (@Ende__Gelaende) July 31, 2021
Ende Gelände's weekend of action was part of the "Shale must fall" alliance's Global Day of Action against gas, fracking and colonialism. In addition to the blockade actions in Brunsbüttel, the group held an international panel discussion in Hamburg and organised a demonstration with the "Anti-colonial Attack." At the same time, 23 actions against fracking took place in 13 countries in South America, North America and Europe. Press spokesperson of Ende Gelände, Elia Nejem said:
"Fossil capitalism is the continuation of colonialism. It breaks the boundaries of the planet. We put life above economic growth and profits. That is why we are fighting for climate justice and a social-ecological revolution. We have shown this weekend: Another world is possible! The Climate Justice Movement is growing and is internationally stronger than ever! We will stop climate colonialism."
Massive police presence at protest against COVID-19 measures
On 28th August 2021, thousands of protesters gathered in Berlin in breach of the current COVID-19 restrictions on public gatherings imposed by the German government. They protested against the measures and restrictions put in place to tackle the spread of the COVID-19 pandemic in the country. The crowd was composed by coronavirus skeptics, far-right activists and anti-vaxxers amongst others. Ahead of the gathering, nine demonstrations planned in the German capital were banned by Berlin authorities of which one was finally permitted after the decision by authorities was successfully challenged in court, which gave permission for 500 people to gather. The presence of the police during the rally was considerable, as thousands of police officers – including riot police – were monitoring the situation, ready to intervene in case of violence. The cautious approach of the police was reportedly due to past protests, notably the one at the end of August 2020 in which anti-COVID-19 demonstrators tried to break into the Reichstag building. 
Police use excessive force during protest against IAA Motor Show
On 11th September 2020 thousands of people gathered in Munich on the occasion of the IAA Motor Show to protest against the greenwashing actions put in place by the automobile sector and to call public authorities to invest in sustainable mobility solutions. This year's event was focused on electrification of the sector. The action was organised by Aussteigen and other groups like Greenpeace. The protest was mostly peaceful and a bicycle rally also took place on the same day. Organisers report that 25,000 people joined the rallies.
Overall, the protest lasted from 7th to 12thSeptember, following the agenda of the Motor Show. During the rest of the days, several actions were organised by groups of protesters. Motorways were blocked on the 7th and10th September 2021. Furthermore, on 9th September 2021, the house of VW CEO Herbert Diess in Munich was the target of a color attack, with activists temporarily occupying the area. Demonstrators reported cases of "police violence" and "repression". Police responded using batons and pepper spray, which was denounced by activists and by some parliamentary observers. The police claimed that the use of force was justified by the behaviour of the protesters, who reportedly broke police blockades in some cases.
München, du warst klasse! 25.000 Menschen waren gestern auf der Straße, um für eine klimafreundliche und sozial-gerechte Verkehrswende zu demonstrieren. DANKE an alle, die diese Demo so groß, bunt und vielfältig gemacht haben! #Aussteigen pic.twitter.com/CaE5d7ehUY

— Greenpeace e.V. (@greenpeace_de) September 12, 2021
Expression
Freelance photojournalist injured by riot police while covering demonstration
On 18th September 2021, Irish freelance photo reporter Conall Kearney was hit by riot police while covering the far-left demonstration "We are all LinX" in Leipzig. The journalist was literally overrun in Biedermannstrasse and thrown into a parked car and as a result sustained an injury to his knee, while his equipment was seriously damaged. The incident was documented on video. The German Journalists Association (DJV) strongly condemned this incident and reports other incidents took place at the same demonstration. Leipzig police announced an investigation and encouraged reporters to provide information.
Unfortunately my equipment got badly damaged during this incident and now must be repaired/replaced. As a result, I have set up a gofundme (linked below) page to help with the costs.

Anything is appreciated!https://t.co/QDCXDHEQnq https://t.co/KiCzM03l9P

— Conall Kearney (@ConallKearney) September 20, 2021
Journalist prevented from reporting Ende Gelände actions
On 31st July 2021, during the action carried out by the environmental group Ende Gelände in Brunsbüttel, journalist Anna Dotti was temporarily held in custody by the police. The journalist was on a press boat covering the blockage of the Kiel canal for the regional daily newspaper Hamburger Morgenpost. When the boat docked the police asked for her press credentials. While the journalist had her editorial certificate, she was held by the police over suspicion of presenting a fake document. One hour later Dotti was released and was able to continue documenting the events. Communications with police was defined as "uncooperative", "uncommunicative" and "aggressive", Mapping Media Freedom reports.
Nach der Blockade auf dem Wasser wurden die Aktivist*innen vom Polizeiboot zum Kentern gebracht. Wegen einer kurzen Tour im Presseboot für Interview+Bilder wurden meine Kollegin @AnnaDotti und ich in einer Maßnahme festgehalten #Pressefreiheit pic.twitter.com/O6skUYamxH

— KatharinaSchipkowski (@Kat_Schipkowski) July 31, 2021
Reporter harassed by Querdenker protester
On 28th August 2021, during a Querdenker ("Think outside of the box") protest against COVID-19-related measures, a protester repeatedly harassed journalist Olaf Sundermeyer who was covering the demonstration for the Berlin-Brandenburg TV channel RBB. The man was pretending to be a reporter himself and approached the reporter closely, filming and insulting him. The protester accused Sundermeyer of dividing the country, defaming people and being a "mask fetishist"; he also tried to catch other people's attention by calling out the name of the journalist in an attempt to convince other bystanders to join him, as a video shows. The police intervened after multiple requests by the journalist.
Freelance photojournalist reporting protest against Motor Show held in custody
Photojournalist Michael Trammer was taken into custody during the protest against the International Motor Show (IAA) that took place in Munich on 11th September 2021. The freelance photojournalist followed a group of protesters who were squatting in a building while covering the events for the daily newspaper taz. He was taken into custody for trespassing. Thetaz editors-in-chief Barbara Junge and Ulrike Winkelmann immediately contacted Munich police asking for Trammer's release. They stressed that it is in the right of journalists and reporters to follow and document protests. In addition, Monique Hofmann, the federal managing director of the German Union of Journalists, denounced the incident as unacceptable, especially when reporters are accredited with nationwide press cards.