Despite UN review, Thai government continues to silence dissent, push restrictive NGO bill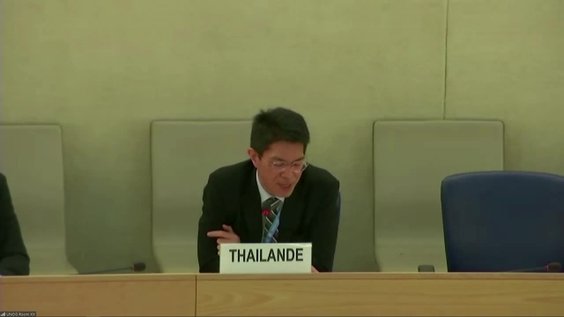 The state of civic space in Thailand remains 'repressed' in the latest CIVICUS Monitor report published in December 2021.
Thailand's human rights record was reviewed by the UN Human Rights Council on 10th November 2021. Ahead of the review, CIVICUS and the Asia Democracy Network (ADN) submitted a report to the Council highlighting a range of concerns including the use of criminal defamation, lese-majesté (royal defamation) and other restrictive laws against activists and journalists as well as harassment, physical attacks and allegations of enforced disappearances of activists. The report also documented the crackdown on peaceful protests, the arrests and criminalisation of protesters and use of excessive force by the police.
On 24th March 2022, Thailand accepted 218 out of 278 recommendations it received. It rejected the majority of the recommendations on civil and political rights, including those calling for the repeal of repressive laws that are being used to target human rights defenders.
Further, in recent months the royal defamation law was used to jail a protester for two years while a UN body found the detention of a woman jailed for 43 years to be arbitrary. There were also reports of protesters being arrested, charged and tortured by the police. Civil society continues to push back against a restrictive NGO bill while the government seeks to expel an international human rights group. There there are concerns of the use of tax audits to target NGOs.
Expression
Protester gets two-year sentence for insulting royalty
The Court sentenced Narin, who posted "GuKult" sticker on the King's portrait during 19Sep.20 rally, to 3 years for violating Section 112 of the Thai Criminal Code (lèse-majesté). His sentence was reduced to 2 years in consideration of his testimony during witness examination. pic.twitter.com/fxa3W6Uxlp

— TLHR / ศูนย์ทนายความเพื่อสิทธิมนุษยชน (@TLHR2014) March 4, 2022
On 4th March 2022, a man was sentenced to two years in jail under the royal defamation law (Section 112) for putting a sticker bearing the name of a satirical Facebook page on a portrait of the Thai King outside the Supreme Court during a pro-democracy rally in September 2020.
Bangkok's Criminal Court gave Narin Kulpongsathron a three-year sentence but reduced it to two years in consideration for his cooperative testimony, though he denies the charge. He was released on a 100,000-baht (USD 3,000) bail, in order to allow him to appeal and is still facing at least two further lese-majesté charges.
It was the first sentencing in connection with the dozens of lese-majesté charges related to the pro-democracy protests to demand the resignation of Prime Minister Prayut Chan-o-cha and calls for reform of the monarchy.
Narin Kulpongsathron is among some 160 activists that Thai Lawyers for Human Rights (TLHR). says are facing charges for lese-majesté under Section 112 of the Criminal Code, which carry a prison sentence of up to 15 years per charge. Some people face multiple charges.
Following the conviction, the Asian Forum for Human Rights and Development (FORUM-ASIA), CIVICUS: World Alliance for Citizen Participation, and Asia Democracy Network (ADN) said: "The conviction of Narin…sets a disturbing precedent for civic space in Thailand. This marks the first time a Thai court sentenced an individual to imprisonment under the draconian lese-majesté law for such an act during a protest. The verdict demonstrates the government's intensifying targeting of individuals and allies of the pro-democratic movement".
As previously documented, Article 112 imposes jail terms on those who defame, insult or threaten the King, the Queen, the Heir to the throne or the Regent. Many of those charged for lese-majesté have been subjected to a systematic denial of bail by the courts, both during investigation and pending trial.
UN body finds woman detained arbitrarily for lèse-majesté sentence
UN body demands immediate release of woman jailed for record lèse-majesté sentence #Thailand #news #ThailandUpdate https://t.co/vX6ffCFrXc

— Thailand Digest - News from the Land of Smiles (@thailanddigest) December 29, 2021
The United Nations (UN) Working Group on Arbitrary Detention (WGAD) issued an opinion on the case of lèse-majesté detainee Anchan Preelerd who is currently serving a prison sentence of 43 years and six months. It was adopted on 17th November 2021 and issued on 20th December.
According to the International Federation for Human Rights (FIDH), in its opinion, the WGAD found the deprivation of liberty of Anchan under Article 112 to be "arbitrary" and called on the Thai government to "release her immediately," taking into account the threat of the COVID-19 pandemic in places of detention, and to "accord her an enforceable right to compensation and other reparations."
The WGAD expressed its grave concern about the pattern of arbitrary detentions under Article 112, particularly those involving online expression, and the "serious harm to society" caused by the enforcement of the law.
The WGAD declared Anchan's imprisonment arbitrary because it contravened Articles 3, 8, 9, 10, and 19 of the Universal Declaration of Human Rights (UDHR) and Articles 2, 9, 14, and 19 of the International Covenant on Civil and Political Rights (ICCPR), to which Thailand is a state party. The referenced provisions of the UDHR and ICCPR guarantee the fundamental right to liberty, the right to a fair trial, and the right to freedom of opinion and expression.
The WGAD found that Anchan's deprivation of liberty lacked legal basis as it stemmed from an arrest without a valid arrest warrant issued by a competent, independent and impartial judicial authority. Anchan's initial detention at the military base without being brought before a judge was also in violation of her right to challenge the lawfulness of her detention, guaranteed under Articles 8 and 9 of the UDHR and Articles 2 and 9(3) of the ICCPR. In addition, Anchan was detained pursuant to Article 112, a legislation that the WGAD has consistently found "expressly violates international human rights law."
The WGAD also ruled that Anchan was detained as a result of her "peaceful exercise of the right to freedom of expression." The WGAD considered the audio clips concerning members of the Thai royal family that Anchan uploaded onto social media platforms to "fall within the boundaries of the exercise of the right to freedom of expression" under Article 19 of the UDHR and Article 19 of the ICCPR.
Peaceful Assembly
Police torture political activists after protest
In November 2021, Human Rights Watch reported that two political activists had been tortured by the police. According to the group, on 20th October 2021 police arrested Attasith Nussa, 35, and Weeraphap Wongsaman, 18, after violently dispersing a protest outside Bangkok's Din Daeng police station. The two men allege that the police beat them while arresting them and then took them inside the police station, where officers beat and choked them, burned them with cigarettes and threatened them with death. Attasith and Weeraphap were released by the court on 30th October 2021.
Attasith said that after being taken to the police station, officers in uniforms and civilian clothes surrounded him in an interrogation room. One police officer in a white shirt accused him of setting fire to a shrine in front of the Din Daeng police station. They hit his ribs and stomach with a wooden baton. They also grabbed his neck and choked him until he almost passed out. Officers told him not to resist or the beating would get much worse.
Weeraphap also told HRW that police officers punched and kicked him when they arrested him and brought him inside the Din Daeng police station. He was handcuffed behind his back and they tied him on a chair in an interrogation room and took his pants off. They burned the area around his genitals with cigarettes and kicked his testicles.
According to HRW, torture and other ill-treatment in police custody have long been a problem in Thailand but the government has taken few steps to address it.
On 18th January 2022 it was reported that the Thai authorities had yet to investigate complaints despite repeated calls for justice.
Mass arrest of protesters against Songkhla industrial project 
#Thailand: We stand in solidarity with 36 protesters from the Chana Rakthin Network who are in detention for a peaceful protest against an industrial project affecting their environment. We call for their immediate release #WhatsHappeninginThailand https://t.co/gtG5ju57Jh

— CIVICUS (@CIVICUSalliance) December 13, 2021
On 7th December 2021, crowd control police arrested 36 members of the Chana Rakthin Network who rallied in front of the Government House - the offices of the Prime Minister of Thailand and appointed cabinet ministers - in protest against the government's planned industrial estate development in Songkhla's Chana district.
In the evening of 7th December, about 50 members of the network gathered in front of Government House and set up a tent near the entrance, according to police. Police from the Protection and Crown Control Division arrived at the scene around 9pm and read out an announcement, warning the protesters they were breaking the emergency decree. They then started to disperse the protesters. 36 protesters - five men and 31 women - were rounded up and moved into vehicles and detained in the compound of the Narcotics Suppression Bureau on Vibhavadi Rangsit highway. They were all released the following day.
The protesters said the government promised in December 2020 to revoke all cabinet resolutions involving the project and start over again, with a strategic environmental assessment of the development. However, one year after making the promise, no action had been taken on the part of the government.
The protests continued for a further 10 days until the government agreed to halt the Chana industrial park project in Songkhla and conduct a strategic environmental assessment.
Police charges trade union leaders and activists for protest
On 29th January 2022, police in Thailand filed criminal charges against two union officials and four other labour activists after speaking at a protest, demanding that the Thai government and brands pay salaries owed to 1,388 workers in the lingerie sector.
According to IndustriALL Global Union, the chairperson of the Triumph International Thailand Labour Union, Chitnawatcharee Panad, the president of the Textile, Garment and Leather Workers' Federation of Thailand (TWFT), Sia Jampathong, and four other labour activists were charged by Thai police with violating the Emergency Decree and the Disease Control Act.
The charges came after they spoke at a protest in front of the government building in Bangkok in October 2021. The workers demanded that the government assume responsibility for the money owed to 1,388 workers, previously employed by Brilliant Alliance Thai Global (BAT).
The company, which supplies lingerie giant Victoria's Secret, has yet to provide severance pay, wages owed, overtime and holiday pay, totalling THB 242,689,862.71 (USD 7.4 million), after closing the factory in March 2021.
Association
Civil society continue to push back against restrictive NGO bill
The draft that the public hearing is concluding in 24 March requires wide ranges NPOs to register themselves with the state, declaring its purposes, transaction and donors. #whatshappeninginthailand pic.twitter.com/YVzECMaeeO

— Prachatai English (@prachatai_en) March 24, 2022
As previously reported, human rights groups have raised concerns about a draft law to regulate non-profit groups which could be used to muzzle civil society groups and non-governmental organisations (NGOs). The "Draft Act on the Operations of Not-for-Profit Organisations" contains numerous provisions that would subject NPOs and its members to excessively restrictive measures curtailing their rights to freedom of expression, association, peaceful assembly and other human rights, including facing arbitrary interference with the right to privacy.
The Draft Act was first introduced to the public in March 2021. The first public consultation was also carried out by the Office of the Council of State between 12th to 31st March 2021 – an inappropriately short period of time. In May 2021, the Anti-Money Laundering Office (AMLO) proposed additional principles to the Draft Act, maintaining that they were needed to address Thailand's failure to comply with its obligations under international standards on Anti-Money Laundering and Combating the Financing of Terrorism and Proliferation of Weapons of Mass Destruction (AML/CFT).
In December 2021, over 40 Thai and international civil society organisations wrote an open letter to the Cabinet Ministers stating that the Draft Act was inconsistent with Thailand's constitutional requirement to protect fundamental rights and its obligations under international human rights law and standards and called upon the Thai government to withdraw the Draft Act immediately.
On 4th January 2022, despite the strenuous opposition by civil society groups, the Cabinet approved the Draft Act that was revised by the Office of the Council of State. The bill also incorporated several of the so-called counter-terrorist financing measures as suggested by the Anti-Money Laundering Office (AMLO).
Following ongoing pressure, a second public consultation regarding the Draft Act was held in March 2022. Members of civil society organisations from across the country gathered at the Ministry of Social Development and Human Security (MSDHS) on 24th March to protest against the bill. Hundreds of protesters gathered in front of Managkhasila House in the capital, Bangkok, at around 9 am before marching to the MSDHS to demand that the Cabinet withdraw the bill. Following the protest, MSDHS extended the deadline for submitting public input on the Draft Act to 1st April 2022.
During the human rights review at the Human Rights Council in March 2022, Thailand accepted recommendations to ensure that it revised the draft law to conform with international norms and good regulatory practices that it will not prevent or impede civil society organisations from operating securely and freely.
Government seeks to expel international human rights group
An aide to Thailand's prime minister said on 11th February 2022 that he would seek the expulsion of human rights group Amnesty International from the country, after it was accused by ultra-royalists of undermining national security.
Seksakol Atthawong, a vice minister in Prime Minister Prayut Chan-o-cha's office, said a petition opposing Amnesty's presence in Thailand had garnered 1.2 million signatures and would be submitted to the National Security Council and Interior Ministry.
On 17th February 2022, a small group of protesters gathered outside the Ministry of Interior holding signs that said "Get out from Thailand", and submitted a letter calling for an end to Amnesty's presence in the country.
Ultra-royalists have accused Amnesty International of stoking unrest by calling for a halt to the filing of criminal charges against people who urge reforms to the monarchy. The PM in November 2021 ordered an investigation into Amnesty.
Amnesty International has said attacks against its operations in Thailand were taking place against a backdrop of "growing intolerance for human rights discourse" among the country's authorities, and warned of a clampdown on civil society groups.
Critical NGOs being targeted by tax audits
In March 2022, it was reported that the government had ordered for the Revenue Department to conduct tax audits on at least six NGOs working on human rights. These organizations are known to call out the government on community rights, the right to freedom of expression and to demand constitutional amendments to ensure Thailand's constitution genuinely reflect the needs of the people.
Since December 2021, the six groups including the Thai Volunteer Service (TVS), the ENLAW Foundation (EnLaw), the Foundation for Community Educational Media (FCEM) (Prachatai), the Thai Lawyers for Human Rights (TLHR), the Human Rights Lawyers Association (HRLA) and iLaw have gradually been notified of a request to conduct tax audits by the Revenue Department.
During their visits the Revenue Department claimed that the audit was being conducted thanks to a complaint filed by a "government agency" but were not able to reveal the name. The department also asked for detail about the sources of funding and how it has been used, particularly funding from NED or the National Endowment for Democracy. The department also asked to see the historical financial documents which were irrelevant to the filing of tax returns. According to the groups, such a field tax audit by the Revenue Department at the offices of NGOs was unprecedented.
The groups believe that the audits are being used to dig up information on the NGOs and is tantamount to an act of discrimination and that the government is using the Revenue Department as a "political tool".
Activists released on bail
Thai pro-democracy student leader Parit Chiwarak freed on bail for 2020 protests https://t.co/tP9YjkvOkG

— South China Morning Post (@SCMPNews) February 24, 2022
On 24th February 2022, pro-democracy activist and student leader Parit "Penguin" Chiwarak was released from Bangkok Remand Prison on bail after almost 200 days in detention while awaiting trials on multiple charges relating to his protest activities, including lese-majesté and sedition. The 23-year-old, who in 2021 went on a 57-day hunger strike in jail, was freed on a 200,000 baht (USD 6,000) bond, according to Thai Lawyers for Human Rights, which represented him. As he walked free, wearing a white T-shirt and holding a white rose, Parit gave the three-fingered salute adopted as a gesture of defiance by the protest movement from the "Hunger Games" movies.
The court set six bail conditions for his release. He must not defame the monarch or the courts; obstruct the justice system; participate in rallies that could cause public unrest, either in person or via social media; leave his residence from 6pm to 6am unless he has a medical emergency or permission from the court; leave the country without court permission; and he must wear an electronic monitoring device.
On 28th February 2022, the Bangkok South Criminal Court granted a bail request by activist Anon Nampa, clearing the way for the human rights lawyer and activist to be temporarily released. He had spent almost 7 months in detention pending trial on several charges relating to protests in 2020 and 2021. He also fell ill in detention. Lawyer Norasate Nanongtoom said the court allowed his temporary release until 28th May. He was released on a bail surety of 200,000 baht (USD 6,000).
Anon's release is conditional. He must not leave the country without prior permission, abstain from political activities and from posting political messages on social media. Mr Anon must also stay at home from 7pm to 6am, wear an electronic tag on his ankle and report to the court every month. He faces lese-majesté and multiple other charges relating to political activities.
Anon Nampa was the winner of the 2021 Gwangju Prize for Human Rights (GPHR). Since 2008, when he started his legal profession, he has offered free legal assistance to human rights and democracy activists. After the 2014 military coup d'etat, he has especially defended people who were indicted for royal defamation. In 2014, he co-founded a pro-democracy activist group, Resistant Citizen, to empower people to challenge the undemocratic, authoritarian regime and to raise public awareness about human rights.