Despite re-election to Human Rights Council, civic space concerns persist in Nepal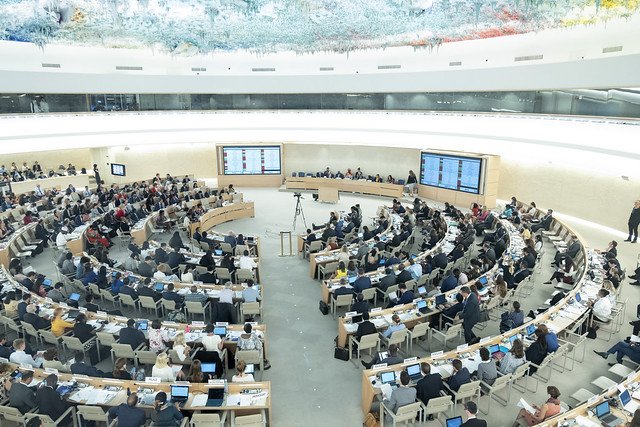 Numerous human rights groups submitted their reports to the UN Human Rights Council in July 2020 for the upcoming review of Nepal's human rights record. In July 2020, CIVICUS and Freedom Forum made a submission raising concerns about proposed repressive laws that seek to limit the work of independent CSOs and suppress freedom of expression, including amendments made to Nepal's criminal code. The report also highlighted ongoing attacks against journalists and the suppression of peaceful assembly.
On 14th October 2020, Nepal was re-elected as a member of the UN Human Rights Council in the elections held at UN Headquarters in New York. This is the second time that Nepal has become a member of the council following its first election in January 2018. Nepal garnered 150 votes and will serve a consecutive three-year term from 2021-2023. When it presented its candidature for election it made the following voluntary pledges and commitments:
Ensure the independence of the judiciary for the protection of human rights;

Foster the growth and development of a free media;

Continue to maintain a conducive environment for the operation of human rights defenders and civil society organisations;

Strengthen the National Human Rights Commission in the protection and promotion of human rights.
In recent months, there have been further attempts by the authorities to impose new restrictions on the internet and the media. Civil society has raised concerns at the judicial harassment of a journalist and the death of another senior journalist. There have been protests by Dalits against the discrimination and violence they face and against Chinese encroachment. There were allegations of ill-treatment of a health activist, while the Chepang Indigenous peoples are facing eviction.
Human rights groups have also raised concerns that the Nepal government is failing to act on the National Human Rights Commission's findings to ensure accountability for grave human rights abuses by security forces. According to Human Rights Watch There are mounting allegations of extrajudicial executions and deaths in custody resulting from torture, yet the Nepal authorities resist conducting credible investigations. Successful prosecutions for abuses by the security forces are practically unheard of.
Expression
Concerns about internet restrictions with new bylaws of the Telecommunications Authority
In July 2020, Freedom Forum raised concerns over the passage of a Bylaw of the Nepal Telecommunications Authority (NTA), in particular the provision in Rule 12 (L) of the Bylaw which states that "arrangement should be made whereby the service providers are not allowed to receive and disseminate visuals, pictures and writing which are obscene and inciting/provocative, stoking social anomalies and threatening national interests."
The Bylaw has further assigned the liability to internet service providers, thus placing them in a position to filter and block internet content. The NTA however has failed to explicitly mention any legal grounds upon which the Bylaw is based.
Freedom Forum Executive Chief Taranath Dahal said:
"Once the bylaw is put into practice, the NTA [could be used] to censor content on the internet via internet service providers, which undoubtedly puts at risk citizens' right to freedom of expression, information and privacy. It further erodes internet freedoms, rule of law, and democracy".
A number of restrictive laws already exist or are being proposed to restrict digital freedoms. The 2006 Electronic Transactions Act (ETA) has been abused repeatedly by the authorities, often to prosecute online journalists reporting on corruption. In 2019, the government tabled an Information Technology Bill to replace the Electronic Transactions Act. The new bill would impose harsh sanctions for 'improper' social media posts. It creates a raft of loosely defined new offences that could be interpreted to include almost any online activity.
Public broadcasting bill raises independence concerns
A new Public Service Broadcasting bill has raised serious concerns among journalists and lawmakers about the potential for government control over a new public media body.
A new bill for public service broadcasting (PSB) in Nepal was registered earlier in July 2020. It envisions the merging of state-owned broadcasters Radio Nepal and Nepal Television under a single public media entity that would supposedly be editorially independent and hold parliament to account.
However, some are fearful that the new bill will allow the government to exercise control over the new public media body. This is largely due to proposals that members of a Public Service Broadcasting Council would be appointed by the government and that a minister would be the Council's Chairperson.
In a press release, the Federation of Nepali Journalists raised concerns on the bill for neither reflecting international standards of public service media worldwide nor adhering to its core principles. The organisation said:
"The provisions in it seem to be an attempt to maintain more government control and make the government-owned Radio Nepal and Nepal Television more loyal to the government."
There have been other attempts to bring the media under greater control in recent years. As previously documented, the Media Council Bill, which would replace the existing Press Council Act, introduced to parliament in May 2019 without stakeholder consultation, eliminates the principle of media independence outright by stating that "the president and members of the Media Council will be directly appointed by the government," which can "remove the president and members at any time." The Bill would also effectively increase the government's control over the issuing and suspension of press accreditation.
NGO raises concerns about journalists
Freedom Forum reported that the Lahan Municipality authority had filed a case against reporter Manilal Bishwakarma on 24th August 2020, under the Electronic Transaction Act, a law that has been used to criminalise journalists for their critical reporting.
The actions were taken by the municipality after Bishwakarma had reported the municipality's distribution of 'rotten raw foods" as relief materials to the locals facing a food crisis, following the lockdown to contain the coronavirus pandemic. In his news article published in April 2020, Bishwakarma had also included photographs of the local community who had come to the ward office to return the decayed food.
Bishwakarma further said that he received several threats through social media and from the municipal authorities following the publication of the news. However, he said, "I am ready to face whatever the consequences, but I will not stop writing on such serious [issues] of government irresponsibility and irregularities".
🇳🇵 #Nepal: Freedom Forum is deeply shocked to learn about the death of a senior journalist at Kantipur national daily, Balaram Baniya. @ForumFreedom demands serious and fair investigation on his death https://t.co/1sjYvmDjgM @NepalNHRC pic.twitter.com/hHnpyxj4Wn

— IFEX (@IFEX) August 16, 2020
In a separate case, Balaram Baniya, a journalist who wrote an article on Chinese encroachment in Rui village, was found dead. The 50-year-old journalist's body was found on 11th August 2020 on the banks of the Bagmati River near the hydropower project area at Sisneri, Makwanpur. A team deployed from the Area Police Office in Bhimphedi retrieved his body from the river and sent it to Hetauda Hospital. Baniya was last seen walking along the banks of the Balkhu river. His mobile phone showed the same location, after which the phone was switched off.
According to Freedom Forum, his death appeared "mysterious". The NGO has demanded a "serious and fair investigation on his death by the police administration".
Senior journalist Baniya had joined the Kantipur daily in around 1992 and since then he had been writing on parliamentary affairs, political issues and governance, establishing himself as a recognised journalist. He had also been a member and secretary of the Federation of Nepali Journalists' central committee as well as an active leader advocating for rights of working journalists.
Impact of COVID-19 on the media
A recent report on the impact of Covid-19 on Nepali media published by Freedom Forum shows that 3,190 active journalists out of a total of 8,410 journalists spread across 77 districts have lost their jobs due to the coronavirus pandemic.https://t.co/YuVBuCDNlB

— The Record (@recordnepal) October 6, 2020
In August 2020, a report published by Freedom Forum on the 'Impact of COVID-19 on Nepali Media" highlighted that the Nepali media industry has suffered a chain of effects of the COVID-19 crisis from the beginning of 2020.
According to the report, within days of the government-enforced nationwide lockdown, advertisement revenues declined unimaginably by 80%, and the print media in particular began to suffer. Major radio and television channels began to cut costs. As a result, radio and television programmes went 'off-air' and, as if they had no other option, media owners resorted to retrenchments: many journalists and media workers were asked to remain on unpaid leave, denied regular salaries and payment, or delayed payment, finally leading to joblessness and resignations.
The report stated that the independent media's presence and outreach has shrunk and its watchdog role weakened. As a result, stories related to misappropriation of funds, bad governance and corruption have gone unreported or under-reported. Further, the state apparatuses have flexed their muscles under the garb of crisis management, wielding power to control the media and mobilising line agencies for further surveillance.
For months, journalists across the country have been carrying out various protests against the mass layoff of working journalists with little to no pay.
Peaceful Assembly
Protest by Dalit community against violence and discrimination
THT: Dalits stage protest against violence https://t.co/nwYw6PwFZi pic.twitter.com/OQXMc3kXct

— Nepal News English (@Nepal_News_En) October 16, 2020
The Dalit community of Saptari staged a demonstration in October 2020 at a district headquarters Rajbiraj protesting the increasing cases of violence and murder against their community members.
Hundreds of Dalit community leaders and members from even far-flung villages participated in the demonstration organised at the initiative of the Joint Dalit Struggle Committee, Saptari. Participants in the demonstration started a rally from the local Raj Stadium and made the rounds of the bazaar before returning to the same place and converging. The demonstrators also sought an end to the ongoing spate of murder, rape and other forms of violence and ongoing discrimination against the Dalit community.
According to Amnesty International, despite criminalising caste-based discrimination in the constitution and through special laws, Dalits across Nepal continue to face multiple layers of discrimination and violence. The implementation of the laws remains ineffective, while crimes against Dalits are often not properly registered or investigated as per the legal provisions. Dalits rights activists claim that political protection of perpetrators is one of the major drivers of impunity for caste-based discrimination and violence.
Association
Health activist ill-treated while conducting a hunger strike
Activist and former senior surgeon Dr. Govinda KC has begun his 19th hunger strike in protest over #Nepal's poor public health care and medical education systems.https://t.co/dWrpb91KC8

— Global Voices (@globalvoices) October 5, 2020
In September 2020, the police allegedly ill-treated Nepalese health rights activist Dr Govinda KC who had been conducting his 19th hunger strike. Dr KC was forcibly taken by the authorities by ambulance to the National Trauma Centre (NTC) as soon as he landed at Kathmandu airport from Nepalgunj.
Dr KC's demands include providing timely treatment to both COVID-19 patients and those with general ailments, putting an end to the country's lockdown, and preventing a surge of infections by taking safety precautions. He is also advocating for medical services to be free and accessible to the public and wants those involved in corruption in the medical sector to be exposed.
A former senior orthopedic surgeon and professor at Nepal's Tribhuwan University TeachingHospital, Dr KC retired in October 2019 after 26 years of service. Despite the fact that Dr KC has waged several hunger strikes over the past nine years, there has been limited progress. On each occasion that the government negotiated with him and reached an agreement he would end his strike — but the government never implemented the promises it made.
Association
Indigenous peoples face eviction
Nepal: Authorities must immediately halt the forced eviction of the Chepang Indigenous peoples from their settlements and ensure those responsible for the destruction of ten homes are held accountable.https://t.co/2HdNLbOH9K

— Amnesty International South Asia (@amnestysasia) July 21, 2020
In July 2020, Amnesty International reported that the Chepang Indigenous peoples were facing forced eviction from their settlements.
On 18th July 2020, the authorities at Chitwan National Park, a UNESCO World Heritage site, set two houses ablaze and destroyed eight others with the use of elephants. The attacks were carried out without any prior warning. The Chepang families, belonging to one of Nepal's most marginalised Indigenous communities, lost not just their homes but also their money, identity documents and other possessions. According to information obtained by Amnesty International, the park authorities acted without even informing local government officials.
Indigenous Chepang communities depend on subsistence farming, without having access to their own land. Nepal's laws, which fail to meet international standards, currently only protect people living "on land that they own" and fail to ensure adequate safeguards against forced evictions of people who do not have ownership titles.