Demands for accountability and transparency over measles outbreak in Samoa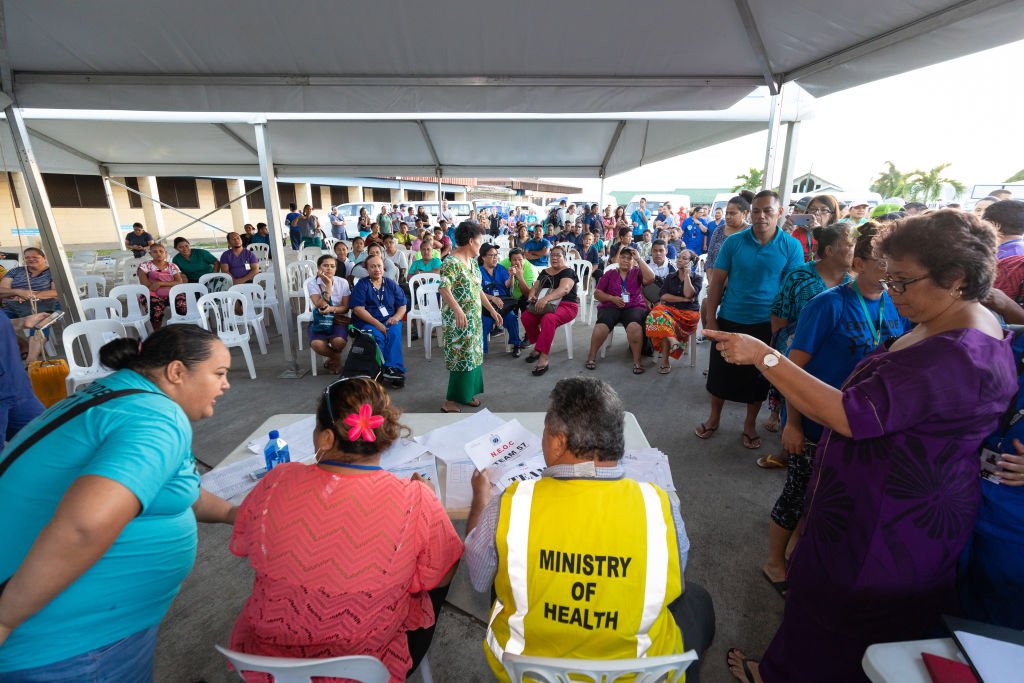 There have been calls for a national commission of inquiry into how the measles epidemic spread so quickly across the country in October 2019. In January 2020, the Prime Minister slammed the Samoa Observer newspaper for its criticism of the Legislative Assembly while a blogger has been jailed for insulting the Prime Minister. An anti-vaccination critic has been arrested.
Expression
Calls for inquiry into disease outbreak rejected
At the end of December 2019, Samoa lifted a six-week state of emergency after the infection rate from a measles outbreak that swept the country started to come under control. The nation had been gripped by the epidemic, which killed 83 people, most of them babies and young children, and affected more than 5,600 others.
There have been calls for a national commission of inquiry into how the measles epidemic spread so quickly across the country. Among those making the call include Mata'afa Keni Lesa, editor of the Samoa Observer. He said:
"In any normal democracy hit by a crisis of this magnitude where lives are lost, a Commission of Inquiry naturally follows. It's part of good governance; it's about accountability and transparency."
Samoan Opposition parliamentarian Olo Fiti Va'ai has also demanded an inquiry, saying that "the government did not have an epidemic plan in place before the outbreak in October". Medical academic Toleafoa Dr Viali Lameko, from Oceania University of Medicine, said he believed most doctors were backing this call.
Health workers, government and ministry of health sources – including those involved in the measles emergency response programme - told The Guardian the situation had been mishandled from the start. Many did not wish to be named for fear of losing their jobs.
However, Samoa's prime minister Tuilaepa Sailele Malielegaoi has rejected these calls as a waste of time and a waste of government's money.
Prime Minister attacks newspaper over criticism of media ban
In January 2020, the prime minister attacked the Samoa Observer, accusing the daily newspaper of being "nosy," spreading "lies" and employing "kids" whose writing, he says, is misleading the public.
Tuilaepa issued his attack in response to the Samoa Observer's coverage of the Legislative Assembly's decision to ban the media from pre-Parliament briefings. Tuilaepa said the Samoa Observer liked to meddle in things it had no business being involved in. He said that the newspaper wanted to be the first to report on laws.
Tuilaepa also accused "newspapers" of spreading misinformation and stated that the media was only interested in negative stories.
Blogger sentenced to jail
BREAKING: Notorious blogger Malele Paulo - better known by the alias King Faipopo - has been sentenced to prison after he was found guilty of the criminal libel of Tuliaepa Dr. Sailele Malielegaoi in a Facebook post. https://t.co/0O06U0zo2X

— Samoa Observer (@samoa_observer) October 25, 2019
A Samoan blogger has been jailed for seven weeks for defaming the prime minister. Malele Atofu Paulo, popularly known as King Faipopo, was sentenced in the Apia District Court on 25th October 2019.
His lawyer, Unasa Iuni Sapolu, said the judgement was unfair because King Faipopo had only called Prime Minister Tui'laepa Sailele Malielegaoi a coward.
As previously documented, in 2017 the Samoan parliament unanimously voted to revive its criminal libel law after the prime minister said it is needed "to fight ghostwriters and troublemakers," despite opposition from media freedom advocates.
Police arrest vaccination critic
In December 2019, the authorities arrested an anti-vaccination campaigner. Edwin Tamasese was charged with incitement against a government order.
The measles outbreak since October 2019 is in part blamed on people spreading false information, claiming vaccinations are dangerous. Samoa declared a state of emergency and made vaccinations compulsory.
Tamasese had spoken out against vaccines on Facebook, instead promoting the use of ineffective remedies such as papaya leaf extract to treat the deadly illness. Before his arrest, he had described the government's mass vaccination programme as "the greatest crime against our people", and falsely claimed vitamin C could cure the infected children. He has since been released on bail.