Deadly violence against protesters by security forces as crackdown escalates in Myanmar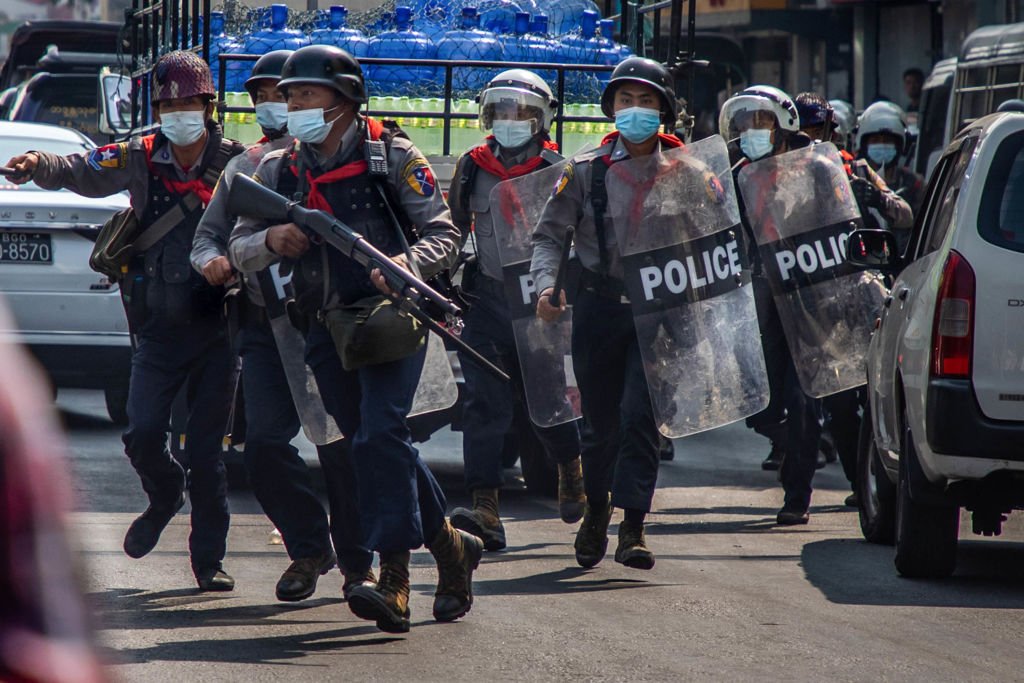 On 1st February 2021, the Myanmar military regime seized power in a coup, arrested the civilian leaders of the national and state governments and announced a one-year "state of emergency." Since then, it has launched a systematic crackdown against a civil disobedience movement that has organised mass protests against the coup across the country. This includes excessive force and firearms used against protesters, killing at least 50 individuals, the arbitrary detention of more than a thousand activists and protesters as well as the targeting of journalists. It has also amended laws to impose more restrictions on civic space and imposed internet blackouts.
On 8th February, the Committee Representing Pyidaungsu Hluttaw (CRPH) was formed, representing elected members of the Union Parliament from the National League for Democracy (NLD). It condemned the military takeover as a "criminal act" and the military regime's cabinet as illegitimate. After forming the CRPH, the NLD lawmakers notified UN diplomats and international parliaments that they should contact the committee to discuss government business, and not the military regime.
On 9th February, New Zealand suspended all military and high-level political contact with Myanmar, pledged to block any aid that could benefit military leaders and placed a travel ban on coup leaders. On 11th February, the US issued an executive order to impose sanctions on the leaders of Myanmar's coup. The sanctions target ten individuals, including Myanmar's acting president, and three companies. Trade sanctions were also imposed on 4th March. On 18th February, the UK announced it was freezing military assets and imposing travel bans on military personnel. On 22nd February, European Union foreign ministers agreed to impose sanctions on Myanmar's military and withhold some development aid. Australia announced a suspension of its defence cooperation with Myanmar's military on 8th March.
ASEAN remains divided on a collective response but some members have urged the military government to release detained civilian leader Aung San Suu Kyi and cease using lethal force against peaceful demonstrators.
The Human Rights Council on 12th February adopted a resolution in which it called urgently for the immediate and unconditional release of all persons arbitrarily detained in Myanmar, including State Counsellor Aung San Suu Kyi and President Win Myint and others, and the lifting of the state of emergency.
The Council further requested the United Nations High Commissioner for Human Rights and the Special Rapporteur on the situation of human rights in Myanmar to assess the current human rights situation in Myanmar, and to provide updates in their reports to the Human Rights Council and called upon Myanmar authorities to engage and cooperate with United Nations human rights mechanisms.
On 18th February, Special Rapporteur Tom Andrews said in a statement that he is "terrified" that violence could break out, as additional soldiers have been deployed in towns and cities, including the commercial hub Yangon, where demonstrations are planned.
The UN Security Council has not moved beyond making a relatively mild statement expressing "deep concern" about the state of emergency and restrictions on civil society, journalists and media workers. On 24th February, 137 human rights organisations including CIVICUS issued a joint call for a global arms embargo on Myanmar to the UN Security Council and member states.
On 25th February, Facebook announced it had barred accounts tied to Myanmar's military as well as military-controlled media accounts from using its platforms. The ban also includes Facebook ads from military-controlled companies and accounts on Instagram. On 4th March, TikTok said it would remove videos of Myanmar soldiers threatening to shoot protestors. On 5th March, YouTube terminated five Myanmar military channels from its platform. The removals include YouTube channels for the government-run Myanma Radio and Television (MRTV) network and the military-owned Myawaddy Media used to spread military propaganda in Myanmar.
Peaceful Assembly
Excessive force and firearms against protesters 
"Two Five" general strike on 2.2.2021 against the military rule across Myanmar on Monday morning. Hundreds of thousands of people are defying the regime's threat of further crackdown on dissent. Here are the protests in Yangon. #WhatIsHappeningInMyanmar #2Fivegeneralstrike pic.twitter.com/uUcsjGgGoM

— Myanmar Now (@Myanmar_Now_Eng) February 22, 2021
Hundreds of thousands of protesters have taken to the streets across many cities in Myanmar - including the capital Naypyitaw and the country's two largest cities, Yangon and Mandalay - to peacefully protest the military coup in the country. These include doctors, civil servants, students, women's groups, ethnic minorities, LGBT+ groups, artists and unions.
Protesters are demanding an end to the military's rule and want Suu Kyi released, along with senior members of her National League for Democracy (NLD) party. They were met with live ammunition, rubber bullets, tear gas and water cannon by security forces as they attempted to disperse protests. Some have been attacked by pro-military supporters.
Police are making arrests in Sanchaung after firing tear gas repeatedly at protesters on Bagayar Road. Demonstrators had set up barricades on the road to prevent the police from detaining them. #WhatsHappeningInMyanmar pic.twitter.com/4Sa8odbhxO

— Frontier Myanmar (@FrontierMM) February 27, 2021
BREAKING: Major crackdown underway in Mandalay, eyewitnesses say police fired live rounds and tear gas on 62nd Street. At least one person injured, eyewitnesses say many arrests. Photos show 5.56mm live rounds and 12 gauge rubber bullets. #WhatsHappeningInMyanmar pic.twitter.com/lcDVVrwJpW

— Frontier Myanmar (@FrontierMM) February 26, 2021
New laws against protesters
According to Human Rights Watch, on 14th February 2021 the military regime announced amendments to the Penal Code that could criminalise thousands of demonstrators exercising their rights to free expression of their views, and anyone publicly criticising the military coup through any means.
A new provision, section 505A, was announced, that could be used to punish comments regarding the illegitimacy of the coup or the military government, among others. The new section would criminalise comments that "cause fear," spread "false news, [or] agitates directly or indirectly a criminal offence against a Government employee." Violation of the section is punishable by up to three years in prison.
Section 505(a) previously made it a crime to publish or circulate any "statement, rumour or report" "with intent to cause, or which is likely to cause, any officer, soldier, sailor or airman, in the Army, Navy or Air Force to mutiny or otherwise disregard or fail in his duty." It has been replaced with much broader language clearly designed to penalise those encouraging members of the civil service or the security services to join the Civil Disobedience Movement. Under the revised provision, any attempt to "hinder, disturb, damage the motivation, discipline, health and conduct" of the military personnel and government employees and cause their hatred, disobedience or disloyalty toward the military and the government is punishable by up to three years in prison.
The military also significantly broadened the "treason" provisions in section 124 of the Penal Code. Section124A, which already criminalised comments that "bring into hatred or contempt" or "excite disaffection against" the government, was expanded to include comments relating to the defence services and defence services personnel, effectively criminalising any criticism of the military or military personnel. Violation of the section is punishable by up to 20 years in prison. The newly added section 124C imposes a prison term of up to 20 years on anyone who intends to "sabotage or hinder the performance of the Defence Services and law enforcement organisations who are engaged in preserving the stability of the state." This provision would criminalise efforts to encourage security forces to join the Civil Disobedience Movement or permit unauthorised protests.
Expression
Arrest and attacks against the media
#Myanmar🇲🇲: Up to 25 journalists have been arrested since the military junta seized power on February 9. We urge the military to immediately release those journalists detained for covering the pro-democracy demonstrations #Myanmarcoup @ifjasiapacific https://t.co/VE2Cw3eQkp

— IFJ (@IFJGlobal) March 2, 2021
Myanmar's military junta have also targeted journalists covering demonstrations throughout the country against the military government. The Committee to Protect Journalists said on 1st March 2021 that since 9th February security forces had arrested at least 18 journalists. Six journalists have been charged with violating a public order law that could see them imprisoned for up to three years. Journalists have also been hit with rubber bullets and tear gas, and in some cases attacked.
Draconian cybersecurity bill proposed
Myanmar's military junta has put forward a draconian bill that would give it sweeping powers to access user data, block websites, order internet shutdowns and imprison critics and officials at noncomplying companies. According to Human Rights Watch, the ruling State Administrative Council sent the draft to telecommunications operators on 9th February and called for input on the bill by 15th February.
The draft law requires online service providers to keep a broad range of user data, including the person's name, IP address, phone number, ID card number and physical address, for up to three years "at a place designated by" the as-yet-unspecified ministry authorised by the military junta to deal with cybersecurity. Companies must provide that data to the authorities when requested "under any existing law." Those who fail to comply would face up to three years in prison.
Online service providers are required to block or remove a wide range of information at the instruction of the authorities, including "misinformation and disinformation", information "causing hate, disrupting the unity, stabilisation and peace" and statements "against any existing law." The law does not specify how the authorities are to determine what constitutes "misinformation" nor does it provide any route of appeal for those whose content is blocked or removed. In effect, it would allow the military authorities to order the removal of any content it does not like, Human Rights Watch said.
Anyone who posts "misinformation or disinformation" faces up to three years in prison under section 65 of the bill if they are found to have done so "with the intent of causing public panic, loss of trust or social division." Creation of a "fake" account, website or web portal "with the intent of causing public panic, loss of trust or social division" carries the same possible penalties.
Civil society organisations have rejected the bill - which violates the principles of digital rights, privacy and other human rights.
Electronic Transactions Law amended to prevent free flow of information
The junta has also amended the Electronic Transactions Law to prevent the free flow of information and criminalise the dissemination of information through cyberspace, including expression critical of the coup or the acts of the junta.
HRW reported that the amendments include several provisions (articles 38(d) and (e)) that provide criminal penalties for "unauthorised" access to online material and that could be used to prosecute whistle blowers, investigative journalists or activists who use leaked material for their work.

Section 38B criminalises "obtaining, disclosing, using, destroying, modifying, disseminating, or sending someone's personal data to anyone else without approval," with one to three years in prison. While the protection of the right to privacy online is important, this provision goes well beyond legitimate protections on privacy and imposes arbitrary restrictions on freedom of expression.

Section 38C criminalises the creation of "misinformation or disinformation with the intent of causing public panic, loss of trust or social division on cyberspace," and provides for imprisonment of one to three years in addition to fines. These provisions are similarly vague and overbroad and unnecessarily and disproportionately limit the exercise of expression online, including criticism of the coup and the military junta.
Association
Ongoing arrests of politicians, activists and protesters
DAILY UPDATE (08/03)#SaveSanChaung

1857 arrested, charged, or sentenced since 1 Feb

1538 actively persecuted (detained/evading arrest)

60+ killed since coup#Myanmar

detention list https://t.co/Xk6gEk11i1
fatality list https://t.co/BSzbgNSylk
brief https://t.co/ewEH4AeJEt pic.twitter.com/CEYXiYgeye

— AAPP (Burma) (@aapp_burma) March 8, 2021
There have been ongoing arrests since the coup began. Detainees include political leaders, government officials, civil servants, activists, student leaders and doctors, as well as anti-coup protesters.
According to human rights group the Assistance Association for Political Prisoners (AAPP), as of 8th March 2021 a total of 1857 people have been arrested, charged or sentenced in relation to the military coup. Three have been convicted while 319 have been released. Some arrests have taken place during night-time raids. AAPP said that family members are left with no knowledge of the charges, location or condition of their loved ones.
According to the International Trade Union Confederation, the security forces arrested and prosecuted 50 trade unionists. On 26th February, the military also publicly named 16 labour rights organisations that it deemed to be operating illegally because they are not formally registered.
Myanmar's ousted civilian leader Aung San Suu Kyi was hit with more charges on 2nd March. Suu Kyi appeared in a court hearing via video conference where she was charged with two more counts - one under Myanmar's colonial-era penal code prohibiting publishing information that may "cause fear or alarm," and another under a telecommunications law stipulating licences for equipment, her lawyer said, according to Reuters. She has also been charged in relation to a national disaster law and an earlier count under the country's import and export act.
Legal changes by military to further restrict rights
The amendments to the Ward or Village Tract Administration Law (13/2/21) announced on 13th February 2021, further increase the military's ability to conduct surveillance on people's movements, in particular on human rights defenders seeking shelter away from their own homes. Amendments to section 17 of the Act require all overnight guests from other wards or villages to be reported to the ward or village tract administrator, who is authorised by section 13 to "take action" against any who "failed to inform the guest list." Section 27 reintroduces criminal sanctions for failing to report overnight guests. Such provisions existed under previous military governments and were deeply resented.
The military also arbitrarily suspended sections 5, 7 and 8 of the Law Protecting the Privacy and Security of Citizens, eroding basic protections for individuals.
Section 5 required the presence of two witnesses whenever the police enter a residence for the purposes of search or seizure "to ensure that there is no damage to the privacy or security of the citizen." The suspension of that protection significantly raises the risk of abuses during searches and arrests. Section 7 required a court order for any detention of more than 24 hours. Suspension of the provision will facilitate violations of international law, which provides that any person detained on a criminal charge be promptly taken before a judge.
Section 8 provided protections of an individual's right to privacy by prohibiting search and seizure, surveillance, spying or any investigation affecting the privacy, security and dignity of the individual without a court order, protections that the junta has removed. Under international law, no one shall be subjected to arbitrary interference with their privacy, family, home or correspondence.