Cuban rapper Denis Solís of Movimiento San Isidro imprisoned; several artists on hunger strike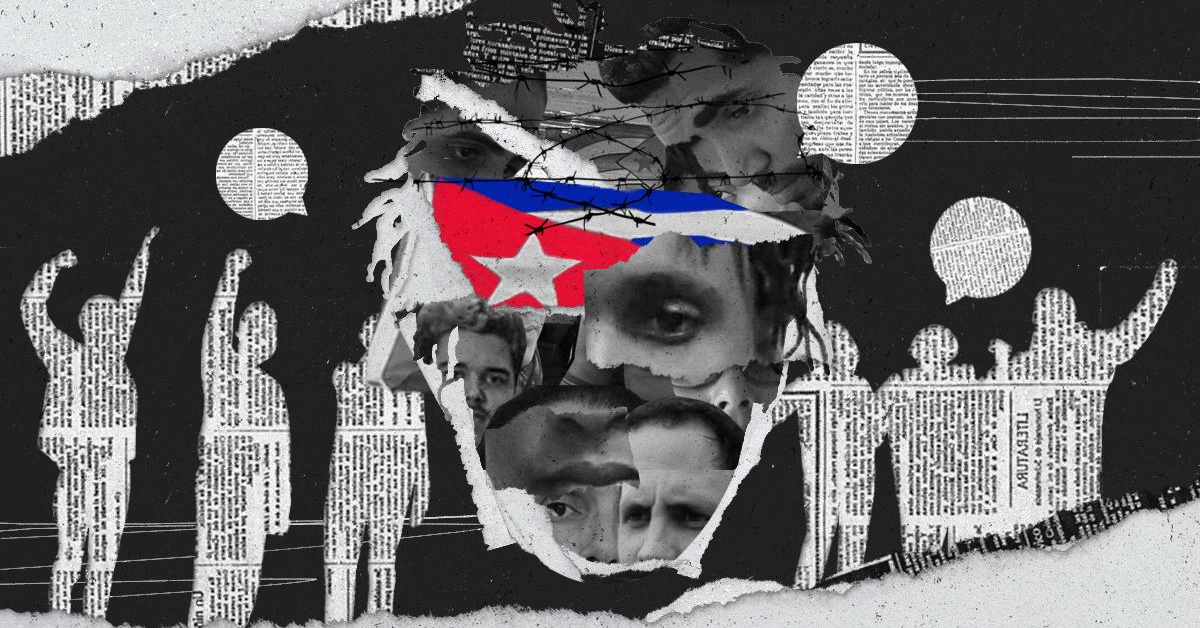 Association
Luces y versos acompañan la noche del Muelle de Luz en #LaHabanaVieja en una iniciativa de jóvenes #cubanos en apoyo a los huelguistas del #MovimientoSanIsidro. https://t.co/lbBj2d34yt

— Diario de Cuba (@diariodecuba) November 26, 2020
Civil society organisation Observatorio Cubano de Derechos Humanos (Cuban Observatory of Human Rights - OCDH) warned of an upsurge in repression, reporting that their researchers documented 544 violations of fundamental freedoms in Cuba in October 2020. These included 154 cases of alleged arbitrary detention and several instances where dissidents were threatened, harassed or besieged in their homes. In addition, the organisation noted that at least 11 "repudiation acts" have taken place, mainly against young, politically vocal artists. Such actions, organised by groups of government supporters, seek to intimidate the activists.
Movimiento San Isidro has been one of the most frequent targets of these attacks. On 9th October 2020, the group's headquarters in Havana were besieged. On the same day, police detained two of their members – curator Anamely Ramos and artist Luis Manuel Otero Alcántara, who has been detained several times for his work. They were both released on the same day. After her release, Ramos said she was threatened by law enforcement officers during her detention. According to news reports, the crackdown took place to prevent the group from putting together a "Concert for Freedom" on 10th October 2020.
On 9th November 2020, another member of the group, rapper Denis Solís González, was detained. Days earlier, the musician had used his social networks to share a live video of a police officer who had entered his home without a warrant. On 11th November 2020, Solís González was tried and sentenced to eight months in prison on "contempt of authority" charges. According to Amnesty International, he was then transferred to a maximum-security prison. The organisation's Americas director, Erika Guevara-Rosas, said:
"No one should be imprisoned for 'contempt' against a public official, a provision of the criminal code that Amnesty International and other human rights organisations have consistently called on the Cuban authorities to repeal."
After the musician's arrest, members of Movimiento San Isidro organised protests outside a police station and in the movement's headquarters. By 18th November 2020, at least nine members of the group had begun a hunger strike. Amnesty International verified information that at one point the authorities appeared to cordon off the block of the movement's headquarters with yellow tape to prevent supporters or journalists from going in. Members of the group also said they were under 24-hour surveillance by plain-clothed state security officials and feared they would be detained again if they tried to leave. On 26th November 2020, several of the artists were still on hunger strike.
During this period, there have been reports of a crackdown on protesters trying to show support for the artists, with several people detained. As reported by Reuters, journalists attempting to film were also harassed and beaten by civilian groups. On 22nd November 2020, Movimiento San Isidro said a man entered their headquarters and violently attacked Luis Manuel Otero Alcántara. Over 200 artists and academics from around the world signed an open letter in solidarity with the artists, calling on the Cuban government to release Denis Solís and establish a dialogue with Movimiento San Isidro.
According to local news reports, during the night of 26th November 2020, Cuban security forces raided the headquarters of the movement and detained 14 activists. Shortly before the storming of the house, many online services in Havana and in large parts of Cuba were reportedly interrupted.
En respuesta a la elección de Cuba para su quinto mandato en el Consejo de Derechos Humanos:

Leer: https://t.co/ws24bAVEfq pic.twitter.com/qZkqeO4D20

— REDLAD🌎 (@REDLADoficial) October 13, 2020
85 civil society organisations expressed their concern at Cuba's re-election to a fifth term on the UN Human Rights Council on 13th October 2020. For the organisations, this not only rewards Cuba's poor human rights record, but it also undermines the integrity of the Council to hold abusive governments accountable for their actions in the region and across the globe. In all three cycles of the Universal Periodic Review (UPR), Cuba received severe warnings about violations of freedom of association and expression, political persecution, arbitrary detentions, prohibitions on free domestic and international travel, absence of judicial independence, censorship, control of the internet and the scarcity of media plurality.
Peaceful Assembly
Así salió Oscar Casanella hoy a exigir sus derechos y hemos sabido que fue detenido hace varios minutos. #FreeOscarCasanella pic.twitter.com/VFriOkfQFB

— jose batista falcon (@batista_falcon) November 1, 2020
As reported by local media, on 31st October 2020 several dissidents and journalists were preventively detained and besieged in their homes to prevent a demonstration for economic freedoms in Cuba. One protester, identified as Oscar Casanella, was detained by several plainclothes officers while protesting peacefully with posters attached to his clothes.
On 10th November 2020, Damas de Blanco (Ladies In White) activists Sissi Abascal and Annia Zamora reportedly received police summons and were interrogated, threatened and fined. The defenders were cited by police in Jovellanos, Matanzas, after they published a video of a protest against electricity shortages. According to a member of the group, local authorities also threatened to "disappear" Sissi Abascal for filming the demonstration.
Expression
In October 2020, a report presented at the 76th General Assembly of the Inter American Press Association highlighted increased censorship and repression of independent media in Cuba. According to the report, the country has used several different strategies to curtail the press: warnings of contempt, travel bans, regulations on 'enemy propaganda', 'incitement to crime' or funding restrictions. Dozens of people have been fined for expressing themselves on social networks through Decree 370 - which censors and monopolises the use of the internet. The report also noted that telecom company ETECSA has blocked dozens of independent media websites such as 14ymedio, Diario de Cuba, Cubanet, Cibercuba, El Estornudo, ADN Cuba and Tremenda Nota. There have also been several cases of journalists and activists detained, threatened, hacked, having equipment confiscated and their homes or offices raided.
On 14th October 2020, Cuban authorities prevented social media figures from participating in an online forum to discuss Cuban politics. At least two people, Jancel Moreno and Maykel Castillo were detained. Iliana Hernández and others reported having their internet cut.