Critical voices silenced, impunity for excessive force and unlawful killings in Indonesia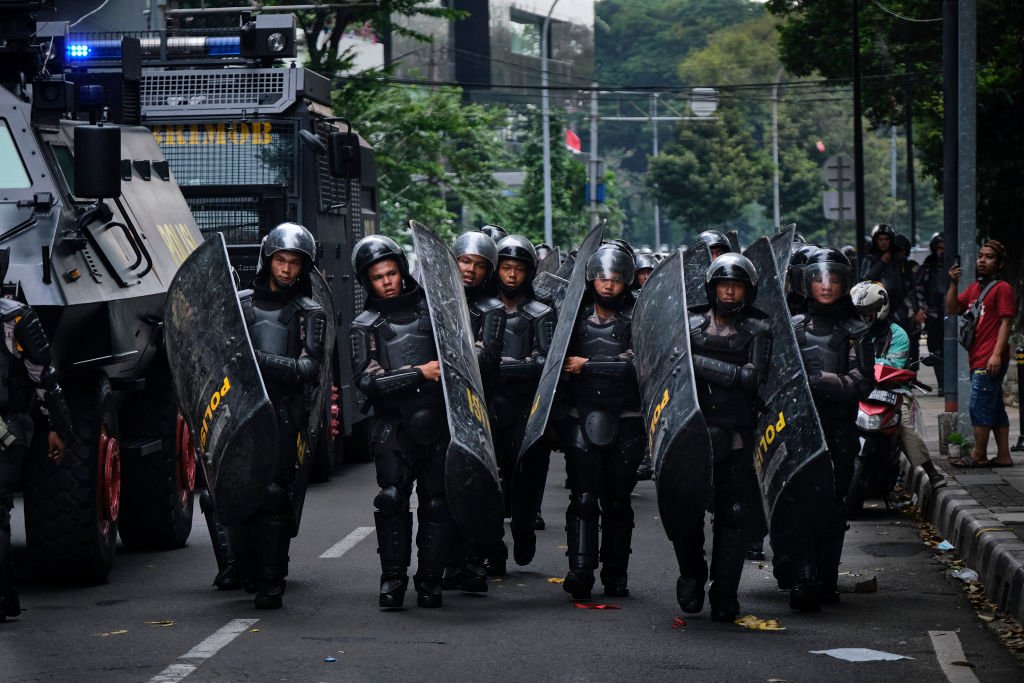 Attacks on civic space in Indonesia persisted in 2020. In December 2020, human rights groups raised concerns about violations against human rights defenders in the country and the failure of President Joko Widodo (Jokowi) to fulfil his promises to resolve cases of past human rights violations. The Human Rights Defenders Coalition (Koalisi Pembela HAM) documented 116 cases of the hacking of their social media accounts, intimidation, threats, arbitrary arrests and attacks against HRDs between January and October 2020.
Also, in December 2020, The Commission for Missing Persons and Victims of Violence (KontraS) said that Indonesia's democracy continues to be marred by violations of civic space and there has been lack of accountability for police violations. During protests in 2020 against the Job Creation Law, 232 people were injured and 4,555 others were arrested. KontraS found numerous cases where police used arbitrary and excessive means to control protestors, including water cannon, rubber bullets and batons.
Human Rights Watch in their annual report released in January 2021 highlighted continued attacks on press freedom, the prosecution of dozens of political activists in Papua for their activism as well as arrests for blasphemy. In a victory for civil liberties, a draft criminal law was temporarily withdrawn in September 2019 after mass protests. The draft contained articles that would violate the rights of women, religious minorities and lesbian, gay, bisexual and transgender (LGBT) people, as well as restricting freedom of speech and association.
In recent months, police have arrested, charged and convicted individuals for their social media posts, while a journalist was assaulted by the military. Political activists in Maluku and Papua have also been jailed for their peaceful activism. There has continued to be a lack of accountability for police violence during the mass protests against the job creation bill while reports of torture and unlawful killings continued to be reported.
Expression
Police arrest activists for social media posts link to protests
On 13th October 2020, police arrested eight members of the Save Indonesia Coalition (KAMI) for alleged hate speech, in violation of the Electronic Information and Transaction (ITE) law, for their social media posts in support of protests against the Job Creation law. According to reports, they were nabbed in two separate arrests in two cities, Jakarta and Medan, North Sumatra. The Coalition was established in August 2020, initially in response to the Jokowi administration's failures in handling COVID-19.
As previously documented, in 2020, workers and students rallied across Indonesia against the controversial job creation or Omnibus law which was passed by the Indonesian parliament during an unscheduled plenary session on 5th October 2020. The law - which revises 79 existing laws - aims to improve bureaucratic efficiency and cut red tape, particularly in regard to business permits and investment. However, critics said it will erode workers' protections, trigger job insecurity and remove environmental safeguards.
On 14th October, three KAMI leaders were charged including Syahganda Nainggolan, Anton Permana and Jumhur Hidayat. Amnesty International Indonesia's Executive Director Usman Hamid called for their release, saying: "These arrests are designed to create a climate of fear at a time when the Indonesian government is facing public opposition over the passage of the controversial Omnibus Law on Job Creation".
The ITE law has been used to prosecute individuals, including journalists and those who use social media or other online platforms, for their writings or statements. The vague and overbroad legislation has often been used to arrest, prosecute and punish people for peacefully exercising their freedom of speech.
In a separate case, seven social media managers were arrested on 21st October 2020 in relation to the protests. According to the police, three suspects are administrators of WhatsApp groups comprising vocational school students from across Greater Jakarta, three are administrators of a Greater Jakarta-based Facebook [page] and one is an administrator of the Instagram account @panjang.umur.perlawanan [long.live.resistance]. The police have charged the suspects under multiple articles of the Criminal Code, including Article 160 on provocation to commit criminal acts, which carries a maximum sentence of six years' imprisonment.
Musician jailed over social media post on coronavirus
In November 2020, a drummer for Bali-based punk rock band Superman is Dead was sentenced to 14 months in jail for criticising the country's medical association on his Instagram account over its handling of the coronavirus pandemic. I Gede Ari Astina, better known by his stage name "Jerinx", was found guilty of violating the ITE law. The charges sprang from a post on the musician's Instagram account last June in which he criticised the Indonesian Medical Association and called it a "lackey" of the World Health Organisation.
Andreas Harsono, Indonesia researcher for Human Rights Watch, said: "It's pathetic that during a national crisis the Indonesian authorities seem more interested in silencing online critics like Jerinx than undertaking a massive COVID-19 public information campaign."
Military personnel assault journalist
According to The International Federation of Journalists (IFJ), on 20th November 2020, Nirmala Maulana, who works for national online media organisation Kompas.com, was assaulted by members of the military. Nirmala was covering the removal of the controversial Islam Defenders Front (FPI) leader by military forces in Central Jakarta. When he had finished the assignment he was attacked by members of the military on this way to his motorcycle, who pushed Nirmala to the ground.
They demanded Nirmala delete the photos taken on his phone before confiscating it and telling the journalist his phone could be picked up from the West Jakarta District Military Command. After Nirmala informed his newsroom of the attack, the army returned the phone.
The Alliance of Independent Journalists (AJI) Indonesia said that the "Press Law has guaranteed the freedom of the press and the protection of journalists. AJI urges the head of the military to take responsibility for this incident and immediately process legal proceedings for the members involved in the incident."
On 30th December, AJI said there has been a sharp rise in cases of violations against journalists in Indonesia – a record 84 during 2020 compared with 53 cases in 2019. This includes cases of intimidation, seizure of equipment, deleting photographs, criminalisation and murder.
Peaceful Protesters Convicted in Maluku and Papua
On 23rd October 2020, the Ambon District Court in Maluku convicted Jannies Pattiasina, Simon Taihutu, and Abner Litamahuputty for taking part in a peaceful protest in Ambon on 25th April 2020. Pattiasina and Taihutu received a two-year sentence, while Litamahuputty received a three-year sentence. All of them were found guilty of committing a treasonous act (makar) and violating Article 106 of the Criminal Code.
As previously documented, they had allegedly participated in peaceful flag-raising ceremonies in different locations in the province commemorating the 70th anniversary of the declaration of independence of the Republic of South Maluku (Republik Maluku Selatan, RMS) in 1950. While the Republic of South Maluku (RMS), an armed pro-independence rebellion, officially ended in Maluku in 1966, some political activists continue to raise the "Benang Raja" flag there as a peaceful political act of protest against the central government. Human rights groups have documented dozens of arrests in past years of political activists who have peacefully called for independence, particularly in areas where there has been a history of pro-independence movements such as Maluku and Papua.
On the same day, a tribunal at the Fak-Fak District Court, West Papua, convicted and sentenced 23 individuals to between 11 and 18 months' imprisonment for their involvement in anti-racism protests on 1st December 2019. They were found guilty of committing treason (makar) and violating Article 106 of the Criminal Code.
Peaceful Assembly
Police violence during Omnibus Law protests
In December 2020, Amnesty International released a new report on police use of unlawful force during the protests surrounding the Omnibus Law on Job Creation. Amnesty International's Crisis Evidence Lab and Digital Verification Corps worked with Amnesty Indonesia to verify 51 videos depicting 43 separate incidents of violence by Indonesian police during protests that occurred between 6th October and 10th November 2020.
Previous monitoring work by Amnesty International Indonesia documented at least 411 victims of police use of force in 15 provinces during the protests. The organisation has also recorded 6,658 people arrested in 21 provinces. They also reported that 18 people in seven provinces were charged under offences contained in the Electronic Information and Transaction (ITE) Law, a law that is frequently used to silence critics. The organisation also reported the presence of many plainclothes police during the protests. Some of them incited violence and conducted arrests.
Association
Reports of extra-judicial killings and harassment of activists in Papua
On 2nd November 2020, Indonesia's human rights commission said that a fact-finding team believed the military had tortured a pastor in the country's Papua region. Resource-rich Papua has been plagued by a long-standing conflict between security forces and separatist groups since its absorption into Indonesia in 1969.
In late September 2020, Christian pastor Yeremia Zanambani was found dead in a pig shed with gunshot wounds, sparking outrage and pressure from church groups for an investigation. A report on Indonesia's human rights commission (Komnas HAM) said it suspected a military officer of torturing and shooting the pastor during a search for missing weapons and the whereabouts of separatists. Describing the killing as "extra-judicial", the report said wounds from a sharp weapon were also found on the pastor.
On 30th November 2020, the Office of the High Commissioner for Human Rights (OHCHR) said they were concerned by reports that reinforced military and security forces and nationalist militias had been involved in the violence in the Papuan region, where there had been repeated reports of extra-judicial killings, excessive use of force, arrest and continuous harassment and intimidation of protesters and human rights defenders.
There had also been numerous reports of arrests. Wensislaus Fatuban, a well-known human rights defender and seven of his colleagues were among at least 84 people arrested and detained on 17th November as they prepared to hold a public consultation on the implementation of the 'Special Autonomy Law' in Papua and West Papua provinces.
The body called on the Indonesian authorities to uphold people's rights to freedom of expression and to pursue thorough, independent and impartial investigations into all acts of violence, in particular killings, and ensure all perpetrators were held to account, regardless of their affiliation.
Rights body finds police committed unlawful killings
On 8th January 2021, the National Commission on Human Rights' (Komnas HAM) investigators concluded a probe into the fatal shooting of six members of the Islam Defenders Front (FPI), a hardline Islamist group. The commission found that the deaths of four of the six slain guards of FPI leader Habib Rizieq Shihab by the police at the Jakarta-Cikampek Toll Road on 7th December 2020 constituted an unlawful killing and recommended a transparent trial in a criminal court.
According to the police version of the events that led to the killings, the shootout occurred at around 30 minutes after midnight. Officers in three cars were following a convoy of vehicles carrying FPI leader Rizieq Shihab, who has ignored police summonses to face questioning over alleged violations of the health protocol after he held mass gatherings during the coronavirus outbreak.
Police claimed the men stopped and opened fire on the police, who returned fire. All six people were killed by the officers while four other people fled the scene. None of the six officers involved in the shootings was injured. FPI claimed none of the men carried weapons at the time.