Crackdown against political dissent deepens in Nicaragua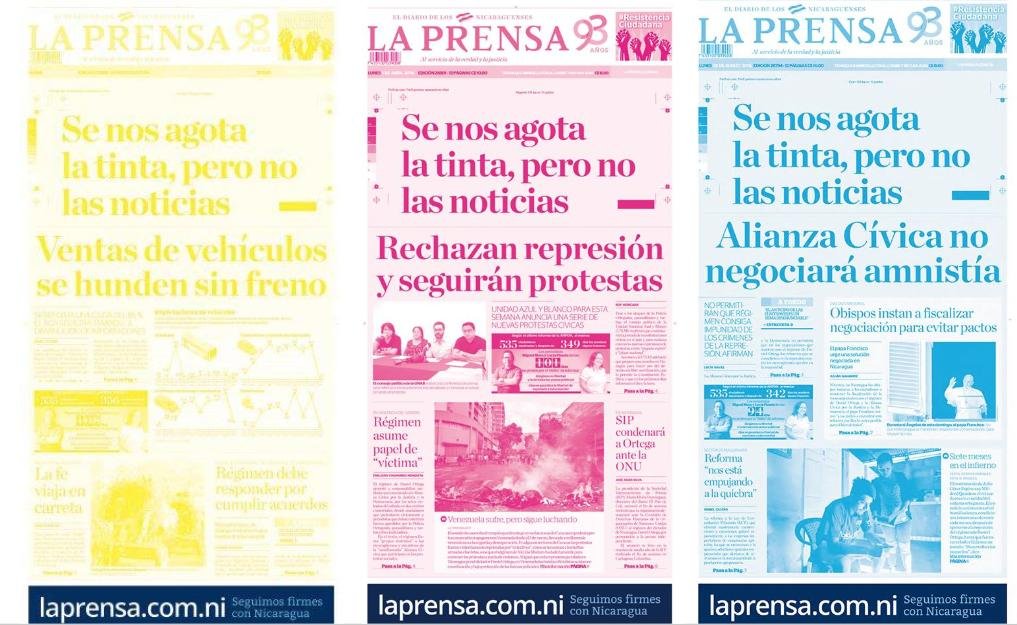 Association
Maria Esperanza Sánchez García detenida desde ayer domingo a las seis de la tarde, según denuncia ante Defensores del Pueblo aún no ha sido excarcelada, y sigue en detención arbitraria. pic.twitter.com/NMLTf1Im3k

— Julio Montenegro (@JulioMonOficial) January 27, 2020
On 26th January 2020, activist María Esperanza Sánchez was detained under accusations of narcotrafficking. The arrest took place in a safe house where Sánchez had been living because of the constant siege of her home in Matagalpa. On 6th February 2020, she was transferred to the women's prison known as "La Esperanza". According to information provided by her relatives and lawyer, since her capture Sánchez has been subjected to torture and ill-treatment aimed at forcing her to accept the charges. Sánchez has been involved in civic activism since massive socio-economic protests began in April 2018.
On 10th February 2020, members of opposition group Alianza Cívica were attacked when leaving a meeting in Chontales. Two cars containing eight people were followed and shot at by unidentified perpetrators in a car with a sticker of the government supporter movement Frente Sandinista. According to news reports, activist Danilo Lorío was threatened by phone soon after the members of Alianza Cívica left the meeting, which had taken place in his home. Lorío reportedly identified the man making the threats as a member of a paramilitary group.
House vigils and harassment of defenders
🆘📢#AlertaUrgente NICARAGUA / Policías y paramilitares afines al gobierno asedian y atacan las casas de mujeres activistas y ex-presas políticas.

📌Más información ➡️https://t.co/zb8uTLxPr3 pic.twitter.com/BwhNvPGWeJ

— IM-Defensoras (@IM_Defensoras) March 6, 2020
Since early 2020, there have been several similar reports of former political prisoners and political dissidents being repeatedly harassed and their houses besieged by police officers and armed civilian groups. Some activists have faced sustained harassment for months, while other incidents point to a further crackdown on political dissidence – taking place when meetings or protests are scheduled in order to intimidate and discourage participation.
For seven months, Nicaraguan police and members of paramilitary groups have been harassing former political prisoner Tania Muñoz through hostile surveillance of her house. According to the organisation, the situation escalated in the beginning of 2020. On 16th January 2020, the police began patrolling while journalist Noel Miranda of Artículo 66 interviewed her at her home, and a government supporter threatened to have her beaten and detained. In February and March, she denounced incidents in which government supporters threw stones at her house. Muñoz was arrested with her sister in July 2018 for supporting and providing care to people involved in anti-government protests. She was subjected to beatings, torture and ill-treatment while in prison and has been granted precautionary measures by the Inter-American Commission on Human Rights (IACHR).
On 25th January 2020, police surrounded activist George Henríquez's home and harassed him and Daysi Godoy. They were organising a meeting regarding the creation of a broad opposition coalition, which took place the following day. Henríquez also told the press that he was stopped by police on his way to the meeting and forced to delete videos he had recorded of the harassment.
Lawyer and human rights defender Yonarqui Martínez also denounced on 9th February 2020 that police officers had been watching the home where she lives with her family. In November 2019, unknown individuals opened fire on the lawyer's house after various acts of harassment. Martínez is a prominent lawyer who works with political prisoners.
Peaceful Assembly
On 22nd February 2020, anti-riot forces repressed protesters demanding the release of 61 political prisoners. Joshua Garay, spokesman for opposition coalition Unidad Nacional Azul Blanco (UNAB) told AFP that two minutes after the protest began, at least 20 police patrols arrived and started pushing and beating protesters. According to news reports, many protesters sought refuge inside a supermarket to avoid being beaten or detained. On the same day, a government-sanctioned march gathered Sandinista supporters in Managua without any reported incidents.
URGENTE🚨 Recibimos alarmantes reportes de asedio a personas excarceladas, líderes sociales y periodistas en varios puntos de #Nicaragua. Demandamos a Daniel Ortega que ponga un alto inmediato a su aparato de represión. #SOSNicaragua 🇳🇮 https://t.co/yb7863Kmmp

— Erika Guevara-Rosas (@ErikaGuevaraR) February 24, 2020
On 24th February 2020, the day before the launch of opposition coalition Coalición Nacional, at least 28 social leaders, human rights defenders and students were put under house arrest. Police officers were reportedly stationed outside their residences to intimidate and prevent them from taking part in an anti-government march for the coalition's launch. Feminist network IM-Defensoras also denounced several cases of harassment toward defenders on the same day.
Expression
Por fin: Después de más de 500 días, autoridades de Aduanas en #Nicaragua autorizan la entrega de los insumos retenidos de @laprensa. Se espera la inspección del papel para determinar si aún se lo puede utilizar. https://t.co/tNrkM8lyCH

— CPJ Américas (@CPJAmericas) February 7, 2020
After 18 months, on 7th February 2020 Nicaragua's government lifted the embargo of paper and ink shipments for print newspapers which led the daily El Nuevo Diario and other newspapers to close their doors. On 27th January 2020, newspaper La Prensa had published an editorial warning that this embargo was strangling the press and that, if La Prensa and Hoy were forced to shut down, the country would be left without a single print newspaper. Since the retention of materials began, La Prensa had to lay off over 70 journalists, cut sections and reduce its page count in order to cope. According to news reports, the government did not offer any explanation for the sudden release of materials.
On 25th February 2020, police and armed government supporters attacked journalists covering demonstrations in a commercial centre and outside a church in Managua. 25 reporters denounced having been attacked on that day. A member of the anti-riot police reportedly threatened journalist Yelsin Espinoza of digital platform Nicaragua Actual and his family.
Journalists' association Periodistas y Comunicadores Independientes de Nicaragua (PCIN) gave an oral report of attacks against the press in the country between 16th December 2019 and 29th February 2020. PCIN documented 404 violations against press freedom and access to information in this period. PCIN's Observatory identified 25 types of violations, with stigmatisation, censure and harassment as the most reported violations. In addition, there were 61 cases of attacks against 53 journalists - 37 men and 16 women. PCIN also highlighted that 20 journalists who were in exile decided to return to the country and have reported encountering several obstacles to the exercise of their profession, such as police harassment and direct threats from authorities and government supporters.