Crack down on protests, activists systematically detained & sentenced on spurious charges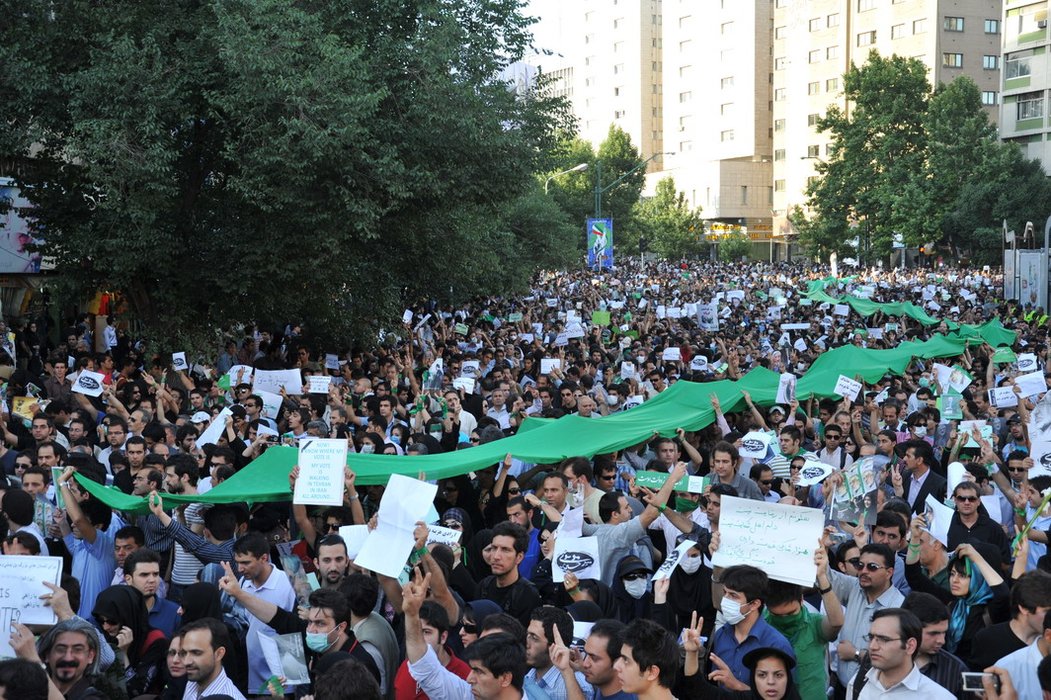 Iran: Deadly Repression of Khuzestan Protests

Hundreds Arrested; At Least 9 Deaths, Including a Child https://t.co/LvLITfngl4 pic.twitter.com/9j58AFMMqc

— Human Rights Watch (@hrw) August 1, 2021
Peaceful Assembly
On 29th July 2021, Human Rights Watch expressed grave concerns over the rising death toll and mass arrests in response to protests in Khuzestan and other Iranian provinces. Since 15th July 2021, protests have erupted in Khuzestan, Isfahan, Lorestan, Eastern Azerbaijan, Tehran and Karaj in response to deteriorating living conditions. Specifically, the authorities' poor water management and inadequate response to climate crisis-induced drought and flooding are root causes of the protests. As of 28th July 2021, Human Rights Watch had verified the identities of at least nine people who were shot by the authorities or who died of injuries during the protests, including a 17-year-old boy. In response to the protests, authorities in Iran imposed internet disruptions and shutdowns.
According to Kaveh Madani, a senior fellow at Yale University and the former deputy head of Iran's Department of Environment, development projects in oil-rich Khuzestan, including the construction of hydroelectric dams, irrigation schemes and water transfers, are leading to water shortages affecting a range of people's rights. As the mismanagement of water resources and pollution from oil development threatens to exacerbate inequality across Iran, there is a serious risk of continued social unrest and severe crackdowns on protests.
Expression
On 17th September 2021, the UN High Commissioner for Human Rights and the Secretary-General published their annual report on "Cooperation with the United Nations, its Representatives and Mechanisms in the Field of Human Rights." The report covers the period 1st May 2020 to 30th April 2021 and documents allegations of intimidation and reprisals from 45 states against human rights defenders for their cooperation with the United Nations.
In a section on Iran, the report raised concerns about alleged reprisals against human rights defenders and protesters, including detention and ill-treatment, threat of arrest, criminal prosecution and convictions, freezing of assets, travel bans and surveillance, for their cooperation with the UN. The severity of the repressive climate facing Iranian human rights defenders was further underscored by the fact that many individuals and their families reportedly declined UN action on their cases due to a fear of further reprisals.
Amongst the Iranian cases cited in the report is that of Manouchehr Bakhtiari, father of Pouya Bakhtiari, who was killed by security forces during the November 2019 protests. Bakhtiari and other family members endured repeated arrests, judicial harassment, interrogations and threats for publicly calling for justice and accountability for the death of Pouya Bakhtiari. Following his arrest on 29th April 2021, Manouchehr Bakhtiari was sentenced in July 2021 on national security-related charges to three years and six months in prison and two years and six months in exile in another Iranian province.
#Iran: Iran arrests financial reporter Amir-Abbas Azarmvand on security charges.https://t.co/55ei49gt6W

— CPJ MENA (@CPJMENA) September 1, 2021
In other developments, on 1st September 2021, Iranian authorities detained financial reporter and labour activist Amir Abbas Azarmvand in Evin Prison in Tehran. According to Human Rights Activists News Agency (HRANA), Azarmvand is charged with "propaganda against the state."
In related developments, Mukrian News Agency, which reports on human rights violations in Kurdish areas of Iran, reported that in early August 2021, the authorities detained 14 people in Western Azerbaijan province on vague national security charges. Such spurious charges are regularly used against ethnic minorities, such as Iran's Kurdish minority, for participating in peaceful human rights activism.
As activists continuously bear the brunt of attacks for their peaceful human rights work, Women Human Rights Defenders (WHRDs) continue to be a specific target by authorities. According to the Gulf Centre for Human Rights (GCHR), the extent of the "absurd sentences", lashings and torture inflicted on women human rights defenders (WHRDs) means that Iran is increasingly a cause of concern for all human rights organisations and communities around the world. According to GCHR's research, Iran systematically uses laws relating to the sanctity of religion, collaboration with foreign powers, espionage and threats to national security to target WHRDs. For example, on 24th May 2021, Narges Mohammadi was sentenced to an additional two and a half years in prison, 80 lashes and two separate fines for her activism on human rights. She told DW:
"I was convicted because I reported prison director Gholamresa Siaei to the authorities. In January 2020 – while I was still imprisoned in the women's section of Tehran's Evin Prison – he personally took me out of my cell and brutally beat me. He was angry with me because I had organised a prisoners' strike to protest the brutal crackdown on the anti-government demonstrations of November 2019."
On 5th May 2015, Mohammadi was initially sentenced to 16 years in prison for her peaceful human rights activism but was released in October 2020 after serving five years and put under a travel ban.
In light of the extensive violations against WHRDs in Iran, GCHR highlighted the irony of Iran recently being rewarded by the UN Economic and Social Council (ECOSOC) with a seat on the United Nations Commission on the Status of Women for a four-year term beginning in 2022.