Countrywide protests to end police brutality in the United States met by militarised law enforcement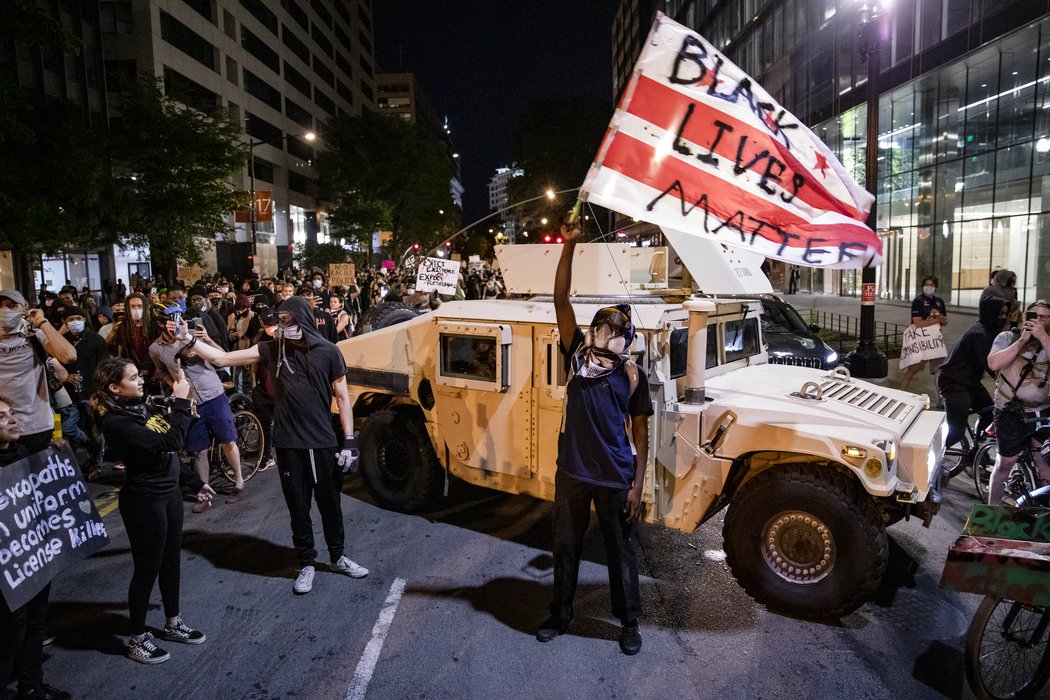 Peaceful Assembly
Black Lives Matter: George Floyd's death brings hundreds of thousands to the streets
Keeping it peaceful, gathering in solidarity, and breaking curfew all at the same time, protesters stage a sit-in at the #GeorgeFloyd memorial near the site where he died during the during phase of what twitter is tagging the #MinneapolisUprising @AP 📸/me pic.twitter.com/44RGVdcECW

— john minchillo (@johnminchillo) June 2, 2020
Massive protests erupted in cities across the United States following the death of George Floyd, a Black man, by a Minneapolis police officer on 25th May 2020. A harrowing video filmed by witnesses shows the officer pressing his knee into the handcuffed man's neck for almost nine minutes while Floyd repeatedly said, "I can't breathe." Outrage brimmed over, bringing hundreds of thousands to the streets to protest entrenched racism and the US's long history of killings of Black and Brown people by law enforcement agents. In Minneapolis, New York City, Denver, Memphis, Austin and in cities in all 50 states, people blocked streets, marched and chanted "no justice, no peace" and "say his name: George Floyd" while calling for an end to police brutality and demanding that police officers be held accountable. "The pain that the Black community feels over this murder and what it reflects about the treatment of Black people in America is raw and is spilling out onto streets across America," said Floyd's family in a statement.
I watched this unfold last night. Go to my IG page for the FULL VIDEO and more details (it's too long for Twitter). Instagram: @Brittmtv pic.twitter.com/ajwWCCtwUJ

— Brittany Miller (@Brittm_tv) May 31, 2020
In several cities protestors were met by militarised law enforcement wearing riot gear, often using disproportionate force, including indiscriminate use of tear gas and rubber bullets. By 2nd June 2020, at least 23 states had deployed National Guard troops in numbers that, according to news media, rival US troops in Iraq, Syria and Afghanistan. On 2nd June 2020, the Associated Press reported that at least 11 people had been killed during the wave of protests. Press advocates also documented over 230 incidents of assault against journalists covering the protests, including a photographer in Minneapolis who said she was blinded in her left eye after being struck with a police officer's rubber bullet. Reports of property fires, looting and vandalised businesses were widespread in the first days of protests, with many unconfirmed claims that undercover police officers and white nationalists had incited violence and been involved in some of the damages. Three alleged right-wing extremists were arrested for deliberately sparking violence during a protest in Nevada. By 3rd June 2020, approximately 9,000 people had been detained for participating in the protests, mostly for violating the curfews which multiple cities implemented to limit protests.
Rather than respond to the growing sentiment of indignation over racial injustice, US President Trump repeatedly used a language of unrest and violence to discredit the demonstrations, calling protestors "thugs" and encouraging law enforcement to respond forcefully. In a speech in the White House garden, he threatened to mobilise the military to end the protests. Trump was rushed to a bunker and the Secret Service ordered the White House to be locked down on 29th May 2020 as thousands of protestors demonstrated in the city over the death of Floyd. Trump said on Twitter that he watched the protests from his window and that if protestors had breached the White House's exterior security, "they would have been greeted with the most vicious dogs, and most ominous weapons, I have ever seen". In a statement published on 31st May 2020, Attorney General Barr announced that anti-terrorism powers would be used in response to civil unrest.
Washington DC's Mayor Muriel Browser said she rejected the president's calls for violence. "I stand with people peacefully exercising their First Amendment Right after the murder of George Floyd and hundreds of years of institutional racism," she said online. However, Browser imposed curfews in the city to limit protests and hundreds of protestors were detained for violating this restriction. On 1st June 2020 alone, over 300 people were detained for curfew violation, rioting and burglary. On the same day, the Attorney General ordered law enforcement to use tear gas on peaceful protestors near the White House so that the U.S. president could have his picture taken near a local church.
So powerful and moving. @WLKY #LouisvilleProtest #BreonnaTaylor pic.twitter.com/w5MO9x9NqP

— Shaquille Lord (@ShaqWLKY) May 31, 2020
In Kentucky, hundreds of people gathered over several days to protest the death of Breonna Taylor, an emergency medical technician who was shot and killed by Louisville police in March 2019. According to news sources, police officers entered her apartment to execute a search warrant without identifying themselves, which led her partner to believe there was a break-in and resulted in the fatal shooting. The tragic killing has led civil rights activists and protestors to demand justice for Breonna and a ban on "no-knock" warrants. Seven people were shot after gunfire erupted at a protest in downtown Louisville on 29th May 2020. Officers used tear gas and rubber bullets to disperse the demonstration. Authorities said the shooting came from the crowd. On 1st June 2020, small business owner David McAtee was killed in another shooting during a protest in the city. Circumstances of the shooting are under investigation, but the Louisville police chief was fired after it was revealed that two officers involved had not activated their body cameras.
In New York, multiple groups organised decentralised rallies, vigils and marches. On 31st May 2020, one person was injured after a police car accelerated through a crowd of protestors. "Upsetting" is how New York City's mayor described a video showing a NYPD vehicle driving through people protesting in the street. Similar incidents of drivers using their vehicles against protesters were registered in at least four other cities.
For the seventh straight day, metro Atlanta residents are gathering for a series of protests denouncing racism and police brutality and demanding change. CONTINUING LIVE COVERAGE: https://t.co/cn9mKcMVaM pic.twitter.com/0tEEBNsVM4

— AJC (@ajc) June 4, 2020
In Atlanta, thousands of people protested against racism and police brutality for days in a row. Residents highlighted the case of Ahmaud Arbery, a young, unarmed Black man killed while jogging near Brunswick, Georgia, in February 2020. He was pursued and shot by two men who claimed, without evidence, that he looked like a suspect of local burglaries. The attackers were only taken into custody and charged in May 2020, after a video of the racist crime emerged and the case gained public attention.
Incidents of looting, vandalism and arson were registered during widespread demonstrations in Atlanta on 29th May 2020, when rioting protestors broke windows, graffitied and vandalised the CNN Centre building and nearby vehicles. The state governor declared a state of emergency on the same day, implementing a curfew and calling in as many as 500 officers of the Georgia National Guard. Dozens of arrests were reported throughout the days of protests at the end of May and beginning of June, as well as instances of tear gas used by law enforcement against protestors. Six police officers were charged with excessive use of force during the arrest of two students on 30th May 2020. A video shows the officers tasering and violently dragging the young people out of a car during a protest.
Armed protestors against "stay-at-home" orders
Directly above me, men with rifles yelling at us. Some of my colleagues who own bullet proof vests are wearing them. I have never appreciated our Sergeants-at-Arms more than today. #mileg pic.twitter.com/voOZpPYWOs

— Senator Dayna Polehanki (@SenPolehanki) April 30, 2020
Hundreds of people, some carrying firearms, gathered at Michigan's State Capitol in Lansing on 30th April 2020 to protest against the Governor's request to extend the state of emergency to address the coronavirus pandemic. After Capitol police refused to engage with the protestors, several armed people with assault-style weapons entered the Capitol and demanded to be let into the House chamber where legislators were meeting.
The "American Patriot Rally", organised by Michigan United for Liberty, also included several speakers who falsely claimed the coronavirus is a hoax and called on the state's residents to violate the stay-at-home orders. No incidents of excessive use of force by police officers against the mainly white protestors were reported and only one arrest took place during the protest. As previously reported on the Monitor, similar protests were held in other states.
Expression
Journalists covering protests
Minnesota police arrest CNN reporter and camera crew as they report from protests in Minneapolis https://t.co/oZdqBti776 pic.twitter.com/3QbeTjD5ed

— CNN (@CNN) May 29, 2020
Attacks on journalists covering the wave of protests against racism and police brutality are being tracked by Freedom of the Press Foundation. As of 3rd June 2020, they have documented over 230 incidents, including 153 assaults and around 40 reports of equipment or newsrooms being damaged.
Multiple journalists covering the demonstrations have been attacked by police, including a Louisville TV reporter who was shot with pepper bullets while reporting on live TV and a CNN reporter who was arrested as he and his crew were live on television covering the protest. In Minneapolis, at least two journalists were struck with crowd control ammunition by police wearing riot gear. In separate incidents in Denver, at least two journalists were injured when they were struck by less-lethal weapons used by the police.
Watch the shocking moment #7NEWS reporter @AmeliaBrace and our cameraman were knocked over by a police officer LIVE on air after chaos erupted in Washington DC. pic.twitter.com/R8KJLnfxPN

— Sunrise (@sunriseon7) June 1, 2020
Australian correspondent Amelia Brace and her cameraman were attacked by anti-riot officers in Washington DC on 1st June 2020. As anti-riot police advanced on a crowd, an officer punched the reporter's camera while Brace yelled that they were members of the media. A video from a different angle shows anti-riot officers trapping the journalists against a wall, cameraman Tim Myers being purposefully hit with a shield and wacked with batons. Brace said they had seen tear gas used to curb protests and that Myers had also been hit by rubber bullets.
In some cases, journalists were caught in clashes between protestors and law enforcement. MSNBC reporter Jo Ling Kent was hit by fireworks while broadcasting from a demonstration on 2nd June 2020. On air, the reporter said the Seattle police had advanced on protestors and were using flashbang grenades to control the crowd. Authorities later said some protestors had thrown rocks, bottles and fireworks at officers.
Other developments
On 14th April 2020, police reportedly confiscated the drone of an independent photojournalist as he attempted to document mass burials of coronavirus victims on Hart Island. George Steinmetz says he had launched a small drone in an unpopulated area to capture photographs of burials during the outbreak when plainclothes NYPD officers arrived and told him to land the drone. After searching his photographs, the police seized his 1,500 USD drone and gave him a misdemeanour ticket for "avigation", a law which prevents private individuals from launching drones anywhere in New York City that isn't an airport. According to the National Press Photographers Association, Steinmetz is the second journalist whose drone was seized trying to photograph Hart Island since the pandemic began.
On 28th May 2020, U.S. president Trump signed an executive order aiming to undermine legal protection for social media companies after one of the digital platforms fact-checked a post on his account about mail-in voting. Twitter said Trump's tweets were flagged because they "contain potentially misleading information about voting processes and have been labelled to provide additional context around mail-in ballots." The executive order would increase companies' liability for the content posted on their platforms. Free speech advocates say the executive order is unlikely to withstand any legal scrutiny. "President Trump's Executive Order targeting social media companies is an assault on free expression online and a transparent attempt to retaliate against Twitter for its decision to curate (well, really just to fact-check) his posts and deter everyone else from taking similar steps," wrote the Electronic Frontier Foundation in an analysis.
Association
Marking the progress made by civil society's collaboration with the United States Agency for International Development (USAID), on 18th May 2020 USAID announced two changes to its contract and certification process for grantees that will remove bureaucratic anti-terrorism requirements and reduce legal liability that slowed the delivery of humanitarian aid. "This victory is a demonstration of how effective our community can be when we work together. The result does not solve all of our problems by any means, but it reduces the risk of USAID partners being trapped in legal minefields as they pursue their humanitarian missions," Joel Charny of the Norwegian Refugee Council said.
On 30th May 2020, a federal judge struck down several provisions on new regulations that would have changed how union elections are conducted and ruled that the National Labour Relations Board (NLRB) should have given the public a chance to comment on the changes. The NLRB, which oversees the rules governing the process when workers want to unionise, issued the final rule in December 2019. It would have gone into effect on 1st June 2020 without providing the public a chance to provide comment. The new regulations were widely seen as providing employers more opportunities to challenge unions from forming.