Conviction of whistleblower, new NGO regulation another blow to civic freedoms in Australia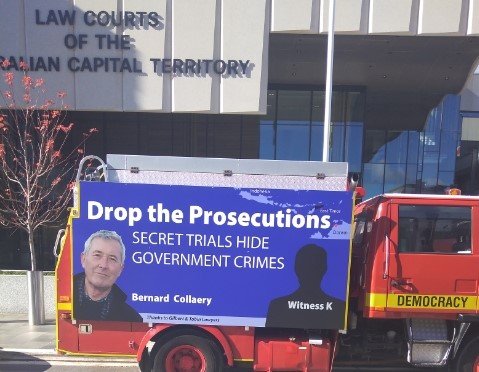 Civic space in Australia remains 'narrowed' in ratings published by the CIVICUS Monitor in December 2020. Following its review at the UN Human Rights Council in January 2021, where states called on the government to do more to respect fundamental freedoms, its review was adopted in July 2021 during the 47th Session of the Council.
While the Australian government accepted recommendations to "continue to protect civil and political rights for all persons in Australia as well as freedom of expression" it was unwilling to accept a number of specific and targeted recommendations, including: amending national security laws that inhibit the speech of journalists, whistle-blowers and lawyers; repealing laws criminalising public interest reporting; and ensuring meaningful participation in political and public life for all persons, especially for the Aboriginal and Torres Strait Islander peoples.
In recent months, in another blow to civic freedoms, a whistleblower was convicted for disclosing information about the government bugging of Timor-Leste government buildings. The government has also put forward new regulation that allows harsh sanctions to be taken against NGOs for minor offences. Anti-lockdown protests have persisted across the country.
Expression
Whistleblower convicted for exposing wrongdoing
In June 2021, a former Australian spy was convicted over his role as a whistleblower for disclosing information about the bugging of Timor-Leste government buildings in 2004, an operation that gave Australia the upper hand in talks with the country.
The man, known only as Witness K, was convicted of a breach of Section 39 of the Intelligence Services Act for communicating secret information obtained in the course of his duties as an ASIS officer. He was handed a three-month suspended sentence in the Australian Capital Territory (ACT) Magistrates Court on 18t June 2021 and ordered to be on good behaviour for 12 months.
The sentencing decision follows Witness K's plea of guilty to conspiring to reveal classified information about alleged spying in 2004 by Australia on the East Timorese during talks to carve up lucrative oil and gas reserves. The sentence is the final stage of almost three years of secretive court proceedings brought against Witness K and his former lawyer Bernard Collaery.
The Human Rights Law Centre (HRLC) expressed deep concern following the sentencing of Witness K. HRLC Senior Lawyer Kieran Pender said: "This whole saga is a dark chapter in Australia's history. Witness K did the right thing. Whistleblowers should be protected, not punished. Instead of recognising the important role Witness K played in exposing wrongdoing, he was charged, prosecuted and has now been sentenced, with much of this process taking place in secret."
He added: "This sentencing will have a chilling effect on others who witness wrongdoing. Instead of speaking up and acting in the public interest, they will think twice given the enormous personal risk that comes with doing the right thing. This only serves to make our democracy poorer".
The HRLC also called for the Morrison Government to reform the Public Interest Disclosure Act as a matter of priority to ensure "everyday Australians feel safe and supported when they do the right thing and call out wrongdoing".
Witness K's former lawyer, Bernard Collaery, is also facing prosecution under section 39 of the Intelligence Services Act. The case against Collaery is still before the ACT courts. He has appealed a decision to hold key parts of his trial in closed court. A decision on that appeal is still to be made in the ACT court of appeal.
Peaceful Assembly
Government puts forward new regulation to stifle protests
New Australian Law Targets Activist Groups, Peaceful Protest https://t.co/HoT33svFnl

— Human Rights Watch (@hrw) August 1, 2021
On 28th June 2021, the Australian government put forward new regulation that allows the Australian Charities and Not-for-profits commissioner to take action against registered NGOs that engage in or promote certain conduct that could be dealt with as a summary – that is, minor – offence, including entering or remaining on land or damaging property. The government's official explanation refers to "protests on forestry, mining and farming lands".
As previously documented, civil society groups and experts have warned that such a regulation will muzzle the sector, restrict dissent and stifle political advocacy. Civil society groups fear the changes are a threat to the right of almost 59,000 registered not-for-profits to engage in political advocacy. The Australian and New Zealand Third Sector Research group has warned the changes are a "massive overreach" and completely unnecessary, given that strong powers are already available to the regulator, the Australian Charities and Not-for-profits Commission.
According to Human Rights Watch, the Australian government claims the new regulation is "compatible with human rights" and "does not raise any human rights issues." However, the International Covenant on Civil and Political Rights, to which Australia is a party, guarantees rights to peaceful assembly, freedom of expression, and freedom of association. A regulation that allows for NGOs to be sanctioned, or even deregistered, merely for promoting peaceful protest, infringes on those rights.
Anti-lockdown protests persist across the country
On 24th July 2021, thousands of protesters took to the streets of Sydney and other cities across Australia to push back on continued COVID-19 lockdown orders amid new record case surges in the country. Videos and photos posted to social media showed people, many of whom were not wearing masks, gathered closely together in the streets of Sydney, chanting "freedom" and holding signs with phrases like "unmask the truth." Some violent clashes erupted between protesters and police, who tried to disperse the demonstrators to prevent further outbreaks.
Covid: Australian police clash with anti-lockdown protesters https://t.co/f6UlQgcFxD

— BBC Health News (@bbchealth) August 21, 2021
On 21st August 2021, police in the cities of Melbourne and Sydney clashed with thousands of people protesting against COVID lockdown restrictions amid another surge in cases.
In Melbourne, thousands of protesters without masks turned out downtown chanting "freedom." Some of them lit flares as they gathered outside Victoria state's Parliament House. Mounted officers used pepper spray when elements of a 4,000-strong rally broke through police lines. Police arrested 218 people, and at least seven officers were injured.
In Sydney, where lockdown measures were extended for another month, more than 1,000 officers dispersed protests. The unmasked participants marched from Sydney's Victoria Park to Town Hall in the central business district, carrying signs calling for "freedom" and "the truth" in what authorities said was unauthorised protest activity. Police confirmed a number of arrests had been made after objects were thrown at officers.
In Brisbane, the capital of Queensland, more than 2,000 protesters gathered before holding a largely peaceful march.
On 31st August 2021, Monica Smit, the founder of the anti-lockdown group Reignite Democracy Australia, was arrested while driving in the Melbourne suburb of Brighton. The vocal anti-vaxxer was charged with two counts of inciting violent protests in relation to protests held in Melbourne on 11th and 21st August during the state's sixth lockdown.