Colombia: four months since the beginning of National Strike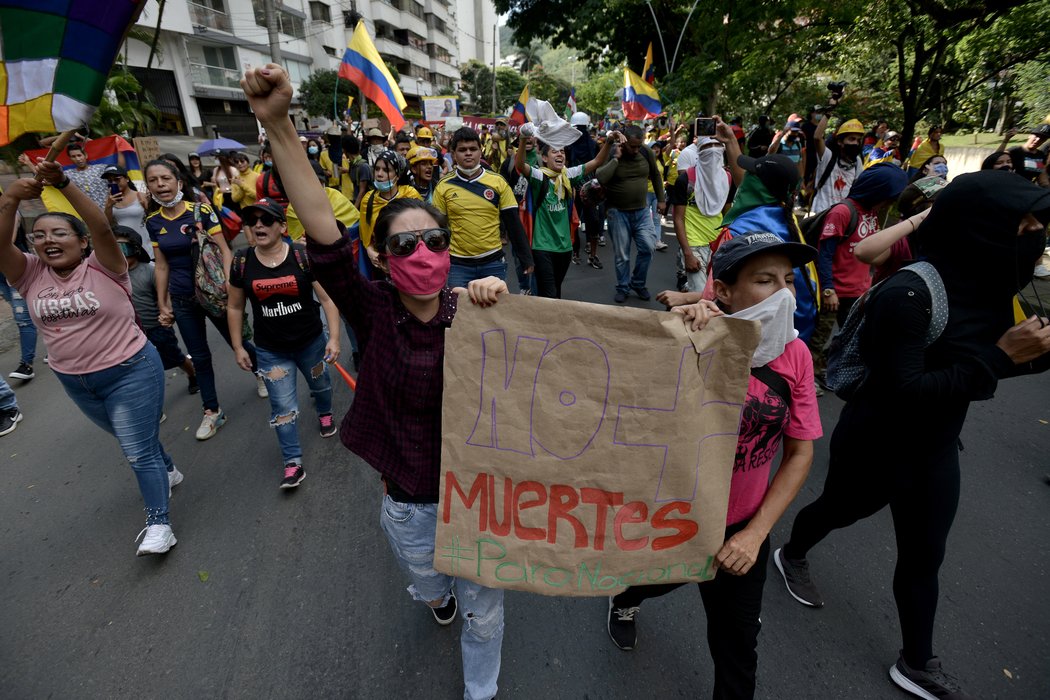 Peaceful Assembly
Ongoing protests and abuses
20 de julio, día nacional de #Colombia. Decenas de marchas se movilizan en las ciudades. Llegan a Bogotá la Minga Indígena y las 'Primeras líneas'. El Comité del Paro Nacional entregará al Congreso 10 proyectos de ley salidos del Pliego de Emergencia. pic.twitter.com/eN5eI1lkPU

— Fotomovimiento (@Fotomovimiento) July 20, 2021
As previously reported on the CIVICUS Monitor, at the end of April 2021, a tax reform bill sparked nationwide anti-government protests in Colombia. Thousands joined the National Strike ("Paro Nacional") against the bill and the mobilisation developed into long-lasting widespread protests over multiple demands. The response to the protests in various cities across the country was characterised by heavy police repression. In some cases, protests also became violent.
According to Human Rights Watch, at least 68 people had died during the protests by the beginning of June. Over a thousand were injured and detained, and hundreds were reported missing. There were also several reports of attacks on public infrastructure such as police stations and government offices.
Human rights organisation Temblores recorded at least 4,687 cases of violent acts (not including disappearance) on the part of the public forces between 28th April and 26th June 2021. Among the violations taking place during the protests, the organisation identified dozens of cases of sexual violence and of people who suffered eye injuries, as well as more than 200 gunshot victims.
On 15th June 2021, the National Strike Committee announced a temporary suspension of mass protests after nearly 50 days. Movement leaders said, however, that mobilisation would continue with other events to build social dialogue and begin to draft bills with their demands. Despite the suspension, in practice smaller protests continued in many cities led by other protest groups and social movements.
The Committee scheduled new protests on 20th July 2021, when Colombia celebrates its Independence Day. In response to this announcement, some local governments issued restrictive measures such as curfews. In Valle del Cauca, whose capital Cali was the epicentre of the Strike, the departmental government established a curfew and restricted the entrance of vehicles or persons to the department between 16th and 22nd July 2021.
The curfew in Valle del Cauca affected plans to hold a meeting of the Asamblea Nacional Popular (National Popular Assembly - ANP), a forum formed after April to convene social groups who did not feel their demands were represented by the National Strike Committee. In a statement, ANP said that people travelling to attend their meeting in Cali between 17th and 20th July 2021 faced intimidation, harassment and detention.
Even with the restrictions, on 20th July 2021 thousands joined peaceful marches and activities around the country as part of the Strike. While the mobilisations were largely peaceful, Temblores registered 128 complaints of police violence. On the same day, the government presented a new fiscal bill removing some of the most controversial aspects of the previous tax reform.
Anti-government protests continued in July and August 2021. On 26th August 2021, for instance, protesters took to the streets in the country's main cities to condemn government inaction against increasing violence, massacres and killings of rights defenders.
Reports on the repression of protests
Acá les presentamos nuestras infografías con las cifras actualizadas sobre violencia policial en estos 60 días de paro nacional👇 pic.twitter.com/1hCFupq1I3

— Temblores ONG 🐘 (@TembloresOng) June 29, 2021
On 1st July 2021, Temblores ONG, Indepaz and the Action Program for Equality and Social Inclusion (PAIIS) of the Andes University presented a report to the Inter-American Commission on Human Rights (IACHR) on the systematic violations of the American Convention during this wave of demonstrations.
On 7th July 2021, the Inter-American Commission on Human Rights published their observations and recommendations following a working visit to Colombia in early June 2021. During the visit, the organisation gathered 302 individual and collective testimonies, hearing from over 500 people. They called for dialogue to overcome social conflict and stressed the need for investigations with due diligence, a comprehensive approach that enables reparations for victims and punishment for the people responsible for human rights violations, and the protection of journalists and medical missions. With the publication, the Commission also announced the launch of a Special Monitoring Mechanism for Human Rights in Colombia.
On 30th July 2021, Amnesty International published "Cali: in the epicentre of repression", a report describing police repression, paramilitarism, illegal detention and torture of peaceful protesters during the National Strike. Amnesty International carried out an exhaustive digital verification of audio-visual material, which confirmed that anti-riot squad ESMAD used excessive and disproportionate force. They also documented acts of urban paramilitarism by armed civilians who accompanied law enforcement.
The city of Cali was the centre of the most serious reports of violent repression of young protesters by the security forces and armed civilian groups. Cali is one of hardest-hit regions when it comes to Colombia's internal armed conflict; various armed groups have proliferated and continue to operate in the area, with thousands of people being displaced and killed. Repression in Cali was emblematic of the government response to protests nationwide, according to Amnesty International. The organisation said:
"The incidents documented were not isolated or sporadic, but rather reflect a pattern of violence on the part of the Colombian authorities, who have responded to the protest with stigmatisation, criminalisation, unlawful police repression and militarisation."
LGBTQI+ Pride marches
On 4th July 2021, thousands of people joined LGBTQI+ Pride marches in Bogotá, Medellín, Cali and other cities across Colombia. The demonstrations paid tribute to activist Laura Weinstein, former director of the Fundación Grupo de Acción y Apoyo Trans (Trans Action and Support Group Foundation - GAAY) who passed away in February 2021. Amid celebrations of pride, demonstrators also protested against the violence experienced by LGBTQI+ persons and communities in Colombia, and called on authorities to guarantee their rights.
Association
Killings of rights defenders in Colombia continue
𝗥𝗶𝗲𝘀𝗴𝗼 𝗮 𝗹𝗮 𝘃𝗶𝗱𝗮 𝗱𝗲 𝗹𝗮𝘀 𝗹𝗶𝗱𝗲𝗿𝗲𝘀𝗮𝘀 𝗲𝗻 𝗖𝗼𝗹𝗼𝗺𝗯𝗶𝗮

- 174 lideresas y defensoras de DDHH han sido asesinadas desde la firma del acuerdo de paz
- 123 durante el gobierno de @IvanDuque
- 19 en el 2021

Cauca, Antioquia y Nariño los más afectados pic.twitter.com/hNVLeNJuu2

— 🇮 🇳 🇩 🇪 🇵 🇦 ​🇿 (@Indepaz) September 7, 2021
Between 1st May and 1st September 2021, human rights organisation Instituto de Estudios para el Desarrollo y la Paz (Institute of Studies for Development and Peace – Indepaz) recorded the killing of 58 social leaders and human rights defenders in Colombia. Indepaz also published data on killing of women social leaders in September 2021. According to their monitoring, 174 women human rights defenders and leaders were killed in Colombia since the Peace Agreement was signed in 2016; 123 of these killings took place during Iván Duque's government. 19 women human rights defenders and leaders were killed in 2021 alone.
In May 2021, cases reported include the killing of activists who led National Strike mobilisations in their departments, such as campesino leader Cristian Tórres and human rights defender Juan David García. In the same month, 18-year-old Indigenous youth leader Geovanny Cabezas Cruz was killed in Jamundí and teacher and labour rights leader Beatriz Moreno Mosquera was killed in Buenaventura, both in Valle del Cauca. Cecilia Valderrama, human rights defender and member of women's rights organisation Asmues, was found dead with signs of sexual assault in Chaparral, Tolima.
Several cases took place between June and July 2021, with more than 30 social leaders and rights defenders killed in the period. These include Indigenous rights defenders and traditional authorities from communities and territories such as Munchique, Media Naranja, Embera Dobidá, Tacueyó and Totumal. Afro-Colombian leader Gustavo Solis Ramos, social activist Danilo Galindo and Galindo's son were also killed. Cultural leaders targeted included Harold Angulo Vencé, known as rapper Junior Jein "El Cabaio", whose music addressed state and police repression, and José William Mayoral Castillo, cultural and social leader from Putumayo.
In August 2021, Miguel Muchavisoy, traditional authority in the community of Kamentsá del Cabildo Biya, Felix Tomás Batta Jiménez, a human rights defender who worked closely with conflict victims, and Carlos Freddy Londoño Bautista, teacher and trade unionist, were among those killed. Teachers' union FECODE issued a statement demanding justice for Londoño Bautista and warning about the systematic threats against union leaders and members.
Many of the victims in these four months were campesino or community leaders engaged in local development in multiple departments, including Cauca, Antioquia, Cesar, Córdoba, Huila, Norte de Santander, Quindió, Magdalena and Bolívar. In some instances these killings constituted brutal massacres in which leaders were murdered together with members of their families – as in the case of Luis Castrillón.
Expression
Indigenous communicator killed in Cali
#ComunicaONIC| Desde @ONIC_Colombia lamentamos profundamente la partida de Beatriz Cano, mujer indígena y comunicadora del Tejido de Comunicación para la Verdad y la Vida de la Çxhab Wala Kiwe – @ACIN_Cauca.

Durante su vida estuvo dedicada al trabajo comunitario. (Hilo 🧶). pic.twitter.com/G0rl288KBS

— Organización Nacional Indígena de Colombia - ONIC (@ONIC_Colombia) June 7, 2021
On 4th June 2021, Indigenous communicator and leader Beatriz Cano was attacked by an armed group while travelling in the municipality of Santander de Quilichao. She died three days later at a clinic in Cali. Travelling in the same vehicle were her 5-year-old daughter, her partner, César Galarza, and community member Floresmino Tróchez – who were all also seriously injured and hospitalised. They were members of the Asociación de Cabildos Indígenas del Norte (Association of Indigenous Councils of the North - ACIN). The attack was allegedly in retaliation for Cano's coverage of demonstrations in Cali and her work as a peace activist.
Journalists under threat for reporting
On 8th June 2021, unidentified attackers shot at the home of journalist Pincen Mora. According to the Committee to Protect Journalists (CPJ), a group of eight unidentified men on motorcycles stopped at Mora's home and office in Medellín and demanded he come outside and speak with them. When he refused, they opened fire on the building. Mora, his wife and daughter were inside but were not injured. The family moved out after the attack, but when returning to collect their belongings they found that the house had been raided. Attackers took personal belongings as well as equipment used by Mora in his work as editor of the independent Facebook-based local news outlet Extrema Noticias. The journalist told CPJ that the outlet recently covered alleged criminal activity in property sales in the neighbourhood.
In a separate case, Amnesty International reported in August 2021 that the Comisión Intereclesial de Justicia y Paz (Interchurch Commission of Justice and Peace) received confidential and credible information about a plan to assassinate journalist José Alberto Tejada. Tejada, director of the Colombian media outlet Canal 2 based in Cali, has denounced human rights violations and crimes under international law perpetrated by security forces in the city during the National Strike.
According to Amnesty International, since the beginning of protests in April 2021, Tejada has faced more than 14 security incidents which include surveillance by unidentified men and direct threats against his life. On 20th July 2021, the journalist and his crew were shot by security forces with less-lethal weapons while covering demonstrations. High-level public officials have also publicly accused him of spreading fake news to incite violence in Cali.
On 28th August 2021, the Inter-American Commission on Human Rights granted precautionary measures (Resolution 29/2021) to Tejada and Jhonatan Buitrago, a camera operator with Canal 2. The organisation said that both reporters were facing threats, harassment and violence as a result of their coverage of the protests.
Attacks on reporters covering demonstrations
Policías y ciudadanos repitieron patrones de agresiones contra periodistas, alimentaron la estigmatización y obstruyeron la circulación de la información. Estas son las cifras de agresiones que documentamos entre el 28 de abril y el 19 de julio.
Lean más➡️ https://t.co/roJRIG6wYy pic.twitter.com/M71OTdQQQ0

— FLIP (@FLIP_org) August 9, 2021
On 5th June 2021, French photojournalist Charles Gros-Shelton was attacked while covering protests in Cali. Gros-Shelton, who works as international correspondent for several media outlets, was reportedly hit in the face with a tear gas cannister throw by an ESMAD officer. He was wearing a helmet that identified him as a member of the press.
On 23rd June 2021, protesters broke the windows of RCN Radio's Bogotá headquarters and spray-painted insults on its walls.
On 29th June 2021, police officers assaulted reporter Katy Sánchez and intern Alexandra Molina from the independent broadcaster RCN Radio while they covered anti-government protests in Bogotá. As reported by CPJ, Sánchez and Molina had been recording members of the ESMAD beating, kicking and detaining a teenager when they were attacked. Sánchez said one officer shoved her to the ground with his shield, kicked her in the back and hit her with his nightstick, leaving her with a badly sprained left ankle and bloodied knees. A day after the incident, the Bogotá Police Commander said in a video that officers involved in the attacks on the journalists and on the boy had been suspended.
On 28th July 2021, Andrés Cardona, a reporter and photographer for international media outlets, was assaulted and badly injured when the ESMAD fired a tear gas cannister at him while he was covering a protest in Usme, a district of Bogotá. Cardona had a press card, vest and helmet identifying him as a journalist. In a previous incident in June 2021, the reporter was wounded after a uniformed policeman hit him over the head with his gun and he had to receive medical attention.
In a related note, between 28th April and 19th July 2021, press freedom group Fundación para la Libertad de Prensa (FLIP) documented 300 cases of attacks on journalists during protests around Colombia, affecting a total of 342 communicators. The most frequent types of aggression were physical attacks and threats. In 60% of cases, the perpetrator was identified as a member of the security forces. The Foundation said that this year had seen the greatest violence against the press amid demonstrations in the last decade.
FLIP, the International Press Association of Colombia (APIC) and Reporters Without Borders (RSF) issued an alert about the Colombian State's failure to protect reporters covering the protests. They said:
"It is inexplicable that, given the excessive and unprecedented levels of violence, the authorities do not take action to rein in the police abuses against journalists during protests."
Censorship and obstruction of journalistic work
On 4th August 2021, FLIP reported that journalists covering displacement in Antioquia have faced intimidation and censorship from security forces. According to news reports, more than 4,000 people were forcibly displaced in July 2021 in the region of Ituango due to threats and intimidation by illegal armed groups. In early August, local authorities organised the return of those displaced with the support of the armed forces. The press freedom foundation received reports of members of the armed forces obstructing journalistic coverage of the crisis without any clear explanation as to the reasons for preventing the press from taking photographs or filming. In addition, FLIP said displaced persons have expressed fear in handing over their testimonies to journalists.
Journalist kidnapped and coerced by FARC dissidents
El periodista Josué Nieves fue quien grabó la segunda prueba de supervivencia del Coronel Pedro Pérez, secuestrado por disidencias de las FARC. Hoy narra en @LaNocheNTN24 cómo un hombre armado llegó hasta su vivienda para "pedirle un favor" y que llevara la cámara➡️ pic.twitter.com/6OJScRDSa0

— La Noche NTN24 (@LaNocheNTN24) September 8, 2021
On 5th September 2021, journalist Josué Nieves, director of the digital media N Noticias Saravena, was kidnapped by FARC dissidents in Arauca. As reported by FLIP, the reporter was taken from his home by the armed group and taken across the border to Venezuela. There, the journalist was made to witness the recording of a 'proof of life' of army colonel Pedro Pérez Arciniegas, who the group has held hostage since April 2021. The video was recorded to contradict a statement made by the army days earlier declaring that Arciniegas had been killed by the group. Fearing reprisals, Josué Nieves published the video on his news outlet.
According to FLIP, this was not the first time Nieves was targeted by the FARC dissidents. The organisation warned that these publications, made under pressure, should not be used to incriminate the journalist or the media outlet. FLIP called on authorities to take steps to protect Nieves and other journalists in Arauca. They said: "Forcing communicators to disseminate letters from the parties to the conflict is inadmissible and creates a risk of reprisals from those who are affected by the publication, in this case the army because it has been contradicted".
Civic Space Developments
Tags
prevention of protest,
LGBTI,
protestor(s) detained,
HRD threatened,
land rights,
youth,
killing of protestors,
attack on journalist,
attack on HRD,
women,
intimidation,
censorship,
HRD killing,
excessive force,
labour rights,
indigenous groups,
surveillance,
public vilification,
enforced disappearance,
non state actors,
killing of journalist,
minority groups,
protest,
Back to civic space developments