Colombia: attacks on HRDs and journalists amid increasing violence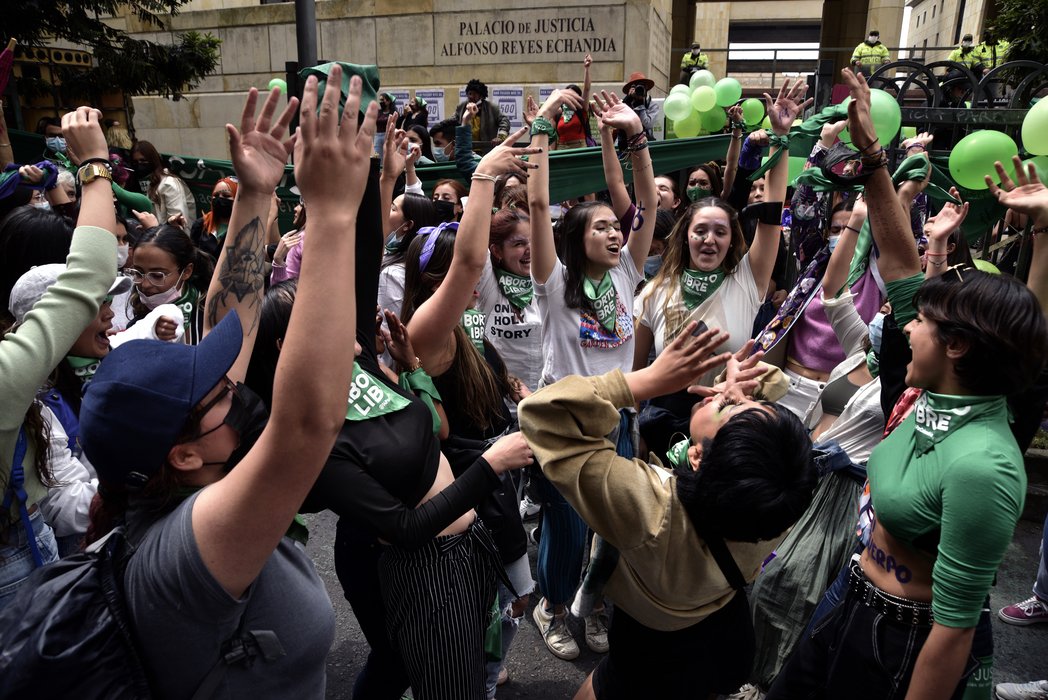 Association
👥 María Elvia Gómez Alzate
📆 Fecha: 29/04/22
📍 Lugar: El Peñol - Antioquia

Con María Elvia Gómez Alzate serían 64 los líderes/as y defensores de DDHH asesinados en 2022. pic.twitter.com/srgbAcVK7k

— INDEPAZ (@Indepaz) May 2, 2022
According to data from the Observatory of Human Rights, Conflict and Peace of the Instituto de Estudios para el Desarrollo y la Paz (Institute for Development and Peace Studies - INDEPAZ), 64 social leaders and human rights defenders were killed between the beginning of 2022 and 19th April 2022. Of these cases, 31 took place in March and April. Victims were often community leaders or Indigenous land defenders. In just one day, 18th April 2022, three leaders were killed in separate incidents in Arauca and Antioquia.
The extreme violence led the Office of the United Nations High Commissioner for Human Rights (OHCHR) in Colombia to issue a public statement expressing deep concern at the increase in violence since the beginning of 2022 in several country regions. The Office emphasised the impact of such violence on human rights defenders, community leaders, campesino communities, Indigenous peoples and Afro-descendants. Given the situation, the OHCHR urged the strengthening of all protection measures - individual and collective - adequate to guarantee the life and integrity of human rights defenders, particularly in rural areas and in the municipalities most affected by the violence.
In addition, fighting between armed groups on the border with Venezuela caused a dramatic increase in violence in the early months of 2022, leading thousands to flee. According to Human Rights Watch, between the beginning of the year and 11th March 2022, more than 3,800 people were internally displaced in Arauca. Nine Indigenous communities and a group of demobilised FARC fighters have announced that their members are not willing to leave their communities because they fear abuses by armed groups, a situation known in Colombia as "confinement."
Defenders at risk in Magdalena Medio
#Credhos35añosDefendiendoLaVida
Estamos reunidos @onucolombia, socializando la crisis humanitaria que atraviesa la región del Magdalena Medio, las continuas amenazas, atentados y asesinatos a líderes/as sociales, ambientales y Defensores/as de DDHH. pic.twitter.com/5h0dpXYXtI

— CREDHOS Paz (@Credhos_Paz) March 3, 2022
During the reporting period, there were several cases of environmental defenders being threatened and harassed in the Magdalena Medio region.
In February 2022, members of the environmental group Alianza Colombia Libre de Fracking (Alliance to Keep Colombia Free from Fracking) were named in a pamphlet signed by an armed group, warning that they would be killed if they did not give up their activism. More than 20 activists in the region were named in the threat. Some young environmental defenders had toflee their home towns or even the country, following threats and attacks. Environmental defender Linda Oneida Suárez, member of the movement "Resistencia a la minería y al extractivismo" ("Resistance to mining and extractive activity"), received three death threats in February 2022.
Violence against anti-fracking activists escalated after hundreds of locals gathered in Puerto Wilches to protest against fracking projects operated by Ecopetrol in the region. After the demonstration, at least one person was attacked and protesters were stigmatised.
In separate but related developments, on 22nd February 2022, leaders Teofilo Acuña and Jorge Tafur – called "historic social leaders" of the Magdalena Medio region – were killed. They had previously reported receiving death threats. Human rights groups said both leaders led important processes in defence of campesinos and their livelihoods, as well as for the protection of territories and natural resources from extractive activities and land appropriation.
Obstruction of Truth Commission's work
La @ComisionVerdadC rechaza y denuncia este hecho que atenta contra uno de sus funcionarios y contra el trabajo de esclarecimiento del conflicto armado en el país y pide a las autoridades competentes investigar de manera diligente y eficaz los hechos. https://t.co/1TQ1mpV5V0

— Comisión de la Verdad (@ComisionVerdadC) February 19, 2022
Colombia's Truth Commission published a statement warning that on 18th February 2022 there was a break-in at the home of one of the Commission's investigators. Two days before this break-in, the investigator and a commissioner had begun an interview with a drug trafficker who had reportedly agreed to speak on the links between armed criminal groups and public forces. At the time, the interview was interrupted by the police because of alleged security issues.
Tape recorders and a computer used by the investigator were stolen during the raid on his house. However, the Commission had copies of the stolen content. The Truth Commission denounced the attack and said security guarantees should be provided so that the interview with the Gulf Clan leader could be concluded without intimidation.
Peaceful Assembly
Ruling on abortion celebrated by women's rights groups
#CorteAbortoSi #Ganamos mujeres colombianas tras histórico fallo @CConstitucional con la demanda del movimiento #CausaJustaporelaborto X que decidir sobre nuestros cuerpos es construir paz, democracia y reconocer a las mujeres como ciudadanas plenas @causajustaco pic.twitter.com/Y5tNiRbdmE

— Magda Alberto (@Magdis289) February 21, 2022
In a historic ruling on 21st February 2022, Colombia's Constitutional Court decriminalised abortion during the first 24 weeks of pregnancy. The decision was a response to a petition brought to the Court by Causa Justa, a coalition of feminist organisations, requesting the removal of criminal penalties for abortion from the Criminal Code. As the ruling was handed down, protesters in favour of access to abortion clad in green – the colour adopted by the pro-choice movement – celebrated in front of the Court in downtown Bogotá. Anti-choice activists also demonstrated while the ruling was taking place.
Repression of Embera Indigenous communities
#Alerta. En estos momentos el Esmad está lanzando gases y aturdidoras contra los indígenas, incluyendo niños, que se encuentran viviendo en el Parque Nacional. 👇 https://t.co/XrQGy48Ry5

— Temblores ONG 🐘 (@TembloresOng) April 7, 2022
On 7th April 2022, the anti-riot police (ESMAD) repressed Embera Indigenous people who had been squatting in a park in Bogotá. Members of Embera Indigenous communities, some of whom fled their territories because of armed conflict, have been camping in the National Park for months to demand food, health and housing rights. As reported by CNN, the police intervention took place a day after Indigenous protesters blocked a nearby avenue to demand justice for an Embera teenager who had been hit by a taxi.
During the repression, ESMAD agents fired tear gas and stun grenades at the Indigenous peoples, including pregnant women and children. A spokesperson for the Grita platform of human rights organisation Temblores told CNN that the police action was disproportionate, with over ten stun grenades released in less than a minute. The police claimed the operation was prompted by protesters threatening, intimidating and demanding money from drivers during the demonstration. After police intervened, some people allegedly responded by throwing rocks and vandalising cars. About 20 Indigenous people and six police officers were injured.
Report details repression in Cali during 2021 National Strike
Reconstruction reveals how security forces intentionally attacked peaceful protesters in Cali, Colombia, on 3 May 2021. Amnesty and SITU Research analysed more than 200 pieces of audiovisual material and interviewed multiple witnesses. https://t.co/j4prAZuY5J

— Amnesty Police and Human Rights (@Amnesty_PHRP) February 25, 2022
In 2021, when thousands joined the Paro Nacional ("National Strike"), security agents in various cities resorted to heavy repression to disrupt protests. An event reconstruction published by SITU Research and Amnesty International in February 2022 detailed how Colombian security forces assaulted peaceful protesters in the Siloé neighbourhood of the city of Cali on 3rd May 2021. During the repression, three young people were killed. The reconstruction, using over 200 audio-visual materials, shows that police faced no imminent threat of violence and their use of lethal weapons was unjustified. Erika Guevara-Rosas, Americas director at Amnesty International, said:
"Our meticulous digital reconstruction of the events in Siloé reveals how the Colombian security forces intentionally attacked people who were demonstrating peacefully in order to punish, injure and kill them."
On a related note, on 4th April 2022 the Colombian Prosecutor's Office filed an indictment against three police officers for their alleged responsibility in killings committed during the 2021 protests in Cali. A colonel, a lieutenant and a patrol officer of the National Police were accused of being responsible for homicides and cases of personal injury. The lieutenant was in charge of a Special Operations Group whose members fired against protesters and bystanders in two separate occasions, on 30th April and 3rd May 2021.
Expression
Armed men attack journalist's bodyguard
#COLOMBIA: Colombian authorities must thoroughly investigate an armed attack on the vehicle and bodyguard of investigative journalist Julián Martínez, determine if the reporter was targeted for his work, and bring those responsible to justice.https://t.co/XB15zASTHY

— CPJ Américas (@CPJAmericas) February 28, 2022
On 22nd February 2022, two armed men attacked investigative reporter Julián Martínez's bodyguard while the journalist conducted an interview. As reported by the Committee to Protect Journalists (CPJ), the assailants approached the reporter's vehicle, which was parked on the street in front of a Bogotá apartment, and tried to force open the door. They then pointed their pistols at Martínez's bodyguard, who was sitting in the driver's seat. The bodyguard, assigned to Martínez by the National Protection Unit, was armed and fired shots at the men, who escaped in a waiting taxi.
Martínez, who works with the independent media La Nueva Prensa, frequently investigates allegations of government corruption and illegal spying. He had previously received threats and has been enrolled in Colombia's protection mechanism since April 2021. Martínez is currently investigating alleged links between Colombian politicians and drug traffickers and told CPJ he believes the gunmen may have been trying to frighten or kill him. However, police said they didn't rule out the possibility of an attempted robbery.
Attacks, detentions and other developments
#ComunicadoFLIP | Expresamos nuestra preocupación por la campaña "Fuera malas lenguas" de la @alcaldiadeyopal. Esta estrategia desacredita las voces críticas a la administración local y promueve un clima hostil hacia la prensa local.

🧵Abrimos hilo.
👉🏽https://t.co/25rXWLRejR pic.twitter.com/G4f2BgOgeF

— FLIP (@FLIP_org) March 10, 2022
In February 2022, the Mayor's Office of Yopal, located in the municipality of Casanares, carried out a communications campaign "inviting" media not to speak ill of the local government administration. Called "Fuera malas lenguas" ("Out with the foul language"), the campaign featured a video of the mayor saying that "constructive criticism is welcomed" but that people cannot "destroy the work being done to reconstruct the city" because they do not sympathise with the authorities. The Fundación para la Libertad de Prensa (FLIP) said the campaign discredited journalistic work and fostered hostility against the press, calling on the local authorities to withdraw it immediately.
On 8th March 2022, during the Women's March in Medellín, the Metropolitan Police detained Jennifer Mejía, a journalist with Le Cuento and Pacifista. She was recording the arrest of a demonstrator when a police officer grabbed her by the arm and detained her. Mejía identified herself as a journalist, wore a press waistcoat and carried an ID card. She also claimed that police did not tell her where she was being taken or why she was being detained.
During the same protest, Telemedellín journalist Manuela Granda and camera operator Nelson Usquiano were harassed and attacked by seven protesters. Granda told news media that some demonstrators were angered by Usquiano's presence amid the protest, saying news media should have sent women communicators for their news coverage. The reporter said seven hooded women cornered them against a wall, shouted at them and then hit Usquiano. When the two tried to leave, the protesters threw a can and hit Granda on the head. She received medical attention for the injury.
On 21st March 2022, the vehicle of Noticias Uno's director, Cecilia Orozco, was followed by a funeral car for several kilometres in Bogotá. On the evening of the incident, Orozco had left the media outlet's office together with a security team. She was on her way home when a funeral car began following her vehicle. As reported by FLIP, the police questioned the driver, who claimed to have been hired by a funeral home to pick up a dead body and told to follow Orozco's vehicle. FLIP said this was an attempt to intimidate Orozco and her team, and called on the country's protection mechanism to re-evaluate the journalist's security measures.
On 11th April 2022, presidential candidate Enrique Gómez said on Twitter that "there is a hypocritical attitude, several media outlets have taken up the flags of drug trafficking to the detriment of the most vulnerable populations in the country." Referring to news articles on alleged irregularities involving the military, Gómez said "the context in which the news is presented is clearly biased." FLIP condemned these stigmatising statements, saying that unfounded claims linking the press to criminal activities seek to discredit journalism.
Civic Space Developments
Tags
protest,
land rights,
extractive industries,
youth,
attack on HRD,
intimidation,
HRD killing,
excessive force,
journalist detained,
public vilification,
non state actors,
women,
protestor(s) detained,
indigenous groups,
minority groups,
HRD threatened,
positive CS development,
attack on journalist,
environmental rights,
Back to civic space developments