Civil disobedience movement mobilises against Myanmar coup despite net shutdown, arrests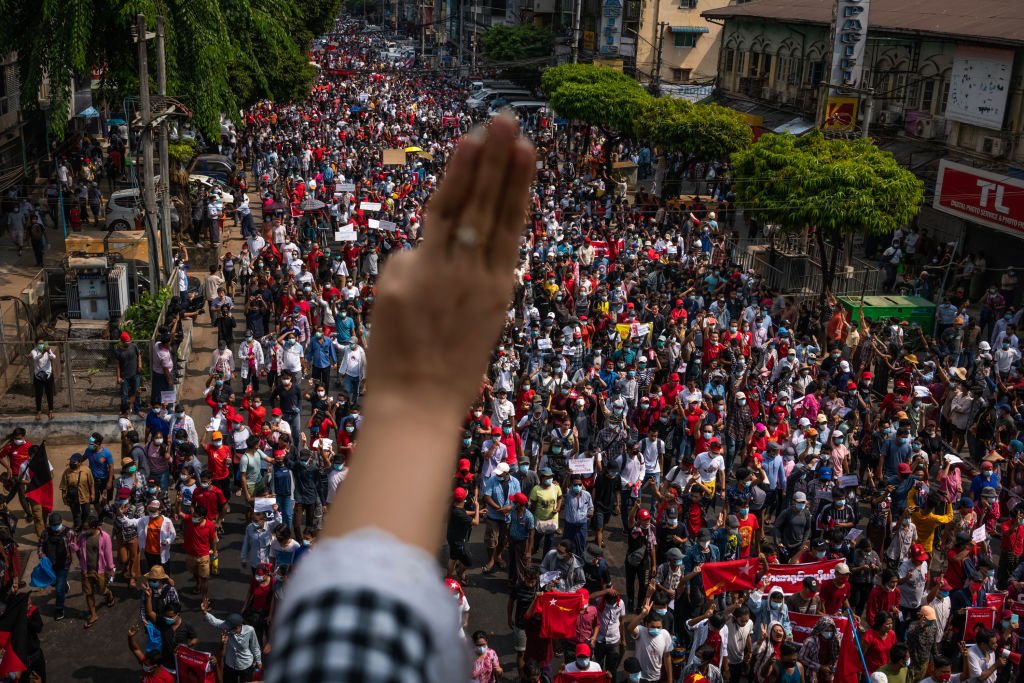 On 1st February 2021, the Myanmar military regime seized power in a coup, arrested the civilian leaders of the national and state governments and announced a one-year "state of emergency."
The military arrested leader and de facto head of state Aung San Suu Kyi and other senior figures from the ruling National League for Democracy (NLD) in early morning raids in the capital, Naypyidaw. The officials were in Naypyidaw for the lower house of parliament to convene after the November 2020 national elections, which the NLD won by a large margin. The military also detained NLD officials and civil society activists in other parts of Myanmar and cut telecommunications and the internet.
The person now in charge of the country, Senior General Min Aung Hlaing, stands accused of committing the crime of genocide, crimes against humanity and war crimes, raising alarms for the human rights situation, in particular for ethnic minority and Rohingya communities.
People across Myanmar have mobilised a civil disobedience movement and organised protests against the coup and the subsequent detention of senior democratic leaders. There has also been condemnation of the coup by local and international human rights groups and activists as well as the UN.
Tom Andrews, the UN Special Rapporteur on the situation of human rights in Myanmar, called for "the immediate, unconditional release of everyone who has been detained, the restoration of communications and an end to this outrageous and unlawful action".
The UN High Commissioner for Human Rights, Michelle Bachelet, has voiced "deep fears" of a violent crackdown on dissenting voices in Myanmar. She called on the international community to "stand in solidarity with the people" of Myanmar at this time.
On 4th February 2021, United Nations Security Council members issued a statement expressing deep concern over the declared state of emergency and the arbitrary detention of the members of the democratically elected government in Myanmar. In calling for the release of those detained, the Security Council also urged Myanmar to "refrain from violence and fully respect human rights, fundamental freedoms and the rule of law."
Expression
Internet crackdown following coup
On 1st February 2021, as the military coup was under way, internet and phone outages were reported in several parts of the country, including in the capital, Naypyitaw, the largest city, Yangon, as well as Shan and Kachin States and the Mandalay and Sagaing regions. Data from the internet monitoring service Netblocks shows disruptions on network operators, including state-owned Myanma Posts and Telecommunications (MPT) and an international operator, Telenor. Access was later re-established.
⚠️ Alert: #Myanmar is now in the midst of a second nation-scale internet blackout as of ~10:00 a.m. Saturday local time; real-time network data show national connectivity falling to 54% of ordinary levels as users report difficultly getting online 📉

📰 https://t.co/Jgc20OBk27 pic.twitter.com/ebFLAAl7dj

— NetBlocks (@netblocks) February 6, 2021
On 4th February, the military announced that they were ordering telecoms operators to block access to Facebook until 7th February, which has been used by activists to co-ordinate opposition to the coup. On 5th February, it expanded its internet crackdown and instructed telecommunications companies to block access to Twitter and Instagram. On 6th February, the Myanmar military reportedly ordered telecommunications companies in the country to fully shut down internet and 4G services.
One ISP, Norwegian company Telenor, said it was reluctantly complying with the military's orders, and did so "while expressing grave concerns regarding breach of human rights". There was also a dramatic uptick in the demand for VPNs — Virtual Private Networks used to bypass blockages.
On 6th February a coalition of Myanmar civil society groups called on internet service providers (ISPs) not to comply with the military directives. They added: "your companies are essentially legitimising the military's authority, despite international condemnation of this very body".
Internet access was partially restored in Myanmar on 7th February, as the nationwide web and social media blockade failed to curb public outrage and massive protests against the military coup.
Journalists at risk
#Myanmar🇲🇲: Media unions and journalist organisations across the Asia-Pacific region have issued a joint statement of solidarity with their journalist colleagues in Myanmar, condemning the attack on Myanmar's democracy and press freedom. @IFJGlobal https://t.co/wrZ5UMD218

— IFJ Asia-Pacific (@ifjasiapacific) February 6, 2021
Journalists have been targeted following the coup, putting them at risk. Japanese journalist Hiroki Kitazumi was punched in the face and kicked during a pro-military demonstration in Yangon on 2nd February 2021. "It was clear that the rally participants were targeting the media," Kitazumi, a freelance reporter who writes for Japanese media outlets, told VICE World News. "They were trying to cause mayhem."
After being set upon by protesters Kitazumi escaped, picked up his camera and fled the scene with other spectators. He has no serious injuries, but others weren't so lucky. Roughly ten journalists were reporting on the rally, some of whom were also beaten. One Myanmar cameraman had "blood pouring from his head wounds," Kitazumi said.
Theurein Kyaw, a Yangon-based freelance journalist, was beaten during a separate protest near Sule Pagoda in Yangon while reporting for news publication Voice of Myanmar. The Myanmar Press Council issued a statement condemning the violence.
According to Human Rights Watch, journalists in Myanmar have reported credible threats of an imminent, broader-sweeping crackdown on media workers, and several have told Human Rights Watch that they fear for their safety. Some local journalists had reportedly gone into hiding. According to the International Federation of Journalists (IFJ), journalists are reporting increased surveillance of news reporting and journalists admitting to self-censorship since the coup.
Civil disobedience movement mobilises
As the military regime attempted to clamp down on information, pro-democracy activists launched a protest campaign dubbed the "Civil Disobedience Movement" in the capital Naypyidaw. They demanded the release of Aung San Suu Kyi and other detained leaders and called on the military to respect the results of the country's November 2020 election.
Myanmar doctors deploy 'Hunger Games' salute in protest against military coup https://t.co/miSsY4FS7F

— The Independent (@Independent) February 4, 2021
One of the first groups to mobilise were medical workers who took part in a stop work protest across more than 70 hospitals on 4th February against what they called an "illegitimate" government. Photos were shared on social media showing workers with red ribbons pinned to their clothes or holding printed photos of red ribbons. Others used a three-finger salute that has become a symbol of pro-democracy protests in neighbouring Thailand.
Another campaign that started on 2nd February 2021 saw residents in Myanmar's commercial capital, Yangon, bang pots, honk car horns and chant "evil be gone" to show their opposition to the coup.
Association
Activists and lawmakers detained
Myanmar has 134 More Political Prisoners Following Military Couphttps://t.co/prne51jEcn

#militarycoup#savemyanmar

— The Irrawaddy (Eng) (@IrrawaddyNews) February 5, 2021
There have been arrests of civil society activists following the coup. In the first 24 hours, those picked up including filmmaker Min Htin Ko Ko Gyi; student activist Ko Min Thway Thit; writers Maung Thar Cho and U Htin Linn Oo; prominent leader of the 88 Generation, Ko Mya Aye; pro-democracy Buddhist monk, Shwe Nya Wah Sayadaw as well monks U Thawbita and Sayadaw U Arriyawuntha. As of 7th February 2021, around two dozen activists have been detained according to the Assistance Association for Political Prisoners (AAPP).
AAPP also reported that an estimated 135 lawmakers and NLD officials also remain in detention in different parts of country as of 7th February. Myanmar police have since charged ousted leader Aung San Suu Kyi with possession of illegally imported walkie-talkies under the Export and Import Law while U Win Myint was charged for allegedly breaching election campaign guidelines and COVID-19 restrictions under the Natural Disaster Management Law. Both charges carry up to three years' imprisonment.
On 5th February, police detained NLD patron U Win Htein on a sedition charge under Article 124(a) of the penal code. He was brought back to Naypyitaw and was being held at Oattara Thiri Police Station.
Peaceful Assembly
Protesters hit the streets
#CivilDisobedienceMovement by teachers and anti coup protest by students at Dagon University. #against_the_military #HearTheVoiceOfMyanmar #WhatsHappeningInMaynmar pic.twitter.com/bWPy6l4w99

— Ye Wai Phyo Aung (@yewaiphyoaung) February 5, 2021
A civil disobedience movement in Myanmar gained momentum, with hundreds of teachers and students joining the protests. On 5th February, demonstrators gathered outside Dagon University in Yangon, where they displayed the three-finger salute. They also chanted support for jailed leader Aung San Suu Kyi and wore red ribbons, her party's colour.
According to news reports, tens of thousands of people rallied across Myanmar on 6th and 7th February to denounce the coup. Crowds in the biggest city, Yangon, sported red shirts, red flags and red balloons. "We don't want military dictatorship! We want democracy!" they chanted.
Video taken from bridge near Sule Pagoda - the epicentre of protests in downtown Yangon today calling for an end to military rule and release of Aung San Suu Kyi - shows tens of thousands marching east along Mahabandoola Road and around the pagoda. #WhatsHappeningInMyanmar pic.twitter.com/nay0tFM0Y7

— Frontier Myanmar (@FrontierMM) February 7, 2021
Massive crowds from all corners of Yangon gathered in townships, filling streets as they headed towards the Sule Pagoda at the heart of the city. A line of armed police with riot shields set up barricades but did not try to stop the demonstration. Some marchers presented police with flowers as a sign of peace. Protests were reported in the second city of Mandalay and many towns and even villages across the country.
The demonstrations have largely been peaceful, but shots were heard in the south-eastern town of Myawaddy as uniformed police with guns charged a group of a couple of hundred protesters, live video showed. Pictures of protesters afterwards showed what appeared to be rubber bullet injuries. According to the Assistance Association for Political Prisoners (AAPP), 14 people were arrested including former female political prisoner Khin Htar. 
Police fire a water cannon at demonstrators during a protest against the #militarycoup in Naypyitaw, #Myanmar, 08 February 2021. EPA-EFE/MAUNG LONLAN pic.twitter.com/53hCQEpEcW

— Mizzima News (@MizzimaNews) February 8, 2021
On 8th March, workers across Myanmar went on a nationwide strike. Tens of thousands of people had gathered in Naypyitaw, with other cities also reporting significant numbers.Police in Naypyitaw used water cannon against protesters, video from a protest scene showed. Police fired short bursts against some of the thousands of protesters who had gathered. Some protesters appeared to have been hurt when they were knocked to the ground.
The military has imposed a slew of restrictions on gatherings and activities in in the country's largest cities of Yangon and Mandalay as of 8th February.  An 8 p.m. to 4 a.m. curfew has been imposed in numerous townships in Myanmar as well as a ban on motorized processions and gatherings of more than five people.