Civic space takes further hit from Taliban's deplorable NGO ban for women as activists and journalists continued to be targeted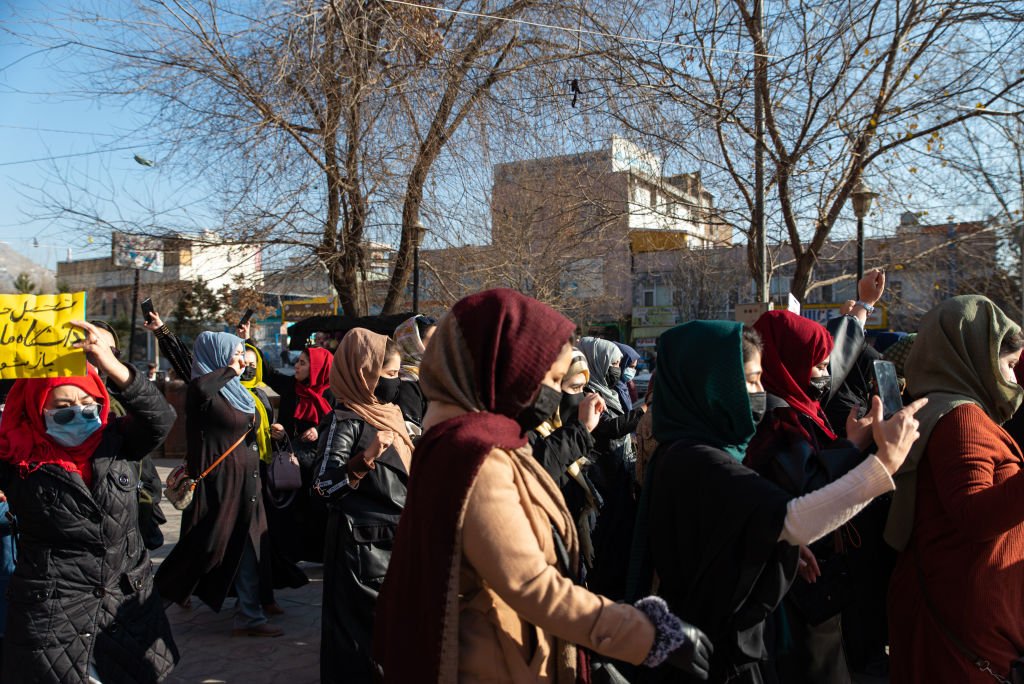 Civic space in Afghanistan is rated as 'repressed'. Ongoing concerns documented include of arbitrary arrests, unlawful detentions and enforced disappearances of activists by the Taliban. Protests by women activists have been disrupted and protesters have experienced arrests, torture and ill-treatment. Media outlets have been banned and journalists have been targeted. The vast majority of civil society organisations have closed.
The end of 2022 saw a further deterioration in the already dire human rights situation when the Taliban banned women from attending university, sparking international condemnation. The UN Security Council "called on the Taliban to reopen schools and swiftly reverse these policies and practices, which represent an increasing erosion of the respect of human rights and fundamental freedoms." The de facto authorities responded to the outcry against these bans violently, using force and arbitrary detentions to quell peaceful protests.
The last two months of 2022 also saw the formal reimposition of Sharia punishments following an order from the Taliban's Supreme Leader. The first official execution following the decree took place in a sports stadium in Farah province on 7th December 2022 and was attended by several high- level Taliban officials. The Supreme Leader's order resulted in a wave of public floggings countrywide; at least 304 Afghans were flogged in November and December 2022, including 45 women.
In January 2023, UN-appointed independent human rights experts said that the ongoing collapse of the rule of law and judicial independence in Afghanistan is "a human rights catastrophe".
Over the last few months, the Taliban has continued its repression by barring women from working in NGOs and keeping women human rights defenders in detention. The Taliban has also continued to crack down on peaceful protests, detaining and torturing those involved. Journalists, media outlets and critics of the Taliban continue to be targeted.
Association
Afghanistan's formerly vibrant civil society has been almost entirely suffocated and Afghans no longer have the right to freedom of association. A handful of groups are still operating, but the vast majority of civil society organisations and human rights groups have been forced to close. Their staff have fled overseas or are in hiding and being forced to operate in secret.
Other women's groups have responded to Taliban repression of civil society activities by establishing secret networks through which they are attempting to continue to offer services to local communities. Some operate entirely in secret, for example to provide secondary school age girls with at least some education. Other groups operate somewhat more openly, but are selective about what exactly they tell the local authorities they are doing.
Communication is another problem. Although mobile phone use is widespread, there are reports of businesses being instructed not to sell SIM cards to women. Data stored on mobile phones has also been exploited by the Taliban, who use captured phones to identify networks of women protesters and other civil society groups. Taliban interrogators routinely beat or torture detainees into opening their phones, and then use the data to identify and detain other activists.
Women barred from working in NGOs
On 24th December 2022, the acting Minister of Economy issued a letter barring woman from working in international and national NGOs, citing the non-observance of Islamic dress rules and other laws and regulations of the Islamic Emirate as reasons for the decision. Non-compliance will result in revoking the licences of said NGOs, the ministry said. The hugely damaging implications of the NGO ban prompted several major aid organisations to suspend their operations, worsening the humanitarian crisis.
UN human rights experts highlighted how the ban will prevent delivery of life-saving aid and will have a dire impact on local NGOs, particularly women-led NGOs, which have provided services and support for women, children and marginalised groups. The ban will further push women out of jobs and completely erase them from the public sphere.
The UN Security Council issued a statement expressing its profound concern about the "significant and immediate impact for humanitarian operations in the country, including those of the United Nations, and the delivery of aid and health work."
Women activists released from detention
Women's Rights Activist Zarifa Yaqobi Released From Taliban Prison, Sister Says - https://t.co/cm2qUCgRbx #GoogleAlerts

— SRMO AFGHANISTAN (@AfgSrmo) December 13, 2022
Attempts to establish new CSOs have been directly quashed by the Taliban. As previously documented, women's human rights defender Zarifa Yaqobi and at least four others were detained by Taliban intelligence agents on 3rd November 2022 in western Kabul. Yaqobi had been involved in women's protests and was apparently taking part in a press conference where a new women's organisation - the Afghan Women's Movement for Equality - was being launched at the time of her arrest.
Zarifa's arrest was covered extensively by international media and received significant attention on social media. But Zarifa was nevertheless held for 40 days, underlining the limited impact of international pressure on the Taliban's decision making.
Afghan women's rights activist Farhat Popalzai, who was also detained by the Taliban intelligence on 8th November 2022, was released from Taliban custody at the end of December 2022, sources told Amu TV. She is one of the founders of the 'Spontaneous Movement of Afghan Women'.
Former women parliamentarian killed
Gunmen killed Mursal Nabizada, a lawmaker during the previous foreign-backed government, and her bodyguard in an attack at her home in mid-January.https://t.co/NSl7VQPBMU

— Radio Free Europe/Radio Liberty (@RFERL) February 17, 2023
On 16th January 2023, a former Afghan MP and her bodyguard were shot dead at her home in the capital Kabul. Mursal Nabizada, 32, was one of the few female MPs who stayed in Kabul after the Taliban seized power in August 2021. Her brother and a second security guard were wounded in the attack.
Nabizada, from the eastern province of Nangarhar, was elected as a member of parliament from Kabul in 2018 and stayed in power until the Taliban takeover. She was a member of the parliamentary defence commission and worked at the Institute for Human Resources Development and Research.
Former lawmaker Mariam Solaimankhil said Nabizada was "a true trailblazer – a strong, outspoken woman who stood for what she believed in, even in the face of danger. Despite being offered the chance to leave Afghanistan, she chose to stay and fight for her people."
New survey highlights challenges faced by human rights defenders
A new survey released on 19th January 2023 by the Afghanistan Human Rights Coordination Mechanism (AHRCM), a consortium facilitated by Freedom House in collaboration with the Afghan Canadian Civil Society Forum (ACSF), found that human rights defenders in Afghanistan and those who have fled the country face ongoing threats including arbitrary arrest, kidnapping, torture, imprisonment, and violence against family members.
The survey of 663 Afghan human rights defenders was conducted between May and June 2022 and offers one of the clearest pictures to date of the dire conditions endured by human rights defenders in the aftermath of the August 2021 collapse of Afghanistan's elected government. Before the Taliban retook control of Afghanistan, the country was home to numerous groups and individuals who advocated for the rights and protection of all Afghans, including women, religious minorities and marginalised communities. According to the report, these human rights defenders have been under assault since the Taliban returned to power, raising deep concern about the long-term protection of civil liberties and political rights in Afghanistan.
The report also provides recommendations on steps that international organisations, civil society groups, donors and other stakeholders can take to support human rights defenders inside and outside the country.
Peaceful assembly
The Taliban has a zero tolerance towards Afghans' right to peaceful freedom of assembly. Demonstrations against damaging Taliban policies are met with beatings, detentions, pepper spray, water cannon and the firing of live bullets. Protesters - the vast majority of whom are women - are frequently insulted, beaten and often have their mobile phones confiscated or destroyed. The de facto authorities have reportedly been deploying plain clothed women Taliban to infiltrate groups of protesters; these women have reportedly beaten and restrained activists, some of whom were then handed over to Taliban soldiers and detained.
The threat of violence at public protests has forced Afghans to find alternative ways to campaign against Taliban policies. Women and girls frequently hold meetings inside private homes where they take videos of themselves holding banners which they share via messaging apps and social media. The December 2022 bans targeting women NGO workers and university students prompted a campaign calling on Afghans to chant slogans from rooftops at night in an effort to avoid clampdowns by the de facto authorities.
Detention and torture of activists
According to the Safety and Risk Mitigation Organisation, in November and December 2022, at least 21 women protesters were detained, many of whom were university students. This number includes five women detained in Kabul on 22nd December and six women detained at a protest in Takhar province on 24th December. The true figure is likely far higher, as it is extremely difficult to get accurate information about the numbers of arrests and what happens to women protesters after they are detained. Journalists are banned from reporting on demonstrations, and families are often too scared to contact local media or human rights organisations in case they put family members in greater danger.
Some women arrested at protests are kept for a relatively short time, but others endure weeks or even months of detention and torture. Several women protesters have spoken out about their treatment in Taliban prisons after they have managed to leave Afghanistan.
Afghan activist recounts torture in Taliban prison – DW – 11/29/2022 - https://t.co/8hTBAZaRMy #GoogleAlerts

— SRMO AFGHANISTAN (@AfgSrmo) December 1, 2022
In one recent interview a woman protester now living in Germany described being beaten with guns, given electric shocks, having Taliban watch her while she used the bathroom and being threatened with death by stoning. She also describes how her brother-in-law was detained alongside her and beaten with pipes. Her experiences are not unusual, but fit the pattern described by other previously detained activists who have shared their testimonies with human rights organisations.
Use of violence against peaceful protesters
Taliban Violently Disperses Women's Protest Against University Ban
A group of some 50 women gathered in Kabul for a peaceful protest against the move, chanting slogans against the ban, but were attacked and dispersed by Taliban security forces.https://t.co/L86J9RLw7q

— The Asian Feminist (@theasianfmnst) December 22, 2022
Women protesters have been targeted with violence for their peaceful demands for access to education and employment – rights the Taliban promised they would honour during negotiations prior to their takeover in August 2021. For example, several women participating in a rally on 22nd December 2022 in Kabul after the university ban was announced were beaten by Taliban soldiers. Female students in Herat were beaten with tree branches and also was pushed back with a water cannon with on 24th December 2022 as they attempted to hold a demonstration. Videos taken at the scene show young women being forced into an alleyway by security forces.
In one deeply worrying case, reliable local sources reported that two female medical students were killed in late December 2022 in the eastern city of Jalalabad after being severely beaten by Taliban soldiers during a protest. The case was not mentioned in the local media or on social media platforms; the total lack of media reporting on this alleged incident highlights the challenge of accessing information amid extensive controls and intimidation of the media.
Clampdown on men supporting women's rights
December 2022 saw a notable increase in the number of men publicly criticising the de facto authorities by for example refusing to take university exams or joining in with street protests. Dozens of male university lecturersresigned to register their opposition to the Taliban's new restrictions, including one who did so during a television interview. Groups of male students were detained in December after taking part in anti-Taliban rallies following the ban on women at universities. Male students were reportedly detained in Kabul, Nimruz, Ghazni and Takhar provinces in December; meanwhile in Kandahar, a video shared on social media showed male students being shot at and beaten after apparently rallying in support of their female colleagues. Exact numbers of those detained are unavailable and it is not known if these people remain in detention.
Expression
The Taliban has placed extensive curbs on freedom of expression, and purposely suffocated the lively media scene that had developed over the last 20 years. The media is banned from publishing or broadcasting any criticism of the Taliban and prohibited from covering anti-Taliban demonstrations. All surviving independent media outlets practise extensive self-censorship in order to continue operations.
Targeting of journalists, media outlets and critics by the Taliban
The Afghanistan Journalists Center (AJC) documented 'a total of 260 violations including threats, detentions and violent confrontations' during 2022. The AJC's annual report, which was published on 30th December 2022, went on to say that 2022 had been 'marked by detentions, threats, assaults, and restrictions on media outlets, journalists, and in particular women journalists.' The AJC recorded 119 detentions during the year, 11 cases of physical violence and 128 cases of journalists being threatened.
At least 12 journalists were reportedly detained by the Taliban during November and December 2022. These included a reporter detained in November after criticising a local Taliban official in northern Balkh province, and three media workers who were arrested while trying to cover a women's protest in Kabul on 22nd December.
In another example, a radio journalist was detained in northern Takhar province on 9th December when a group of armed police entered his home. He was taken to the provincial headquarters of the General Directorate of Intelligence (GDI), where his interrogators said his radio station's broadcasts had not been approved by the de facto authorities. According to the journalist, who has now managed to leave the country, Taliban officials 'beat the journalist with an iron rod, administered electric shocks, and suffocated him with a plastic bag.'
International media trying to operate in Afghanistan also face an extremely challenging environment, and in November 2022 the Taliban blocked two international radio stations from broadcasting inside the country. In December, Taliban officials from the Ministry of Culture and Information banned Radio Azadi (run by Radio Free Europe/Radio Liberty) and Voice of America's (VoA) Dari and Pashto services, accusing them of distributing 'biased' news and violating media principles.
Social media content producers have also been targeted by the Taliban. Local reports suggest that at least 13 YouTubers and their colleagues were detained during November and December 2022. Most of these people were released relatively quickly, but they were threatened to stop their activities, and some had their filming equipment destroyed or stolen.