Civic freedoms continue to deteriorate in the backdrop of Russia's invasion of Ukraine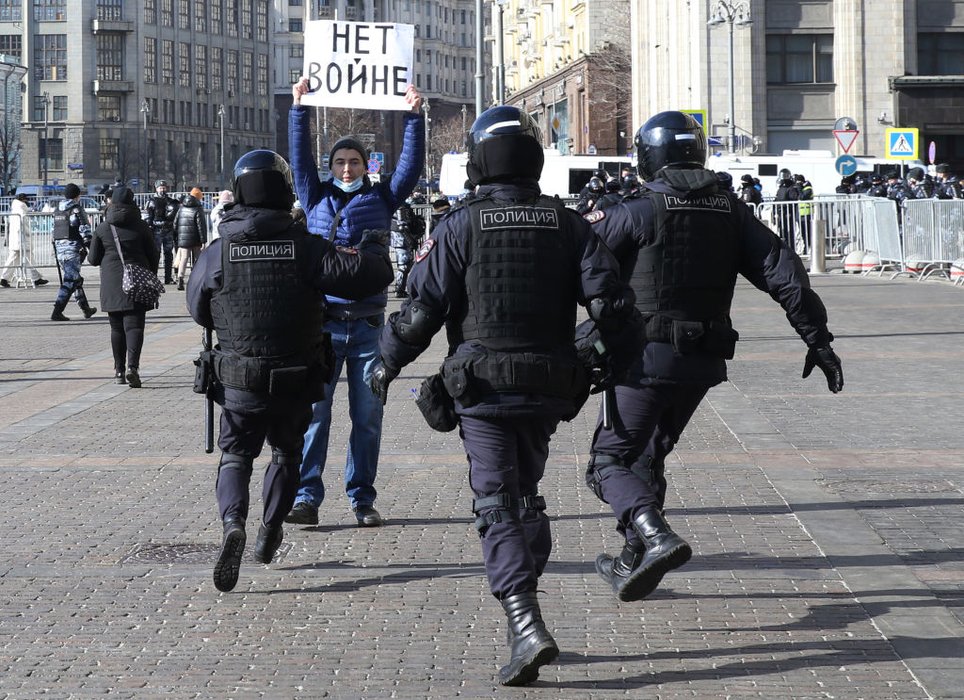 Peaceful Assembly
Thousands arrested in anti-war protests in Russia
As previously reported, as the war ensued in Ukraine, starting on 24th March 2022, Russian authorities embarked on a severe crackdownon civic freedoms after authorities brutally responded to nationwide anti-war protests, threatened and shut independent media outlets for reporting about the war in Ukraine, and blocked access to social media and media websites.
According to OVD-Info, in anti-war protests which were held daily across the country, over 15,000 people were detained, including minors, civic activists, human rights defenders and journalists. 
Putin Signs Law Targeting Journalists: CNN, Bloomberg, BBC Stop Operations In Russia https://t.co/rln4lvEwBq pic.twitter.com/swJxVHa4YU

— Daily Wire (@realDailyWire) March 4, 2022
Expression
New law criminalises reporting on the war in Ukraine
On 4th March 2022, President Vladimir Putin signed a law that introduced criminal penalties of up to 15 years in prison for disseminating 'false information' about Russian armed forces in Ukraine and for calling for sanctions against Russia. The law was voted in by the State Duma on the same day and immediately sent to the president. As a result a number of international media outlets including the BBC and CNN temporarily suspended the work of all its journalists in Russia.
I often listened to Ekho Moskvy radio. It shut down.
I watched Dozhd TV. It closed.
I read Novaya Gazeta. Now it, too, has suspended operations "until the end of hostilities in Ukraine." Russia's last established independent media has fallen silent.

— Steve Rosenberg (@BBCSteveR) March 28, 2022
Media outlets close after threats and pressure from authorities
After Echo of Moscow was threatened with sanctions, taken off air and had its website blocked byRussian media regulator Roskomnadzor (RKN) because of its reporting of the war in Ukraine - as previously reported - the outlet's board of directors thereafter made a decision to liquidate the radio channel and shut down its website in early March 2022.
Similarly, on 29th March 2022, the country's last independent publication, Novaya Gazeta, announced that it had ceased its activities until the end of the "special operation".
At the regional level, outlets were also closed for dissemination of 'false information' about the so-called "special operation". On 28th March2022, Russian authorities opened criminal investigations against the founder of the Ingush news site Fortanga, which was soon after blocked by Roskomnadzor.
Association
CSOs denounce persecution of activist
The EU-Russia Civil Society Forum expressed concern regarding the arrest and charges against Daria Serenko, a poetess, feminist and civic activist, detained in Moscow on 8th February 2022. The activist was detained for posting a "Smart Voting" symbol on her Instagram account - a project that was initiated by the Russian opposition a few years ago and used during the last parliamentary elections.
The court found Serenko guilty of displaying slogans of an extremist organisation and sentenced her to 15 days in detention. The EU-Russia Civil Society Forum demanded that the Russian authorities stop the unlawful persecution of civic activists.
Supreme Court affirms liquidation of Memorial International
On 28th February 2022, the International Memorial Foundation, an international historical, educational, charitable and human rights organisation, folded its activities. This came after a review of the Supreme Court's December 2021 decision upheld the court's earlier decision to liquidate the organisation. As previously reported, on 28th December 2021, the court of appeal ruled in favour of Memorial's liquidation, after it was added to the list of foreign agents in 2016.
Civil Society organisations disagreed with the court's decision, expressing solidarity with Memorial and affirming that they would continue to support independent civil society in Russia. In the same vein, in January 2022, OSCE representatives urged Russian authorities to stop the "decimation of Russian civil society and protect the human rights and fundamental freedoms of Russia's citizens, in line with Russia's OSCE and other international human rights commitments."