China deploys security law against Hong Kong activists as persecution of critics and Uighurs persist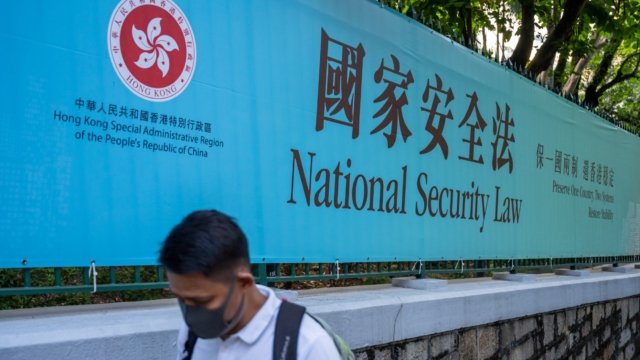 On 26th June 2020, nearly 50 UN independent experts expressed their continuing alarm at the repression of "fundamental freedoms" by the Chinese government, urging the country to "abide by its international legal obligations".
The experts also raised their "grave concerns" on issues ranging from the collective repression of specific communities – "especially religious and ethnic minorities, in Xinjiang and Tibet" – to the detention of lawyers and prosecution - in addition to disappearances - of human rights defenders across the country.
The independent experts also voiced their concern for journalists, medical workers and those speaking out about COVID-19 online inside China, who have allegedly faced retaliation from the authorities, including being charged with "spreading misinformation" or "disrupting public order."
On 9th September 2020, a global coalition of 321 civil society groups urged the UN to urgently create an independent international mechanism to address the Chinese government's human rights violations. The groups hailed from more than 60 countries around the world – from Azerbaijan to Zambia, from Morocco to Malaysia and from Vietnam to Venezuela.
The signatories stressed the need to address rampant human rights violations across China, including in Hong Kong, Tibet and Xinjiang. They also highlighted the impact of China's rights violations worldwide, including the targeting of human rights defenders; global censorship and surveillance; and rights-free development that has caused environmental degradation.
Since June 2020, the authorities have passed a draconian security law in Hong Kong that they have started to use to prosecute activists and critics. Twelve Hong Kong activists who attempted to flee Hong Kong were arrested in August 2020 and are being held incommunicado in mainland China. Critics of President Xi are being arrested and prosecuted while two Australian foreign correspondents have been forced to leave China. In September 2020, Hong Kong authorities arrested high profile activist Joshua Wong for taking part in protests while a new report said that China has built nearly 400 internment camps in the Xinjiang region.
Expression
Passage of draconian National Security Law in Hong Kong
On 30th June 2020, China's top legislature unanimously passed a new national security law for Hong Kong that entered into force in the territory the same day. The law is dangerously vague and broad: virtually anything could be deemed a threat to "national security" under its provisions.
The Chinese authorities forced the law through without any accountability or transparency: it was passed just weeks after it was first announced, bypassing Hong Kong's local legislature, and the text was kept secret from the public and allegedly even the Hong Kong government until after it was enacted.
Some key concerns on the law are highlighted below:
The National Security Law (NSL) punishes four types of activities: secession (arts. 20-21), subversion (arts. 22-23), terrorism (arts. 24-28) and collusion with "foreign forces" (arts. 29-30), all carrying a maximum sentence of life in prison. These offences are so broadly defined they can easily become catch-all offences used in politically motivated prosecutions with potentially heavy penalties.

In the name of national security, the law gives the Chinese central and Hong Kong governments new expansive powers to oversee and manage schools, social organisations, media and the internet in Hong Kong (art. 9). Similarly, it also states that both the Office and the Committee for Safeguarding National Security will act to "strengthen the management" of foreign non-governmental organisations and news agencies (art. 54).

In "complicated" and "serious" cases, mainland agencies, namely the Office for Safeguarding National Security and mainland Chinese prosecutors and judges, can investigate and bring to trial suspects in political crimes, who are subjected to mainland criminal law (arts. 55-57). This suggests they could even be transferred to the mainland and further deprived of procedural protections that exist under Hong Kong's legal system.

The law establishes a separate channel for investigation, prosecution and trial for those suspected of crimes under the new law. It sets up a special department of the Hong Kong police tasked with investigating and handling political crimes (art. 16). Suspects can also be investigated by prosecutors and judges handpicked by the secretary for justice and chief executive, respectively (arts. 18, 44).

The law denies bail to national security suspects, unless the judge is convinced that they will no longer commit national security offences (art. 42). Defendants can also be deprived of a public trial if state secrets would be disclosed (art. 41), and of a jury trial if directed by the secretary for justice (art. 46).

The NSL states that it applies beyond Hong Kong and China (arts. 37, 38). Under the law, anyone who criticises the Hong Kong or Chinese governments anywhere in the world can potentially be charged with violating the security law, putting them at risk if they visit Hong Kong, or if their own governments agree to extradite them to Hong Kong.

The law gives Hong Kong police sweeping new powers, many of which they can exercise without judicial or other forms of oversight. Article 43 and its Implementation Rules authorise police officers to conduct warrantless searches and covert surveillance, and to seize travel documents of those suspected of violating the security law

The law creates security agencies, including with Chinese mainland participation, that pose a direct threat to fundamental rights without accountability. The law establishes a central government-run security agency in Hong Kong, the Office for Safeguarding National Security (art. 48). The office and its staff do not fall under Hong Kong's jurisdiction. This means any actions, including their operation in the city, are not reviewable by local courts or subject to local laws. In addition, the new law establishes a Committee for Safeguarding National Security, which the Hong Kong chief executive chairs (art. 12).
National Security Law increases repression 
"...the police arrested about 370 people, including 10 over new offenses created by the security law that takes aim at political activity challenging Beijing. One of the 10 was a 15-year-old girl waving a #HongKong independence flag, the police said." https://t.co/5KcEkT7vqb

— Sophie Richardson (@SophieHRW) July 1, 2020
Hong Kong authorities have rapidly begun to apply the new National Security Law to prosecute peaceful speech and generate a chilling effect on fundamental freedoms in the city, as also documented by Civil Rights Observer, a local human rights organisation.
Hours after the Chinese government passed the law, one of Hong Kong's most prominent pro-democracy political groups, Demosisto, disbanded due to concerns over the law. One of its leaders, Nathan Law, left Hong Kong. Two pro-independence political groups run by young people, Studentlocalism and Hong Kong National Front, have also disbanded in Hong Kong but said they will continue their work abroad
On 1st July 2020, the police reported that they arrested over 370 people on suspicion of breaching the National Security Law, including for showing leaflets and banners with the reference to "Hong Kong Independence."
Two days after the law was passed, the Hong Kong government declared that "Liberate Hong Kong, the revolution of our times", a common political slogan during last year's protests, "connotes Hong Kong independence", or separating Hong Kong from China, and effectively forbade its use.
On 29th July, Hong Kong police arrested four former members of pro-independence student group Studentlocalism, which was disbanded before the law came into effect, on suspicion of "inciting secession." They were arrested under Articles 20 and 21 of the security law after they "recently declared the establishment of overseas organisations that advocate Hong Kong independence". The four were released on bail pending further investigation.
Within the first month of the law's implementation, Hong Kong authorities used the controversial Article 38 provision to target overseas activism and intimidate critics in the international community, including one US citizen. On 31st July 2020, Hong Kong authorities issued arrest warrants for six pro-democracy activists on suspicion of violating the National Security Law.
On 10th August 2020, police arrested pro-democracy media mogul Jimmy Lai, founder of the newspaper Apple Daily, on suspicion of colluding with foreign forces to endanger national security, conspiracy to defraud and intention to incite secession. Police also arrested Lai's two sons and four top executives of the Next Media group, the parent company of Apple Daily. The Apple Daily took an active role not just in reporting the 2019 pro-democracy protests, but in supporting them. Lai was released on bail after 33 hours in detention.
On the same day, police arrested three student leaders: Agnes Chow, a student activist who quit the now disbanded Demosistō; Wilson Li Chung-chak, a freelancer for ITV and former member of now disbanded student activist group Scholarism; and Andy Li, a member of Election Observation Mission. They were released on police bail the next day.
Zoom suspends accounts of human rights activists
In June 2020, Zoom revealed that it had suspended the accounts of human rights activists at the request of the Chinese government and suggested it will block any further meetings that Beijing says are "illegal". It also admitted that it ended three out of four meetings on the Tiananmen crackdown.
The account of Zhou Fengsuo, a Chinese activist based in the US, was shut down days after he hosted a memorial for the Tiananmen crackdown. Activist Wang Dan, who held a Zoom event on 3rd June to commemorate the anniversary of the 4th June Tiananmen crackdown, had his account shut down twice. And activist Lee Cheuk-Yan, who organises a yearly Tiananmen vigil, also saw his account terminated.
The accounts have since been reinstated after Zoom acknowledged it had made a mistake and that its response "should not have impacted users outside of mainland China".
Amnesty International's William Nee said, "by complying with Beijing's request to end meetings on the Tiananmen crackdown, Zoom risks contributing to this assault on freedom of expression". He added: "Tech firms such as Zoom must put principles before profit and defend internet freedom, rather than bowing to repressive governments' demands to stifle it".
Law professor who criticised President Xi over handling of pandemic arrested
On 6th July 2020, Chinese authorities arrested a law professor for criticising President Xi Jinping in strongly worded published essays. Xu Zhangrun spoke up against the Chinese President's handling of the coronavirus outbreak and of Xi being a 'tyrannical' leader. Around 20 police officers came to the professor's home to arrest him in Beijing.
The authorities, according to sources, also confiscated Xu's computer and searched his house. Reports indicate that the arrest might have come after the last couple of articles he wrote criticising the government's ban on reporting accurate information about the coronavirus. He was released after six days in police custody.
A professor at the high-ranking Tsinghua University for two decades, he was barred more than a year ago and placed under investigation after speaking out against the removal of presidential term limits, which allow President Xi to remain in post for life.
Outspoken government critic sentenced to 18 years in jail
Not only is #XiJinping critic #RenZhiqiang being locked up, those who defended him are also being punished, too. Professor Cai Xia was stripped of her pension, & publisher Geng Xiaonan has been arrested. #Communism = No person, no problem. https://t.co/koT0XTChG7

— Prof. Steve Hanke (@steve_hanke) October 2, 2020
On 22nd September 2020, a Beijing court announced on its website that an outspoken critic of President Xi Jinping and a property tycoon had been convicted. Ren Zhiqiang had been convicted of taking bribes and embezzling public funds. He was also fined 4.2 million yuan (USD 620,000).
Ren was a member of the Communist Party and was slammed by state media in 2016 for "pursuing Western constitutionalism". In one of his most recent articles – circulating online since March 2020 – Ren criticised the government's mishandling of the initial coronavirus outbreak at the beginning of this year, just as Beijing was promoting its success in containing the pandemic under the party's leadership.
Yaqiu Wang of Human Rights Watch said "The corruption charges against Ren Zhiqiang are a thin cover for President Xi Jinping's intolerance of dissent. The 18-year sentence handed down to a Communist Party member and member of the economic elite shows the grim environment for speech in China",
Australian journalists forced to leave country
This is a very alarming development, and the latest sign of a deteriorating environment for foreign journalists in China. Two Australian correspondents pulled out of China after five-day diplomatic standoff over national security case https://t.co/qLafyDXBlL

— Debi Edward (@debiedwarditv) September 8, 2020
On 8th September 2020, two Australian foreign correspondents in China were flown home after a tense diplomatic standoff. The Australian Broadcasting Corporation's China correspondent Bill Birtles and the Australian Financial Review's Michael Smith both left China after being questioned by China's ministry of state security.
Both journalists were told they were persons of interest in an investigation into the Chinese-born Australian news anchor Cheng Lei for the Chinese state-backed media outlet China Global Television Network who was detained in China in August 2020. Chinese authorities have given no reasons for her arrest.
Birtles said the episode seemed to be "one of harassment of the remaining Australian journalists" and not a "genuine effort to try and get anything useful" in the case against Cheng.
Cedric Alviani, Reporters Without Borders' East Asia bureau head, said that "in the past few years, the Xi Jinping regime has consistently tried to reduce the space for independent journalism in China. There has been consistent harassment of foreign correspondents. This harassment includes threatening other journalists and their sources, monitoring the journalists' conversations, following them in the streets and also threatening to not renew their visas".
Peaceful Assembly
Charged for participating in the Tiananmen massacre vigil
26 Hong Kong activists were charged over a vigil for the Tiananmen Square massacre. They face 5 years in prison, but some have fled over rising mainland China influence.

The vigil was banned for the first time in decades — officially due to #COVID19 — but thousands went anyway. pic.twitter.com/TV4O01VOyi

— AJ+ (@ajplus) September 15, 2020
Thousands of people defied a police ban in Hong Kong on 4th June 2020, to mourn the victims of the Tiananmen Square massacre. Many feared this year's commemoration of the events of 4th June 1989 might be Hong Kong's last, due to the new national security law. The police had for the first time in three decades banned the annual candlelight vigil in Victoria Park, citing the coronavirus pandemic.
Between 11th and 12th June, police informed 13 individuals that they would receive a summons to appear in court in late June for "inciting" others to take part in unauthorised assemblies on 4th June. Ten of those targeted are members of the HK Alliance, which has organised the annual vigil in Hong Kong's Victoria Park to commemorate the Tiananmen crackdown.
On 6th August, 25 Hong Kong democracy activists were charged with taking part in the candlelight vigil for "knowingly taking part in an unauthorised assembly". They included prominent activist Joshua Wong, media tycoon Jimmy Lai and leaders of the Alliance in Support of Patriotic Democratic Movements of China.
Activist arrested for wearing a mask
Hong Kong authorities arrested high profile activist Joshua Wong on 24th September 2020 for taking part in an "unlawful assembly" against Hong Kong's anti-mask law on 5th October 2019. He was also charged for allegedly violating the anti-mask law. He was arrested with fellow activist Koo Sze-yiu. Both have been released on bail.
Wong, 23, is one of the most high-profile figures of the pro-democracy movement which drew mass protests onto the streets of Hong Kong throughout much of 2019, before the pandemic and then draconian national security laws brought them to an end in 2020.
The "unlawful assembly" charge is based on alleged violations of Hong Kong's Public Order Ordinance, which requires organisers to notify police of demonstrations involving more than 30 people at least seven days in advance, and requires organisers to get a "notice of no objection" from the government before proceeding. The mask ban was introduced in 2019 using the colonial-era Emergency Regulations Ordinance (ERO) law. The ban remains in place for assemblies that are not authorised by the authorities.
Association
Human rights lawyer convicted and tortured in detention
Chinese human rights lawyer Yu Wensheng has been sentenced to 4 years in jail after a secret trial.

His family believe he has been targeted because of an open letter he wrote criticizing Chinese President Xi Jinping's totalitarian rule. https://t.co/PLL5JmASqs

— kristyan benedict (@KreaseChan) June 17, 2020
On 17th June 2020, a Chinese court secretly convicted and handed down a four-year prison sentence to human rights lawyer Yu Wensheng for "inciting subversion of state power." His wife, Xu Yan, received a phone call from the Xuzhou City Procuratorate, in Jiangsu, after the verdict was read behind closed doors. The Xuzhou City Intermediate People's Court also sentenced Yu to a three-year deprivation of his political rights.
As previously documented, police seized lawyer Yu Wensheng outside his Beijing home on 19th January 2018, as he was taking his son to school. Yu was forced into a police vehicle after an altercation between him and at least one officer. He was formally arrested in April 2018 and held incommunicado. Yu Wensheng was secretly tried in May 2019.
According to Amnesty International, Yu was able to meet with his lawyer after more than 18 months in detention. Yu Wensheng told his lawyer that, during his detention, he had been sprayed with peppered water and was at times required to sit on a metal chair for an extended period of time, until he partially lost consciousness. Yu also said that he was often not given enough food and that he suffered heatstroke in the summer and was cold in the winter.
Twelve from Hong Kong held incommunicado in China
On 23rd August 2020, the Chinese coast guard intercepted a boat sailing from Hong Kong to Taiwan and detained all 12 people aboard. The group includes Andy Li, an activist who had been arrested in Hong Kong on 10th August for "colluding with foreign elements" under Hong Kong's new draconian National Security Law. The others were protesters accused of arson, rioting, assaulting the police, and other crimes under Hong Kong law, and were either wanted by the Hong Kong police or had been barred from leaving the city under bail conditions.
They were then taken to Shenzhen on mainland China and held incommunicado after their arrest. Human rights groups have raised concerns that they are at imminent risk of unfair trials and even torture and other ill-treatment.
According to Amnesty International, the Yantian District Detention Centre has not allowed family hired lawyers to meet with any of the detained individuals. Authorities have rejected at least eight meeting requests, demanding special authorisation letters not required by law.
Chinese authorities have threatened mainland lawyers hired by the protesters' families with "serious consequences for their career," stating that the case is "very sensitive" as it involves the National Security Law. At least six have withdrawn. On 1st October, the People's Procuratorate of Yantian District in Shenzhen said it had approved the arrests.
New research finds nearly 400 internment camps in Xinjiang region
Today ASPI is launching the Xinjiang Data Project: mapping Xinjiang's detention system with 380 sites of suspected re-education camps, detention centres and prisons that have been built or expanded since 2017. https://t.co/DE2ar4W4Zq

— Kelsey Munro (@KelseyMunro) September 24, 2020
In September 2020, a new report by the Australian Strategic Policy Institute (ASPI) said that China has built nearly 400 internment camps in Xinjiang region, with construction on dozens continuing over the last two years, even as Chinese authorities said their "re-education" system was winding down.
The network of camps in China's far west, used to detain Uighurs and people from other Muslim minorities, include 14 that are still under construction. In total ASPI identified 380 detention centres established across the region since 2017, ranging from lowest security re-education camps to fortified prisons.
That is over 100 more than previous investigations have uncovered, and the researchers believe they have now identified most of the detention centres in the region.
As documented previously, there has been mass arbitrary detention, torture, and mistreatment, and increasingly pervasive controls on the daily life of Uighurs in Xinjiang. The population of 13 million are being subjected to forced political indoctrination, collective punishment, restrictions on movement and communications, heightened religious restrictions, and mass surveillance in violation of international human rights law.