Chile three years on from social uprising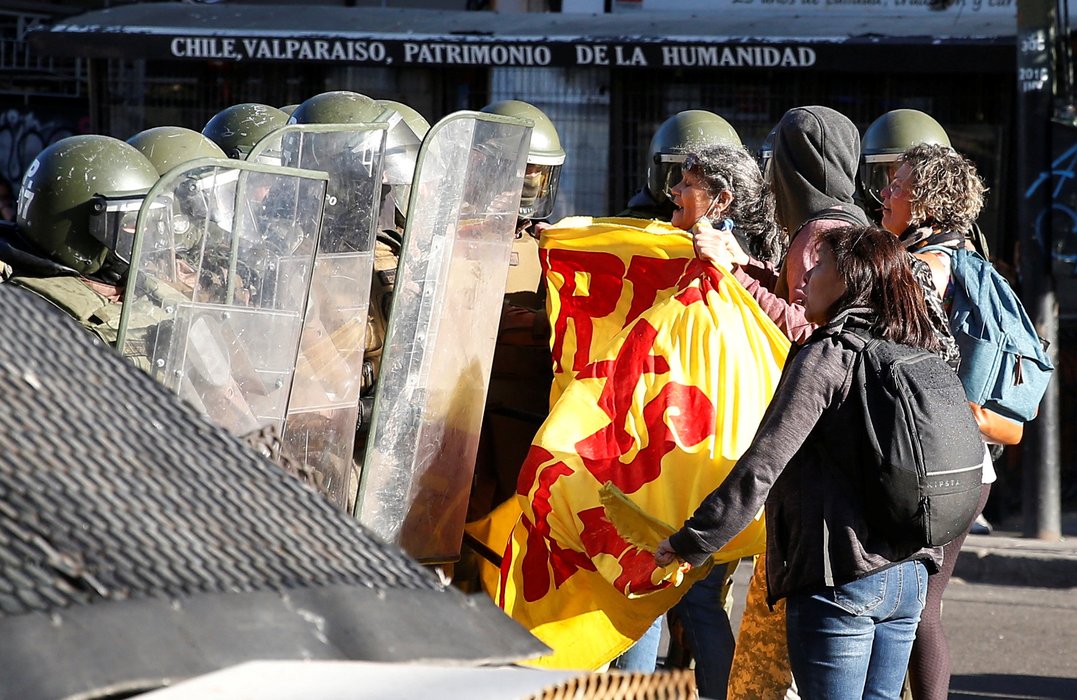 New roadmap for constitutional change
On 11th January 2023, Chile's lawmakers approved a reform of the process for drafting a new constitution. This agreement followed months of negotiation after voters rejected the draft proposed by the Constitutional Assembly in September 2022.
The process is to take place in two stages. A Committee of Experts, 24 people appointed by the Chamber of Deputies and the Senate, will draft a pre-proposal of the new constitutional text. The pre-draft will be further developed by a 50-member Constitutional Council elected in a popular vote. This body would be given five months to finalise a proposal to be taken to another plebiscite in December 2023. At the end of January 2023, the Senate and the Chamber of Deputies nominated representatives to the Committee of Experts.
Peaceful Assembly
Protesters commemorate 2019 social uprising
Han pasado 3 años,pero ni un solo día hemos dejado de trabajar para obtener verdad, justicia, reparación y garantías de no repetición para las víctimas de violaciones a los DDHH ocurridas en el #EstallidoSocial en #Chile https://t.co/tB8riR9iHQ
Seguimos con los #OjosSobreChile 👀 pic.twitter.com/2riFS0W2X3

— Amnistía Internacional España (@amnistiaespana) October 18, 2022
On 18th October 2022, protesters across Chile took to the streets to commemorate the third anniversary of the 2019 social uprising. Most demonstrations were peaceful, but news outlets reported some violent clashes and over 25,000 security agents deployed to police the protests. In Santiago, hooded protesters set up barricades and police attempted to disperse the protest with tear gas and water cannons. The Ministry of Interior later said 195 people were detained and 42 injured during demonstrations throughout the day. There were also 15 cases of looting of shops. According to government information, there were about 150 protests registered across the country.
President Gabriel Boric made a speech on the day, saying it was time to interpret what happened in the protests, learn lessons from that time and act. In the days before the anniversary, President Boric also stated that "the basic unease expressed by the people of Chile is something that is still valid and which we still have to take responsibility for."
On a related note, in December 2022 President Boric pardoned 12 people arrested during the 2019 protests. The move was celebrated by supporters but decried by political opponents, leading Minister of Justice Marcela Ríos to step down in January 2023.
Truck drivers' strike
On 21st November 2022, truck drivers in Chile announced a partial strike against violence and the rising price of fuel. They said they face increasing risks of assaults, robberies and looting of cargo. The strike was organised by union Fuerza del Norte, but was opposed by larger transport unions. During the mobilisation, the protesters set up several road blockades. Authorities said they would resort to the State Security Law to clear them. The mobilisation ended after eight days, with striking unions reaching an agreement with the government on their demands.
Environmental activists celebrate rejection of mining project

¡Victoria Ciudadana! "NO A DOMINGA!" se hizo realidad gracias a las personas⬇️ https://t.co/WMgCyIdtTp

— Greenpeace Chile (@GreenpeaceCL) January 19, 2023
In January 2023, environmental groups and defenders mobilised against a controversial open-pit mining project, as the country's authorities considered its approval. Andes Iron's proposed Dominga project included iron and copper open-pit mines, processing plants, a water desalination plant and a port for loading minerals - all installed near the Humboldt archipelago, an important biodiversity area that contains a penguin reserve. Local environmental activists have campaigned against the project for several years.
As Chile's Council of Ministers prepared to consider the project on 18th January 2023, environmental defenders spoke out and organised demonstrations against the project. On the day of the Council meeting, protesters for and against the project demonstrated outside the Environment Ministry with banners and placards. The project was unanimously rejected by the government due to the ecological value of the area, a decision that was celebrated by environmental protesters.
Expression
Journalist convicted for slander
Chilean authorities should not contest journalist Felipe Soto Cortés' appeal of a recent criminal defamation conviction and should stop using criminal defamation laws against members of the press.https://t.co/RDWmvIzH0A

— Committee to Protect Journalists (@pressfreedom) January 29, 2023
On 18th January 2023, a criminal court in Concepción convicted Felipe Soto Cortés, director of digital newspaper Resumen, to a suspended 61-day prison sentence and a fine for slander. The criminal defamation case is related to a report published in July 2022 alleging that public official Rodrigo Daroch was being overpaid by local and state governments. According to the Committee to Protect Journalists (CPJ), Soto Cortés will be required to report his whereabouts to the police every month for a year.
The Colegio de Periodistas de Chile (Chilean Association of Journalists - CPD) issued a statement condemning the court ruling, saying it is "a terrible precedent for the exercise of the profession by journalists and communicators in cases of investigation and oversight of public officials and people holding elected office." The association also argued that the ruling did not comply with international standards on freedom of expression, and called for a reform of the Criminal Code to remove provisions used to limit journalism. National and international organisations also spoke out against the ruling, expressing their concern.
Journalists detained and attacked
🔴 Rechazamos detención ilegal de la periodista Carola Trejo quien estaba a las afueras del GAM y se encuentra en la 3ra Comisaría de Santiago. Junto a Codepu estamos activando protocolo de protección a la prensa.

— Colegio Periodistas de Chile (@ChilePeriodista) October 18, 2022
On 18th October 2022, journalist Carolina Trejo was detained in Santiago while covering protests commemorating the third anniversary of Chile's social uprising. Trejo, a correspondent for news outlet Sputnik, was covering demonstrations near the cultural centre Gabriela Mistral when she was arrested. She later said she was charged with a misdemeanour for 'disobedience' and had to pay a fine.
On 7th December 2022, journalist Juan Pablo Rojas was attacked by two individuals inside the offices of newspaper El Observador in Quillota, Valparaíso. The assailants, a man and a woman, presented themselves as members of a building occupation and asked to see him. According to reports, the man suddenly lunged and violently beat the journalist, knocking him down on a chair, breaking his glasses and punching him several times. Because of the attack, Rojas broke his right cheekbone. The two assailants fled in an awaiting vehicle. The CPD's Valparaíso Regional Council issued a statement condemning the attack on Rojas and calling for an investigation.
Intimidation and stigmatisation
On 21st December 2022, Senator Iván Moreira stigmatised journalist Jorge Espinoza Cuellar of news outlet Cooperativa, accusing him and the outlet of being biased, after Cuellar questioned him during an interview.
Separately in December 2022, news outlet Piensa Prensa said their staff and editor had been receiving death threats, in a coordinated campaign involving the use of 'bot' accounts on Twitter. The news outlet said it would file a complaint regarding the threats.
Enabling law advances in Congress
CULTURA 📰| Avanza tramitación de proyecto que regula la protección de periodistas y comunicadores. https://t.co/qX5ttdRxdG

— Diputadas y Diputados de Chile (@Camara_cl) December 14, 2022
Chile's legislators took steps to advance the bill on the protection of journalists and media workers (14964-24) presented by congresswoman Nathalie Castillo in May 2022. In December 2022, the bill was discussed by the Culture Commission of Chile's Chamber of Deputies, which approved definitions and principles of the norm. Discussions continued in January 2023.
On 12th February 2023, journalists' association CPD called on lawmakers to approve the bill, in a statement written in commemoration of National Press Day. The group highlighted concerns about increasing risks for journalists, saying more effort is needed to protect them. In 2022, Reporters Without Borders listed Chile among 17 countries where journalists were killed in the Americas, referring to the shooting of reporter Francisca Sandoval during Workers' Day protests.