Chile: overwhelming majority approves Constitutional Convention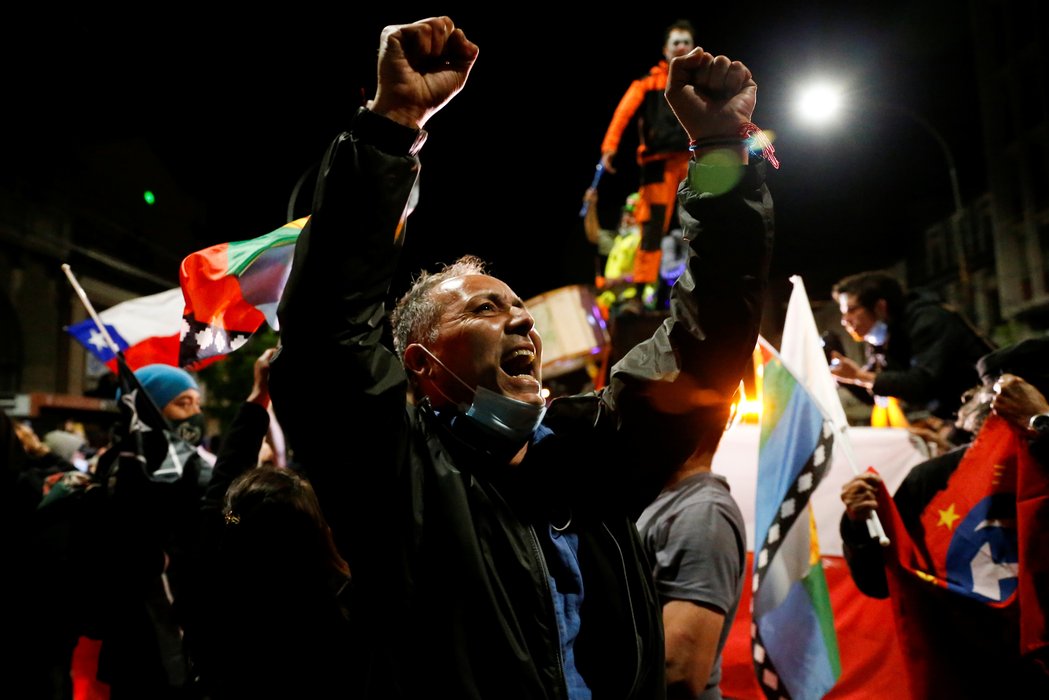 On 25th October 2020, an overwhelming majority of people in Chile voted in support of rewriting the country's Constitution, paving the way for a Constitutional Convention which will be composed by representatives elected in April 2021. As previously reported, a new constitution emerged as a key demand of the mass protests that started in Chile at the end of 2019. Millions took part in the decisive referendum, where 78,26% of voters approved the proposal for a constitutional process while 21,73% voted to reject it.
On the evening of the referendum, thousands of pro-reform protesters held triumphant celebrations in Chile's streets. The process is expected to continue into 2022, when Chile will return to the ballot to vote on a new draft Constitution.
Association
Young Mapuche woman shot dead in Panguipulli
Condenamos la muerte de Emilia, mejor conocida como Bau, mujer trans mapuche, asesinada en la madrugada por defender la tierra en Panguipulli.

¡JUSTICIA! pic.twitter.com/9nsAXERi5D

— Asociación OTD Chile (@OTDChile) February 17, 2021
On 16th February 2021, Emilia Milen Herrera of the Lof Llazcawe Mapuche community was killed in an incident related to the community's struggle against a real estate project in Panguipulli. She was a 25-year-old transgender woman and environmental defender.
As reported by news media, the Lof Llazcawe community has resisted real estate developments which restricted their access to local lakes and beaches. On the night of Emilia's death, private security guards hired by the Riñimapu condominium clashed with several members of the community, allegedly after the guards attempted to remove two campers from a nearby area. Residents claimed the Indigenous woman was shot by members of her own group, who had set fire to a house and to communal areas of the property. The Lof Llazcawe Mapuche community, however, challenged this version and said that Emilia was shot by the security guards.
On 19th February 2021, three employees of the condominium were identified as suspects and charged with the murder and with illegal arms possession. Seven others, who identified as "gardeners" for the property but were found with an unregistered shotgun, were also reportedly detained by police.
This confrontation took place among an underlying long-standing conflict which has mobilised Mapuche communities in various parts of the country. Numerous real estate projects in Chile are located in ancestral territories and places of cultural significance to the Mapuche. In reaction to this killing, Interior Minister Rodrigo Delgado said this was a conflict that unfortunately had been going on for some time and which should not have escalated to this point.
Police officer sentenced for the killing of Mapuche farmer
On 28th January 2021, police officer Carlos Alarcón was sentenced to 11 years in prison over the killing of Mapuche farmer Camillo Catrillanca, with an additional five years for the attempted killing of a 15-year-old boy. As previously reported on the Monitor, on 14th November 2018 a police operation was carried out in the Temucuicui community to search for individuals who had stolen three vehicles. Catrillanca, the 24-year-old grandson of a prominent Mapuche Indigenous leader, was shot in the head during the operation. His death and an attempted cover-up by the police caused widespread public outrage.
Alarcón was part of a controversial special forces unit called "the Jungle Commandos", who were trained in anti-terrorism operations specifically related to internal armed conflict over land rights. Rights defenders believe the ruling in the Catrillanca case may lead to changes in the Carabineros (National Police), whose officers have historically enjoyed reduced sentences with high impunity rates for human rights violations. Chile's National Human Rights Institute said only 31 legal complaints against members of the security forces have been formalised out of the 2,520 complaints they presented in the context of the 2019 social uprising. 72 employees of security forces had been charged by October 2020.
Dismissal of complaint against feminist collective Las Tesis

On 4th January 2021, the Court of Valparaíso dismissed the criminal complaint against Las Tesis, a feminist artivist collective based in Valparaiso that became known worldwide through the performance "A Rapist in Your Path". As reported previously on the CIVICUS Monitor, in June 2020 Chile's national police force filed a lawsuit against the collective for allegedly inciting violence against police officers. After the court ruling, members of Las Tesis thanked their supporters and said:
"We hope that no art collective or artist in Chile will have to face legal proceedings for the content of their work. We hope that everyone can create freely and without fear of persecution and censorship. And we also hope that public resources are invested in the fight against impunity for sexual abusers, rapists and femicides, against impunity for human rights violations and violations of the rights of women and dissidents."
Online harassment of feminist candidate
Candidata de la @Coordinadora8m, Alondra Carrillo, sufre ciberataque: "Al atacarme a mí se busca acallar a la apuesta constitucional que impulsamos como Coordinadora Feminista 8M al afirmar que nuestra voz es indelegable" @Alondra_8M https://t.co/RdbqatbgvK

— Radio JGM (@JGMRadio) March 16, 2021
Alondra Carrillo, an activist with Coordinadora Feminista 8M (Feminist Coordinator 8M) and candidate to Chile's Constitutional Convention, said on 16th March 2021 that her official Twitter account had been hacked. Carrillo said the attackers left a hate message against women, alluding to sexual violence. Other members of the same group have reportedly faced online harassment in relation to their activism and campaign for participation in the constitutional process.
Peaceful Assembly
Chileans mobilise to demand the release of prisoners
Carabineros DETIENEN a joven que portaba un cartél con la leyenda "Libertad para Cristian Briones" Alameda/Cumming (18:43) pic.twitter.com/hJqtCkz5ab

— PIENSAPRENSA 244 mil Seguidores (@PiensaPrensa) December 10, 2020
Since November 2020, mobilisations have taken place to demand the release of detained protesters, who have been called "political prisoners" by some rights groups. As reported previously by the Monitor, thousands were arrested during the uprising that began in October 2019.
On 10th December 2020, International Human Rights Day, hundreds took to the streets to demand President Piñera's resignation and the release of protesters detained in the context of the social conflict and of Indigenous Mapuche leaders. Members of various human rights organisations, social movements and relatives of the prisoners mobilised in Santiago, Antofagasta, Concepción, Puerto Montt, San Felipe, Temuco, Villarrica and Valparaíso, among others. In some cities, the protesters blocked roads with burning tyres and scrap. In Santiago, Carabineros and protesters clashed and at least seven protesters were detained.
The question of political prisoners gave rise to a public debate in Chile in December 2020, when a bill was presented in the legislature to pardon persons detained in the uprisings. The bill would grant a general pardon on an exceptional basis to those who were arrested, charge or convicted for various misdemeanours and crimes from 19th October to 6th December 2019 during protests. Proponents of the bill argued that security forces overused preventive detention against protesters, some of whom would have spent almost a year and a half in prison without a conviction. According to news reports, the Attorney General's Office rejected the project and President Piñera said that he would veto such legislation.
Some human rights experts also criticised the bill and disagreed about labelling these protesters as "political prisoners". In an interview, José Miguel Vivanco, Human Rights Watch's Americas Director, said he did not believe the label should be applied in this case: "One must be very careful with the concepts. Political prisoners are essentially prisoners of conscience, people who are persecuted for their ideas, for their opinions, for simply trying to promote a different idea from the official one". Vivanco argued that incidents during protests should be fairly investigated observing due process, including alleged abuses by police and crimes perpetrated by demonstrators who may not have protested peacefully.
Even with these disagreements, anti-government protesters have often taken up the cause of detained demonstrators between November 2020 and February 2021.
In a related development, on 3rd February 2021 a protester was found not guilty and released from prison after 18 months of preventive detention. Mauricio Cheuque had been accused of holding an incendiary object during a protest on 14th November 2019.
Police violence and protests
A widely spread video of a police officer killing a juggler in Chile has sparked new nationwide protests against police violence. pic.twitter.com/dC69UTek6y

— AJ+ (@ajplus) February 13, 2021
Countrywide protests broke out in response to the police killing of street juggler Francisco Martínez Romero on 5th February 2021 in Panguipulli. The street performer had allegedly refused to comply with police orders to show his identification. The killing reignited fury over police violence in Chile, as videos of the incident circulated on social media showed an officer shooting at the unarmed performer several times.
On the day of the killing, demonstrators set fire to several of the town's public offices, including the municipal government building. Protests continued over several days in the capital Santiago and other cities, with calls for police reform. News outlets reported that protests sometimes became violent, with demonstrators setting fire to police vehicles. There were instances of police using water cannons, tear gas and pepper spray to disrupt demonstrations. News outlet Piensa Prensa also denounced that police officers attacked journalists who were covering protests in Santiago.
Vibrant International Women's Day
[🔴Volvimos a ser miles - Volvimos a ser Históricas]
El lunes pasado nos juntamos a conmemorar otro 8 de marzo, el contexto era diferente al de otro años, pero aún así se vivió la fuerza y la emotividad de esta fecha en todo el territorio plurinacional (...) pic.twitter.com/e9K3rVGz62

— Coordinadora Feminista 8M (@Coordinadora8m) March 10, 2021
On 8th March 2021, women's marches took place in various cities. The biggest demonstration took place in the centre of Santiago, with the participation of thousands of women. A protester and candidate to the Constitutional Convention, Emilia Schneider, was detained in the capital while trying to conduct an artistic intervention in celebration of the day. Another member of her team was reportedly attacked by officers. Police later said Schneider was detained for obstructing traffic.
Feminist groups also organised decentralised activities around the country, embracing many different forms of mobilisation in the context of the pandemic. Unions and social leaders convened a two-day Feminist Strike to denounce gender inequality and patriarchal violence. The strike was supported by numerous professional and union associations such as the 8th March Women's Coordinating Committee, the 19th December Coordinating Committee, the Territorial Feminist Network, the Mapuche Women's Network, the Secretariat of Migrant Women and the Female Journalists' Network. Nuriluz Hermosilla, spokeswoman for one of the groups, said that the mobilisation was "against the State's patriarchal violence, extractivist, violent capitalist to the point of abusing and killing us."